Subject: Organizations' Newsletter - July 9, 2018
View this email online if it doesn't display correctly
ORGANIZATIONS' N
EWS
LETTER
News and Opportunities for the Cultural Nonprofits and
Creative Businesses of Fairfield County, CT
July 9, 2018
The Cultural Alliance of Fairfield County is a nonprofit service organization that supports its members through unified marketing, capacity building, professional development, and advocacy services. This newsletter is sent to all who request it - but we ask that, if you are not a member, you explore membership benefits and consider joining this community of more than 600 individuals and organizations. Sign up here
OUR NEW WEBSITE COMES EVER CLOSER
PLEASE HELP US MEET OUR MATCH!
Please help us close the gap on our challenge opportunity provided by Robin Tauck of the

TRIP Foundation.

If we raise $2500 by July 23, we will receive a further $2500 from the Foundation towards the cost of our new Cultural Alliance & FCBuzz website. The match will enable us to complete and launch the website by late July.
UPDATE:

With 15 days to go, we are

93% of the way

($2320) with just

$180

still to raise. Please help close the gap!
MON JULY 9, NOON, WPKN 89.5FM: OUR NEXT SPOTLIGHT ON ARTS & CULTURE
Bridgeport's Mary and Eliza Freeman Center for History and Community recently learned that the 1848 Freeman Houses, the only remaining structures of a formerly thriving 12-block area in Bridgeport's South End, known as Little Liberia - a center for free African Americans in the early to mid 19th century - had been placed on the National Trust for Historic Preservation's list of "America's 11 Most Endangered Historic Places." (see more under Your News below). On this month's

Spotlight, h

ear

Maisa Tisdale

, Executive Director of the Freeman Center, talk about what this means for the future of the houses and this area of the South End, as well as CT Trust's

Wes Haynes

discussing the context of this designation and what sources of funding might be brought to bear to help the houses be a force for economic development in the area. Artist

Jahmane West

will talk about

his work with Maisa telling the story of Little Liberia to today's Bridgeport residents, and

Laurie Heiss

, steering committee member of the Fairfield County Preservation Network, and founding executive director and board member of the Merritt Parkway Conservancy, will talk about the impact of the Merritt Parkway being placed on the Nation Trust's "List" in 2010.
The GR Art Gallery,
is a theme-oriented contemporary art gallery, on Long Ridge Road, in Stamford, open to all ideas and techniques especially painting and printmaking. Originally established by the Albanian American painter
George Pali
at his home in
Mamaroneck, NY, in 2003, he moved the gallery to his new home in Stamford in
2016. Pali graduated with a BFA from the Institute of Arts in Tirana, Albania in 1980, but then fled the country in 1988 for political reasons and to escape the restrictions the authorities placed on artistic freedom. He came to the U.S., attended Michigan State University, and graduated with an MFA in 1991. Specialized in painting, collages and mosaics, George has shown his own work in New York, San Francisco, Miami, Bernardsville, NJ, Nice, Florence, Tokyo and back in Albania in 2013 and 2015. Currently
Summer Time
is an exhibition of the work of 11 artists, on view through Sept. 14. See the GR Art gallery's
website
and
Facebook
page.
❦

– Latest List by Town of Organization and Creative Business Members: here
❦

– Latest List by Town of Artist Members: here

ROUND-UP OF MEMBERS' NEWS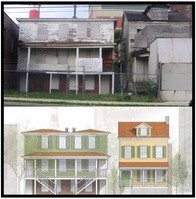 The big news over the last 2 weeks has been the designation, by the National Trust for Historic Preservation, of the
1848 Mary and Eliza Freeman Houses
in Bridgeport's South End, that have been saved from demolition several times by the
Mary and Eliza Freeman Center for History and Community,
as one of
"
America's 11 Most Endangered Historic Places
." The news was celebrated by ceremonies at the Houses and at Housatonic Community College June 26 (see

CT Post

article).

CT Humanities

has announced a

$10,000
capacity grant to the organization to create its first-ever strategic plan and to digitally store and preserve its institutional records. Then Friday, the

National Trust

announced a

$50,000

grant to the Freeman Center
to begin permanent stabilization of the Freeman structures (
more...
). The
mission of The Freeman Center is not only to "restore, preserve and ensure the viability of the Freeman Houses," but also to "teach the history of Black people in CT; revitalize the surrounding South End community; and facilitate preservation of other African American and Bridgeport communities." For more, tune in to our Spotlight on Arts & Culture radio show

Monday July 9 at noon

on

WPKN 89.5-FM,

for a discussion about recent developments.
Fernando Luis Alvarez,

owner of the Fernando Luis Alvarez Gallery, was arrested June 26, charged with a criminal misdemeanor and a felony after leaving an 800-pound, 10-foot-long sculpture of a heroin spoon by Boston-based artist Domenic Esposito, in front of Purdue Pharma's headquarters in Stamford and refusing to move it. Alvarez told

TIME

that the stunt — which coincides with Opioid-Express Yourself, an opioid-related show at his gallery — was meant to send a message to Purdue Pharma and to hold the company accountable for what he says are its contributions to the country's opioid epidemic. See full story as reported by TIME Magazine and The Hartford Courant. Click photo for larger image.
The
Connecticut League of History Organizations
has announced that its executive director,
Laurie Lamarre
, has
taken a full-time position as Curator of Exhibitions at the Fairfield Museum and has resigned her position at CLHO.
The organization has now brought on
Christina Volpe
(at right)
as a part-time Communications and Program Manager to assist with a number of operational tasks, such as
managing the website, social media, program registrations, e-communications, membership questions, and general inquiries,
while CLHO seeks a new Executive Director.
Congratulations to

Angie Durrell

Executive Director of INTEMPO, for being one of
Fairfield County Business Journal's
40 Under Forty,
one of the "rising stars of Fairfield County." Angie founded INTEMPO (then The INTAKE Organization) in Stamford, in 2011, as a much-needed bridge between the arts sector and marginalized immigrant communities. INTEMPO has gone on to win national awards in many arenas. In 2016 and 2017, the organization was selected as a finalist for the National Arts and Humanities Youth Program Award by the President's Committee on the Arts and the Humanities, one of only 50 afterschool arts programs in the country to achieve this distinction, and has received major grants from Carnegie Hall's Weill Music Institute, the National Association of Latino Arts and Culture, Spread Music Now, and the Sphinx Organization, one of the most highly regarded national organizations for fostering diversity in the arts.
Stamford's
Loft Artists Association
is continuing its series of
Art Thursdays @ The LAA,
organized every 2nd Thursday, for designers, interior decorators, collectors, building managers, real estate brokers and others who have interest in purchasing high quality fine art. Visitors can peruse an open house environment, with access to 14 individual artists' studios, as well as two art galleries displaying current art exhibits. The LAA is seeking to promote high quality work for homes, businesses and other venues from a broad range of professional artists working in a wide variety of diverse styles and mediums. Invitees are encouraged to bring clients with them. Dates remaining:
July 12 & August 9

, 6:30-9pm
The Quick Center for the Arts
is launching its Arts Incubator Program this summer with two acclaimed artists who will each be in residence for two weeks before sharing their work on stage.

Nora Chipaumire

(at right) comes to the Quick July 2-14 with a

Works in Progress

showing

Thurs. July 12, 6p

m and

Frédérick Gravel

will be at the Quick Aug. 26-Sept. 9. As a creative incubator, the Quick provides space for artists to focus on the creation of new work, while connecting them with the community through discussions that enable them to learn from the audience experience. The incubator also provides educational offerings that help audiences engage more meaningfully with the art form. This program is supported by the Fairfield County Community Foundation as well as by the New England Foundation for the Arts. More...
Warm and hearty congratulations to
The Quick Center for the Arts'
own
Lori Jones
for being chosen for the

Fairfield County Business Journal's

40 Under Forty. Young professionals under the age of 40 were nominated and selected based on their leading skills and contributions to their industry and to business growth within Fairfield County. Lori is
Director of Programming and Audience Development at the Quick. As an article on the Fairfield University website points out, Lori is
also co-president and a board member of the

New England Presenters

(NEP), a non-profit consortium of arts presenters, and also serves as a committee member for the

Fairfield Emerging Leaders Organization

(FELO), a group of community leaders seeking to provide a platform for young professionals to engage in business-sponsored activities in the Fairfield Chamber of Commerce.
More...
Sustainne has announced
a Zero Single-Use Plastic Pledge in which members commit to zero waste. For example, Fairfield's Shearwater Coffee Bar is now using only paper straws, and Easton's Sport Hill Farm has gone package-free with its farmer-grown and milled cornmeal, where consumers bring their own container. Sustainne is promoting a

consumer campaign

to Go Zero Single-Use Plastic Bags, Bottles and Straws:
1.

Don't buy plastic straws: ask stores not to put a straw in your drink unless it's paper, bamboo or otherwise compostable.

2.

Decline plastic bags offered at point of sale: bring your own reusable bag.

3.

Do not buy or accept plastic bottled water: carry a thermos filled with water, and have stores refill it when you run out. At right, click Maritime Aquarium photo for larger image.
More...
The
Westport Astronomical Society
(WAS) recently elected
Shannon Calvert
(at right)
to serve as president of the organization, which has operated the Westport Observatory since 1975. A graduate of North Carolina State University, Shannon is a graphic designer and avid astrophotographer from Easton, CT, and moves up from his previous position on the WAS Board of Directors. Former nine-term president Dan Wright will remain on the board of directors to continue his outstanding work to help promote science in the community.
Other news
: stay tuned for the very close approach of the planet Mars, July 27- Aug. 3, when the Observatory will be open late to enable you all to observe this rare event (not to be repeated until 2035!).
WORKING CAPITAL "PRECARIOUSLY LOW" FOR MAJORITY OF ARTS ORGANIZATIONS




The National Center for Arts Research at Southern Methodist University

(NCAR) has found the majority of arts and cultural organizations have

"precariously low levels of working capital,"

or resources available to cover day-to-day operating needs.

In its

Working Capital Report

,

NCAR found,

on average

, arts and culture organizations had working capital equivalent to

five months' worth of total expenses.

"While this might seem like a comfortable cushion, it reflects very high levels of working capital concentrated among a minority of institutions," NCAR explains in the press release.

Working capital is a measure of the organization's liquidity that represents its unrestricted resources available to meet day-to-day obligations. It is a simple calculation of unrestricted current assets minus unrestricted current liabilities.

Working capital lets an organization smooth out the bumps in the timing of cash coming in and cash going out to keep operations going. This liquidity allows an organization to pay its bills on time and to pay obligations such as payroll on time. Were working capital negative, it would mean that the organization is experiencing periods of cash flow crunch and borrowing funds (e.g., dipping into deferred revenue, delaying payables, taking out loans, tapping lines of credit, etc.) to meet daily operating needs.

Working capital levels varied significantly by sector according to the report's findings. Art museums had an average working capital of more than one year while orchestras had a muc

h more fragile resource, approximately 15 days of working capital on average. The research showed that the majority of arts and culture organizations are cash-strapped: average working capital for performing arts organizations, as well as for half of the museums, is equivalent to fewer than two months of total expenses.

"We are at a time when the financial health of our arts and culture organizations is at a critical level. While few arts leaders wake up with excitement over working capital management, many lose sleep over it,"

said Zannie Voss, director of NCAR.

"Healthy working capital gives arts leaders breathing room."

These findings continue a trend NCAR has identified in previous reports, including

The Bottom Line Report

(2017), which shows that it has become increasingly difficult for arts and cultural organizations to break even.

Click here to read the report.

GREENING YOUR ARTS NONPROFIT




UMass Arts Extension Service

Director

Dee Boyle-Clapp

recently blogged about the simple changes arts organizations can make to reduce their carbon footprints and inspire their communities to do more to fight climate change. What does climate change have to do with arts management? Well, the arts have always led innovation and new ideas, and many arts organizations are already leaders in community development efforts. Running a sustainable and resilient organization can provide financial savings, attract new donors, inspire innovative programming, and if sustainable practices are shared, influence the community to address climate change. Dee writes that as the effects of climate change have descended upon us, and because we have dragged our national and international feet, we now face the astonishing challenge: every individual at every job, campus, and organization worldwide has to reduce its carbon footprint by 80% in order to provide a chance for a livable future for future generations. How can we possibly do this? As Dee puts it: "From serving different foods at our events, to changing policies on what types of public art projects we promote, we provide a blueprint for change and a host of ideas to inspire others to start making a difference now." Dee's class

Greening Your Nonprofit Arts Organization

,

next offered this Fall has students evaluate arts institutions, examining

:

use of electricity, toxic chemicals, HVAC (heating, ventilation and air conditioning), and water, including runoff or water capture, from interior to exterior; e

very aspect of the organization's work from operations to purchasing; p

otential alliances to strengthen local ties and increase purchasing power; w

ays to support a healthier staff, patrons, and community; and w

ays to build staff, volunteer, and patron buy-in to highlight these efforts and affect more change.

She notes that every

semester students find enough ideas to

cut each institution's electrical and HVAC bills by 50% or more!

Recommendations are tiered: small/no cost, medium/some cost, and large/significant cost. Many simply depend on changing habits, for example: fully turning off computers at night and during long meetings, turning on lights or copiers only when they are needed. Some ideas require a one-time electrician visit, e.g. to install auto-light switches. For other projects, students find grants to pay for the changes.

The best news, Dee says, is that small changes save money. Funds can be applied to larger changes, which save even more carbon while further reducing operating costs, and can be funneled back into mission driven programming. See her blog article and details on her class.
LT GOVERNOR WYMAN RECEIVES NATIONAL LEADERSHIP IN THE ARTS AWARD




Connecticut Lt. Governor Nancy Wyman was awarded the Public Leadership in the Arts Award for State Arts Leadership June 28 at the

National Lieutenant Governors Association

(NLGA) annual meeting in New Orleans, Louisiana. The annual award honors a public official who has demonstrated outstanding leadership in the advancement of the arts at the state level. Said Lt. Governor Wyman.

"Art adds depth and texture to our public spaces, it starts conversations, and it helps build thriving and vibrant centers of commerce. I applaud Americans for the Arts and the NLGA for their longstanding commitment to our communities and thank them for their tireless leadership."

Wyman, who retires at the end of her term (Jan. 2019), has served two terms as Connecticut's 108th Lieutenant Governor. She

has been an active member of NLGA, where she served as chair in 2014. During the past eight years, she has been a strong supporter of arts and culture, consistently speaking out at NLGA convenings on the importance of the arts and arts education, and has served as guest speaker and host for several statewide arts programs/ initiatives.

As co-chair for the Interagency Council to close the Achievement Gap, Lt. Governor Wyman brought together commissioners from a variety of departments from across the state including education, housing, child welfare, the arts, and justice.

PRIVATE SECTOR GIVING TO ARTS AND HUMANITIES ROSE TO RECORD

$19.5 BILLION IN 2017




According to the latest

Giving USA 2018: The Annual Report on Philanthropy for the Year 2017 report, private sector giving to the arts, culture and humanities (by individuals, foundations, and corporations) in 2017, rose to

$19.5 billion – an 8.7 percent increase

from 2016. This marked the sixth consecutive year of growth and makes 2017 the highest arts and humanities contribution year ever, even when adjusted for inflation. Arts and culture maintained its "share" of all contributions at 5 percent. Total private giving to all charities rose 5.2 percent to $410 billion. Changes in giving correlate strongly with the S&P 500 and disposable ("spendable") personal income—all of which have increased since 2017.

"Americans' record-breaking charitable giving in 2017 demonstrates that even in divisive times our commitment to philanthropy is solid. As people have more resources available, they are choosing to use them to make a difference, pushing giving over $400 billion,"

said Aggie Sweeney, CFRE, chair of Giving USA Foundation and senior counsel at Campbell & Company. "Contributions went up nearly across the board, signaling that Americans seem to be giving according to their beliefs and interests, which are diverse and wide-ranging."



Music Drives Us

offers Organizational and Musical Instrument Grants.

Organizational Grants

are intended for organizations that are interested in

using music as an educational tool

for all segments of society and for all age groups. Music Drives Us will provide support to institutions that have either seen dramatic cuts in funding for musical education or are unable to fund a music program within their institution. These institutions include public and private school systems, charter schools, hospitals, assisted living facilities, nursing homes, YMCAs, and Boys & Girls Clubs. Please apply only once within a given year.

Eligibility:

The organization must be located in New England; the grant must provide musical opportunities for a group (support of a school marching band, a musical education series, a new music classroom, etc.) ; and the organization must be willing to provide Music Drives Us with statistics and

anecdotal stories

regarding the number of individuals aided by the grant money.

Instrument Grants

are available for schools and organizations throughout New England to enable institutions that have an immediate need for support to purchase musical instruments. Public and private school systems, charter schools, hospitals, assisted living facilities, nursing homes, YMCAs, and Boys & Girls Clubs, all may apply.

Deadline for Organization Grants

is

August 1.

Apply here for Instrument Grants and for Organizational Grants.

LEVITT AMP [YOUR CITY] MUSIC SERIES GRANTS




The Levitt AMP Music Series was created in 2014 by the Levitt Foundation, a pioneer in the creative placemaking movement. Levitt AMP brings the joy of free, live music to people of all ages and backgrounds living in small to mid-sized towns and cities, transforming neglected public spaces into thriving community destinations.

To that end, foundation has issued a Call for Applications for its Levitt AMP Grant Awards program.

Through the program,

grants of up to $25,000 in matching funds

will be awarded to a minimum of fifteen U.S.-based 501(c)(3) nonprofit organizations, or municipalities partnering with a nonprofit, to present a minimum of ten free outdoor concerts presented over ten consecutive weeks between May 1 and Nov. 15, 2019. To be eligible, all proposed Levitt AMP [Your City] Music Series must take place in the United States, in small to mid-sized towns and cities

with a population of up to 400,000 people

,

or within a metropolitan area with a population of no more than 1 million.

For towns or cities located within a metropolitan area with a population that exceeds 1 million, the town or city must be at least twenty-five miles from the anchor city of the metropolitan area.In addition, applicants must display a successful track record of presenting professional-quality concerts or community events, or apply with a partner organization or individual that has done so. Applicants must also demonstrate dollar-for-dollar matching funds from other sources such as foundations, municipalities, 501(c)(3) nonprofits, and/or businesses. Apply here by September 25, 2018.
DIGITAL

DIRECTION

S CREATING AND

MANAGING DIGITAL COLLECTIONS




Guided by a faculty of national experts, join colleagues from institutions large and small for the annual Digital Directions conference in Atlanta, GA, organized by NEDCC (Northeast Document Conservation Center) for two days of instruction on best practices and practical strategies for the creation, curation, and use of digital collections. Network with colleagues who have similar challenges, interact with faculty one-on-one, and gain a comprehensive introduction to digitization and digital preservation. Are you just getting started in digitization and digital preservation? Trying to bring several digital projects together into a cohesive digital preservation program? Or are you well into a digital collections project and need a refresher on the latest standards and best practices? The Digital Directions conference is geared toward professionals working with digital collections at archives, libraries, museums, historical organizations, government agencies, corporate archives, and other organizations that steward digital collections. A discounted student rate is available. The Benefits of Attending: you will come away with an understanding of the major considerations for planning and implementing a digital collections project or programs; you will learn about free tools you can use in your digital preservation project or program; you will have time to interact with faculty, who are all experienced practitioners in the field, and to meet colleagues who can be helpful as you develop your institution's digital preservation program. Highlights of this year's agenda include:

● Understanding Copyright

●

Caring for Born Digital Collections

●

Digital Preservation Tools

●

Preserving Audiovisual Collections

●

Best Practices for Collaborating with State and Shared Repositories

●

Hands-on Metadata Workshop

PROJECT MANAGEMENT FOR NONPROFITS




Formalize your knowledge and understand-ing of industry best practices, project management standards, and leadership skills, with this 3-part certificate series, Project Management for Nonprofits, designed to review and emphasize the project processes and knowledge areas, terms, tools, and formulas as well as to extend the knowledge base into soft skills such as communication, conflict manage-ment, team development and leadership. The entire program is compliant with the Guide to the Project Management Body of Knowledge, 6th edition, (PMBOK®) from the Project Management Institute (PMI). This course will feature: a thorough review of the five project management process groups, the 10 knowledge areas and the 49 process steps, including the inputs, tools and techniques and outputs of each; discussions and exercises supporting time management, project scheduling, earned value management, risk management, communications, and stakeholder management; identification of leadership traits, emotional intelligence (EQ), and exploration of soft skills such as motivation, team development, and empowerment; and identification and analysis of management functions, core business practices. By the end of this course, participants will be able to: understand and recognize key leadership skills, traits, and approaches; identify and implement conflict resolution strategies; put existing project best practices and processes to use; use project tools and procedures that can be implemented to improve or establish formal projects; recognize the value of communication management approaches; and understand team development, motivation, and drive. The workshop presenter is Dr. Stephen Onu, Professor of Project Management and Business Strategy, and a frequent speaker on global project management concepts across the globe. For many years, Dr. Onu worked as a senior consultant for Booz Allen Hamilton Inc. and for Deloitte Inc., managing complex projects across the globe. Program Fees: Early Bird Discount (available through August 9): $389 ($439, Not-Yet-Members); after Aug. 9: $439 ($499 for Not-Yet-Members). For more information and to register, click here.
WESTPORT COUNTRY PLAYHOUSE

DIRECTOR OF MARKETING AUDIENCE DEVELOPMENT




Westport Country Playhouse

seeks an innovative and dynamic

Director of Marketing & Audience Development

(DMA) to join our team. The DMA leads the organization's marketing, public relations, communications, and audience development efforts to maximize earned and contributed revenue. Managing a team of three full-time employees and one part-time employee, the DMA will plan, direct, and implement the marketing, communications, and public relations efforts for all of Westport Country Playhouse's programs and season pro

ductions. The DMA reports to Managing Director Michael Barker, and works with Artistic Director Mark Lamos, as well as the General Manager, Director of Development, and Director of Finance. The Director of Marketing responsibilities include, but are not limited to:

Earned Income Marketing & Communications

: Plan, direct, and implement the marketing, communications, and public relations efforts for all of the Playhouse's programs and productions as well as oversee marketing for all education and family programs.

Fundraising Marketing & Communications

: With DD and MD, plan, direct and implement the marketing, communications, and public relations efforts for all of the Playhouse's fundraising programs.

Strategic

Planning:

With the MD, GM, AD and Board of Trustees, determine strategic direction for the organization. Oversee audience research and overall organizational branding.

Patron Services:

With the GM, Box Office, and Front of House staff, assure top notch customer relationship management and customer

service.

Audience Development

:

Lead initiatives directed towards cultivating new audiences via special programming as well as building community relations. Other responsibilities include the areas of Group Sales, Publications, Social Media, Management of the Marketing Department, Budgeting and Sales Reports and Analysis. Qualifications include: a proven track of 5+

years leading and/or managing a Marketing team, preferably in a not-for-profit arts setting

;

ability to work toward multiple goals concurrently, inc

luding support for both contributed and earned revenue campaigns. For full job description and application details,

click here.

ALDRICH MUSEUM MARKETING MANAGER




The Aldrich Contemporary Art Museum
seeks a Marketing Manager who, working closely with the Head of Marketing and Communications, Graphic Designer, and Digital Media Coordinator, will contribute to and oversee various aspects of institutional marketing and messaging, especially e-communications and strategic content creation. Furthermore, the Marketing Manager will manage marketing efforts to meet/exceed admissions, store, event registration, and space rental revenue goals and manage Visitor Services' marketing needs. Reporting to the Head of Marketing and Communications, the Marketing Manager will work closely with the Development Director and Development Associate to develop, implement, and report on a comprehensive marketing plan to meet/exceed annual membership renewal revenue goals, increase membership renewal rates, increase member engagement, and spearhead marketing efforts surrounding revenue driven campaigns, such as the Annual Fund.

Responsibilities

include: Manage/support membership marketing efforts i.e. eblasts, direct mail, etc.; work with Visitor Services team and Development department to devise strategies and platforms to promote membership sales, and market member events and programs; identify and regularly update in-Museum marketing materials that relate to Visitor Services and Development; supervise social media messaging relating to membership, Development, and Visitor Services' goals and promotional needs; write persuasive letters, articles, and brochure copy for both solicitations and more informational communications about benefits, events, etc.; manage the communication of member benefits and inspire members to visit the Museum more often and to take advantage of their membership; regularly assess the effectiveness of marketing strategies; create all eblasts relating to Development and membership – content, design, scheduling, and subject lines;' and more.

Require-ments

: 5+ years of marketing and manage-ment experience in an arts environment; strong writing and inter-personal skills; professional, friendly demeanor; experience working collaborat-ively across departments/ work groups to achieve overall institutional goals; and more. Full description here. Please send cover letter and resume to: jobs@aldrichart.org, with the subject line "Marketing Manager." Qualified candidates will be contacted. No phone calls, please.
PHILHARMONIA WINDS ORCHESTRA CONDUCTOR




The Norwalk Youth Symphony is seeking a

conductor

for the

Philharmonia Orchestral Winds

beginning in mid-September (students audition late August-early September). The conductor will be responsible for selecting repertoire for the ensemble, leading Sunday afternoon rehearsals, and leading the wind ensemble's three annual concerts. Philharmonia Orchestral Winds is designed to develop and enhance the musical skills of outstanding young woodwind, brass, and percussion players.

In Philharmonia Orchestral Winds, young woodwind, brass, and percussion players receive the special attention needed to develop their technique, tone, musicality, and orchestral ensemble playing. The group performs orchestral arrangements for wind ensemble, and joins with the Philharmonia String Orchestra at selected concerts during the season to give its members experience in playing literature for full orchestra. In addition to giving students the chance to play in an ensemble, this group also prepares young players to join the wind section of a

full orchestra.

Preference will be given to applicants who have a bachelor's degree or higher in music education or performance. Ability to communicate with young people, primarily grades 4-9, is essential. Salary is competitive, and commensurate with experience.

Norwalk Youth Symphony, founded in 1956, is a non-profit organization with the mission to inspire and enrich the lives of young people through music. NYS is located in Fairfield County, in southwestern Connecticut, one hour from New York City. For information on the Norwalk Youth Symphony, click here. Please send an expression of interest and résumé, as well as other materials that seem relevant, as soon as possible, to the search committee by email here

,

or by mail to Search Committee, Norwalk Youth Symphony 71 East Avenue Suite N, Norwalk, CT 06851-4903. Links to short audio or video clips of rehearsals or performances are appreciated. For questions regarding our program or the conducting position call Executive Director, Sara Watkins, at 203-866-4100.

GREENWICH HISTORICAL SOCIETY




Under the leadership of Executive Director, Debra Mecky, the Greenwich Historical Society (GHS), during the past 20 years, attained AAM accreditation, developed an award-winning interpretation of Bush-Holley House and expanded its campus, most recently with a new 7,500 sq. ft. facility under construction. With an operating budget of $1.7 million and a $3.5 million endowment, GHS is governed by a 30 member Board of Directors. There is a staff of 8 full-time, 20 part-time and 200+ volunteers, who play a vital role in supporting fundraising events. The Director of Development reports to the Executive Director, works closely with the Board and other organizational staff, and participates in Board committees.

R

esponsibilities

include

:

working with senior leadership to aggressively plan, lead and direct the organization and implementation of fundraising from individual, foundation, corporate and government sources to meet the operating, exhibition, collections, and education needs of GHS for the present and the long term. Key initiatives include: ongoing efforts to identify and expand corporate and foundation donors and sponsorships; increased identification and cultivation of individual donors, with particular focus on accessing new constituencies and funding sources; growth of the annual fund, major gifts and member-ship; and launching a planned giving program.

Work closely with staff, board and volunteers to maximize the effectiveness of Antiquarius and other special events and activities, and to help attract, cultivate, and retain donors and members, which includes establishing and overseeing the fulfillment of donor benefits and recognition. Work with the Executive Director to motivate and strengthen the Board in its role in develop-ment; expand, manage and coordinate the Board and other volunteers' involvement in fundraising activities; and take an active role in serving and supporting the Board as it continues to grow and develop.

Qualifications

include:

having a back-ground in the cultivation and solicitation of individual, corporate, foundation, and government donors, and a proven track record in the management of successful development programs, including staff and volunteer management. Capital /endowment campaign experience is desirable.

Under-standing and supporting the GHS mission, and appreciating the important role cultural institutions play in the life of a vibrant community.

Qualified individuals, and recommendations of same, are encouraged to submit their credentials as soon as possible to:

Management Consultants for the Arts, Inc. at

MCAWall2@gmail.com

, a

ttention Louise Kane, with subject line: Greenwich. Complete credentials should be submitted electronically, including: cover letter, résumé or CV, salary requirements, four professional references. Full description available

here.
The Cultural Alliance of Fairfield County is a 501(c)(3) organization. We are very grateful for the support of our individual and organization members, our individual donors and the following organizations.