Subject: Organizations Newsletter, December 13, 2019
View this email online if it doesn't display correctly
The Cultural Alliance of Fairfield County is a nonprofit membership service organization that supports its members through unified marketing, capacity building, professional development, and advocacy services. This newsletter is sent to all who request it, but we ask that,
if you are not a member
, you explore membership benefits and consider joining.
Find out more
and
s
ign up here
.
All links in
green
link to pages on our website
NEW EXECUTIVE DIRECTOR NAMED
The Board of Directors of the Cultural Alliance of Fairfield County (CAFC) has announced the appointment of Dr. David L. Green as the new executive director of the organization, effective January 1, 2020. The Board expresses its gratitude for the service of Angela Whitford, who has been executive director since September 2014 and is leaving to pursue other opportunities. Cindy Vaccaro, Board President, expressed the board's warm wishes to Angela for her future, while welcoming David as the new executive director. "David will be following a path that he and Angela created together. As they worked so closely together, this will be a seamless transition for the CAFC. Angela leaves us in terrific shape after accomplishing several significant initiatives." See press release.
The Cultural Alliance of Fairfield County has kicked off its annual appeal campaign, which will be ongoing through the end of the year. If CAFC has touched you, or inspired you, or helped you or your organization during the past year, please consider a small, medium, or larger donation to let us know your appreciation for what we do. Text to 56512: ARTS (amount) and (your name), i.e., ARTS 250 JOHN SMITH, or mail us a check to CAFC, 301 West Ave., Norwalk, CT 06850. Or donate online
here.
HEAR PODCAST OF LATEST

SPOTLIGHT

SHOW
THE NUTCRACKER PHENOMENON
If you missed our December edition of
Spotlight on Arts & Culture
on WPKN 89.5FM, then you can hear it on Soundcloud HERE

.

This month's edition explored the The Nutcracker Phenomenon.
This time of year our dance companies and dance schools explode with their many various productions of, arguably, the most popular ballet anywhere. What's so special about this ballet? Does it pull in audiences who normally wouldn't attend ballet? Do these performances help build the audience for dance? Hear Taylor Millbauer, Executive Director of The Academy of the New England Ballet; Jennifer Moscatello, Marketing Manager of Connecticut Ballet; Ted Thomas, Artistic Director of New England Academy of Dance and New England Dance Theater; and Moira Murphy Wright, Artistic Director, Connecticut Dance School. Make a date to hear our next live interview, Mon. Jan. 13 with
Robert
Wolterstorff

, the new

Susan E. Lynch Executive Director and Chief Executive Officer of The Bruce Museum.
DAVID GREEN JOINS CENTER FOR NONPROFITS BOARD OF ADVISORS
David Green, Executive Director Designate of the Cultural Alliance, has joined the advisory board of the Center for Nonprofits at Sacred Heart University's

Jack Welch College of Business & Technology.

The Center's mission is to provide MBA students with opportunities to apply their knowledge and skills to assist nonprofits achieve their goals. SHU students contribute to addressing the long term viability and effectiveness of not-for-profits while gaining real world experience.

Interested in taking advantage of this free opportunity? Click here to register your interest.
❦

– Latest List by Town of Organization and Creative Business Members: here
❦

– Latest List by Town of Artist Members: here
Bridgeport Downtown Special Services District has launched a "Fundrazr" campaign to raise $3,000
for a "Colorful Bridgeport" mural.
Colorful Bridgeport celebrates the full spectrum of Downtown Bridgeport and its vibrant overlapping forms, shapes, and colors that intersect through its people, streets, places, and spaces. The campaign "
will spread color and joy through public art, activations and events with the goals of economic development, distinct identity, positive perception and an improved quality of life for all."
The money raised by the campaign purchase supplies and pay a local artist for their concept and execution of the mural. The first mural will be unveiled Summer 2020!
The Connecticut Trust for Historic Preservation has adopted a new name and a new logo. Beginning January 1, 2020, CT Trust will be known as

Preservation Connecticut

.
It is re-defining its goal as "preserving historic places for people." P
reservation, the group says, "fosters healthy communities, creates affordable housing, boosts economic and business development, and offers sustainable alternatives to new construction." In redefining their mission, Preservation Connecticut is expanding its reach to new people. "Preservation Connecticut" is designed to bring clarity as the organization makes a shift in its approach.
With a new name and approach comes a new logo, which was designed to capture the spirit of earlier designs but is intended to carry the group into the future: "It is bold, direct, and will show up clearly on print materials and digital platforms."
Franklin Street Works (FSW) received its second ARTE-accessible grant from the Connecticut Office of the Arts to fund existing and expanded access-ibility initiatives. FSW is one of 16 organizations in Connecticut to be awarded the grant for 2020 programming (see list of recipients here). The 2020 ARTE-accessible funding will allow FSW to continue to grow its current offerings and incorporate new initiatives such as: way-finding signage to more easily direct people to the access ramp; a doorbell at the ramp entry door; extended hours for tours, including groups with special needs; Spanish-language content for social media; and increasing the amount and distribution of Spanish-language printed flyers.
Greenwich Symphony Orchestra announced that

David Gilbert

will be stepping down from his post as conductor and Music Director at the end of the 2020-2021 season.

Maestro Gilbert has been at the helm of the Greenwich Symphony since 1975, only the third Music Director in the orchestra's history. He pioneered a new era of the GSO, characterized by adventurous repertoire, a new state-of-the-art concert hall in the Greenwich High School Performing Arts Center, and a solid place as a vital part of the Greenwich community.
The 2020-2021 season will be a celebration of David Gilbert and the orchestra's legacy. The search for a new music director is underway, and the 2021-2022 season will feature performances led by the 5 finalists for the music directorship.
GSO Board President Mary Radcliffe with Maestro Gilbert.
The
Maritime Aquarium at Norwalk
is one of 17 aquariums in the U.S. – and the only one in New England – tending to live corals rescued from Florida in an unprecedented effort to save North America's largest bank re

ef.
Thirty-five corals, representing 13 different species, arrived at The Maritime Aquarium last month from the Florida Reef Tract, a 360-mile bank reef that extends from Port Saint Lucie down to the Florida Keys. On

Dec. 14

,
The Maritime Aquarium is premiering Great Barrier Reef, a new IMAX movie that introduces audiences to some of the creatures that live on the massive Australian coral reef, and documents the work being done by researchers and volunteers to better understand and protect the reef and its inhabitants.
This is the time of year for giving. As part of
its mission to be a socially responsible theatre and to demonstrate the concept of collaboration between arts groups,
New Paradigm Theatre
and
The Norwalk Symphony
have partnered with Perso
n to Person to
collect winter-wear (coats, hats, mittens). New Paradigm will collect donations at
its Have Yourself a Jazzy Little Christmas show, Dec. 14 and 15 at Fairfield Theatre Company, and Norwalk Symphony will collect winter-wear at
its Baroque to Pops concert
Dec. 15.
Stamford's

Project Music is collaborating with the Stamford Symphony this weekend as Project Music students join the Stamford Symphony Brass Quintet in Noel!, their holiday brass concert on Sunday at St. John's Episcopal Church.
A'meara (pictured at right), Cristopher, and Franklin will join the Brass Quintet for a side-by-side performance of two Christmas favorites, after the Quintet perform works by Gabrieli and Bach.
The Quick Center for the Arts at Fairfield University has formed a new partnership with the Bridgeport Public Schools Department of Visual and Performing Arts called

ARTS FOR ALL

.
Serving students in grades K-12, the program engages students in hands-on learning with artists, offers access to performances and lectures, and internship opportunities, while also engaging with teachers through new professional development experiences

.
One of the goals of ARTS FOR ALL is to help level the playing field and ensures that Bridgeport students have equal opportunities. The Quick Center has also donated 2,000 tickets for the 2019/20 season to BPS students and their families to encourage a greater understanding of the art form, create cultural dialogue, and foster a connection to both real world artists and contemporary issues.
Stamford Symphony has collaborated with
INTEMPO
to bring the acclaimed guitarist
Thomas Flippin back to Stamford, after his debut with the Symphony in November,

to work with INTEMPO's young musicians in a masterclass.

Flippin taught several ensembles of guitar and charanga students, currently preparing for their upcoming concerts. This partnership speaks to Stamford Symphony's mission of providing inspiring educational initiatives to the community. The Symphony expressed its gratitude for the work INTEMPO does to bring music to the forefront of children across cultural and economic backgrounds.
Westport Country Playhouse has been awarded a $50,000 Challenge Grant from

Newman's Own Foundation

, the independent foundation created by the late actor and philanthropist, Paul Newman. In conjunction with the Playhouse's year-end fundraising appeal, Newman's Own Foundation will

match all annual fund gifts up to $50,000

through December 31, 2019. The Newman's Own Foundation Challenge Grant will help to highlight the important role of philanthropy in sustaining the non-profit theater where ticket sales account for less than half of the operating budget. Michael Barker, Westport Country Playhouse managing director.
FROM GENEROSITY TO JUSTICE
In its latest blogpost, Grantmakers in the Arts (GIA) points to Ford Foundation President Darren Walker's new book, From Generosity to Justice as the signature move of the philanthropy industry towards understanding that a move to instigating real structural change is in order. The GIA points to Jim Raikes review in

Forbes

that underscores this shift:

"

What Carnegie advocated for in terms of philanthropic acts of generosity – funding a bed in a shelter for example – though valuable and good – isn't enough, Walker argues. Justice is about changing inequitable systems, and the attitudes and beliefs that perpetuate them and keep the 'bootstraps' narrative from becoming a reality."

Raikes

emphasizes that a revolution in philanthropy is not enough: it's ultimately capitalism itself that needs an overhaul.
FUNDING & OTHER OPPORTUNITIES
INCREASE CREATIVE CAPACITY TO SHAPE HEALTHIER NEIGHBORHOODS
Kresge's Arts & Culture Program is currently accepting letter-of-intent applications that align with the Program's focus area,
Increase Creative Capacity to Shape Healthier Neighborhoods
. The Program is designed to advance creative approaches that empower residents to drive change and restore wellness in their neighborhoods and
position culture and creativity as drivers of more just communities.
Applicants are strongly encouraged to first review the
Kresge Arts & Culture Program's
overall funding priorities. Requests that do not align with the Program's funding priorities are less likely to be funded.
NATIONAL COMMUNICATIONS CONTEST
The Connecticut Press Club's Annual Awards contest is open for submissions to all Connecticut-based media professionals. There are more than 60 writing, editing and visual art categories, including print and broadcast news, blogs, newsletters, social media campaigns, photography, nonfiction,

fiction, poetry, YA and children's books, PR, specialty articles in the arts, food, business, education, travel and more.
Anyone who lives or works in Connecticut is eligible to enter. Work must be published from January 1 through December 31, 2019. Requirements and enter here.
The University of Connecticut School of Law is presenting Historic & Green: A New Climate Agenda, a conference co-sponsored by the State Historic Preservation Office, Carmody Torrance Sandak & Hennesy LLP, Preservation Connecticut, and the Connecticut Chapter of the American Planning Association. The event is designed to craft a statewide policy agenda that recognizes preservation as a fundamental environmental value.
Historic preservation is, at its core, an exercise in sustainability. Older buildings are often energy-efficient, made with renewable materials (such as wood or brick), and longer-lasting. Moreover, maintaining an existing structure avoids the environmental costs of replacing it with new construction.
Despite their environmental benefits, Connecticut's historic places face unprecedented threats, including climate change and needless demolition. Preservationists must recognize that in the face of these threats, not everything can be preserved. At the same time, preservationists must build consensus for changes to law and policy that protect historic places in service of environmental goals. For details and to register for this free conference, click here.
EMERGING LEADERS PROGRAM FEBRUARY 3
Through the support of American Express, New York Foundation for the Arts (NYFA) has
announced the sixth session of its Emerging Leaders Program, a free initiative that provides leadership training for arts administrators over nine months.
The Program is open to arts administrators from all disciplines

within commuting distance

of New York City. The core objective is to help arts administrators discover, identify, and develop their personal motivation and individual competencies as leaders while exploring the attributes and themes of arts leadership through an examination of traditional and contemporary leadership models.
NYFA believes an investment in the cultural infrastructure will benefit the entire field, building stronger links and shared knowledge between artists and arts administrators. More than 125 arts administrators have participated in the program since its inception. They come from a diverse range of arts and cultural organizations, and serve a wide variety of disciplines and constituents.To apply,
click here

.
SURVEY: SIX REASONS YOUR RECURRING DONORS CANCEL
Recurring donors are every fundraiser's dream!
They believe in your mission, they are easier to retain year-over-year, and they help your organization to do more to achieve its mission.

So, why do

recurring donors cancel

?
A Network for Good survey of 3,000 year-end donors found that showing donors that their gift really matters and explain how recurring gifts help stabilize programs, they will be more likely to continue their support. Below are the top six reasons recurring donors cancel:
34% – "I would only stop giving if I could no longer afford to give."

25% – "I feel like I've donated enough."

19% – "I have no idea how the gift is being used or if my gift really matters."

13% – "The organization is providing me with unrequested information about the programs I'm supporting."

5% – "I feel like the nonprofit does not understand the reasons why I made the gift in the first place."

4% – "I stopped giving for another reason."
Now that we know why they cancel, how is your organization going to revamp its ask to retain donors from year to year?
See full Blog.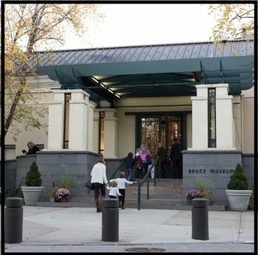 BRUCE MUSEUM
REGISTRAR
The Bruce Museum seeks a full-time Registrar to oversee the proper care, handling, storage (on- and off-site), security, environment, packing, shipping, and insurance of all permanent collection and temporary (loan) objects. Registrar reports to the Executive Director; and supervises the Collections Manager. The registrar maintains Museum exhibition files, ISBN information, publication rights, image archives, and prepares packing, shipping, and insurance budgets for exhibitions. Registrar responds to public inquiries about the permanent collection; reviews/updates Museum's facility report and Collection Management Policy and oversees collections management database: Proficio by Re:Discovery.
Require-ment

s: Extensive knowledge of museum/collection techniques relevant to storage, conservation, handling, materials, record development, management, ethics, maintenance. Knowledge of legal issues regarding acquisition, possession, deaccession of cultural items. Excellent verbal, written skills, meticulous, well-organized, collegial, flexible, diplomatic. Able to manage time and multiple priorities.
Bachelor's Degree in Art History and a Master's in a discipline related to museum studies, arts management and/or museum collections. 3-5 years previous experience with evidence of responsibility in collections care, knowledge of current museum standards and practices. Additional years and a demonstrated track record may be acceptable alternatives to a higher degree.
Email cover letter and resume. No phone calls, please.
SILVERMINE SCHOOL OF ART
ADMINISTRATIVE ASSISTANT
The Silvermine School of Art seeks an Administrative Assistant, a full-time entry-level management position that provides an excellent growth opportunity at a prominent, award-winning art school with nearly 100 years of history and over 4,000 annual enrollments year-round. The position provides support for the School Director in all aspects of managing the daily operations of the school. This role requires excellent computer skills and experience working with online application software systems. This individual must be detail-oriented, have exceptional organizational skills, and be comfortable with numbers and financial information. Full information here.
CT HISTORICAL SOCIETY COLLECTIONS ASSISTANT
The Connecticut Historical Society is looking to add two individuals to its collections department team. The selected candidates will assist with a storage renovation project, as well as assist with the day - to - day operations of the department. These are one-year positions
.
The candidate should be a detail-oriented individual with superior people skills. The successful candidate will be capable of working on a variety of tasks simultaneously. A high degree of organization, self-motivation, and attention to detail is critical.
Full description here
.
AMS Planning & Research
AMS Planning & Research Corp., a leading international consulting practice serving the arts,
culture, and entertainment industries, has an immediate opening in the Southport
office for an Analyst or Senior Analyst.

Job responsibilities include i
ndustry and market research; c
ompilation and distillation of financial, activity, demographic, and other data; s
ynthesis and interpretation of findings; s
trong organizational skills; s
upport for principals, directors, and project managers on a wide variety of project tasks.
Full description
here
.
ALDRICH CONTEMPORARY ART MUSEUM
P/T ACCOUNTANT/BOOKKEEPER
who would be responsible for accurate and timely accounting/bookkeeping functions including A/R, A/P, payroll processing, investment tracking, GL journal entries, annual audit preparation and financial reporting. Requirements include: a
B.A. in Accounting;
5 to 7 years accounting experience; s
trong computer skills and extensive experience with Financial Edge,
Quickbooks, Excel; e
ffective research and internet skills; someone who is h
ighly organized, with a self-directed work style.
Full description here
.
FOR JOBS, FOR SALE, FOR RENT, VOLUNTEERS, AND CALLS FOR ARTISTS - CONSULT AND POST IN OUR
CLASSIFIEDS
Please help us expand the reach of our weekly E-Buzz newsletter with its selection of events taking place that week in our region
.
See the

most recent issue

. Share with a friend. Subscribe here.
Like anything here? Please Share it!
The Cultural Alliance of Fairfield County is a 501(c)(3) cultural nonprofit membership organization. We are grateful to our members and our donors whose support enables us to do our work. Donations are always very welcome and may be made
here
. In particular, we are grateful for support from: