Subject: NCC Weekly News: We Are In A National Crisis
View this email online if it doesn't display correctly
From
Jim: A National Crisis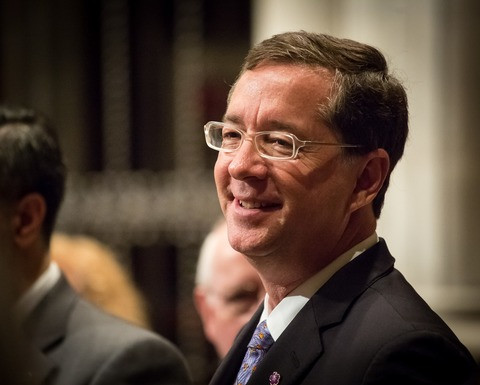 It has been said, "The times change and with them, the people." Perhaps that is so in the United States today where overt racism, as well as hatred of immigrants, is growing. I pray it is not the case. But as I travel the world, I universally find sadness and dismay from people who are in disbelief that the United States they loved and admired seems to have disappeared into a miasma of ignorance and intolerance.

We are in the midst of a national crisis that has deep roots in American history. I have written before in this space that it is my conviction a nation borne on the backs of slaves on land stolen from its native peoples is by definition a violent and racist land, but there are times when a national crisis is embodied by a particular person. Today, that person is none other than the president of the United States himself, Donald J. Trump.

I lived in New York City in the early and mid-1980s when Donald Trump was a well-established tabloid star. He was a cartoon figure known for his bluster, overweening ego, and naked greed. This turned more sinister when he took out a full-page ad in the New York Times in 1989 calling for a return to the death penalty after five young men of color were wrongfully accused of raping a white woman in Central Park.

Mr. Trump famously refused to apologize for that newspaper ad. It is well known that he refuses to apologize for anything because he sees it as a sign of weakness. Typically, after issuing a harsh and unjustified attack on a person, group of people, an organization, a city, or even an entire nation(s) he then demands an apology from those he has attacked!

At his best, he is graceless, awkward and unbecoming of high office. At his worst, he is vile and repulsive. He is aided and abetted by court prophets who comprise his so-called "Evangelical Advisory Council." These false prophets, who claim to be Christian, adore Mr. Trump, spew hatreds of their own, decree days of prayer to defend Mr. Trump against his 'enemies,' refuse to challenge his ignorant rants, and bring shame upon themselves. Like Mr. Trump's, their words and actions are menacing to the health of our society.

This is encapsulated by the one-word response Jerry Falwell, Jr. provided to a question posed to him by the Washington Post, "Is there anything President Trump could do that would endanger that support from you or other evangelical leaders?"

"No."


Mr. Trump's defense of racists, his attacks on women and people of color, his thousands of falsehoods, his cruelty, his pettiness, his crimes and misdemeanors, are too many to recount. Where does one begin? Where will it end?

It is evident a great many of Mr. Trump's admirers and supporters delight in all, or nearly all, that he says and does. A virtual cult of personality has developed around him. There will come a day when millions will look back on these years and shake their heads in disbelief. They will ask themselves how they came to be swept up in such madness and hatred and how they betrayed their own values and beliefs.

President Lincoln said of Americans from both the North and the South, "We are not enemies, but friends. We must not be enemies. Though passion may have strained, it must not break our bonds of affection. The mystic chords of memory will swell when again touched, as surely they will be, by the better angels of our nature." Let us embrace those words again.

I write this column in great sadness and out of disbelief for what is taking place. I am comforted by these words from Psalm 147:3-6, "God heals the brokenhearted and binds up their wounds. God determines the number of the stars; God gives to all of them their names. Great is our God, and abundant in power; God's understanding is beyond measure. God lifts up the downtrodden; God casts the wicked to the ground."

Jim Winkler
President and General Secretary
Gun Violence Must End Now

The news that two massacres took place this past weekend, one in El Paso, TX and the other in Dayton, OH, in which 29 people lost their lives within a span of 13 hours leave us numb, horrified, and in grief. These, the latest of 251 mass shootings this year, are clearly acts of domestic terrorism. Once again, the National Council of Churches lifts its voice in prayer for those who have been directly affected by the shootings and, indeed, for the soul of our entire nation. Once again, we commit ourselves to supporting measures that will reduce and prevent gun violence.

How long O Lord, must we endure this violence?

We are deeply discouraged by the awareness of the near certainty that our elected officials will not respond in any meaningful way to this violence, for they are collectively and shamefully within the captivity of the gun lobby. Our elected leaders are guilty of negligence and cowardice.

Incendiary language from leaders also must be boldly and consistently condemned and countered. Racist, inflammatory rhetoric must be replaced by words and deeds that create beloved communities, ones that embrace ethnic, racial, and religious diversity. These are the values we wish to see in a vibrant, inclusive America.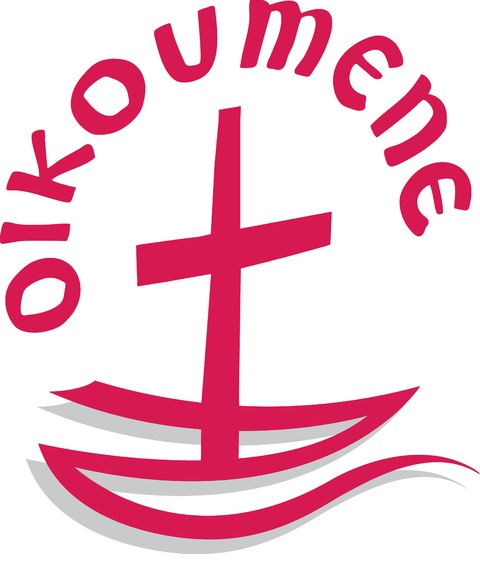 Churches respond to violence in the USA

A wave of shootings in the United States has prompted lament, condolences and condemnations from US churches and the World Council of Churches (WCC).

"We stand with our sisters and brothers in the US in these hours of grief and confusion," said WCC general secretary, Rev. Dr Olav Fykse Tveit, "and, along with our condolences, we join the urgent cries of churches and church people for real remedies to the gun violence there."

Nearly three dozen people have been killed in three incidents in the last ten days in the US. In the latest killing, a gunman in Dayton, Ohio, on 4 August shot and killed nine and injured 26 people in a downtown entertainment district there. That incident was preceded a day earlier by one in El Paso, Texas, in which a 21-year-old opened fire in a store and shopping centre that left 20 people dead and dozens injured. A week earlier, a summer festival in Gilroy, California, was interrupted by a shooting that left three dead and many injured.

"We know," said Tveit, "that the issue of guns in the US borders on larger issues of violence, race, and political polarization. It is not just a legislative issue, though it is also that. Churches have a key role to play in both education and advocacy."

Legislative solutions in the US are often impeded by lobby groups, who cite rights guaranteed by the US Constitution's second amendment.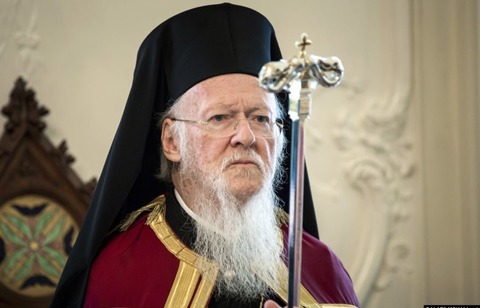 Ecumenical Patriarch: Show spiritual resistance to violence and hatred





Announcement on the killings in El Paso and Dayton, USA



Ecumenical Patriarch Bartholomew expresses his disgust and outrage at the murderous attack in El Paso, Texas, USA, in which twenty of our fellow citizens were killed and twenty-six others were injured, as well as the bloodshed in Dayton, Ohio, in which several of our fellow citizens were reportedly killed and injured.

His All-Holiness strongly condemns every act of hatred -- racial, religious or social, and also any form of violence and fundamentalism, wherever they come from. Hate and violence, he points out, cause a great deal of pain and fear, and are sometimes the cause of further acts of violence in the form of revenge. In the face of this soaring, dangerous and bloody phenomenon, he notes, every good-natured person must display strong spiritual resistance. He calls on everyone to work, through dialogue and in a spirit of mutual respect, to preserve the good of peaceful coexistence and cooperation, against practices that reinforce fear and the division of society.

STOP THE HATE SPEECH – STOP THE VIOLENCE

The Social Action Commission of the African Methodist Episcopal Church is amazed, but not astonished, at the shootings that recently took place in El Paso, Texas, and Dayton, Ohio. These mass shootings took place within hours of each other. We now know that the El Paso shooting is being investigated as a possible hate crime. Is it possible that this is the violent fruit from the seeds of hatred that President Trump has been sowing before, and since, his November 2016 election?


Who would believe that in the 21st Century, with one of the most diverse populations in American history, a President of the United States thinks he can get away with speaking divisive and destructive words that are having deadly consequences? His words reflect the insidious, insensitive, and often divisive intentions of an administration that is out of control and out of touch.


The childhood truism says, "Sticks and stones may break my bones, but words can never hurt me.", President Trump is proving that words can kill. Words spoken since Charlottesville have led to an increase in reported hate crimes by white supremacists. 


We call upon African Methodist Episcopal members and servant leaders to:

1) Pray for the families and victims of these two shootings. (Indeed one of our AME Pastors had a family member who died in the Dayton violence.)

2) We ask our Churches to have their local and Annual Conference Social Action Commissions in the local churches and Annual Conferences, meet and organize with the pro-gun control organizations in their communities to: 

Get educated on the gun control laws in their states.


Examine how these gun laws may be affecting the people in the communities you serve. Why are assault weapons so prevalent in our communities? Why are so many of them in the hands of criminals? Who is getting rich from hatred and violence?


Work hand in hand with reputable gun control groups in your area that want to stop the violence and make all of our cities, counties, states and the United States of America safe for all.


Take a look at the position your Congressperson and U.S. Senator has taken on these issues. Hold them accountable for their policy statements and votes on gun control. During this recess, visit your US Senators urging them to call forth and support HR 8. Encourage them to participate in National Hearings re: Gun Control.


Finally, have we become so numb to the "call to hate" that we don't see the connection to the violence in our streets? Schools and churches were once safe places where people could gather peacefully. Is there any place safe from the rhetoric of hate and the response of violence in Trumps America? Business, as usual, is no longer acceptable.


"Do not be overcome by evil, but overcome evil with good." (Romans 12: 21)
Bishop Harry L. Seawright, President of the Council of Bishops

Bishop Gregory G. M. Ingram, President of the General Board

Bishop Adam J. Richardson, Jr. Senior Bishop

Bishop Frank M. Reid, III, Chair of the Commission on Social Action

Mrs. Jacquelyn Dupont-Walker, Consultant/Director
National Cathedral Dean Randy Hollerith on the Recent Mass Shootings in Texas, Ohio and California

Over the last week, our nation has suffered mass shootings in Texas, Ohio and California along with dozens of other deadly shootings across the country.

Earlier this week, Washington National Cathedral asked the nation to look inward at our tolerance for hateful and racist rhetoric. I do so again, asking, how long will we tolerate this epidemic of gun violence?

I say this as someone who is myself a gun owner. I grew up with guns, bird hunting and target shooting with my family – activities that I still engage in to this day. This can't be an argument between those for and against gun ownership. The number of shootings in our country is obscene. The fact that we fail to do anything substantive to reduce these kinds of tragic incidents is negligence.

And to my fellow gun owners, thinking that the right to own guns in America means that we cannot take significant steps to reduce gun violence is both selfish and deadly.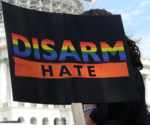 UCC leaders call for action to end gun violence now

After two mass murders in just over 13 hours that left 29 people dead and scores injured in Texas and Ohio, the President of the United States echoed the call that religious leaders and gun violence prevention advocates have been sounding for years: It's time for swift bipartisan action to address the national epidemic of gun violence.

United Church of Christ leaders think the U.S. needs to go a step further. They issued a call to action, urging churches and congregants to make gun violence prevention a prominent campaign issue – in addition to offering prayers for victims, their families and the communities of El Paso, Tex., and Dayton, Ohio, where the Aug. 3 and 4 shootings occurred.

"In one voice our nation must condemn racism, bigotry and white supremacy," President Donald Trump said from the White House Monday, Aug. 5. "These sinister ideologies must be defeated. Hate has no place in America. Hatred warps the mind, ravages the heart and devours the soul."
National Sikh Campaign expresses solidarity with El Paso, Texas and Dayton, Ohio

With deep sorrow the National Sikh Campaign (NSC) expresses solidarity with El Paso, Texas and Dayton, Ohio, which have both have experienced mass shootings within the last 24 hours. In the case of El Paso, the gunman published a hate-filled, anti-immigrant manifesto and support for the shooter in Christchurch, New Zealand who murdered 51 people.

The shooting is particularly poignant for the Sikh American community and the National Sikh Campaign because tomorrow we mourn the 7th anniversary of Oak Creek, Wisconsin, a similar hate-fueled attack where a white supremacist murdered six Sikh men and women at a Gurdwara (Sikh house of worship). National Sikh Campaign was created in response to Oak Creek to help inform the American public about our values of tolerance and equality for all people.

Anjleen Kaur, Executive Director of NSC said, "The Sikh American community is deeply saddened by the shooting in El Paso, Texas. As Sikhs our central belief in our faith is that in the eyes of God all people, regardless of their race or gender, are equal and as Americans our founders declared in our founding documents that "all men are created equal". We are disturbed by the rise in ideologies in our country that are fundamentally contrary to the core values of our nation and our faith. We pray for the victims and their families in El Paso and also in Dayton, Ohio."

The National Sikh Campaign urges community members to express solidarity with the victims in El Paso tomorrow on the 7th anniversary of Oak Creek, Wisconsin.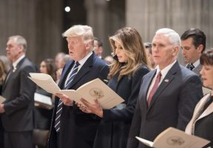 Have We No Decency? A Response to President Trump
The escalation of racialized rhetoric from the President of the United States has evoked responses from all sides of the political spectrum. On one side, African American leaders have led the way in rightfully expressing outrage. On the other, those aligned with the President seek to downplay the racial overtones of his attacks, or remain silent.

As faith leaders who serve at Washington National Cathedral – the sacred space where America gathers at moments of national significance – we feel compelled to ask: After two years of President Trump's words and actions, when will Americans have enough?

As Americans, we have had such moments before, and as a people we have acted. Events of the last week call to mind a similarly dark period in our history:



"Until this moment, Senator, I think I never really gauged your cruelty or your recklessness. … You have done enough. Have you no sense of decency?"



That was U.S. Army attorney Joseph Welch on June 9, 1954, when he confronted Senator Joseph McCarthy before a live television audience, effectively ending McCarthy's notorious hold on the nation. Until then, under the guise of ridding the country of Communist infiltration, McCarthy had free rein to say and do whatever he wished. With unbridled speech, he stoked the fears of an anxious nation with lies; destroyed the careers of countless Americans; and bullied into submissive silence anyone who dared criticize him.
Hundreds of Presbyterians join Baltimore residents for action against gun violence

A sea of blue made its way along the sidewalks of downtown Baltimore on Friday evening. Approximately 200 Presbyterians attending Big Tent joined local advocates to speak out against gun violence. The group, dressed in blue Presbyterian Church (U.S.A.) T-shirts, marched as part of the quarterly Baltimore Ceasefire Weekend, a grassroots effort to draw attention to the growing problem.

Five local Presbyterian churches organized the walk, covering several areas where people have died in gun violence over the past few years. Participants stopped at three locations for prayer along the one-hour route. During the time, they would hear about a few of the individuals who had died.

"We need to be able to put a face on violence. These are not statistics or figures on a spreadsheet, these are husbands, fathers, and mothers with children," said the Rev. Keith Paige, pastor of Cherry Hill Community Presbyterian Church. "These are people just like all of us, seeking a better life, who were cut down in the prime of theirs."

Paige says actions like the ceasefire walk are encouraging residents to ask questions.

Church leaders affirm Baltimore after tweets

Church leaders in Baltimore are urging United Methodists to resist "reactionary responses" to President Donald Trump's disparaging tweets about their beloved city.

"Prophetically choose: Community over Chaos (Jeremiah 29:7); Courage over Cowardice (2 Timothy 1:7) and Calling over Conflict (Luke 4:18)," said the bishop and Baltimore District superintendent in an emailed newsletter posted July 30.

Baltimore-Washington Conference Bishop LaTrelle Miller Easterling, and the Rev. Wanda Bynum Duckett, superintendent, Baltimore Metropolitan District, stepped back from what they called the president's "disparaging and one-side characterization" of their annual conference to speak with peace, pride and respect of their home.

"As is our biblical mandate, we pray for President Trump and all of our elected officials," write the two leaders. "However, we are convinced that we must not rest in a place of offense—or even defense—over the comments made by the president about Baltimore."

Speakers Announced for Christian Unity Gathering
Rev. Dr. Olav Fykse Tveit, World Council of Churches general secretary

One of today's greatest Christian leaders, The Rev. Dr. Olav Fykse Tveit was elected general secretary of the World Council of Churches (WCC) in August 2009, and was re-elected to a second term in July 2014. At the time of his nomination, Tveit was the general secretary of the Church of Norway Council on Ecumenical and International Relations (2002-09).

In his home country, he served as a member of the board of directors and executive committee of the Christian Council of Norway, moderator of the Church of Norway – Islamic Council of Norway contact group and the same for the Jewish Congregation contact group. He also was a member of the Inter-Faith Council of Norway and a member of the board of trustees of Norwegian Church Aid.

Dr. Agnes Abuom, Moderator of the WCC Central Committee

Dr Agnes Abuom, from the Anglican Church of Kenya, was elected unanimously by the WCC 10th Assembly on 8 November 2013 to serve as moderator of the WCC Central Committee. She is the first woman and the first African in the position in the history of the World Council of Churches.

Abuom has served on the WCC Executive Committee, representing the Anglican Church of Kenya. She is also a development consultant serving both Kenyan and international organizations coordinating social action programmes for religious and civil society across Africa.

Abuom was the Africa president for the WCC from 1999 to 2006. She has been associated with the All Africa Conference of Churches, National Council of Churches of Kenya and WCC member churches in Africa, as well as Religions for Peace.

Abuom's areas of work include economic justice, peace and reconciliation.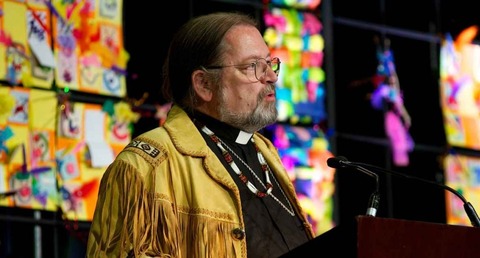 Archbishop Mark L. MacDonald

The Most Rev. Mark MacDonald became the Anglican Church of Canada's first National Indigenous Anglican Archbishop in 2007, after serving as bishop of the U.S. Episcopal Diocese of Alaska for 10 years.

Archbishop MacDonald was born on Jan. 15, 1954, the son of Blake and Sue Nell MacDonald. He holds a B.A. in religious studies and psychology from the College of St. Scholastica in Duluth, Minn., an M.A. in divinity from Wycliffe College, and did post-graduate work at Luther-Northwestern Theological Seminary in Minneapolis.

He has had a long and varied ministry, holding positions in Mississauga, Ont., Duluth, Minn., Tomah, Wis., Mauston, Wis., Portland, Ore., and the southeast regional mission of the Diocese of Navajoland. Immediately prior to his ordination to the episcopate, Archbishop MacDonald was canon missioner for training in the Diocese of Minnesota and vicar of St. Antipas' Church, Redby, Minn., and St. John-in-the-Wilderness Church, Red Lake, Red Lake Nation, Minn.

He is the board chair for Church Innovations, Inc., and a third order Franciscan.
Join With Christians Against Christian Nationalism

As Christians, our faith teaches us everyone is created in God's image and commands us to love one another. As Americans, we value our system of government and the good that can be accomplished in our constitutional democracy. Today, we are concerned about a persistent threat to both our religious communities and our democracy — Christian nationalism.

Christian nationalism seeks to merge Christian and American identities, distorting both the Christian faith and America's constitutional democracy. Christian nationalism demands Christianity be privileged by the State and implies that to be a good American, one must be Christian. It often overlaps with and provides cover for white supremacy and racial subjugation. We reject this damaging political ideology and invite our Christian brothers and sisters to join us in opposing this threat to our faith and to our nation.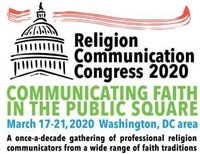 Registration opens for once-a-decade Religion Communication Congress

The wait is over! Registration is now open for Religion Communication Congress 2020: Communicating Faith in the Public Square (RCCongress 2020). Join hundreds of your religion communicator peers from various faith traditions in Washington, D.C. At the heart of the nation's capital, take advantage of the unique opportunity to participate in the phenomenal programming, expansive networking platform, and hands-on instruction that is characteristic of RCCongress events.

Program speakers, panels, workshops and preliminary schedule are on the Religion Communication Congress 2020 website.

Registration is open to all! Each participant must complete a registration form. Special rates are available for students, retirees, and groups that meet the registration requirements. Day rates are also available for those who cannot attend the full conference. Visit the Religion Communication Congress 2020 website for complete registration information.
Let Your Light Shine: Mobilizing for Justice with Children and Youth
A New Resource from Friendship Press
Children face too many tough situations today: broken immigration policies, hunger, school shooting, mass incarceration, human trafficking, failing schools, child soldiers in wars worldwide. Despite the harsh realities, there is still hope! And YOU can play a vital role in keeping that hope alive! Let Your Light Shine challenges readers to engage in their own work of justice for and with children. Inspired by the contributions of leaders like Marian Wright Edelman, founder of the Children's Defense Fund, the authors present ways to engage in works of justice that offer life, meaning, and hope to our children and youth.
Serving as a leading voice of witness to the living Christ in the public square since 1950,
the National Council of Churches of Christ in the USA (NCC) brings together 38 member communions
and more than 40 million Christians in a common expression of God's love and promise of unity.