Subject: NCC Weekly News: The Challenges Ahead
View this email online if it doesn't display correctly
From Jim: A Defining Year
I believe any nation built on the backs of slaves on land stolen from its native people is perpetually in crisis. While many white Americans look back to 'better days' when the nation was happy and peaceful, the fact is no such time ever existed. The United States has always been in the midst of turmoil and those who are and have been exploited and disenfranchised have always rebelled against their condition.

Slave patrols—the very reason for the Second Amendment—tried to prevent enslaved humans from finding freedom for many years. After the Civil War, slave patrols were replaced by the KKK. The US Army enabled white settlers moving west by forcing native peoples off their lands and killing them when necessary. Violence and turmoil and turbulence have constantly marked the history of this nation.

Those unpleasant facts are not faced by a great many people in our nation. They were only obliquely referred to in the education I experienced from grade school through graduate school.
But now feels like a new chapter in our national crisis. The president threatens to declare an emergency in order to build his wall on the southern border to keep out those who seek a better life as they attempt to escape violence, poverty, and desperation. Much of the federal government has been shut down. Divided government is the order of the day. Polarization is profound and it appears a constitutional crisis related to other presidential misdeeds looms.

2019 is likely to be the year that defines the Trump presidency as 1974 did for Richard Nixon and 1998 was for Bill Clinton. I wonder if the church is spiritually prepared for such a time as this?
Mass shootings abound. An opioid crisis claims 70,000 lives a year and suicides take another 40,000. Looming over this is rapidly unfolding climate change, leading the naturalist Sir David Attenborough to remark at last month's UN climate change summit that "If we don't take action, the collapse of our civilizations and the extinction of much of the natural world is on the horizon."

As always, the question arises, 'What does the church have to say?' Behind that question is this one, 'Where is the hope of the world?' Certainly, I believe it resides in God and I believe every act of love and of justice paves the way toward a better future.

In Deuteronomy, Moses says, "So now, O Israel, what does the Lord require of you? Only to fear the Lord your God, to walk in his ways, to love him, to serve the Lord your God with all your heart and with all your soul, and to keep the commandments of the Lord your God and his decrees that I am commanding you today, for your own well-being." (Deut. 10:12-13, NRSV)

There's no more time to waste. We have what we need to set everyone free, to care for the sojourner, and to heal the earth. This is what God wants. The crisis is deepening, the storm is approaching. Be prepared.

Jim Winkler
President and General Secretary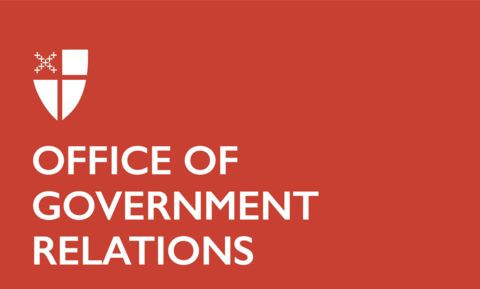 Immigration Debate and the Government Shutdown

As the partial government shutdown continues into its third week, we wanted to share some information about the cause of the shutdown, the implications, and to provide some context on where we as a Church stand on immigration and border security.

The President has requested more than $5 billion dollars for the construction of an expanded physical border wall along our southern border. At this point, Congress is unwilling to appropriate that level of funding for the construction of such a barrier. Rather than passing appropriations bills that keep the government open while Congress and the Administration debate border security measures, much of the federal government is shutdown, causing great hardship for thousands of federal workers, their communities, and undermining important federally funded initiatives, such as scientific research.

To ensure U.S. border security, many experts argue that an expanded physical wall would not be feasible or effective, and indeed, there is already a wall or type of fencing along 654 miles of the 1,933 miles along our southern border. The areas that do not have a barrier are either geographically prohibitive to a wall or are on private land. While we are seeing a large number of families seeking asylum at our southern border in recent months, total border crossings are at an all-time low. The U.S. has existing laws which grant asylum seekers legal rights, and an existing enforcement and judicial system to evaluate their claims.

Mission co-worker: Migration is a human issue, not a political one

On Thursday, President Trump travels to the southern border of the U.S. to make his case for a $5 billion border wall to protect the country from an invasion of migrants. Mission co-worker Mark Adams has lived on the border since 1998. He believes that Christians are called to see the migrant issue very differently.

"We as the church are called to respond in faith and not fear. It's not just the current administration, but previous administrations as well, who have led us to respond in fear about issues of migration," said Adams. "We as the church have to say no, we are not going to respond in fear. We must remember, whether people are coming for economic reasons or family reasons or fleeing violence seeking asylum, these are people created in the image of God and we're called to love and not to fear."

Adams said that the Church must look at the reality of migration as primarily a human issue, not a political or ideological issue. "I think it is imperative that we always keep it focused on humans and faith and how we live out our faith amid the realities we face," he said.

Ending the Government Shutdown

As the partial government shutdown drags well into its third week, the human cost of the shutdown is coming into sharp focus. On Wednesday, Jan. 9, PC(USA) Office of Public Witness Director, the Reverend Jimmie Hawkins, said, "It is time for the Senate to take up the House spending bills and send them to President Trump, who must sign them immediately. Shutting down the government over policy disagreements is no way to govern a nation. It is long past time that Congress and the President reopen the government without further militarization of the southern border. Real people---from federal contract workers who will not receive back pay, to SNAP recipients whose benefits are in jeopardy, to civil servants who are being required to work without pay---are suffering hardships because of this reckless behavior. Congress and President Trump must immediately reopen the government, removing this unnecessary burden from the shoulders of the American people."

Click here to email your Members of Congress about ending the government shutdown.

On December 22, the federal government entered a partial shutdown, ostensibly over whether a $5 billion wall is needed along the southern border. And while the President claims that this wall will respond to a crisis at the border, Presbyterian partners in the region report that the only crisis along our southern border is a humanitarian crisis of the United States' own making. Building a wall will fail to make the border more secure, will disrupt the flow of life in communities along the border, and waste valuable resources that could be used to implement more humane immigration policies and provide more services to those who are coming to us for help. While we waste energy and resources on further militarizing the border and on harsh immigration enforcement measures, we are missing real opportunities to discuss and enact substantive solutions to reform the immigration system and establish compassionate immigration policies.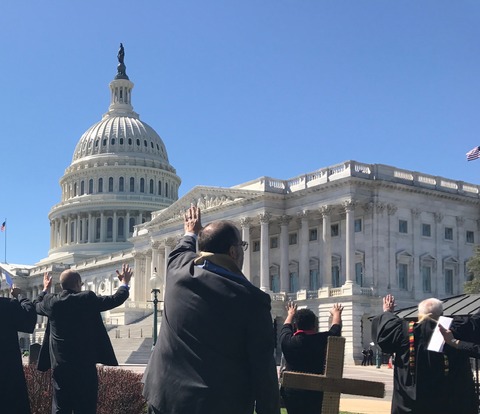 First Step or Last Step?



It seems as if all of political D.C. has broken out in song over the First Step Act of 2018. Finally, a bipartisan piece of legislation that not only passed both houses of Congress but also was signed by President Donald Trump. This law-and-order president signed criminal justice reform legislation that was put forward by conservative Republicans and also embraced by liberals such as Sen. Cory Booker (D-N.J.).

It's not hard to understand why there is a desire to celebrate. In a month that included two children dying while in the custody of U.S. Customs and Border Protection; Trump glorifying the government shutdown because $5 billion wasn't earmarked for his border wall; Border Patrol officers shooting tear gas into a crowd that included pregnant women and children; U.S. culpability in the ongoing Saudi massacre in Yemen being revealed to the American public; and an early spring cleaning of Trump administration officials, we all need something to celebrate.



We have to ask, however, should we celebrate this bill?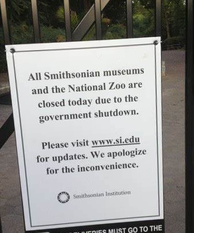 Pressure on vulnerable people amplified by shutdown



After another week of stalled budget negotiations, the U.S. is now in the third week of the partial government shutdown. Various media outlets and agencies have covered important points over the past few days, such as the 800,000 workers left without pay, limited TSA service and shocking images of deteriorating national parks as services close. But perhaps less noticeable are the growing effects that a prolonged shutdown could place on low income families.

Though many services and programs Congress authorizes are still temporarily running on necessary or "mandatory" funding, local agencies that work with federal contracts will start to feel a tighter and tighter squeeze the longer the government remains closed. For instance, local public housing agencies that provide housing aid will likely run lower and lower on their own funding the longer the shutdown goes, risking the closure of local operations. Other important low-income housing programs, such as certain types of rental assistance and multifamily housing, may start to face serious challenges as well if the shutdown runs past February 1st.
Week of Prayer for Christian Unity

At least once a year, Christians are reminded of Jesus' prayer for his disciples that "they may be one so that the world may believe" (see John 17.21). Hearts are touched and Christians come together to pray for their unity. Congregations and parishes all over the world exchange preachers or arrange special ecumenical celebrations and prayer services. The event that touches off this special experience is the Week of Prayer for Christian Unity.

Traditionally the week of prayer is celebrated between 18-25 January, between the feasts of St Peter and St Paul. In the southern hemisphere, where January is a vacation time, churches often find other days to celebrate it, for example around Pentecost, which is also a symbolic date for unity.

The theme for the week of prayer in 2019, "Justice, and only justice, you shall pursue ..." is inspired by Deuteronomy 16:18-20. The resources for the week have been prepared by members of different churches in Indonesia.

International Day for the Elimination of Racial Discrimination is March 21

2018 Theme: Promoting tolerance, inclusion, unity and respect for diversity in the context of combating racial discrimination

Every person is entitled to human rights without discrimination. The rights to equality and non-discrimination are cornerstones of human rights law. Article 1 of the Universal Declaration of Human Rights states that all human beings are born free and equal in dignity and rights. And based on Article 2, everyone is entitled to all the rights and freedoms set forth in the Declaration, without distinction of race or any other kind.

Yet racism, xenophobia and intolerance are problems prevalent in all societies, and discriminatory practices are widespread, particularly targeting migrants and refugees as well as people of African descent.

States are urged to take comprehensive measures to combat racism, racial discrimination, xenophobia and related intolerance, and to promote tolerance, inclusion, unity and respect for diversity.

Ecumenical Opportunities:
The Mennonite Central Committee is seeking

a
Legislative and Communications Fellow:
This is a full-time fellowship; half of the role involves public policy advocacy, focused primarily on mass incarceration and needed reforms to the U.S. criminal justice system, with a secondary focus on gun violence. The other half of the role focuses on the office's public communications. Deadline for receiving letters and resumes is January 25, 2019. It is an entry-level role that involves significant mentoring and opportunities for growth and development.
QUNO Geneva seeks a Representative for Sustainable and Just Economic Systems:

We have an outstanding opportunity in our unique, integrated and friendly team. We seek a committed person with excellent analytical, visioning and inter-personal skills, to scope and pilot an evolving QUNO program at the United Nations and the World Trade Organization.
The Joseph P. Kennedy, Jr. Foundation

is seeking exemplary professionals, and/or persons experiencing disability and/or family members of persons with intellectual or developmental disabilities who are currently working or volunteering in the field of inclusive services and supports for people with intellectual and developmental disabilities. The Joseph P. Kennedy, Jr. Foundation Public Policy Fellowship is a one-year, full-time, intensive immersion experience in Washington, D.C. The purpose of the Fellowship is to prepare emerging leaders to assume leadership roles in the public policy arena at the state and/or national levels. During this one-year Fellowship, the successful applicant will learn how federal legislation is initiated, developed, and passed by the Congress, as well as how programs are administered and regulations promulgated by federal agencies. Fellows also learn how the organized disability community works to shape public policy impacting people with disabilities, and their families.
Serving as a leading voice of witness to the living Christ in the public square since 1950,
the National Council of Churches of Christ in the USA (NCC) brings together 38 member communions
and more than 40 million Christians in a common expression of God's love and promise of unity.