Subject: NCC Weekly News: Another National Nightmare
View this email online if it doesn't display correctly
From
Jim: Another National Nightmare
I wore an "Impeach Nixon" button most of my sophomore year in high school. In the summer of 1973, my family took a long trip by car from Illinois to see family in Oklahoma. We listened to the Senate Watergate Committee hearings while we were on the road and I was gripped by the unfolding drama, the exposure of Nixon's cover-up, and the disintegration of his presidency. Still, it was another year before he resigned from his office and President Ford announced that our long national nightmare was over.

Today we are experiencing another national nightmare as revelations come forth daily about President Trump's attempt to use the office of the presidency to coerce the president of Ukraine to investigate former US Vice President Joe Biden in order to receive military assistance already approved by the Congress.

I write this column on the day the newspapers carried the statement made before the House Permanent Select Committee on Intelligence by Lt. Col. Alexander Vindman. Vindman, an infantry officer who was wounded in Iraq, told the committee of his feeling it was not "proper to demand a foreign government investigate a U.S. citizen…"

My family includes highly conscientious former senior federal government workers and military officers, so when Col. Vindman was then attacked by elected officials as being loyal to a foreign nation and as part of a "Deep State" conspiracy against the president for speaking up about a serious offense committed by the president, it sickens me.

As more people come forward to testify, it is clear President Trump faces impeachment in the House of Representatives although he may yet escape conviction in a Senate trial. We have a president who is a compulsive liar. The president exhibits cruelty on a daily basis. He is an obvious racist. He is unbecoming of the office he holds.

Although there is a coterie of Christian leaders who surround President Trump and stridently defend him, the silence from most Christian leaders at both the local and national levels has led some to believe this is because churches oppose the impeachment process and support President Trump.
Here are some realities: The churches that comprise the National Council of Churches prefer to address issues rather than personalities, insofar as possible. Many of our member churches have a great many Republicans and Democrats who worship together in local congregations. In this poisonous national atmosphere, I believe many churches are trying more than ever not to see their congregations split over this national crisis.
However, they may not be able to prevent such ruptures. When prominent pastors such as Robert Jeffress warn the impeachment process will create "Civil War-like" ruptures in the nation and Franklin Graham suggests impeachment could cause the nation to unravel, these are code words permitting armed resistance to the potential constitutional removal of a president.

When King David used his power to send Uriah to his death so that he could possess his wife Bathsheba, the prophet Nathan confronted the king and asked, "Why have you despised the word of the Lord, to do what is evil in his sight?" (2 Samuel 12:9, NRSV). If those Christians who have the ear of the president will not ask that question, then we must.

Jim Winkler
President and General Secretary
Harriet Tubman, in movie and real life, guided by faith in fight for freedom


"God don't mean people to own people."

That simple statement, uttered by Cynthia Erivo in the title role of "Harriet," a new movie about Harriet Tubman, reveals a truth long known by scholars of the woman dubbed "Moses."

Tubman's lived religion has been well recorded and used to explain how in 1849 a Maryland 20-something slave (her exact birthdate is not known) set out for the North to freedom, then over the next 10 years helped dozens of others gain liberty from enslavement. She embraced faith instead of fear, said Kate Clifford Larson, a historical consultant for the movie.

"It gave her confidence to do the things that she did," said Larson.

"She felt so guided and protected by her God, her faith, her everything spiritual that that's what enabled her to act even when she was afraid, even when the obstacles seemed insurmountable. Her faith gave her that strength to keep moving even though she was afraid."

"Harriet," which opened Nov. 1, details how her heroism was wedded to her lifelong religious beliefs.

Systemic Racism and the Legacy of Slavery
Rev. Dr. W. Franklyn Richardson's address at the Opening Plenary Session of the Christian Unity Gathering
I am humbled by this opportunity to share with you, my sisters and brothers in Christ. All of us are summoned here from different faith communities and diverse backgrounds; we are black and white, male and female, yet united in the cause of justice. Regretfully, we are gathered at this place negotiating the reality of America's original sin, and her continuing shame and pain. We are here, in our diversity, within a tapestry of hope. As we stand with this backdrop of human misery and shame—the misery of the enslaved and the shame of the enslaver—I, nevertheless, feel encouraged by the fact that we have gathered here together in observance of the continuing impact of this awful chapter in American history.

We are here today both to remember and to lament! To this place, we have come with solemn sadness; to this very place where the cruel system of American slavery was birthed. We, the sons and daughters of the enslaved and the enslavers, have gathered and come to this place where the long procession of systemic dehumanization of men and women began in this country, a dehumanization based on skin color and fueled by greed. This place has been and is a place of human bondage. The trees, the hills, the rivers, and the roads stand as silent witnesses to indescribable cruelty that took place in this space. I believe, if we listen hard with our hearts, in this moment, we can hear the slaves –their voices, their lament, their cries, and their tortured groans.
National Council of Churches Takes Next Steps to A.C.T. Now to End Racism

As part of its bold pledge to A.C.T. Now! (Awaken, Confront, Transform) to End Racism, the National Council of Churches and representatives of its 38 member communions gathered at Old Point Comfort near Hampton, Virginia to remember the "20 and odd" enslaved Africans brought there over 400 years ago. More than 250 leaders came to lament and remember the enslaved Africans brought to this place 400 years ago, marking the beginning of institutionalized slavery in what would become the United States of America.

"With the cries of our enslaved ancestors, ringing in our ears, we are called to this place, which has been made sacred by their blood and their tears," said Bishop W. Darin Moore, Chair of the NCC board, as he opened the ceremony. "We are called to lament; we are called to repent. We are called to restore justice; we are called to worship."

The site of Old Point Comfort came to prominence this year as the nation marked 400 years since enslaved Africans, first captured by Portuguese and Imbangala forces from the kingdom of Ndongo, in West Central Africa, arrived aboard the White Lion in 1619 after being taken from a Spanish slave ship. Colonial officials traded these persons for food, valuing white lives above black lives, beginning the horrific legacy of race-based bondage that has defined the American experience ever since.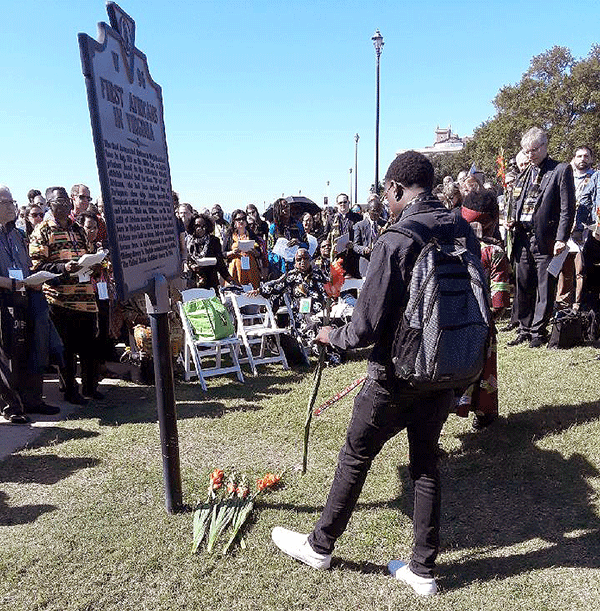 Office of Peacebuilding and Policy participates in NCC observance, 'A Day of Remembrance and Lament'



This year, 2019, marks the 400-year anniversary of the first enslaved African persons being brought to North America. In 1619, a ship carrying the first group of enslaved people from Africa arrived on the shores of what is now known as Virginia. According to records, there were "20 and odd Africans" on board the ship who, upon arrival, were forced into slavery or indentured servitude.

The National Council of Churches (NCC), an ecumenical partner for the Church of the Brethren's Office of Peacebuilding and Policy, works on issues surrounding racism and mass incarceration. The NCC held a special service in honor of the 400-year anniversary. Director Nathan Hosler helped to plan and participated in the commemoration service titled "A Day of Remembrance and Lament," during which a time of remembrance was held for the "20 and odd" enslaved persons from Africa--"20 and odd" children of God. Twenty-one flowers of remembrance were laid at the marker commemorating each of the first enslaved persons. As each flower was laid in remembrance, the affirmation "A Child of God" was recited, to which people responded with "Ashe," a traditional African saying interpreted, "So it is."
UCC forgives millions in debt in Chicago, announces national effort

Almost 6,000 families on the South Side of Chicago have had their medical debt forgiven through a collaborative effort of local, Conference and national bodies of the United Church of Christ and other partners. UCC leaders announced Oct. 20 that church donations have wiped out $5.3 million in medical debt for 5,888 Chicago families. They invited participation in a similar national effort being planned for Giving Tuesday, Dec. 3.

Thanks to a campaign led by UCC Justice and Local Church Ministries and Chicago's Trinity UCC, qualifying residents in three Chicago neighborhoods are now receiving letters telling them that their medical debt, averaging $907, has been forgiven. The Rev. Traci Blackmon, UCC associate general minster for JLCM, and The Rev. Otis Moss III, Trinity's senior pastor, teamed up to initiate the project earlier this year and enlist other contributors inside and beyond the UCC.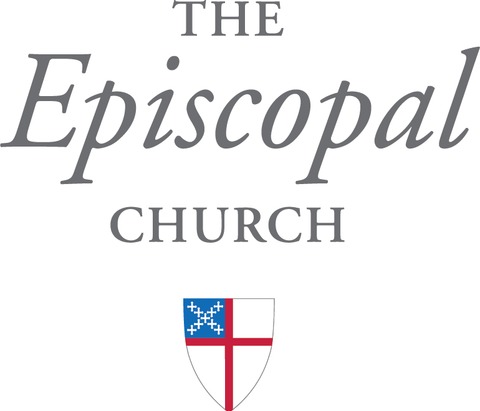 The Episcopal Church joins ecumenical partners in addressing human rights in the Occupied Palestinian Territories

At their fall meeting in Montgomery, Ala. the Executive Council of The Episcopal Church adopted and implemented a human rights investment screen to respond to a 2018 General Convention resolution, which directs The Episcopal Church to "join with the Evangelical Lutheran Church of America's action, CA 16.06.31, "Justice for the Holy Land Through Responsible Investment."" The screen draws from the actions of General Convention and Executive Council over the past seventy years and directs the Church not to invest in companies that support or benefit from human rights violations. Establishing a human rights investment screen adds to the list of screens the Episcopal Church uses for other issues such as tobacco, fossil fuels and certain military contractors.

At the recommendation of Council's Committee on Corporate Social Responsibility, three companies were identified for removal from the Church's investment portfolio and placement on its No Buy List: Caterpillar, Motorola Solutions and the Israel Discount Bank. Further, Council asks CCSR "to pursue continued engagement with Facebook, Booking.com, and TripAdvisor, urging them to address human rights violations through complicity in the occupation of the OPT, and seeking to assure that the companies take all necessary steps to end their complicity in the occupation."

Episcopal Church 'still in' despite Trump administration's withdrawal from Paris climate pact
The Trump administration announced on Nov. 4 that it would withdraw the United States from the global climate pact known as the "Paris agreement" within a year, but that won't affect The Episcopal Church's commitment to the agreement's goal of stopping or slowing climate change.

"The Episcopal Church considers climate action part of fulfilling a sacred trust from God," California Bishop Marc Andrus said in a written statement reacting to the Trump administration, which he called "an irresponsible move that particularly threatens some of the world's most vulnerable populations."

Andrus, who has led Episcopal delegations in recent years to annual climate summits hosted by the United Nations, warned that delays in addressing climate change could produce catastrophic scenarios in both the short term and long term. The hardest-hit communities "will continue to suffer the tragic effects of wildfires, sea level rise, heat waves and other climate-related disasters."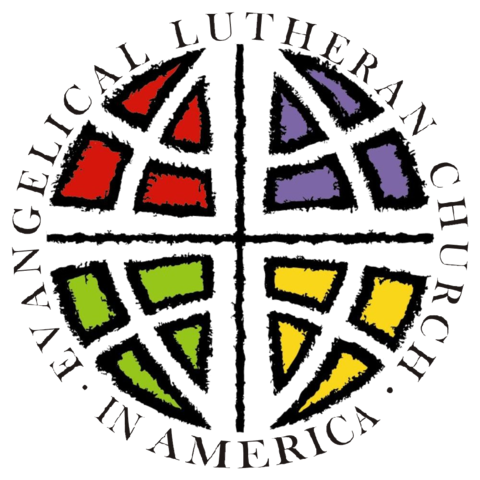 ELCA, Church of Sweden and The Episcopal Church issue climate commitment



​The Evangelical Lutheran Church in America (ELCA) joins the Church of Sweden and The Episcopal Church in a commitment to work together to advocate for national and international policies that address the urgency of the climate crisis and help create resilient communities while leaving no one behind. This statement is a renewal and update of the commitment made by the three church bodies in 2013.

The statement follows:

For several years, The Episcopal Church, the Evangelical Lutheran Church in America, and the Church of Sweden (Lutheran) have responded with increasing urgency to the damages being inflicted on Earth, our common home. The intensity of the challenges becomes ever more apparent, and the link of unprecedented climate change to human action rests now on insurmountable scientific evidence. In human societies, these climate changes compound social injustices, disproportionately affecting the most vulnerable among us with insecurities of food, livelihood and living space. Yet the burdens are not borne by humans alone: acceleration in the disappearance of species of plants and animals underlines the intertwined struggles of all life on Earth, and the destructive exploitation of resources leaves a diminished planet for all time to come.

As we observe the Season of Creation, we renew the call for our churches to work together for the sake of Earth and to build collaborations wherever possible, both with other communities of faith and with diverse agents in our civil society. Now is the time for science, politics, business, culture and religion — everything that is an expression of human dignity — to address together this critical issue for our time.
Stated Clerk tells Greensboro congregation to get ready for change
J. Herbert Nelson, II, joins faith leaders to commemorate 40th anniversary of Greensboro Massacre
The Reverend Dr. J. Herbert Nelson, II, Stated Clerk of the General Assembly of the Presbyterian Church (U.S.A.), joined interfaith leaders in Greensboro, North Carolina, this weekend for the 40th anniversary of the Greensboro Massacre. The group gathered for worship and remembrance at the Shiloh Baptist Church.

On November 3, 1979, five people were killed and 10 others were wounded when members of the Ku Klux Klan and the American Nazi Party opened fire on participants in a "Death to the Klan" march in the city.

At the worship service on Sunday, a number of religious and government leaders spoke and the five that were killed were remembered. Nelson, who has served churches in North Carolina, was the keynote speaker with the sermon entitled "Paying Our Sin Bill in the 21st Century Church."

Nelson told the crowd that the time is now for change, saying marginalization and exclusion of people are unacceptable practices. He referred to the shooting at the Charleston, South Carolina, church in June 2015, in which nine people of color were killed during a Bible study. Dylan Roof, who was 21 years old at the time, was later convicted of 33 federal hate crime and murder charges.
Scholar who focused on Bible's diversity dies
The Rev. Cain Hope Felder, whose "fierce and edgy" scholarship challenged Eurocentric interpretations of the Bible, died of cancer Oct. 1 in Mobile, Alabama. He was 76.

"He was a creative and visionary church leader and educator," said the Rev. Fred A. Allen, executive director of Strengthening the Black Church for the 21st Century.

The Rev. C. Anthony Hunt, pastor of Epworth United Methodist Chapel in Baltimore, said Felder pushed the denomination on race from its earliest days.

"As early as 1972, Dr. Felder sought to alert the newly constituted United Methodist Church to resist racist readings of Scripture," Hunt said.

A native of Aiken, South Carolina, Felder grew up in segregated Boston neighborhoods. He spent 35 years teaching at his alma mater Howard University, influencing generations of church leaders. He also spent years arguing that The United Methodist Church needed to uproot itself from racial discrimination. After retiring, he left the denomination over the issue.

From 1969 to 1972, Felder was a presence in the civil rights movement as the first executive director of Black Methodists for Church Renewal, the black caucus of The United Methodist Church.

WCC general secretary nominated as presiding bishop for Bishops' Conference of the Church of Norway
The Bishops' Conference of the Church of Norway has nominated World Council of Churches general secretary Rev. Dr Olav Fykse Tveit as its new presiding bishop.

There is an overall college of bishops behind the nomination.

"We are delighted and grateful that Dr. Fykse Tveit has confirmed that he is accepting the nomination and is willing to make himself available to become a bishop in our church and for the Bishops' Conference," said the current presiding bishop, Helga Haugland Byfuglien.


Racial justice focus of ecumenical dialogue in New York



On October 29-31, the World Council of Churches (WCC) Commission of the Churches on International Affairs organized in New York City meetings between faith leaders from Canada and the USA, and United Nations independent human rights experts focussing on racial justice, discrimination, xenophobia and intolerance.

"These meetings are a followup to the 2018 meeting with UN independent human rights experts focussing on racial justice. Our hope is to provide the platform for yearly encounters between our North American faith leaders and these experts, as these meetings are an opportunity to bring our ecumenical voices and perspectives to the work of these experts," noted Segma Asfaw, program executive for the WCC Commission of the Churches on International Affairs.

Dr. Ahmed Reid, chair of the UN Working Group of Experts for People of African Descent, met with the WCC delegation to discuss white privilege as the root for afro-phobia, the economic impact of discrimination on minority communities, the lack of proper implementation of the Durban Declaration Plan of Action adopted by 136 countries but with only 14 who have adopted national action plans against racism, reparations from slavery, the policing of black and brown bodies, the forced displacement of black bodies due to gentrification, as well as the complicity of churches in these systems of white supremacy and the need for further internal theological reflection to challenge and deconstruct such past theologies.
Ecumenical Advocacy Days 2020



Climate change affects everyone and disproportionately affects those struggling to overcome poverty. 2020 will be a pivotal year for the United States and the world with a general election that will set the course for the next four years – with an enduring impact on climate and economic justice.



Save the Date for Ecumenical Advocacy Days 2020, April 24-27,

on re-imagining community for God's earth and people. Come to learn about the intersection of climate change and economic injustice, and to advocate for climate justice.

"As the indigenous people of Colombia we are part of . . .the environment created by God. Therefore, we ask that the mistreatment of 'Mother Earth' cease." Guaviare indigenous leader quoted in I

nstrumentum Laboris: The Amazon: New Path for the Church and Integral Ecology.





"We look for -- and speed the coming of -- the new heavens and a new earth, where justice is at home" (2 Pet. 3:12,13).
Serving as a leading voice of witness to the living Christ in the public square since 1950,
the National Council of Churches of Christ in the USA (NCC) brings together 38 member communions
and more than 40 million Christians in a common expression of God's love and promise of unity.