Subject: NCC Weekly News: Abraham and Isaac, Impending Deportations
View this email online if it doesn't display correctly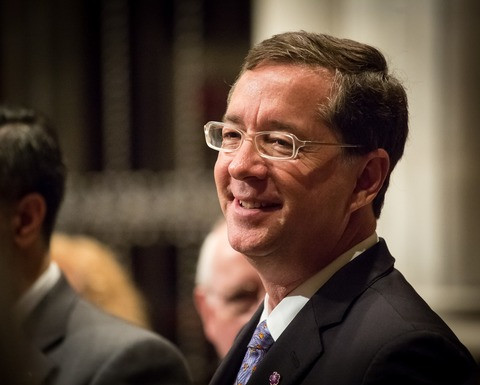 Bible study on Genesis 22:1-19
Led by Jim Winkler at the Kirchentag
June 21, 2019
Dortmund, Germany
(Ed. note: In our last newsletter, Jim Winkler wrote about his meeting with regional ecumenical leaders in Bossey, Switzerland, at the end of a journey that included speaking at Kirchentag and some vacation time. Over the next weeks we will share the Bible study Jim led at Kirchentag in Dortmund.)
I greet you in the Name of Our Lord and Savior, Jesus Christ. I also bring greetings to you on behalf of the National Council of the Churches of Christ in the USA, a grouping of 38 member communions comprised of 30 million people in 100,000 local congregations. The NCC, as it is known, seeks unity in Christ. We advocate for justice and peace, carry out interreligious dialogues, conduct faith and order work, and we own and administer the New Revised Standard Version of the Holy Bible. I am thrilled the NRSV is the official biblical text of the Kirchentag!
The organizers of this esteemed and internationally famous gathering have a good sense of humor. Here I am in Germany, a nation that has produced some of the great theologians of the Christian faith: Rahner, Moltmann, Tillich, Soelle, and Bultmann to name only several, and they assigned to me one of the most difficult and controversial texts of the First Testament!
The lesson we are studying today comes from that part of the Pentateuch that is known as the pre-history of the people of Israel. On first reading, it is hard to know what to make of this story that is often referred to as either, "The Testing of Abraham" or "The Command to Sacrifice Isaac."
I can tell you that I prefer to think of it more in terms of a test than of a parent who will sacrifice their child. I daresay if any one of us were to suggest that God had instructed us to sacrifice or attempt to sacrifice one of our children—or any child for that matter—we would be arrested and thrown into prison, and rightly so.
And yet the nature of the story takes on new meaning for me when I consider those African and Central American families who live in situations so desperate that they send their unaccompanied children northwards to Europe and the United States for the promise of a better life and, in effect, offer them as a sort of sacrifice. Oh that we would extend as much grace to them today as we do to Abraham for offering Isaac as a sacrifice.
We do not live in biblical times, but it is challenging to read this story and completely set aside our modern-day standards. The Bible is full of difficult, beautiful, confusing, and, indeed, holy stories. Genesis 22:1-19 is one of them. Many find this passage to be the most unbearable part of the Scriptures.
This story is referred to among Jews as the Akeidah, the binding of Isaac. It is such an important and pivotal scripture for them that it is read publicly each year at the High Holidays, at Rosh Hashanah, the beginning of the new year that extends until Yom Kippur, ten days later. It is read along with the chapter that precedes it the 21st, in which Isaac is born and Ishmael is banished.
I find it instructive that in these two chapters Abraham who, along with Sarah, was chosen by God to parent a great nation and the one to whom Jews, Christians, and Muslims believe that God first revealed God's self, is in the midst of deep pain. A reminder, perhaps, that being in relationship with God does not suggest that one will be insulated from pain and suffering. Indeed, like Abraham, the promise God gives us is that God will not abandon us or leave us alone.
For the three Abrahamic faiths—Judaism, Christianity, and Islam—these verses are crucial and our three faiths revolve around these chapters. These chapters are full of drama, rivalry, passion, violence, and near-death experiences. Perhaps when one considers the dynamics between the three religions, it could be no othe

r way.
I may be treading on controversial ground by saying this, but at least one way to look at this text is to see that Abraham has just lost his son Ishmael to banishment and his grief and confusion over that loss have somehow contributed to his understanding that God has told him to kill his "only son Isaac", whom he loves by sacrificing him as a burnt offering. Is it possible that amid the agony Abraham was experiencing over the forced exile of his son Ishmael, he felt he did not deserve to have Isaac either? Or might he have been so angry with Sarah, who insisted Hagar and Ishmael be sent away, that he considers killing her son?

When I said I might be controversial to offer those observations it is because we prefer not to consider the human motivations that may have affected the primary actors in this drama. We like to think of them as saintly figures who do not question God and who are not governed by the less-than-holy emotions that govern our daily actions. However, God has chosen to work through real people. We must not forget that.
Jim Winkler
President and General Secretary
NCC Urges: Do Not Carry Out Planned Deportations
"Thus says the Lord of hosts: Render true judgments, show kindness and mercy to one another; do not oppress the widow, the orphan, the alien, or the poor; and do not devise evil in your hearts against one another."
The National Council of Churches urges the Trump administration not to go forward with the widely publicized raids scheduled for this weekend that are intended to round up and deport thousands of families and individuals. Indeed, these raids may very well take place while millions of Christians are attending Sunday services. The raids have struck fear and dread into the hearts of countless people who are living peaceful and productive lives in our nation.
These unnecessary acts of "enforcement" terrorize children, women, and men who live in our communities. It is unconscionable and immoral. We see these threatened deportations as part of a program of extreme intimidation and harm, and we urge the U.S. government not to move ahead with these raids.
This is a moment in which God is calling the Church to do all it can to stand with those who have sought refuge within our borders and to resist these measures and show compassion toward persons threatened with deportation. Many of the congregations associated with the NCC are praying for those impacted and are prepared to act in ways that protect threatened persons.
Since the earliest times in which Christians gathered together, churches have been places of sanctuary in which persons in danger of harm from an oppressive government can find safety and protection. We urge all churches to be places of sanctuary for those in danger today.
People of faith cannot turn a blind eye this weekend and we must rely upon the strength of God, revealed in the life, death, and resurrection of Jesus Christ, to accept the freedom and power to resist evil, injustice, and oppression.
To learn more about the sanctuary movement, please begin here. For those facing raids this weekend, we are reminded of our scriptures which teach us:
O how abundant is your goodness
that you have laid up for those who fear you,
and accomplished for those who take refuge in you,
in the sight of everyone!
In the shelter of your presence you hide them
from human plots;
you hold them safe under your shelter
from contentious tongues.
-Psalm 31:19-20 NRSV
See also: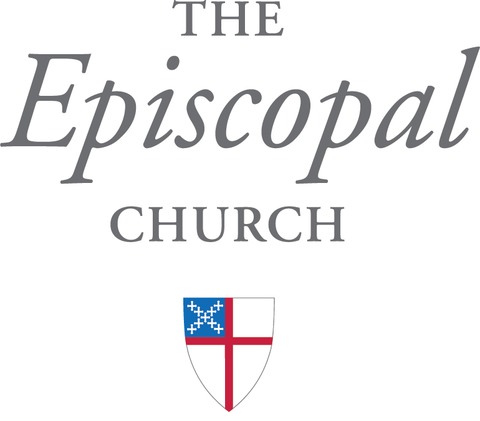 Bishops of all six Episcopal dioceses in Texas issue a joint statement decrying the inhumane conditions at our country's borders

To our state and national leaders,

We are bishops of the six Episcopal dioceses in Texas. All but 700 miles of the almost 2,000 miles of the US-Mexico border are in Texas. All of Texas feels the impact of anything that happens on our southern border.

We feel it through our families, many of whom have ancient deep roots in lands south of the United States. We feel it in our economy, as Mexico is Texas' biggest trading partner. We feel it in our culture, since Texas was part of Mexico before we were part of the United States. Most of all, we feel it in our souls, for these are our neighbors, and we love them.

We write to decry the conditions in detention centers at our border because we are Christians, and Jesus is unequivocal. We are to pray without ceasing for everyone involved-refugees, elected officials, and law enforcement-while also advocating for the humane treatment of the human beings crowding our border as they flee the terror and violence of their home countries.

We call on our state and national leaders to reject fear-based policy-making that targets people who are simply seeking safety, and a chance to live and work in peace. The situation at the border is, by all accounts, a crisis. Refugees come in desperation; border personnel are under stress.

Faith Leaders Declare Opposition to War With Iran


Top faith leaders gathered in Washington, DC, to declare their opposition to war with Iran. For weeks, the Trump Administration has been making provocative moves upsetting the balance that has been in place since the Joint Comprehensive Plan of Action (JCPOA), otherwise known as the "Iran Nuclear Deal," was put in place in July 2015.

The United States pulled out of this agreement in May of 2018, setting in motion what many fear is a march toward war. Iran shot down a surveillance drone over the Strait of Hormuz on June 20; earlier, the US had moved the USS Abraham Lincoln, with its 70 attack aircraft, into the Persian Gulf.

"Nearly all of our national leaders profess to come from the Abrahamic faiths, noted Jim Winkler, President and General Secretary of the National Council of Churches. "Have they so profoundly separated their faith in God? Are they so devoted to war and violence that they cannot imagine another way? Are they so addicted to dominance and the myth of redemptive violence and that they cannot follow the path of love and peace?"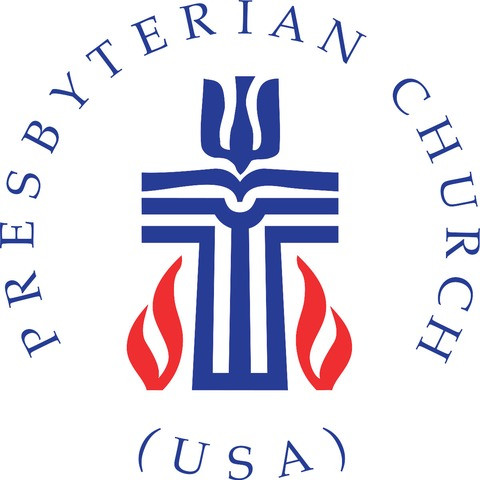 Two Presbyterian officials among more than 100 to sign "Back from the Brink"

Faith leaders including the Rev. Dr. J. Herbert Nelson, II, Stated Clerk of the Presbyterian Church (U.S.A.), and the Rev. Jimmie Hawkins, director of the Office of Public Witness, say that diplomacy and not warfare is the nation's best policy toward Iran.

A half-dozen faith leaders gathered on Capitol Hill Tuesday to discuss "Back from the Brink," a letter signed by more than 100 denominational officials, educators and pastors — including Nelson and Hawkins — urging the administration of President Donald J. Trump to avoid war with Iran. Faith leaders are also asking Congress to amend the National Defense Authorization Act to ensure the president cannot take unauthorized unilateral military action in or against Iran.

"While we agree that Iran should repudiate terrorism and not resume uranium enrichment," the letter states, "we stand as religious leaders to say that war is not the answer with Iran and is unjustifiable on moral and religious grounds." The faith leaders note that since the start of the war in Iraq in 2003, a half-million lives have been lost and nearly $6 trillion spent.

Responding to our sorrow with action


Our communities are bracing for nationwide raids by U.S. Immigration and Customs Enforcement (ICE) to begin on Sunday. Planned raids are reported to focus on 10 major cities where the Department of Justice has sped up immigration cases for thousands of recent arrivals.

Mindful of the biblical call and our strong Lutheran history of welcoming the stranger, our faith community strives to love our neighbors as ourselves. Since original posting, additional ways to respond include:

A SIGN-ON LETTER

ELCA AMMPARO is collecting signatures on a letter addressed to Acting Department of Homeland Security Secretary Kevin McAleenan. It opens: "We are faith leaders from all across the country who are deeply troubled by the implementation of inhumane border policy by the Department of Homeland Security (DHS). Today, we call on you to respect asylum law and protect the rights of asylum seekers and children." Read the letter in full and consider adding your name as a faith community member (clergy or lay), from Facebook.
Immigrant in United Methodist church fined $214,000

A Sunday school room at Wesley Memorial United Methodist Church in Charlottesville, Virginia, has been home to Maria Chavalan Sut since Oct. 1, 2018.

Sut, from the indigenous Kaqchikel community in Guatemala, fled her home in 2015 after she was threatened and her home set on fire with her entire family inside. Her family survived. She filed for asylum but received a notice from Immigration and Customs Enforcement that she would be deported on Sept. 30, 2018.

Sut sought sanctuary at Wesley Memorial, which is one of 10 United Methodist churches housing immigrants who have been threatened with deportation. More than 40 people are living in sanctuary in places of worship around the U.S. currently and more than 1,000 houses of worship have signed up to be part of the Sanctuary Movement.

Now, Sut's latest notice from the federal government is a bill for $214,000.

According to a report by National Public Radio, the Department of Homeland Security sent out notices across the country to targeted individuals imposing civil fines of up $500 a day to immigrants who were ordered to be deported.

"It is outrageous to think Maria has $214,000 to pay the federal government," said the Rev. Isaac Collins, pastor of Wesley Memorial. "I don't even think the government thinks it is a fine they can collect. It is about scaring Maria."

Slavery anniversary leads to new discussions

In August 1619, about 50 people from Angola arrived in Jamestown, Virginia — the first African slaves in what is now the U.S. Four hundred years later, African Americans still struggle with the onerous remains of that legacy.

"In 2019, after centuries of structural change, protests and policy reforms most often led by Africans and people of African descent, why do these groups still experience such disproportionately high percentages of hunger and poverty today?" wrote the Rev. Angelique Walker-Smith in the introduction to "Lament and Hope: A Pan-African Devotional Guide." The guide, by United Methodist partner Bread for the World, was produced to help people reflect on the quad-centennial.

"And why is there still such a wide wealth and income gap between these groups and individuals of European and Asian descent?" she asked.

The devotional guide is among resources and events endorsed by three United Methodist agencies to help Christians study and commemorate the beginning of slavery in the U.S.

They include a prayer book, a commemoration of the 1619 landing at Fort Monroe Visitor and Education Center in Hampton, Virginia, and a United Nations initiative declaring the International Decade for People of African Descent.


Peace forum: "there must be no more war on the Korean Peninsula"

An Ecumenical Forum for Peace, Reunification and Development Cooperation on the Korean Peninsula, held 10-12 July in Bangkok, has issued a communique that reiterates calls for peace and outlines possible steps toward renewed dialogue.

The forum drew 46 participants from 11 countries, including delegations from the Korean Christian Federation of the Democratic People's Republic of Korea and from the National Council of Churches in the Republic of Korea.

"Our meeting took place one year after the events of 2018 which inspired such powerfully renewed hopes of peaceful coexistence on the Korean Peninsula, the reunification of the long divided Korean people, and peace and care for the whole world," reads the communique. "In the intervening period progress towards peace has not occurred as hoped, and in the absence of such progress some renewed tensions and obstacles to peace have arisen."

Commentary by Rev. Dr. Mark Y. A. Davies
In its history, Fort Sill has imprisoned Native Americans in the 19th Century, Japanese Americans in the 20th Century, and right now in the 21st Century there are plans by the Trump administration to add to this miserable history of unjustly imprisoning people of color by making Fort Sill a concentration camp for children of immigrants and refugees for the second time during this decade (the Obama Administration held refugee children at Fort Sill in 2014).

As a Lawtonian, I cannot sit by and simply watch our government repeat the cruel racism of our past that has once again found expression in our present by imprisoning brown babies, children, and youth whose only "crime" is attempting to escape life threatening violence to find better opportunities in life. I cannot simply watch my hometown and Fort Sill be a place where international law is ignored and crimes against humanity are perpetrated.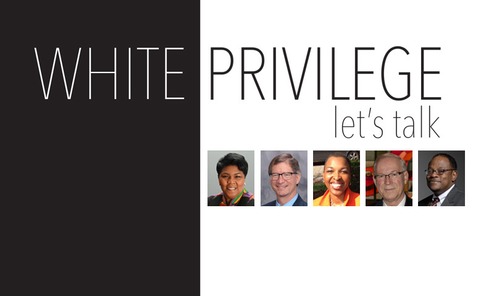 Oklahoma Council of Churches hosts anti-racism training event



Date:


Saturday, August 03, 2019



Time:


9:00am to 4:00pm



Location:


Oklahoma Conference of Churches
301 NW 36TH ST
Oklahoma City OK 73118



About:


White Privilege: Let's Talk - A Resource for Transformational Dialogue

Come and be trained on how to facilitate conversation on this topic.

Training will include:

The Spiritual Autobiography Told Through the Lens of Race

White as the Norm: Five Loci of Insights on the Binary of Light/Dark and Black/White

The Cash Value of Whiteness or Whiteness as a Tax-Exempt Status

On Becoming an Ally
"We don't promise that this will be easy to discuss. It will challenge basic assumptions about race that help white communities maintain a system of privilege that, while prevalent, often goes unnoticed by even the best-intentioned of white advocates for justice. Nonetheless, the work we do to deepen our awareness of how privilege is made manifest, and the commensurate work of unmasking and dismantling that privilege, is among the most important work we white leaders can commit to."
Serving as a leading voice of witness to the living Christ in the public square since 1950,
the National Council of Churches of Christ in the USA (NCC) brings together 38 member communions
and more than 40 million Christians in a common expression of God's love and promise of unity.