Subject: NCC Weekly News: ACT to End Racism
View this email online if it doesn't display correctly
From Jim: The ACT to End Racism Rally
Last week on April 4, 10,000 people gathered on the National Mall in Washington, DC for the ACT to End Racism rally. It was a thrilling experience. Busloads of people came from Wisconsin, Rhode Island, Ohio, Illinois, Pennsylvania, North Carolina, and elsewhere.

I'm told this was the largest event produced by the National Council of Churches in many years and I am grateful to member communions, Governing Board members, staff colleagues, state ecumenical organizations, local churches, and volunteers for helping us make this happen.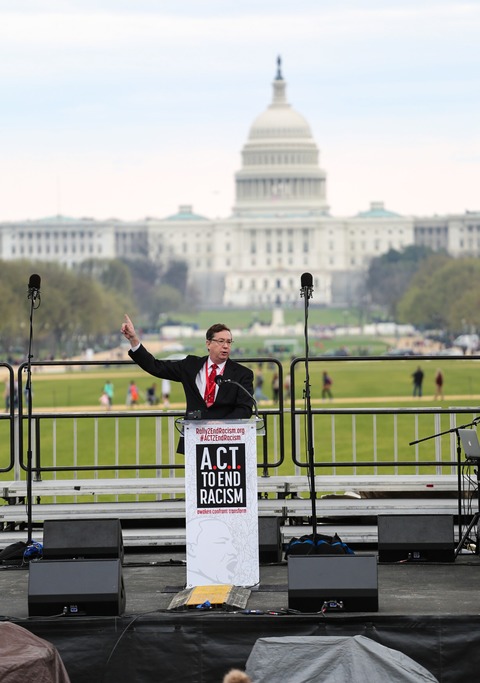 A considerable number of organizations and faith groups joined us as partners, sponsors, and endorsers. For the most part, the early April weather cooperated with us. The morning was warm and beautiful, but a front blew in at lunchtime that brought cooler temperatures and high winds. Still, thousands stayed with us for the afternoon.

Our goal was to shine a light on the legacy of slavery and racism in our nation, the need to commit ourselves as people of faith to bring it to an end, and to mark the 50th anniversary of the assassination of the Rev. Dr. Martin Luther King, Jr. by commemorating his life and ministry.
We had fantastic speakers and singers, too many to mention, and an atmosphere of love and respect was evident throughout the day. I encourage you to watch the rally.

One of my regrets over the past few months was my failure to write my column and keep readers of this newsletter updated. The preparation for the rally was all-encompassing. Countless meetings, organizing sessions, phone calls, and emails marked the five months preceding it.
The logistics associated with the production of an event like ours on the National Mall are daunting. The National Park Service and numerous local and federal agencies have a long list of requirements. Production companies, public relations and fundraising firms, contractors, consultants, and volunteers require making thousands of decisions to as quickly as possible.

Making arrangements for and with speakers and musicians is enormously complicated. Determining who would speak and who would not often required making painful decisions.
In the two weeks leading up to the rally, I felt strongly that I was in the midst of a religious experience. Throughout Holy Week, I felt a greater sense of peace and calm descend over me. The celebration of Christ's resurrection just days before our events gave me enormous hope and a strong sense we were doing the right thing.

Was it worthwhile? Yes, indeed. Real momentum was created. Now, despite all the hard work required to carry out the rally, we face the challenge and opportunity placed before us by God to awaken our society to the reality of racism, confront it, and transform the nation by ending racism.

This can be done. It will require individuals to examine their attitudes and beliefs. It will require congregations to take hard steps. And it will require changes to our criminal justice, education, healthcare, and justice systems.

Together, we can live in the beloved community envisioned by Dr. King.

Jim Winkler
President and General Secretary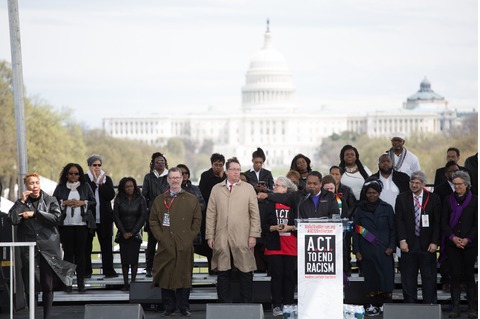 Religious leaders come together in D.C. to take on racism, finish work of Martin Luther King, Jr.

On the 50th anniversary of the assassination of the Rev. Dr. Martin Luther King Jr., thousands of marchers from several religious communities came together to rally against racism in Washington, D.C. UCC clergy and congregants joined the National Council of Churches' ACT to End Racism event on Wednesday, April 4, to launch a movement to dismantle racism in America.

UCC General Minister and President the Rev. John Dorhauer, one of several speakers who addressed the attendees from the stage on the National Mall, called on faith groups to galvanize their collective power to end racism now.

"Dr. King died with the hope that his children and grandchildren would one day know an America indifferent to their race. Fifty years later we are forced to admit that as painful as was the silencing of his voice, the greater pain today is the re-instantiation and resurgence of the racism he gave his life to eradicate," Dorhauer said. "Let our time together today not be about retrieving a memory, but rekindling a hope."

American Baptists Commemorate Martin Luther King, Jr's Legacy

Members of American Baptist Churches USA journeyed from all over the country to participate in the ACT to End Racism Rally in Washington, D.C., on April 4, 2018. The date marked the 50th anniversary of the assassination of civil rights leader and Baptist minister, Rev. Dr. Martin Luther King, Jr. Organized by the National Council of Churches and its affiliated denominations, the day-long event focused on the continuing need for racial justice in our country.

"The highlight of the rally for me personally was the early morning gathering at the Martin Luther King, Jr. Memorial and the one mile silent march of hundreds of people to the Mall where the Rally stage was erected (near the Smithsonian Museum of Natural History)," reflected ABCUSA's General Secretary, Rev. Dr. Lee B. Spitzer. "It was a privilege to walk alongside Executive Ministers Rev. Paul Gibson (Great Rivers Region) and Rev. Marie Onwubuariri (American Baptist Churches of Wisconsin), and fellow American Baptists from several regions to reaffirm ABCUSA's ongoing commitment to racial equality and justice."

Rev. Marsha Scipio, associate general secretary for Missional Initiatives and Partnerships, coordinated ABCUSA's efforts in support of the Rally. She observed, "It was great to see the ABC family from all over the country come together in our nation's Capital! This was not a march simply to memorialize the martyrdom of Dr. King but the beginning of a new movement to address racism. I am proud that our ABC family is saying 'yes' to the call."

On the anniversary of Martin Luther King Jr.'s death, faith groups rally to combat systemic racism

On the fiftieth anniversary of Martin Luther King Jr.'s murder, one of the activist pastors who has tried to follow in his footsteps spoke of the task at hand after half a century.

"We cannot be those who merely love the tombs of the prophets," said the Rev. William Barber II. "We do not celebrate assassinations and killings of our prophets. We find the place they fell; we reach down in the blood; we pick up the baton and carry it forward. And we must."

Religious activists — mostly Christian, but some non-Christian — commemorated King's death in that spirit on Wednesday: with pledges to carry on his work of tackling systemic racism at memorial events in Washington, Memphis, Atlanta and other cities.

In Memphis, the location of King's assassination, his children Bernice King and Martin Luther King III spoke Tuesday night at Mason Temple Church of God in Christ. "It's important to see two of the children who lost their daddy 50 years ago to an assassin's bullet," said Bernice King, now 55. "But we kept going."

A Prayer by Metropolitan Tikhon
(Note: due to a temporary weather delay on April 4, several speakers did not have the chance to join the program. The prayer by Metropolitan Tikhon of the Orthodox Church in America is offered here.)
O Lord Jesus Christ
True God and True Man;

I am a man –

a fallen and broken man;

I am a man –

Who only ten days ago, with all Christians commemorated a great mystery - the greatest mystery of all – the mystery of Your Incarnation, when through the announcement of the Archangel Gabriel, You took on our human flesh of the Holy Spirit and the Virgin Mary.

I am a man –

Who with all Orthodox Christians, walks this week with You, the God-man, in Your extreme humility, as You voluntarily walk the path of suffering, abandonment, mockery, and solitary death and burial.

I am a man –

Who denies You with Peter, saying: "I know not the man!"
Who sees You with crown of thorns and purple robe and says with Pilate: "Behold the man!"

I am a man –

Who from the moment of Your Passion and Crucifixion
is no longer told what is right, but is shown it.
is no longer guided on the way, but watches the Way.
no longer describes life,
but sees my own life hang before my very eyes.

Presiding Bishop Michael Curry's Statement at the ACT to End Racism Rally
Another major faith leader who was unable to speak because of the weather delay was the Episcopal Church's Presiding Bishop Michael Curry. He was able to record this statement linked below; please visit YouTube to hear his remarks.
Also: Remarks by Philip Lee

My name is Phil Lee and I am a business owner.

In recent years, my company's clients have been focusing more and more on racial disparities in their work to improve outcomes for children, families, and communities. And so, a little over a year ago, my company decided that we needed to better understand racial disparities.

That decision began a personal journey for me because my family has been in this country since the early 1600s. Richard Henry Lee, my great, great, great, great-grandfather, signed the Declaration of Independence.

I would like to share with you what I didn't know.

I knew that Richard Henry Lee, when he served in the Virginia legislature, spoke against the slave trade, which he called a "disgraceful traffic." I also knew that he had inherited slaves: 43 human souls.
Our Call to Speak Up for Displaced People
FRIDAY, APRIL 20, 2018, 1 – 4 P.M.
Sponsored by the National Council of Churches' Faith and Order convening table


Millions of people cross borders each year fleeing violence and seeking better lives. Christians gathering at the 2018 Ecumenical Advocacy Days will be speaking up for displaced people and challenging the powers that dehumanize and discriminate against them. But what are the foundations for Christian advocacy on behalf of migrants and refugees? Sponsored by the National Council of Churches' convening table on Faith and Order, this workshop will explore theological and biblical resources for analyzing the global forces – war, climate change, famine, and more – which uproot people from their homelands, and how we can sustain and deepen our solidarity with the uprooted.

Week of Prayer for Christian Unity

At least once a year, Christians are reminded of Jesus' prayer for his disciples that "they may be one so that the world may believe" (see John 17.21). Hearts are touched and Christians come together to pray for their unity. Congregations and parishes all over the world exchange preachers or arrange special ecumenical celebrations and prayer services. The event that touches off this special experience is the Week of Prayer for Christian Unity.

Traditionally the week of prayer is celebrated between 18-25 January, between the feasts of St Peter and St Paul. In the southern hemisphere, where January is a vacation time, churches often find other days to celebrate it, for example around Pentecost, which is also a symbolic date for unity.

The theme for the week of prayer in 2018, "Your right hand, O Lord, glorious in power" is inspired by Exodus 15:6. The resources for the week have been prepared by members of different churches in the Caribbean.
Lukewarm no more: A call for repentance and action on gun violence
"A voice was heard in Ramah, wailing and loud lamentation, Rachel weeping for her children; she refused to be consoled, because they are no more" (Matthew 2:18).
"You are the salt of the earth; but if salt has lost its taste, how can its saltiness be restored?" (Matthew 5:13a)

The Church of the Brethren has spoken and acted for peace and healing throughout our history of discerning the leading of the Holy Spirit. While we have not always lived this as we should, we have marked our way in this discernment through publicly recalling the scriptures and our mutual understanding found in Annual Conference statements. In the wake of repeated mass shootings and the proliferation of gun violence, we are called to remind and recommit ourselves to the work of peacemaking.

April 22 is Earth Day Sunday 2018: Sense of Place

Each year, Creation Justice Ministries offers Christian education materials to equip faith communities to protect, restore, and more rightly share God's creation.

Our 2018 theme is "Sense of Place" and offers insights about living in harmony with local ecosystems and watersheds, rightly sharing places with a diversity of peoples, and respecting the history of your place.

Serving as a leading voice of witness to the living Christ in the public square since 1950,
the National Council of Churches of Christ in the USA (NCC) brings together 38 member communions
and more than 40 million Christians in a common expression of God's love and promise of unity.