Subject: NCC Weekly News: A Prayer for Spring
View this email online if it doesn't display correctly
From
Jim: A Prayer for Spring
We praise your name, O God, for the untold blessings your grace has bestowed upon us even in the midst of this pandemic: family and friends, food and shelter, the beauty and bounty of nature, the burgeoning signs of new life, the communities of faith that enliven and sustain us, and in this Easter season especially the promise that all our enemies—even death, the enemy we fear most—will ultimately be conquered by your inestimable providence.

Even as we thank You for such huge blessings, we are reminded of more simple—yet equally profound—gifts: the smile and hug of a child, the warm touch of a parent, the ready offer of forgiveness from a precious one we have offended or betrayed, as well as the humble acceptance of such everyday grace. O God, open our hearts to You and remind us always that we are never taken for granted by You. So prevent us from thinking that our blessings are earned or have been obtained by our own efforts. For every good gift, we praise Your Holy Name.

While we bow in adoration and praise, we also make prayers of intercession for those Your church seeks to serve: the sick and the frightened, the lonely and the lost, the forgotten and the unforgiven, those who dwell in mystery and those who need a miracle, the untouched and the untouchable, the indifferent and the indigent.


We ask for divine guidance for those in positions of power and respect; grant special knowledge, wisdom, and faith to them when decisions must be made about health and wellness, war and peace, about control and consequences, about morality that informs politics and economics. In these perilous times when mistrust and misunderstanding roam the world and we are surrounded by darkness and doubt, guide our leaders in government, our bishops and pastors, our faithful lay leaders and those who teach our children and touch the lives of our youth. You know before we even dare to ask, O God, so we rely always on grace.

And for ourselves we pray in a minor key, dear God. Awaken in us a measure of the compassion and constancy of Our Lord, who climbed the way to victory by self-sacrifice, who told the truth with love, who embraced those the rich and powerful scorned, and who lived humbly and gratefully.


For the presence and power of Your Holy Spirit in our beleaguered lives, we humbly beseech You, dear God. Come with such saving grace to us as individuals, as well as the church we love, that a new light will shine in our darkness. Grant that a new desire to tell the Good News of Christ will send us to those who need what only You can give, and a reawakened sense of justice and mercy will help us to make a difference in the world for which your Son died.


These prayers we make in faith and in trust that Your will is being done; through Jesus Christ our Lord. Amen.
Jim Winkler
President and General Secretary
Global religious leaders urge US to lift crippling sanctions against Iran in the face of COVID-19



In a joint letter to US president Donald Trump, the World Council of Churches, ACT Alliance, and National Council of the Churches of Christ in the USA have urged the US to lift crippling sanctions against Iran that are greatly impeding response in that nation to COVID-19.

"The novel coronavirus is a common enemy of humanity everywhere," reads the letter. "An effective response to the pandemic demands an unprecedented degree of global solidarity and cooperation, special care for the most vulnerable, and swift action to mitigate the conditions which create additional vulnerability."

The religious leaders share a deep concern for the impact on the people of Iran of the sanctions imposed by the United States. "Iran, currently with over 67,000 confirmed cases and more than 4,000 documented deaths due to COVID-19, is by far the most affected country in the Eastern Mediterranean region, and one of the most affected countries in the world," reads the letter. "But its public health response is severely impeded by the strict sanctions regime imposed on the country unilaterally by the United States since May 2019, resulting in an almost total economic blockade."
Report of the Committee on the Uniform Lessons Series (CUS) Meeting, 2020
Freshly off their annual meeting in New Orleans, LA (March 3-6), the members of the Committee on the Uniform Lessons Series (CUS) returned home as strongly persuaded as ever that their development of a guide for the systematic study of Scripture plays a vital role in today's Christian education and spiritual nurture. Once a year, representatives of the 26 denominational and publishing partners of the CUS meet face-to-face for work, worship, continuing education, and fellowship—but mostly work! The delegates who represent each of the CUS publishing partners come from all over the US and Puerto Rico, and for the past several years, have included partners from the Nigerian Baptist Convention. This year CUS welcomed The Reverend Adelokoji Ijaola and The Reverend Foluke Ola whose presence helps the Committee truly live up to its product name, "The International Bible Lessons for Christian Teaching."
Social Distancing and the Real Easter

By Dr. Tony Kireopoulos, Associate General Secretary, National Council of Churches
This week is Holy Week for eastern Christians. And while there are any number of scriptures to contemplate on the road toward Easter, from those that describe Jesus' triumphant entry into Jerusalem to those that tell of his death and resurrection, the one that sticks in my mind is not from the Easter narratives. No, it is from the story of Moses coming down from the mountain with the tablets bearing God's commandments: "Do not put the Lord your God to the test…" (Deuteronomy 6:16, NRSV). Or, as in the archaic, more dramatic, and perhaps more familiar translation: "Ye shall not tempt the Lord your God…" (KJV).

Why am I thinking of this scripture? It is because some fellow Christians, usually pastors, out of a blatant self-regard or a feigned appeal to religious freedom, dismiss social distancing guidelines and insist on the right to gather in congregations to celebrate the holiday. Never mind the mockery this makes of the Christian faith – my Christian faith – on the evening news. Rather, when government leaders, scientists, and medical professionals call on us not to gather, out of genuine concern for these same congregations, can we understand such behavior as anything but tempting God? I'm sorry, but this irresponsible behavior, particularly since it is typically accompanied by an equally taunting theological claim that God will protect those who gather, only invites devastation, and it angers me.

Do you know someone who needs extra inspiration these days?
We all do! That's why we've asked Christian leaders from across our 38 member communions to offer prayers, meditations, and devotionals for those of us who struggle with the challenges COVID-19 presents to our lives, our families, our health, and our finances.
Please visit the link below and share our sign-up form with someone who will appreciate a little inspiration every day.
Nonprofits and Coronavirus, COVID-19



The novel coronavirus disease, COVID-19, is creating an evolving situation with varied impacts around the world and across the states.
First and foremost, we all need to keep open lines of communications with our boards, employees, volunteers, donors, and the people we serve. As part of that, we should continue to share information and resources from credible sources, such as the World Health Organization and the Centers for Disease Control and Prevention. And we need to be transparent about our decision-making, especially for those nonprofits that now remain open to provide vital services in their communities, but may need to scale back due to lack of available resources or staffing.

Webinars from Presbyterian Disaster Assistance provide tips and tools
Presbyterian Disaster Assistance has released two pre-recorded webinars on handling stress during the coronavirus pandemic.

One webinar is designed for faith leaders and the other is for a more general audience. Groups also can request a live presentation.

The "Building Resilience" webinars are intended to help viewers remain flexible and functional despite a deadly pandemic that has forced much of the country to stay sequestered at home and cancelled many church services.

Rev. Dr. Kathy Riley, PDA's Team Lead for Emotional and Spiritual Care, serves as co-presenter with Rev. Pat Ashley, a member of PDA's National Response Team.

"We know you are all busy, probably extra busy as you are re-inventing how you are serving others … and working with technology that may not have been familiar to you before this time," Riley acknowledges near the beginning of the webinar for faith leaders.

A Video Message from ABC Acting General Secretary Dr. C. Jeff Woods

Watch the video below for a message from Dr. C. Jeff Woods, Acting General Secretary of American Baptist Churches USA, in the midst of the 2020 Easter Season and the coronavirus.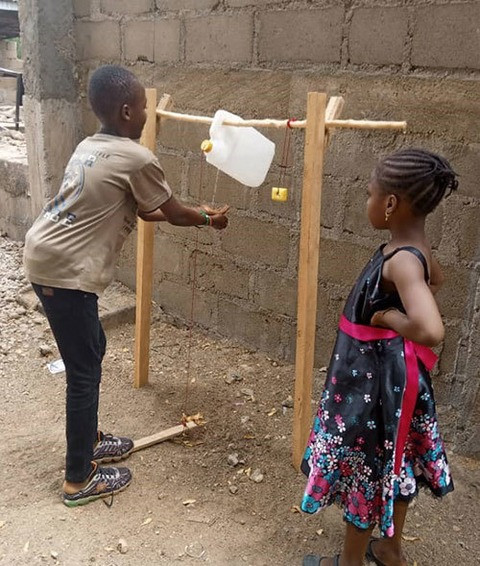 International perspectives - Nigeria: A very trying moment for the church of God

"Thank you very much for your love and concerns about EYN," wrote Joel Stephen Billi, president of Ekklesiyar Yan'uwa a Nigeria (EYN, the Church of the Brethren in Nigeria). "Thank you for your prayers for us. We also pray for you always.

"Our Churches in Lagos and Abuja have been totally shut down. Members are encouraged to pray at home with their family members. Few churches are listening to their pastor's sermon online...not all members are educated and have access to the Internet. In the northeast, life is still like normal. Some people don't even believe that COVID-19 is real. But we are restraining people from handshaking. Weddings and funerals are still on going in the north. We are witnessing lots of death recently but not of coronavirus. Our weather is so harsh now.

"I have asked all pastors who are not yet in total shutdown zones to observe holy communion on Maundy Thursday without feetwashing, to avoid body contact."

From Zakariya Musa, EYN communications staff: "In Nigeria, the federal government has asked people, especially in the most hit states, to stay at home to reduce the spread of the infection. On April 5, the sample I gathered indicated that many places could not conduct church services, while those in rural areas with a far distance from major cities held their normal Sunday worship, while some gathered for brief worship services.

Dietrich Bonhoeffer: Critical Prophet of the Ecumenical Movement
Seventy-five years ago, on 9 April 1945, the German Lutheran theologian Dietrich Bonhoeffer, with six other members of the conspiracy to overthrow Adolf Hitler, was hanged at Flossenbürg execution camp in Germany. He was 39.
From the conclusion of his student years in Berlin to his death on the Nazi gallows at Flossenbürg, the ecumenical movement was central to Bonhoeffer's concerns. During these years he fulfilled several distinct roles: academic theologian and teacher, leading protagonist for the Confessing Church, pastor, seminary director and – most dramatically and controversially – willing participant in the German resistance and the conspiracy to overthrow Hitler. But it is his commitment to and active involvement in the ecumenical movement that forms the most continuous thread of his life and activity and links all his various engagements. Bonhoeffer was a friend of Willem Visser 't Hooft, who would become the first general secretary of the World Council of Churches, visiting him in Geneva during the war years and bringing him news of the opposition to Hitler, but also discussing such issues as the ecumenical implications of baptism.
U.S. prosecutors resist calls to free inmates as coronavirus spreads
Five inmates at a federal prison in Oakdale, Louisiana, have died since March 28 after contracting the coronavirus. Harold Lee's family fears he could be next.

Lee, who was sentenced in 2018 for a bank fraud conviction, has asked a federal court for release on home confinement. The 59-year-old has hypertension and requires a breathing machine to sleep.

Oakdale was the country's first federal prison to report fatalities from COVID-19, the respiratory illness caused by the coronavirus. The head of the local guard's union says dozens of inmates at the complex's low-security unit, where Lee is housed with nearly 1,000 other prisoners, are showing flu-like symptoms.

The U.S. Justice Department, which oversees the nation's largest prison system, wants to keep Lee behind bars. Lee's concerns "are based entirely on speculation and generalized fear," a federal prosecutor said in a filing this week. The case is still pending.

We've revived the NCC weekly podcast to cover the breathtaking developments in church life across this COVID-19 landscape. We are interviewing leaders from all levels: pastors, heads of communion, and regular folk from across the church.
Take Action with Creation Justice Ministries This April
Check out these different ways for you and your congregation to get involved. Come back every month for new ways to take action!
Serving as a leading voice of witness to the living Christ in the public square since 1950,
the National Council of Churches of Christ in the USA (NCC) brings together 38 member communions
and more than 40 million Christians in a common expression of God's love and promise of unity.