Subject: NCC Newsletter: Voting Rights and Anti-Muslim Bigotry
View this email online if it doesn't display correctly
Voting Rights and Anti-Muslim Bigotry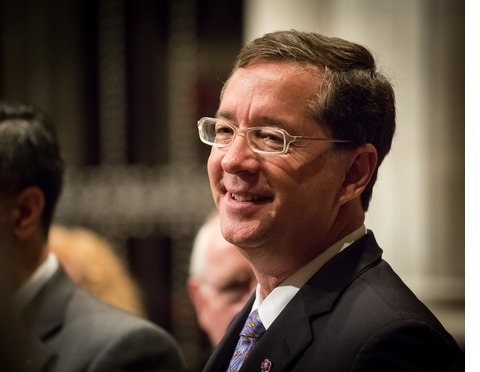 Jim Winkler will keynote the celebration of the 50th anniversary of the ordination of Archbishop Vicken Aykazian this weekend. Below are excerpts from his remarks:



I am thankful for the invitation to address you today. It is a joyous occasion to honor him and to celebrate the 50th anniversary of his ordination.

Archbishop Vicken Aykazian served as the 24th president of the National Council of Churches in 2008 and 2009 and as the first Oriental Orthodox president. He is a highly respected leader in the ecumenical community and in national and international religious circles – both Christian and interfaith—and the National Council of Churches is grateful to have him serve on our executive committee and to represent the Armenian Church in America on our governing board.

I am grateful to count him as a friend, a confidant, a mentor, an advisor, and a traveling companion.

Among the many Eminences, he is one who truly fulfills this description as "eminent," and one all of us are proud to call "friend." I have known Archbishop Vicken for 20 years and we have traveled to Armenia, to the Holy Land, and throughout the Middle East together many times.

You have been fortunate to have Archbishop Vicken's strong public voice when it comes to raising awareness of the Armenian genocide. The United States now recognizes the Armenian genocide through two congressional resolutions and by presidential announcement. Earlier this year, President Biden said the United States considers the events 'genocide' and formally equated the genocide perpetrated against Armenians with those committed against Jews by the Nazis.

Archbishop Vicken is among those people who have been central to securing this long-awaited recognition. He has demanded justice for Armenia, he has worked in the halls of power, he has spent the time that has been needed to tell the story of Armenia, he has been like the persistent widow that Jesus talked and has demonstrated the need to pray always and not lose heart.

I am one of many religious leaders who have traveled to Armenia with Archbishop Vicken and I am aware of how Armenia honors its history. I was present at the Mother See of Holy Etchmiadzin on April 24, 2015, Armenian Genocide Remembrance Day.

I wish for you to know the National Council of Churches has lifted up the history of the Armenian people, and its experience of genocide through a statement "Commemorating the 100th Anniversary of the Armenian Genocide" in 2015. In recognition of the anniversary, the NCC and the US Conference of Catholic Bishops held a service at the National Cathedral. Some of you may have been present on that evening when the Cathedral was full.

I want to say also that the archbishop has helped me, as a Protestant leader, to understand the nuances between Oriental and Eastern Orthodox Churches. He has helped attune my ear to the spiritual richness of Armenian and Middle Eastern chants. Eating together with the archbishop and other Armenian prelates has attuned my palate and taste buds to the splendors of Armenian cooking and to the richness of the Armenian culture and traditions.

My friends, today we honor Archbishop Vicken. He has stood in solidarity with Christians and with people of other faiths on behalf of you. He has found ways to cooperate with people all over the world, and he has given us hope. Let us thank him for his witness to Christ and let us pray he will do so for many more years to come!

Action Alert: Safeguard and Improve US Voting Rights
After months of advocacy, people of faith are still pushing for Congress to protect our democracy through federal voting rights legislation. We ask for your continued pressure and actions so that we can move our government to truly represent all people.
On September 14, 2021, a group of Democratic US senators introduced the Freedom to Vote Act. The bill includes many of the most important provisions that were also in the For the People Act, which passed the House as H.R. 1 in March 2021, along with new safeguards to protect the integrity of vote counting and ensure sound election administration.
In addition, the House passed its version of The John Lewis Voting Rights Advancement Act on August 24, 2021. The Act would reinvigorate and strengthen the Voting Rights Act and make sure that any changes to voting rules do not discriminate against voters based on race or background. This is needed because in the case Shelby County v. Holder in 2013, the Supreme Court invalidated an enforcement mechanism and ruled that the formula for deciding which states and localities have a history of voting discrimination was unconstitutional. The court recommended Congress create a new formula and The John Lewis Voting Rights Advancement Act would enable a new formula to be developed.

The Senate must pass both of these acts to fully safeguard and improve our democratic processes, restore the Voting Rights Act, and ensure Americans can safely and freely cast our ballots so that every voice is heard, and our elections reflect the will of the people. Voting effects everyday life because the policies decided by elected leaders are experienced by people each day.
Contact your Senators to tell them that our democracy cannot wait and both bills must pass!

Shoulder to Shoulder Co-Chairs Publish Letter on Anti-Muslim Bigotry
Kathryn Mary Lohre, who is the Executive for Ecumenical and Inter-Religious Relations in the Office of the Presiding Bishop of the Evangelical Lutheran Church in America, a former NCC President, and current NCC Ecumenical Officer; and Rabbi Esther Lederman, who is Director of Congregational Innovation for the Union for Reform Judaism, wrote the following letter as co-chairs of the Shoulder to Shoulder Campaign of which NCC is a founding partner.

As Jewish and Christian faith leaders, we condemn Congresswoman Lauren Boebert's recent anti-Muslim remarks and her ongoing pattern of religious bigotry. Not only is this kind of behavior dangerous, it can be deadly. We are particularly alarmed that this rhetoric is coming from one of our elected leaders, whose job it is to serve the American people. We find it incompatible with her Christian convictions, and the calling we share as people of faith.

Anti-Muslim bigotry, hate crimes, and incitement to violence are widespread issues in our nation. According to a 2020 report from the Institute for Social Policy and Understanding, American Muslims are the most likely group to experience any religious discrimination. In addition, half of American Muslim families with children in public schools reported that a child of theirs had been bullied for their faith in the past year. Even more egregious, one-third of those bullied were at the hands of a teacher or school official.

More than a decade ago, American Jews and Christians came together with American Muslims to work to end anti-Muslim bigotry through the Shoulder to Shoulder Campaign. Sadly, the urgency of the campaign has only increased since our organization was formed. What is promising is that the campaign has grown in stride, along with the resolve of faith leaders at local, regional, and national levels. Shoulder to Shoulder connects, equips, and mobilizes American people of all faiths and backgrounds to more effectively address, counter, and prevent anti-Muslim discrimination. We encourage and support relationship building across differences, we resource and train people of faith on these issues, and we amplify faith voices in the public sphere. As the co-chairs of the campaign, we urge you to join us in this urgent work of equipping yourselves to lead with "faith over fear" in your own community.

A Pew Research Center poll released earlier this year indicated that 78% of Americans know that almost that Muslims face "a lot" of discrimination, second only to Black Americans. (Though of course, many Black Americans are Muslim!) The research further indicates that this is a bi-partisan concern. So why be silent? Why allow this discrimination to fester and grow only to embolden those who are filled with hate, like the man who left a voicemail for Rep. Ilhan Omar with a chilling racist death threat after Rep. Lauren Boebert's refusal to apologize for her bigoted remarks? Why not work to counteract this dangerous — if not deadly — narrative by uplifting American Muslim contributions to everyday society, to medicine and science, public policy and law, community service, and bridge-building? We will not stand by while anti-Muslim tropes are used to diminish and destroy who Muslims are, and have always been, in our shared American society.

There is a beautiful confluence in our faith traditions this week that gives us hope for a better way. In recent days, Jews lit the final candles during Channukah, remembering their peoples' struggle for religious freedom. Christians are also lighting candles to mark this time of Advent — of anticipation — when the angels declared "peace on earth" at the birth of the Christ child. Here in the United States, we are experiencing, yet again, the capacity for light to disperse the darkness of these days. When we join together, the glowing light of our traditions will guide us together in prayerful action for peace and religious freedom in the present.

We encourage you to join us in speaking up alongside our Muslim neighbors against religious bigotry of any form, and especially against anti-Muslim hate: Call and hold our elected leaders accountable to our shared American ideals. Encourage house leaders to hold Rep. Boebert to a higher standard of leadership. Engage in ongoing work of Shoulder to Shoulder with other faith partners in your local context to end anti-Muslim discrimination and violence. Anti-Muslim bigotry betrays our Jewish and Christian values and it betrays our American ideals.
NCC Governing Board Chair in the News
Yesterday, Bishop Teresa Jefferson-Snorton, NCC Governing Board Chair and Presiding Bishop of the Fifth Episcopal District of the Christian Methodist Episcopal Church was featured in the article "Women breaking through to top roles in Black churches" published by the Associated Press, Religion News Service, and The Conversation.
In the article she admits that she is "still sometimes questioned about biblical passages that are cited to justify giving men sole power to preach or lead." In response she cites other passages, such as one declaring that "in Christ there is neither male nor female." She also discusses the story of Resurrection morning and emphasizes that she did not call herself to this ministry, God did.
COVID-19 Pandemic Response:
Volunteer for a Vaccine Text Bank
With the holidays here and the new Omicron variant, it continues to be important for us to share COVID-19 vaccine information.
Faiths4Vaccines has joined with Made to Save, GOTVax, and several other national organizations to create a text bank on December 14 & 16, 2021, at 6PM ET to mobilize unvaccinated people to get vaccinated (including kids aged 5 and up) and to get vaccinated people boosted to protect themselves from COVID-19.
We encourage our church leaders and members to register and then share the invitation with your communities.

Sending texts is fun and easy, and they'll give you everything you need including a quick training to show you how the texting tool works (you can use your desktop computer to send texts, and your phone number will not be shared). They'll also give you the resources you need to answer questions about the vaccines, which could prove useful as you discuss vaccines within your church community. Sign up to get started!

Attend CNBC Annual Consultation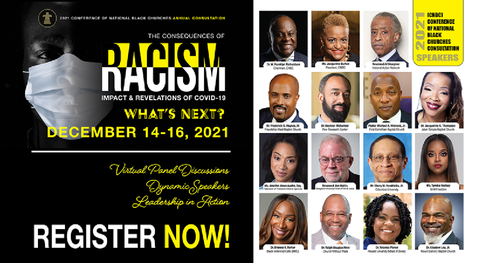 The Conference of National Black Churches' (CNBC) Annual Consultation is a groundbreaking gathering of the leading voices in the Black church, social justice, and the health and medical fields with a special focus this year on the COVID-19 pandemic. This year's consultation - The Consequences of Racism: Impact and Revelations of COVID-19 -- What's Next? - will give attendees an in-depth understanding of how COVID-19 and its variants have affected communities of color, with presentations from those who have been at the forefront in the fight against the pandemic. They will also review some of the obstacles the pandemic has exposed in our communities and hear from experts about generational challenges facing the Black church, the latest research on the Black church, God in the Ghetto, and the Oppressive Christology. The consultation will arm you with the necessary tools to engage your churches in the fight against the pandemic and provide a clearer understanding of what we need to do to move forward. The consultation is next week, December 14-16, 2021, and the cost is $35 to register.
Upcoming Racial Truth-telling Webinars from The Episcopal Church
For the second year, The Episcopal Church has gathered data from more than 70 dioceses and 140 congregations and institutions that details the regional and local ministries of racial justice, reconciliation, and healing. This year's inventory includes an emphasis on ministries of truth-telling about our churches and race.

They are now holding two webinars to explore the inventory:



Truth-telling Ministries: Highlighted Examples and Lessons Learned

on Tuesday, December 14, 2021, 3 - 4:30 pm ET. Engage a panel of leaders from ministries engaged in truth-telling, reckoning and healing work, with stories of their ministries and the lessons they're learning. The leaders include The Rev. Natalie Conway of Memorial Episcopal Church, Baltimore; The Most Rev. Mark MacDonald of The Anglican Church of Canada; Woody Register of the Sewanee: The University of the South; and The Rev. Meg Wagner of The Episcopal Diocese of Iowa, Register.



Truth-telling Ministries: Taking the First Steps

on Wednesday, January 12, 2022, 3 - 4:30 pm ET. Inspiring leaders share best practices and ideas for truth-telling, reckoning and healing work, to help other Episcopal groups jump-start or enhance their efforts. Register.

The inventory and webinars are a project of the Church's Racial Reconciliation and Justice Team with partners at Justice and Sustainability Associates.
Antiracism Work in a Minneapolis Presbyterian Church
Presbyterian Mission reports on a Minneapolis church's presentation for Giving Tuesday that describes antiracism work as the core work of the church and states, "it's still of utmost importance for churches to continue doing antiracism work."
Kendig Flores, antiracism coordinator for the Presbytery of the Twin Cities Area said, "when we look at the world through an antiracist lens, how we do eco-justice, how we do peacemaking, how we do mission and ministry changes and transforms and becomes more powerful."
Nonprofit Security Grant Program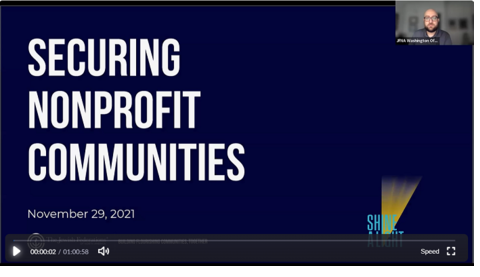 Congress established the Nonprofit Security Grant Program (NSGP) in 2004 to better integrate nonprofit preparedness investments and activities within the broader national response to terrorism and violent extremism in the post-911 environment. This security grant benefits the charitable sector, including faith-based communities and the program is administered by the Federal Emergency Management Agency (FEMA).

It provides Federal funding to support "target hardening and other physical security enhancements and activities to nonprofit organizations that are at high risk of terrorist or terroristic attack. The intent of the program is to integrate nonprofit preparedness activities with broader state and local preparedness efforts. It is also designed to promote coordination and collaboration in emergency preparedness activities among public and private community representatives, as well as state and local government agencies."

The start date has not yet been determined and will be dependent on when Congress completes the appropriations process for the year probably sometime between March and May 2022. Interested faith-based organizations should make plans ahead of the Notice of Funding Opportunity if they intend to apply, especially if they are applying for the first time.

The funds are intended to "protect life and property by enhancing physical security, conducting preparedness planning, and training and contracting with security personnel. Grant recipients primarily use the funds for security upgrades such as security surveillance cameras/CCTV; controlled entry/access systems; security enhanced doors/windows; alarm/alert/notification systems; blast proof doors/windows; and physical barriers/fences/bollards."

For more information, visit this website: Nonprofit Security Grant Program, and watch the Jewish Federations of North America's interfaith webinar on the Nonprofit Security Grant Program which was held in November.
Job Listings
5-month Paid Fellowships at International Center for Transitional Justice (ICTJ)

to help advance transitional justice work in the US. The program is open to young professionals and/or activists who have been engaged in racial justice and reparative justice work in the US. The deadline is Monday December 13th. More information.
We hope you will include the NCC in your year end giving! Together we choose grace over greed, love over hate, and faith over fear.
If you find our newsletter informative, please forward it to friends and colleagues!