Subject: NCC Newsletter: The War Goes On
View this email online if it doesn't display correctly
From
Jim: Prayer for Peace and the End of the War
(Ed. Note:

June 25 is the 70th anniversary of the start of the Korean War. Below is a prayer offered by Jim Winkler as part of a collection of resources in Korean and English prepared by the National Council of Churches of Korea. You can download the collection at http://www.kncc.or.kr/newsView/knc202006100001)
Gracious and Most Holy God,


We praise your name and we come before you as seekers of peace. For too long, we have experienced war and hatred and division. We ask for your help in bringing an end to the 70 years of war that have plagued the Korean Peninsula We know it is not your will that we live through endless war.

O God, we know the solution to peace rests not only with governments but with your people and so we have prayed, preached, demonstrated, campaigned, lobbied, and organized for peace these many years. This terrible war must end. We implore you, we beseech you, to aid us in this sacred quest.

Although we are tired and weary following more than seven decades of conflict and tension, our desire for peace will never flag and we refuse to succumb to hopelessness. But you know dear Lord how much pain and grief have resulted from all this war—the lives lost, the bitterness, the name-calling, the reputations besmirched, the families divided, the mental anguish endured.

As we live through the global pandemic it seems as if nearly unbearable pressures and burdens have been lain upon us. But we cannot simply set aside the cause of peace. In fact, now is the time for nations to set aside their enmities in pursuit of the health of the entire planet and all its inhabitants so we today are more determined than ever to strive for a peace treaty.

Dear God, we have lived through many difficulties but you have always been faithful to us. You are our rock and fortress. Be with us as we continue our quest for peace. We know you are the living god, our merciful friend.


With your help, it shall be on earth as it is in heaven.


Jim Winkler
President and General Secretary
Churches from Across the World to Join the Ecumenical Peace Message for Korea
A Joint Ecumenical Peace Message for the 70th anniversary of the start of the Korean War will be presented at the online event "Ecumenical efforts for peace on the Korean War's 70th Anniversary," hosted by the World Council of Churches (WCC) at 7:00 AM ET on Monday June 22.

During the livestreamed event the Joint Ecumenical Peace Message will be read by representatives of churches and councils of churches around the world, including the countries that participated in the Korean War, promoting the peace and reconciliation message for the Korean Peninsula in church circles and beyond.

Speakers at the event include WCC interim general secretary Rev. Prof. Dr Ioan Sauca, WCC deputy general secretary Prof. Dr Isabel Apawo Phiri, National Council of Churches in Korea general secretary Rev. Hong Jung Lee, WCC Commission of the Churches on International Affairs moderator Rev. Frank Chikane, National Council of Churches (USA) Governing Board Chair Rev. John Dorhauer and other co-sponsors of the peace message. The online event will be livestreamed on the WCC Youtube channel, www.oikoumene.org/live.
Member Communions Observe Juneteenth Holiday
NCC member communions are sharing a variety of events and resources in observance of the annual Juneteenth holiday. The holiday marks the day, June 19th, 1865, when U.S. Army General Gordon Granger announced in Texas, the last state to be put under federal occupation following the Civil War, the enforcement of the Emancipation Proclamation issued by President Abraham Lincoln in 1862. The day is celebrated as the end of slavery in the states that had seceded from the U.S. Below is a short list of links to events. This is just a sampling, please check with your own churches as well for any events that may be occurring.
Greek Orthodox Archdiocese of America Supports New York Police Reforms, Launches Resource Center
His Eminence Archbishop Elpidophoros applauded the signing by New York Governor Andrew Cuomo of the 'Say Their Name' Reform Agenda package, in the wake of the killing of George Floyd and the issue of systemic brutality against minority communities across the nation. These reforms included:



Allowing for transparency of prior disciplinary records of law enforcement officers;

Banning chokeholds by law enforcement officers;

Prohibiting false race-based 911 reports; and

Designating the Attorney General as an independent prosecutor for matters relating to the civilian deaths.
In response to this package of reforms, Archbishop Elpidophoros said:

"I am grateful to our New York State Legislature and Governor Cuomo, who invited me to be part of the NY Forward Interfaith Advisory Council, for the swift action to institute long overdue reform. This is not about hurting in any way our police forces, but rectifying those areas of practice that have been the cause of abuse and even the death of our fellow citizens. If the unjust killing of George Floyd has brought us one step closer to justice for all Americans, then his death, however tragic and unnecessary, will not have been in vain."

In addition, The Greek Orthodox Archdiocese of America recently created a Resource Center on Racial Reconciliation. The resources include orthodox perspectives, official statements, and videos with interviews. You can visit the Resource Center at https://www.goarch.org/society/racial-reconciliation
Metropolitan Nicholovos: "We cannot afford to be bystanders"


In a lively online discussion entitled "Breaking Down the Walls," the Northeast American Diocese of the Malankara Orthodox Syrian Church explored the racial injustices in our society, how racism plays a role in the Indian American community, and what Orthodox Christians can do.

Sunil Kurian, an attorney who resides in Philadelphia (USA) moderated the discussion, saying: "These are troubling times. We as Orthodox Christians must break down the walls of racism that separate us."

Metropolitan Zachariah Mar Nicholovos, a member of the World Council of Churches Executive Committee, offered some reflections on his thoughts as he wrote a "Statement Regarding the Death of George Floyd."

Why did he feel it was necessary for the dioceses to speak out? "It was a sad incident to say the least," said Nicholovos. "When you look at the incident, when you see the police officer to whom we all look at to protect us—when he acted in a very gross manner and his colleagues looked on without taking an action, it was a gross injustice."

NCC Offering Weekly

Scriptures, Prayers, and Meditations on Racism




We had been offering daily meditations for uplift during the COVID-19 crisis. In light of the new context we are all living in, we have changed these messages to a weekly focus on racism. The scriptures continue to come from the Uniform Lesson Series but now also include a selection from United Against Racism: Churches for Change. This book was created by NCC to provide resources as part of its ACT NOW to End Racism Initiative. You can purchase your own copy of the book, as well as a study guide, through NCC's publishing arm Friendship Press at store.friendship-press.org.




If you wish to receive these weekly emails, please click the link below and sign up as well as share our sign-up form with someone else to continue the conversation that we need to be having.
ACTION ALERT - Stop Police Use of Excessive Force

George Floyd. Breonna Taylor. Walter Scott. Michael Brown. This list of unarmed blacks killed by police continues to grow. More must be done to not only hold the killers responsible but to stop the killing before it happens.

Civil rights and faith based organizations are working together to ensure that transformative change happens. These changes include setting a national standard for use of force as a last resort, ending the program that provides military equipment to police departments, and banning chokeholds and other restraints that restrict oxygen flow to the brain.

Please take action now and tell your representative that only significant, transformative change can begin to address the U.S. epidemic of police violence.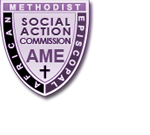 AME Church Social Action Commission Issue Alert on Police Reform Proposal

Justice delayed is justice denied is a statement initially related to speedy trial. However, the African Methodist Episcopal Church draws attention to this phrase to decry conditions that exist in this country – We can't breathe. Today, in the wake of the recent police-involved murders of George Floyd, Breonna Taylor, Ahmaud Arbery, Sandra Bland, and too many other African-American women and men.

The culture of too many police departments seems to encourage less focus on "serving to protect" than patrolling to attack. Yes, even off-duty or retired officers continue to exhibit combat-related behavior that is excessive in response to minor infractions, and most egregiously property matters with no threat to life. The roll call of victims who have been killed in police-related incidents has grown with Blacks seeing no priority for remedying a condition now known as "death for living while Black."

What have decades of activists been asking for? It is merely what every generation wants to ensure for itself and future generations. Transparency! Accountability! Trust! Aren't these virtues among the very least we should expect from the police in our country?

We encourage the members of the AME Church to support the Justice In Policing Act introduced by leaders in the US House of Representatives and Senate by calling and writing! It proposes to finally protect the safety and rights of all Americans, especially Black and Brown communities who have suffered centuries of abuse by an unequal justice system. This legislation must be passed. And it must be passed now!
AME Church Creates Resources in Observance of 5th Anniversary of Murder of Emanuel 9



On June 17, 2015, white supremacist Dylan Roof joined members of Mother Emanuel AME Church in Charleston, SC for Bible study. After the study, he gunned down nine people. In observance of the fifth anniversary of this senseless tragedy, the AME Church Publishing House has created resources for the observance of Mother Emanuel Remembrance Sunday (June 21, 2020).

Every church in the African Methodist Episcopal Church will observe this solemn occasion. You can view these resources online by clicking here.
Christian Conference of Asia Statement Call Racism "Threat to Humanity"
The brutal murder and ongoing atrocities perpetrated against African Americans and other marginalised communities of colour in the United States of America by police are alarming. The subsequent response unleashed through massive protest movements across the country are clear evidences of frustration which became the catalyst around which the American public galvanised to pour out their outrage against social inequality, police brutality, and racism. These were some of the observations made by the General Secretary of the Christian Conference of Asia (CCA), Dr Mathews George Chunakara in a statement released today.

Condemning the police brutality and murders of two African Americans, George Floyd in Minneapolis and Rayshard Brooks in Atlanta, USA as well as the destructive acts of protesters in different parts of the country, the CCA General Secretary said, "Economic oppression and political repression have no place in a democracy. Such virulent bigotry is contrary to any sense of human decency. To solve a problem, we must first recognise that a problem exists."

Church leaders from across the world are expressing their grave concern over the government of Israel's plan to annex parts of the occupied West Bank.

Archbishop Justin Welby and Cardinal Vincent Nichols of Westminster published a "Joint Statement on Annexation" on 12 June, delivered to both the Israeli ambassador and the British prime minister. Welby and Nichols expressed their opposition to any move by the government of Israel to annex West Bank territory after 1 July 2020.

Welby and Nichols "unambiguously support the fundamental right of Israel's citizens to live in peace and safety but these prospects can only be secured through negotiation rather than annexation." It is essential that both Israelis and Palestinians may live without violence or the threat of violence from each other or other armed groups, they emphasised. "We continue to believe that negotiation is the only way to secure a genuine two-state solution in the Holy Land."

Catholic and Anglican Bishops of the Holy Land Coordination reaffirmed that we all have a responsibility to promote a two-state solution. "Our churches therefore have an imperative to help prevent annexation, particularly by encouraging the UK government to clearly indicate that it would be met with a meaningful response not simply rhetorical condemnation," reads their statement. "Whatever the modality, annexation would amount to the crossing of a rubicon and would irrevocably damage the prospects of two-state solution."

The patriarchs and heads of the churches of Jerusalem are also observing with concern the unilateral plans as an obstacle to any peaceful agreement. "As a result of the stagnation of the Peace Process in the Middle East between the Israelis and Palestinians, an array of plans for Israel to unilaterally annex West Bank land, backed mainly by right-wing factions, raises serious and catastrophic questions about the feasibility of any peaceful agreement to end the decades' long conflict, one that continues to cost many innocent lives as part of a vicious cycle of human tragedy and injustice," reads their statement. "The Council of Patriarchs and Heads of the Holy Land Churches views such unilateral annexation plans with the utmost concern and calls upon the State of Israel to refrain from such unilateral moves, which would bring about the loss of any remaining hope for the success of the peace process."

PC(USA) Stated Clerk Rev. Dr. J. Herbert Nelson Receives Rev. James Orange Award
The Reverend Dr. J. Herbert Nelson, II, Stated Clerk of the General Assembly of the Presbyterian Church (U.S.A.), was honored Wednesday night by Jobs With Justice, a union rights organization, for his social justice work over the years.

During an online presentation, Nelson received the Reverend James Orange Award for Movement Leadership. Erica Smiley, executive director, described meeting Nelson while he pastored a church in Greensboro, North Carolina.

"I met Dr. Nelson when I was 16 years old while participating in my first labor struggle. Black workers at a K-Mart store were asking for help in what was considered racial discrimination. As a result, more than 550 distribution workers negotiated and won," Smiley said. "That was when I learned that unjust laws were meant to be broken, equality was worth the sacrifice, and democracy was worth the fight."
Serving as a leading voice of witness to the living Christ in the public square since 1950,
the National Council of Churches of Christ in the USA (NCC) brings together 38 member communions
and more than 40 million Christians in a common expression of God's love and promise of unity.