Subject: NCC Newsletter: The Plagues of Nuclear Weapons, COVID-19, and Racism: Reflection and Action
View this email online if it doesn't display correctly
The Plagues of Nuclear Weapons, COVID-19, and Racism: Reflection and Action



NCC Newsletter
Nuclear Weapons, War, and Racism: The Myth of Redemptive Violence
I write on the 75th anniversary of the dropping of the atomic bomb by the United States on the city of Hiroshima, Japan. More than 100,000 people, mostly civilians, died that day and nearly 100,000 more died three days later when the U.S. dropped a second atomic bomb, this time on the city of Nagasaki.

I grew up in an era when the belief was widely held that the use of those bombs was necessary to end World War II. My late father-in-law was on a troop ship heading for an invasion of Japan at the time and he always and firmly believed the bombing of Hiroshima and Nagasaki saved his life. From his vantage point as a foot soldier, that was how it looked.

However, even at that moment, there were dissenting views. The predecessor body of the National Council of Churches was known as the Federal Council of Churches (FCC). Three days after the attack on Hiroshima—on the day of the bombing of Nagasaki--the general secretary of the FCC, Samuel McCrea Cavert, sent a telegram to President Harry Truman. It read:
Many Christians deeply disturbed over the use of atomic bombs against Japanese cities because of their necessarily indiscriminate destructive efforts and because their use sets extremely dangerous precedent for future of mankind. Bishop Oxnam, president of the Council, and John Foster Dulles, chairman of its Commission on a Just and Durable Peace, are preparing statement for probably release tomorrow urging that atomic bombs be regarded as trust for humanity and that Japanese nation be given genuine opportunity and time to verify facts about new bomb and to accept surrender terms. Respectfully urge that ample opportunity be given Japan to reconsider ultimatum before any further devastation by atomic bomb is visited upon her people.

President Truman did not take kindly to this criticism and responded on August 11 with this telegram:
I appreciated very much your telegram of August ninth. Nobody is more disturbed over the use of atomic bombs than I am but I was greatly disturbed over the unwarranted attack by the Japanese on Pearl Harbor and their murder of our prisoners of war. The only language they seem to understand is the one we have been using to bombard them. When you have to deal with a beast you have to treat him as a beast. It is most regrettable but nevertheless true.
I submit the entire struggle against war and racism is encapsulated in this exchange. War is based on the myth of redemptive violence. President Trump sums it up this way:
One of the things you should do in terms of success: if somebody hits you, you've got to hit 'em back five times harder than they ever thought possible. You've got to get even. Get even. And the reason, the reason you do, is so important….The reason you do, you have to do it, because if they do that to you, you have to leave a telltale sign that they just can't take advantage of you.
This is a race to death, a race to the bottom, a spiral of violence without end.

The use of the atomic bomb was easily accepted by many because it was used against non-white people. Similarly, slavery, lynchings, segregation, racism, and police violence and murders are viewed as justified by too many white people as a means to enforce dominance and control.

May we use the 75th anniversary of atomic attack on Hiroshima to re-commit ourselves to ridding the world of nuclear weapons and of war and of racism. We must do this not only because it is consistent with the teaching of Jesus but because it is essential to our very survival.
On 75th Anniversary of Atomic Bombings, NCC, World Council of Churches, 189 Organizations Release Interfaith Statement Supporting Nuclear Disarmament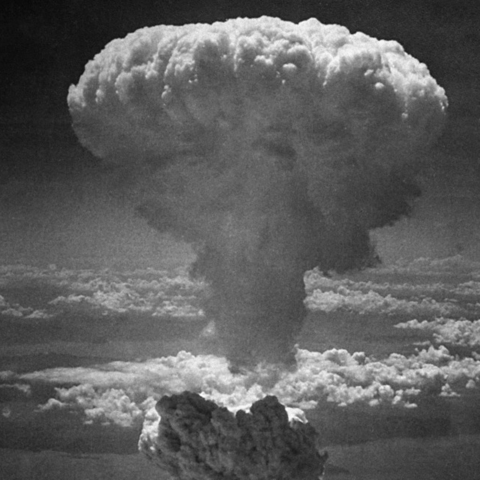 As a wide coalition of faith-based communities from around the world, we have committed to speaking with one voice that rejects the existential threat to humanity that nuclear weapons pose. We reaffirm that the presence of even one nuclear weapon violates the core principles of our different faith traditions and threatens the unimaginable destruction of everything we hold dear. Nuclear weapons are not only a future risk, their presence here and now undermines the ethical and moral foundations of the common good. We call for your commitment to a world that is more peaceful, safe, and just—a world only possible with the elimination of nuclear weapons.

August 2020 marks the 75th anniversary of the nuclear attacks on Hiroshima and Nagasaki — attacks which devastated these cities causing up to 213,000 deaths by the end of 1945 and many more in the following years. The attacks inflicted excruciating pain and suffering on both humans and the environment.

We are grateful for the global hibakusha, survivors, who have courageously borne witness, often in the face of intimidation and the recurring tragedy of loss and illness. We must meet the courage of the survivors with our own. We must abolish nuclear weapons forever.

We lament the racism and colonialism that drove the nuclear-weapon States to test their weapons on the communities that they deemed expendable, lives far away from their own, lives that mattered less, lives that were taken in pursuit of destructive power for a few. We acknowledge the immense suffering, oppression and exploitation faced by the Indigenous communities around the world whose bodies, lands, waters and air have served as the testing grounds for the ambitions of those who dominate with force.
Middle East Council of Churches Receives Messages of Condolence Following Beirut Disaster
Expressions of condolence have been received by the Middle East Council of Churches (MECC) after Beirut was devastated by a massive explosion on Tuesday at its port. The blast damaged buildings throughout the city and has left more than 300,000 without shelter. The MECC offices are located less than five kilometres from the port.
Letters from the World Council of Churches, the Council of European Churches, and others expressed their sorrow at the loss of life and extreme devastation caused by the explosion.
MECC released the following prayer for victims:
Beirut is devastated
Beirut is facing a tragedy
Let's stand together Let's rescue the wounded and those who lost their homes
Let's pray for the victims
O God, have mercy on our beloved Lebanon and on its heartbroken people. Do not hide Your face from us!

Prof. Azza Karam of Religions for Peace - Religion & the Pandemic: A Call Beyond the Here & Now
I have never been interested in religion or spirituality before, but I found myself tuning in to all sorts of on-line religion and spirituality related forums "in search of something."

These are the words of a 30-something single young, middle class man (born into a Protestant-Catholic family background) in a European country.

The latter is known more for turning several churches into museums or shopping centers, prior to the Covid-19 pandemic. When people are afraid, lonely and alone – they tend to seek "something" beyond science.

A quarter of Americans say their faith has become stronger because of the pandemic, according to a Pew survey conducted during April 20-26, 2020, of 10,139 U.S. adults.

But this is to be contrasted with the experiences of those from an older generation (60+) in the southern hemisphere, like my own 85-year old Muslim father, who lives to pray. For him, the mosque has, over the last decade since my mother's death, become both his spiritual hub and social club.
Resources on COVID-19 for Churches
NCC has collected a large number of resources from a variety of ecumenical and denominational bodies as well as the Centers for Disease Control and Prevention. As the United States continues to suffer under the weight of the COVID-19 pandemic, we must continue to protect those around us by wearing masks that effectively stop the spread of the virus. The CDC recommends wearing masks in public settings. However, the CDC does not recommend masks with valves or vents because they "allow exhaled air to be expelled out through holes in the material."
COVID-19 is Surging: Protect Those Who are Most at Risk
Last week, Congress failed to act as emergency unemployment benefits and protections against eviction expired on July 31. At the same time, more prisons and immigration detention centers are reporting widespread outbreaks of COVID-19. In the face of crisis worsened by inaction, politicians continue to bicker.
Your voice is needed now. Contact Congress and tell them as a person of faith and a voter, you demand action to protect the most vulnerable from the COVID-19 pandemic.
Episcopal Bishops Issue Statement on Policing of Protests in Portland
The House of Bishops met virtually July 28-29, 2020. The following statement was adopted on July 29. While the situation on the ground in Portland has changed, the bishops believe it is important to share their statement about protest and policing:


Blessed be the Lord! *
for he has shown me the wonders of his love in a

besieged city.—Psalm 31:21



We bishops gathered virtually on July 28 and 29 in the midst of an unprecedented series of public moments in the United States: an ongoing pandemic causing great physical, emotional, and economic suffering; continuing protests over the use of deadly force by police, especially in communities of color; and an expanding investigation into the depth and extent of systemic racism in our national life and history. Any one of these would be a major disruption in American national life. The confluence of all of them has been truly world-changing, and has left some angry, others hopeful.

If there is one event during the time we met which encapsulated all the anxieties and aspirations of U.S. bishops in the House, it is the situation in Portland, Oregon and other cities. Even as we were meeting the mostly nonviolent protests in these cities continue, as does the deployment of unmarked, anonymous federal officers there.

We Episcopalians stand in a creative tension with regard to civil authority. We are the inheritors of an established church tradition and so it is our longstanding custom to honor legitimate government. At the same time, we follow One who challenged the civil authority of his own day.

The national and international conflicts of the twentieth century have taught us the value of protest and civil disobedience. The Civil Rights movement of the mid-twentieth century was built on Christian social principles. In the words of Dr. Martin Luther King, Jr., "Protest beyond the law is not a departure from democracy; it is absolutely essential to it."

Watch Online: ACT Now Event on the Politics of Death in the U.S.

NCC, as part of its ACT Now Anti-Racism initiative, held an online theological, political and cultural conversation on necropolitics, the politics of death, in the U.S. as exposed by the COVID-19 crisis. The event explored how systemic and systematic race, class and gender hierarchical constructs rank the value of people groups. The coronavirus has shined a light on how our systems and structures determine who should live and who is expendable.
Watch Online: COVID-19 and Challenges in the Orthodox Church
The Orthodox Christian Studies Center of Fordham University and the National Council of Churches USA cosponsored the first of a series of webinars highlighting some of the ecclesial challenges around the COVID-19 pandemic. The discussion highlights how the Church is striving to meet these challenges, as well as the opportunity arising from this task for the Orthodox churches to do this ministry together.
Pennsylvania Council of Churches Seeks Executive Director
The Pennsylvania Council of Churches (PCC), with offices in Harrisburg, PA, seeks full-time Executive Director to lead the PCC in addressing the issues facing the Christian community. The successful candidate will be a skilled and committed ecumenist combining broad scriptural/theological scholarship, passion for and demonstrated experience in ecumenism with strong leadership and relationship-building skills.