Subject: NCC Newsletter: How Long, Oh Lord?
View this email online if it doesn't display correctly
One War is Over But Endless War Continues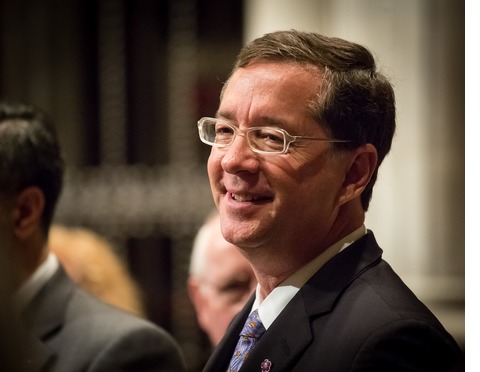 It is welcome news that President Biden has announced US forces will be withdrawn from Afghanistan by September 11, 2021, two decades after the terrorist attacks on the World Trade Center and the Pentagon. I have often written and spoken about the events of that day and my own experiences on Capitol Hill. I have long prayed for an end to the war, although I recognize our departure will not bring peace anytime soon to Afghanistan, nor would peace be the result of our staying there.

There was little doubt that President George W. Bush was going to order military action against Afghanistan in the immediate aftermath of 9/11, not because Afghanistan was responsible but because Osama bin Laden, the author of the attacks, was living in Afghanistan and was given shelter by the Taliban government.

The desire for revenge was overwhelming, but the response should have been an international police and intelligence effort to bring bin Laden and his co-conspirators to justice. Instead, untold hundreds of thousands of innocent Afghanis were killed by US forces in a country that had already suffered enormously as a result of the 1979 Soviet invasion and the US-funded resistance in the ensuing war. There was never any realistic prospect that a US military occupation of Afghanistan was going to result in a peaceful, multi-party democracy.

It is difficult to determine how many Afghans were killed by the United States, but it is safe to say it is far, far, far more than those who died on 9/11 in the U.S. The US has not made any serious attempt to quantify how many civilians died at our hands. We do know some 2400 US soldiers were killed and trillions of dollars have been expended.

Once the United States withdraws from Afghanistan, the Taliban will oust the US-backed government in Kabul and President Biden will be blamed by many for this inevitability.

The United States has been at war my entire life. It is not just Afghanistan that was the 'endless war.' We are always at war whether against communism or terrorism or other isms. We have spent more than $30 trillion on wars and preparation for wars and on the aftermath of wars since the end of WWII.

The war machine and the war budget is the most powerful force in the United States. President Biden dares not do more than make the most modest adjustments in the so-called 'defense budget' for fear of sparking a severe backlash.

Personally, I believe our enormous and wasteful defense budget should be reduced by at least two-thirds and I think a great many Americans would support that. Our war budget is already greater than that of China, Russia, India, Saudi Arabia, France, Germany, Brazil, South Korea, Japan, the UK combined and most of those nations are our allies.

Further, we've never had a serious reckoning about the root causes of the events of 9/11 and its aftermath. No matter how evil the events of 9/11, they did not occur in a vacuum. The United States was and is not completely innocent. Until we re-orient our foreign and defense policies toward peace, until we stop occupying other nations, until we stop overthrowing other government, until we learn to live in peace with other nations and stop trying to impose our will on the world, we will face endless war.

May it not be so and may people of faith work for true peace.

How Long, O Lord, Must We Withstand Police Brutality and Murder?
How long, O Lord? Will you forget me forever?
How long will you hide your face from me?
How long must I bear pain in my soul,
and have sorrow in my heart all day long?
How long shall my enemy be exalted over me?

Consider and answer me, O Lord my God!
Give light to my eyes, or I will sleep the sleep of death,
and my enemy will say, "I have prevailed";
my foes will rejoice because I am shaken.

But I trusted in your steadfast love;
my heart shall rejoice in your salvation.
I will sing to the Lord,
because he has dealt bountifully with me.

Psalm 13 NRSV

Washington, DC, April 14, 2021 - The National Council of the Churches of Christ in the USA (NCC) again laments another death and the blatant disregard for Black lives after two racial incidents with police rose to national attention over the weekend.

We are weary after learning of the incident in Virginia involving Lt. Caron Nazario last December when the temporary tags on his new vehicle were initially missed by police and he was stopped. Lt. Nazario, wearing his military uniform, explained he was actively serving our nation and was verbally antagonized, pepper-sprayed in the face, and shoved to the ground while asking why his vehicle was to be searched. His injustice is our injustice.



How long, O Lord?



We cry out at the death of Daunte Wright in Brooklyn Center, MN, who was killed by a police officer after being stopped for expired license plates. He was shot by a heavy metal pistol that was aimed at him throughout the incident, a gun that plainly could not be mistaken for a plastic yellow taser. We grieve and pray for Daunte's family, his father, his mother who he called when he was pulled over, and his child who is fatherless. Their pain is our pain.



How long, O Lord?



We bear the weight of this tragedy during the trial of Derek Chauvin, the Minneapolis officer charged with second-degree murder, third-degree murder, and second-degree manslaughter in the death of George Floyd last May after he kneeled on Mr. Floyd's neck for nine minutes and twenty-nine seconds causing him to cry out, "I can't breathe." The agony of Mr. Floyd's family is our agony; the community's anguish is our anguish.



How long, O Lord?



NCC joins the Minnesota Council of Churches in mourning and weeping. We uphold their call for the faith community to pray for the family and friends of Daunte Wright; to stand with African American church leaders, church members, Black-led civil rights and community organizations, and courageous young activists; and to speak truth to power for police accountability, police reform bills, and system-wide transformation of policing in Minnesota.

Minnesota Council of Churches Statement on Killing of Daunte Wright in Brooklyn Center by Police

Incidents like what happened to Daunte Wright and so many others reinforce the urgency of the NCC's work for racial justice through its A.C.T. Now! To End Racism initiative. We will continue to fight to end racism and white supremacy and to change the systems and practices that allow them to thrive in our nation.



Recent NCC statements on police brutality and the need for police reform:



Statement on Grand Jury Findings in Killing of Breonna Taylor, September 25, 2020

(Another) Statement on the Shooting of Black Men by Police: We're Weary But Not Too Tired to Continue the Fight for Justice, August 26, 2020

Statement of the National Council of Churches on Protests Across the Country, June 5, 2020

Floyd Murder by Police Officer Is an Outrage, Says National Council of Churches USA, May 29, 2020

NCC Decries Violence Against Two Unarmed African American Men, May 8, 2020

God, the Baltimore Police, and Everytown, August 17, 2016

A Call to Police Reform and Healing of Communities, May 13, 2015

NCC Endorses Human Rights Legislation
NCC signed as an endorser of the Palestinian Children and Families Act (
HR 2590)
. The legislation restricts the use of U.S. aid so that it is not used by the Israeli government to detain and torture Palestinian children, steal and destroy Palestinian homes and property, or further annex Palestinian land. The bill is the first to address multiple areas that violate Palestinian human rights, and is considered a step toward ensuring that U.S. military funding does not support these violations while holding the U.S. government accountable.
Sign On to Support H.R. 40
Join faith-based organizations, faith leaders, and advocates representing millions of people of faith across the country to support the passage of H.R. 40, the Commission to Study and Develop Reparations Proposals for African Americans Act by signing onto the letter from the Domestic Human Needs Racial Equity Subcommittee of the Washington Interfaith Staff Community. The deadline to sign is April 23, 2021.
"H.R. 40 would establish a commission to examine the history of enslavement and discrimination in the United States from 1619 to the present and recommend appropriate remedies.
During the 116th Congress, H.R. 40 had over 173 co-sponsors, and was endorsed by over 300 organizations across the country as part of the "Why We Can't Wait" project. This overwhelming support demonstrates that the United States cannot move forward without properly addressing and atoning for the lasting harms of the nation's original sin — the institution of slavery.
There can be no racial healing in the United States without first repairing the harm caused by the deprivation and destruction of Black wealth, racism in health care, discrimination in the criminal legal system, and countless systemic failures. H.R. 40 is the only bill that will lead to concrete proposals for repairing the damage that the US government has inflicted on Black people. Anything short of this will fail to deliver the remedy required from centuries of injustice."

Travel in a Time of Coronavirus
On NCC's blog this week, Dr. Tony Kireopoulos, Associate General Secretary of the NCC, shares about how his traveling has been disrupted, "Given their frequency, my cancer treatments interrupted my international travel early on. With the Covid-19 impact on my domestic travel, the interruption was complete. Yes, travel can be difficult, as anyone whose job requires it can attest. But for me, it also helped to define my life. It was more than invigorating to rush to the airport and hop on a plane. It was life-enhancing. In short, traveling to meet with colleagues, or to deliver talks, or to work for justice and healing, is something I miss." Read about how he has handled the situation (mugs!) and his recent plane flight.
An Invitation to Ecumenical Readings of 'For the Life of the World'
You are invited to Ecumenical Readings of "For the Life of the World: Toward a Social Ethos of the Orthodox Church" and Its Implications for the US and Global Contexts on April 21, 2021 12:00 PM Eastern Time (US and Canada).
"For the Life of the World: Toward a Social Ethos of the Orthodox Church" was released in early 2020, after being authored by a commission of theologians specifically convened for the task by Ecumenical Patriarch Bartholomew I. This document provides, in Patriarch Bartholomew's assessment, "the parameters and guidelines for the social responsibility of our Church before the complex challenges and problems of today's world, without at the same time overlooking the favorable potential and positive perspectives of contemporary civilization."

As "For the Life of the World" has been promoted and discussed in diverse settings over the past year, a clear priority has been to evaluate not only what it means for the contemporary Orthodox community but also in what ways it resonates with other traditions with which the Orthodox Church shares its civic life. This webinar will explore the ecumenical dimensions to the following questions. What does the document, in other words, offered and received in a spirit of good will, bring to the table in order to facilitate cooperation in terms of meeting the ethical challenged faced in local contexts by others who dwell in those contexts? And in what ways might it fall short of the "expansive theological dialogue" with other traditions that it attempts to conjoin with the "spiritual growth of the Orthodox faithful" in pursuit of social justice and sustainable peace worldwide?

Dr. James Skedros, Holy Cross Greek Orthodox School of Theology, will introduce the text; and ecumenical readings will be shared by Bishop W. Darin Moore, African Methodist Episcopal Zion Church; Dr. Barbara Hallensleben, University of Fribourg; and Rev. Margaret Rose, The Episcopal Church.

NCC is co-sponsoring the event with the Greek Orthodox Archdiocese of America, Graymoor Ecumenical & Interreligious Institute, and the Ecclesiological Investigations International Research Network.
EAD 2021 Starts This Weekend
The 2021 Ecumenical Advocacy Days will be held virtually on April 18-21, 2021.
This year's theme is ""Imagine! God's Earth and People Restored." EAD 2021 is an opportunity to support the global movement centered on and led by the people and communities most vulnerable to climate impacts due to historic racial and colonial inequities. Passionately advocate and reimagine a world that lives out the values of justice, equity and the beloved community!
Get Vaccinated!

"This photo is of my mother who died of polio shortly after this was taken and just before the Salk vaccine became available for testing. She is the one feeding cake to me.
The Salk polio vaccine was announced safe and effective in April 1955. It was proclaimed a miracle. That and the later Sabin vaccine have been used to eliminate the threat of polio throughout the world.
We now have another opportunity to do the same with Covid. I've gotten my shots and am very grateful. Get your shots. Even if you don't worry about dying from Covid, someone else will. Another family will grieve forever if we don't all work together."

- Marcia Clark Myers
After her ministry as a pastor and presbytery staff, Marcia Clark Myers served in the national offices and retired as Director of Vocation, Presbyterian Church (USA). We thank her for sharing her story as we work together to encourage everyone to #GetVaccinated #Faiths4Vaccines
ELCA Statement on Earth Day
In a statement for Earth Day, the Rev. Elizabeth A. Eaton, Presiding Bishop of the Evangelical Lutheran Church in America, writes,
"

Repenting the sin of racism and repenting our destruction of creation should happen together. Because God gave humans the vocation to be stewards of the earth, we proclaim that, for Christians, care of the earth is not an "environmental cause." Instead, it is central to our holy calling to treasure the earth and care for it as our home, fully integrating creation care into our love of God, neighbor and all in the environment. Recalling the good earth and our call to be stewards of creation in hope and faith, we know our recovery from the pall of 2020 will, in many ways, be a transition to a new way of life." She includes
many ways to lovingly serve the earth and calls for us to "heed God's call and take concrete steps to repair inequities and wealth divides locally, nationally and globally."
Job Listing
Digital Campaigner (Remote)

- Faithful America is seeking an early-to-mid-career professional to help design and execute digital-advocacy campaigns; engage in research to help make campaigns more strategic; and collaborate with members, organizational partners, and coalitions.. Further information is available here.
If you find our newsletter informative, please forward it to friends and colleagues!
Your gifts helps us build a more just and equitable community that chooses grace over greed, love over hate, and faith over fear.