Subject: NCC Newsletter: Help Afghan Refugees, Global Pandemic, and Vaccines
View this email online if it doesn't display correctly
Help Afghan Refugees, Global Pandemic, and Vaccines
Tending to Global Connections Amidst a Global Pandemic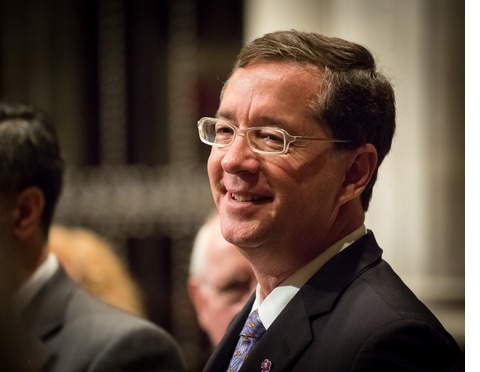 I depart this weekend for Armenia where I am speaking at a religious freedom conference at the Mother See of Holy Etchmidadzin. From there, I travel to Bologna, Italy where I will speak at the G20 Interfaith Forum. The theme for the conference is "Time to Heal: Peace Among Cultures, Understanding Between Religions." Finally, I will travel to Paris where I will preach at the American Church in Paris and speak at the Thurber Conversation.

I ask for your prayers as I embark on this journey in the midst of the pandemic. I am fully vaccinated and will have covid tests before I leave and during my trip. Under the best of circumstances this would be a long, tiring, and rewarding expedition, but at the present moment I approach this with trepidation.

The National Council of Churches has longstanding relationships around the world that have been nurtured for decades. I have prayed about whether to undertake this mission and have discussed it with family, friends, and colleagues and believe it is the right thing to do. I hope I am confirmed in this belief.

This afternoon, I read Bishop Ivan Abraham's monthly column and he quotes from the latest book by my friend Wes Granberg Michaelson. Wes' book is entitled, "On the Move – Pilgrimage, Migration, and Illumination". Ivan writes "Michaelson defines pilgrimage as 'a journey with holy purpose toward a place of spiritual significance.' He offers us three steps to guide us on our way forward. First, all pilgrimages begin by walking away from our settled past and comfortable routines. Second, we surrender our need to control, and third, a pilgrimage slows us down and opens up the space where more profound questions can emerge.

Perhaps, it is a pilgrimage on which I am about to embark. I will certainly be away from my established routines. I will certainly surrender any control I have in the sense I will require traveling mercies at every step along the way and I do anticipate spaces will be opened up for me to consider profound questions.

After my return, I will resume this column and will share what I have observed and learned. May all of you be safe and enjoy God's blessings.

NCC's annual Christian Unity Gathering (CUG) will be held virtually on October 11 - 12, 2021 with the theme, "In New Wineskins: From Pandemics to Possibilities to Promises," based on the scripture in Luke 5:37-39.
And no one puts new wine into old wineskins; otherwise the new wine will burst the skins and will be spilled, and the skins will be destroyed. But new wine must be put into fresh wineskins. And no one after drinking old wine desires new wine, but says, "The old is good."
Faith Community Mobilizes to Welcome Afghan Refugees - How You Can Help
The United States military has now fully withdrawn from Afghanistan. Over the course of the last few weeks, hundreds of thousands of civilians, both US and Afghan, have been evacuated. More than 20,000 Afghan refugees have already arrived in the US, with tens of thousands more expected in the coming months as they arrive from third countries like Germany.
As with past migration crises, faith communities are answering the call to respond to need and live out their mission to love their neighbor. There are numerous opportunities for you to help. Below is a list of just a few of them, there may be more in your local community as well.
Refugee & Immigration Ministries, Disciples Home Missions
- Disciples Home Missions, through its Refugee & Immigration Ministries program, is helping to connect congregations that want to help with refugee service agencies in their community. You can learn more at
Episcopal Migration Ministries

- EMM is asking for volunteers and donations to help them address the most pressing need of the refugees - housing. Presiding Bishop Michael Curry made an impassioned plea for Episcopalians and others to reach out in love during this difficult time. To view Bishop Curry's message and to help go to https://episcopalmigrationministries.org/afghan-allies/
Lutheran Immigration and Refugee Service

- LIRS is soliciting volunteers and donations for its resettlement efforts. In addition to finding housing and basic support for arriving refugees, LIRS also administers an Unaccompanied Refugee Minor foster program in a number of communities. If you wish to volunteer, donate, or consider fostering a child who has arrived without their parents or relatives, contact LIRS at https://lirsconnect.org/get_involved/action_center/siv or for fostering go to
https://www.lirs.org/foster-care/
HIAS and Islamic Relief USA

- Our friends in both the Jewish and Muslim communities are also reaching out to help Afghan refugees and people in Afghanistan. HIAS is partnering with congregations, communities, and even Air BNB to find housing and support for newly arrived refugees. Islamic Relief USA continues its ongoing work responding to needs within Afghanistan and also helping refugees in the US. You can learn more about HIAS efforts at https://www.hias.org/afghan-refugee-crisis-how-you-can-help and Islamic Relief USA's work at https://irusa.org/asia/afghanistan/
NCC joins 87 Other Faith Groups to Call on Biden for Robust Refugee Relief Response
A letter signed by NCC and dozens of other faith groups called on President Biden to ensure that robust resources were available to resettle and respond to the needs of refugees arriving in the US and around the world. Signatories included other NCC member communions such as the Alliance of Baptists, Church of the Brethren, Christian Church (Disciples of Christ), Evangelical Lutheran Church in America, and Presbyterian Church (USA). Other NCC partners who joined the letter include Church World Service and Pennsylvania Council of Churches.
Invocation of NCC Associate General Secretary Rev. Aundreia Alexander at "Make Good Trouble" Rally
NCC Associate General Secretary for Advocacy and Action Rev. Aundreia Alexander offered the opening prayer for the Make Good Trouble rally, which took place on Saturday, Aug. 28th, the 58th anniversary of the March on Washington. Below is the text to her prayer.
Good Morning, we are all here and I am excited about making good trouble!!! I have been asked to open us in prayer. I invite you to join in this offering of our petitions to the Holy One, because I do not pray alone. All of us together is a very embodiment of prayer. We, all of you and everyone who will join here and around the country on livestream and have accepted this clarion call for justice and freedom today are an embodiment of prayer. Every speech, every song, every spoken word, every dance is a prayer. Every conversation and sharing of hopes and vision is a prayer.

Not only is our presence and engagement an act of prayer We are an embodiment of answered prayers. The prayers of our ancestors, those who were brought here in ships and enslaved, those who were the first nation people who inhabited this land including the very ground upon which we stand and those who immigrated seeking refuge and opportunities. We stand upon their shoulders accepting the mantle of justice seekers that has been passed on from generation to generation. And today We now stand lifting the prayers and concerns for such a time as this.

God, we stand today NOT claiming that you are on our side, but we stand with you, we are on your side of justice united in a call for freedom. We stand with you, God of justice and lift up these 10 issues that are killing our people, destroying the earth and diminishes our very humanity and denying the divine image of your reflection in each of us. We pray for right action now and reparations for past wrongs.
We pray that you will pour out your spirit upon us, empower us from on high let us end this day and leave this sacred ground NOT as we came but having had a transformative experience and we will no longer be the same. We pray for a prophetic revolutionary imagination where we can envision and work towards building a world where justice rolls down like water and righteousness like an ever-flowing stream. We pray that your spirit will empower us so that we will go forth speaking truth IN power, the power of your spirit, for the power in us is greater than that which seeks to steal, kill, and destroy. Others may have position and authority, but we stand with you God under the cover of your divine power. We pray that as we use our power for good in building the beloved community that love, peace and justice will be intertwined like a three-strand cord – united and unbreakable. Dear God, Holy One, Great Spirit, ancient of days – hear God, the cumulative prayer and receive the embodiment of the prayers of your people. Amen!
WCC Vaccine Champions Encourage Faith Partnership to Promote Public Health
In an article on vaccine champions and the importance of faith partnerships, the World Council of Churches interviewed NCC President and General Secretary about vaccines and the ongoing coronavirus global pandemic.
In the United States, where COVID-19 cases are again rising, Jim Winkler, president and general secretary, National Council of the Churches of Christ in the USA, said variants and vaccine resistance are posing a big challenge.

"Many people continue to deny the reality of the pandemic, mistakenly believing they will not get sick, and are falling victim to the virus," he said.

Winkler added that churches in the US are protecting lives in three ways. "Through interfaith and government efforts, churches are directly providing vaccine clinics in their buildings and providing vaccine outreach to local communities. As trusted messengers, church leaders are encouraging vaccinations in their congregations and communities, sharing their personal vaccination stories, and providing facts to counter vaccine disinformation," he said. "Because the pandemic is a global problem, churches are also joining together to demand vaccine equity and the immediate supply of vaccines to everyone around the world."

Vaccine and COVID Information from NCC
NCC is continuing its efforts to encourage vaccinations and precautions as COVID cases surge with the delta variant. Local congregations are a persuasive resource for responding to questions about vaccines related to our faith. To love those around us, it is imperative that everyone has access to a vaccine and that we take the precautions necessary, such as masking and social distancing, to protect children and others unable to be vaccinated. Find out more on NCC's COVID-19 resource page
.
If you find our newsletter informative, please forward it to friends and colleagues!
Your gifts helps us build a more just and equitable community that chooses grace over greed, love over hate, and faith over fear.