Subject: NCC Newsletter: Haiti, CUG, and Current Justice Issues
View this email online if it doesn't display correctly
Haiti, CUG, and Current Justice Issues
I have just returned from a 2 ½ week journey through Armenia, Italy, and France. A few observations:

For the most part, I observed a strict adherence to mask-wearing and to requirements that people be vaccinated and tested. I received several covid tests while on my journey because these were required to board flights. I had to present proof of my vaccination on many occasions. Social distancing was practiced at the conferences and events and worship services I attended. While walking the streets of Bologna and Paris, I observed a great many people wearing masks.

I believe it was important to make the journey.

Our sisters and brothers in Armenia are mourning the ongoing destruction of Armenian churches and cultural heritage sites in Artsakh and they need our solidarity. Over a century ago, millions of Armenians perished in a genocidal campaign carried out by Turkey. Now, Turkey is aligned with Azerbaijan in a military adventure against Armenia. We cannot permit history to repeat itself.

In Bologna, I participated for the first time in the G20 Interfaith Forum. There, faith leaders, heads of state and government ministers, and civil society came together to discuss a wide range of matters including foreign policy and religion, religious affairs and peaceful coexistence, supporting refugees and forced migrants, post-covid ethical and practical challenges, global racism, healing conflict, human trafficking and modern slavery, and other issues.

We need such forums to take place in the United States. Unfortunately, even before covid we made it extremely difficult for people to receive visas to visit our country. In a sense, we are more removed from the rest of the world than we have been in a long time.

I relished the opportunity to worship at the American Church in Paris, to preach the word, and to share my thoughts on the church in a post-pandemic world. This is a faithful congregation carrying out a vibrant ministry in the heart of Paris.

These three events shared in common a focus on peace and freedom, on healing, on understanding between religions, and on finding a new and better way forward. I was grateful for the opportunity to represent the NCC in these kinds of deep discussions.

Finally, I was again reminded that in Europe a somewhat more relaxed pace of life is considered civilized. Slow meals, adequate vacation time, tending to relationships—these are important values I wish we would embrace.

NCC's annual Christian Unity Gathering (CUG) will be held virtually on October 11 - 12, 2021 with the theme, "In New Wineskins: From Pandemics to Possibilities to Promises," based on the scripture in Luke 5:37-39. The event is free to attend.
And no one puts new wine into old wineskins; otherwise the new wine will burst the skins and will be spilled, and the skins will be destroyed. But new wine must be put into fresh wineskins. And no one after drinking old wine desires new wine, but says, "The old is good."
This year's CUG will explore how church life has changed and what our hope is for the church as the global community struggles to emerge from its pandemics and economic crises while at the same time continuing to grapple with the racial reckoning that is happening in our nation and the world. Can we discard the old wineskins? What will it take to go beyond conversations on racism to fully incorporating equity and racial justice in our churches? Where are new models of racial reckoning/reconciliation?

Together, we will explore how to move people forward as we negotiate those who are lamenting the old and those embracing the new as well as the spaces where both are happening at the same time. Will you join us to go beyond how we "always do it" and get to a place of possibilities? We invite you to join us virtually to explore what churches must do to honor old wineskins while embracing new ones and God's promises for a new path forward.

For 2021, we will be using an online event service called Whova. After you register, you can sign in on the website using your laptop or computer, or you can download the app for your phone or tablet.
CUG Sponsorship Opportunities are Available!
Support NCC's mission and help offset the costs of CUG by sharing your content, interacting with attendees, and gaining exposure through NCC's communications.
NCC Laments the Treatment of Haitians at the US Border
The National Council of the Churches of Christ in the USA (NCC) stands in witness to the compounding tragedies that have led to a years-long exodus of the Haitian people from their country, culminating this week in 17,000 asylum-seekers at the U.S. border in Texas. We cry in anguish when we see film and photos of their treatment at the hands of the Department of Homeland Security (DHS) officers on horseback. The images are a throwback to another turbulent time of racial violence and have caused trauma in Black communities throughout our country. We support the investigation into this tragic situation and expect accountability from any findings.

As Christians we believe every person is created in the image of God and we cannot stand idly by while immigration policies are implemented with cruelty instead of compassion. When U.S. immigration policies refuse access or eject people fleeing catastrophic situations, we have a moral obligation to speak up. We urge the U.S. government to do all it can to assist those requesting asylum.

Further, we call on President Biden and DHS Secretary Mayorkas to stop deporting Haitians seeking refuge and end the Trump-era Title 42 policy prohibiting the entry of persons who potentially pose a health risk. In addition to obstructing the US law giving asylum seekers the right to seek asylum, the Title 42 expulsions are discriminatory because they are only used against asylum seekers crossing at land borders and therefore disproportionately effect Black, Indigenous, and Latinx people from Central America, Africa, and Haiti.


In addition, we support humanitarian protections such as a Temporary Protected Status (TPS) redesignation or Deferred Enforced Departure (DED), and the use of humanitarian parole to allow Haitians to temporarily enter the United States due to the compelling emergency situation in Haiti and the urgent humanitarian needs that exist.

Although President Biden has nearly doubled the number of refugees that will be admitted to the United States to 125,000 for the next year starting on October 1, more must be done regarding asylum and Deferred Action for Childhood Arrivals (DACA). We pray that Congress will find the moral courage to address our failing immigration system and pass legislation that demonstrates our love for our neighbors.

We also continue to pray for the Haitian people during this tumultuous and devastating time for a nation that has experienced so much tragedy.

God, in Your mercy, hear our prayers.
NCC Mourns the Passing of Rev. Dr. Timothy Stewart, PNBC President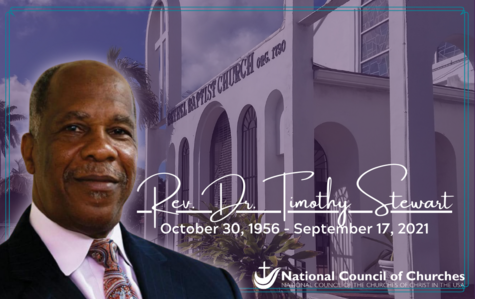 Rev. Dr. Timothy Stewart, President of the Progressive National Baptist Convention (PNBC) for over three decades, died unexpectedly on September 17, 2021. Dr. Stewart was elected in 2018 as the first President from the International Region in Progressive's 60-year history and was the first non-US citizen to be elected to the position. He served the PNBC faithfully in various roles for more than 30 years.

Dr. Stewart served as Pastor of the Historic Bethel Baptist Church in Nassau, Bahamas since receiving the call to ministry at the age of 25 and became one of its longest serving pastors. The church describes him as "an accomplished National and International spiritual and civic leader" who is a "truly gifted and anointed pastor/teacher with eloquence and effectiveness par excellence, with the heart, soul and mind of a humble Servant of God."

As head of his communion, Dr. Stewart served as a member of the NCC Governing Board. In February 2020, he graciously hosted the NCC Executive Committee meeting at Bethel Baptist Church. The next month, while addressing his communion at the start of the pandemic, he offered words of reassurance, "Even in times of dire concern and uncertainty, we take comfort in knowing that God has not given us a spirit of fear. As people of great faith, we must always turn to prayer and employ wisdom and best practices."

With Dr. Stewart's words in our hearts during this time of loss, we turn to prayer for Bethel Baptist Church, the PNBC, his wife, Mrs. Sharon Stewart, their children, and all those who are grieving this loss. May his memory be eternal.
COVID-19 Pandemic Response:
New Resources from the White House
President Biden has released information that can help churches lead the way in overcoming vaccine hesitancy:

• Updated WeCanDoThis, a go-to-site highlighting news and content for leaders and organizations working to increase COVID-19 vaccine confidence and access.
The initial aim of the Worship Action Coalition was to create best practices for worshiping in- person safely. They now are focused on 1) the role of clergy as trusted sources of information on COVID vaccines, and 2) congregations at disproportionate risk for COVID-19 as locations where members and the surrounding community can get vaccinated, and 3) how both clergy and houses of worship can participate effectively in addressing health disparities.

Churches Unite to Launch Ecumenical Declaration to Welcome Afghan Refugees
Church World Service, the National Council of Churches, and 37 denominational leaders endorsed an ecumenical statement of support for Afghan refugees seeking safety. We know that tens of thousands of Afghans are fleeing the Taliban and are in need of compassion and assistance. The statement calls on the Biden Administration, Congress, and elected officials on the state and local level to welcome Afghans and reads:




"Since the United States began its withdrawal from Afghanistan, many Afghans are in grave danger. Those who face imminent harm must be evacuated to safety immediately. We have a moral obligation to welcome Afghans seeking refuge. This profound humanitarian emergency must be met with compassion. Church World Service, the National Council of Churches and our 37 member denominations reaffirm the commitments established in our Ecumenical Declaration: to Expand Welcome and invite all people of faith to join together in prayer, love, and action to protect vulnerable Afghans fleeing violence and persecution.


We call upon people of faith to provide humanitarian protection for Afghans in harm's way and to do everything in their power to show solidarity, support, and welcome to our Afghan neighbors. Together, we will have a significant impact on the lives of those in need through assistance with housing, nourishment, legal services, advocacy, donations, and case management. These critical services will establish the
foundations of a new life for those fleeing persecution.


We implore the Biden administration, U.S. Congress, state lawmakers, and local officials to embrace their important roles in the evacuation and protection of Afghans seeking refuge. It is urgent that leaders at all levels recognize the opportunity of this moment. Together, we must ensure the provision of services and invest the resources needed to help our new neighbors thrive in their new communities--our communities.


In this critical moment, let us covenant to work together and fulfill our commitments to love and welcome our Afghan neighbors."
NCC Support Sanctions Policy Review
NCC joined a coalition of 46 peacebuilding, humanitarian, and human rights groups to send a letter to President Biden, Secretary of State Antony Blinken, Treasury Secretary Janet Yellen and U.S. Ambassador to the United Nations Linda Thomas-Greenfield, asking the administration to swiftly conclude its sanctions policy review, make its findings public, and then implement changes to U.S. sanctions policy.
NCC Joins Effort to End the Saudi-led War Against Yemen
The NCC was part of a national coalition that asked Congress to end support of the Saudi-led coalition's war and blockade in Yemen through this year's National Defense Authorization Act (NDAA). The letter was signed by 56 organizations representing tens of millions of Americans, including a diverse array of faith-based, anti-war, and Yemeni orgs.
NCC Supports Bold, Equitable Build Back Better Legislation
As a member of the Washington Interreligious Staff Community (WISC)
, a network with over 70 national religious organizations and denominations from a variety of different faiths, NCC sent a letter to offer policy proposals that together can enable our communities, nation, and world to flourish.
"As we emerge from the depths of the COVID crisis and the economic fallout, we are deeply grateful that House Committees have prioritized bold legislation that will bring about a just, sustainable, and inclusive recovery, one that addresses the systemic issues and racial injustices laid bare by the pandemic. While all of our organizations do not work on each of these the issues below, we are united in our belief that the time for bold action is now.

We ask Congress to hold firm on $3.5 trillion dollars of investment targeted at vulnerable families and communities. We also urge members of Congress to ensure that the following priority provisions already passed by Committees of jurisdiction remain in the final recovery reconciliation bill:

Support basic human needs and allow all individuals to live with dignity:
● Make permanent the expansions of the Earned Income Tax Credit and the refundable portion of the Child Tax Credit from the American Rescue Plan. This could cut childhood poverty by nearly 50%.
● Institute a 12 week national, permanent family and medical paid leave program and create affordable childcare.
● Include $85 billion in housing assistance to expand housing choice vouchers and address American's housing crisis
● Expand the summer EBT program to all eligible children to prevent spikes in hunger during the summer months when kids aren't in school.
● Lift the ban on SNAP and TANF for people with drug felony convictions.
● Make high-speed internet accessible, affordable, and nationwide, especially in rural areas.
Adequately fund the federal government's trust and treaty responsibilities to tribal nations:
● Invest in Indian water rights settlements, Indian Health Services, tribal climate resilience and adaption, and tribal housing.

Permanently close the Medicaid Health Gap and strengthen access to quality, affordable health care:
● Permanently close the Medicaid Coverage Gap in Non-Expansion States by providing coverage for the first time to 2.2 million people living below the poverty line in the 12 states.
● Require state Medicaid programs to cover incarcerated individuals 30 days before release to ensure better care transitions.
● Close the Gap in Medicaid Funding to the U.S. territories.
Include a pathway to citizenship for essential immigrant workers, farmworkers, people with DACA, TPS, and DED, and their families in the upcoming recovery packages.
Address the climate crisis with an emphasis on environmental justice:
● Include the Clean Electricity Payment Program, which will put the US on the path toward 80% clean electricity by 2030 while helping to address fossil fuel pollution which has an outsized impact on disadvantaged communities. .
● Direct at least 40% of the investments to BIPOC and low-income communities that have been forced to bear an unequal burden of pollution and the pandemic.
Invest in global and domestic manufacturing to produce enough vaccines to end the COVID-19 pandemic:
● $2B for global and domestic vaccine production and $0.5B for domestic manufacturing capacity for vaccines to retrofit facilities and launch critical new vaccine production to begin producing 8 billion vaccine doses needed to reach 4 billion people, especially in low- and middle-income countries. This money would support both domestic and regional facilities around the world.

Pay for these historic investments by raising taxes on wealthy individuals and corporations to bring more fairness and equity to our tax code. We must raise responsible revenues to afford these necessary investments while addressing America's growing chasm in income and wealth inequality. Within the last year alone, the combined wealth of U.S. billionaires grew nearly 45% while child hunger soared. This includes:
● Raising the corporate tax rate at least 26.5%.
● Restoring the top marginal tax rate to what it was during the Tax Cuts and Job Act.
● Ensuring wealthy individuals don't get major tax breaks from living off investment income.
● Prohibiting wealthy families from passing on millions of dollars in income gains completely tax-free.
● Closing tax loopholes that allows U.S. corporations to transfer their wealth offshore to avoid paying taxes.
● Cracking down on tax evasion by the wealthy and corporations by strengthening IRS enforcement and information technology.
Reject additional money for the already-bloated Pentagon budget:
● Ensure that the recovery packages meant for infrastructure and jobs don't increase the United States' spending on the military and nuclear weapons or funnel money into the pockets of defense contractors.


This is the moment to build back in a way that addresses the root injustices that have left so many communities more vulnerable than others. We must build back an economy that provides dignified employment for all, invests in vulnerable families and communities, leaves the world a better home for our children, and that recognizes our stewardship of, not domination over, God's creation.


These proposals are bold, imaginative, and entirely within our grasp if we focus our collective will and resources on this defining struggle of our time."
A Call for Transformative Healing on the International Day of Peace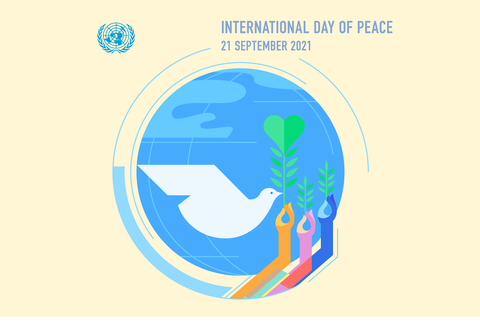 The following is a letter regarding the situation in the Philippines issued on the UN International Day of Peace by Archbishop Emeritus Antonio J. Ledesma, SJ, Archdiocese of Cagayan de Oro, Co-chairperson, PEPP; Bishop Rex B. Reyes, Jr., Episcopal Diocese of Central Philippines, Co-chairperson, PEPP; Rev. Dr. Aldrin M. Penamora, Deputy Director, Peace and Reconciliation Commission – PCEC; Bishop Reuel Norman O. Marigza, General Secretary, National Council of Churches in the Philippines; Sr. Mary John D. Mananzan, OSB, Office of Women & Gender Commission, AMRSP-Women; and Bishop Emeritus Deogracias S. Iniguez, Jr., PEPP Head of the Secretariat, Co-chairperson, EBF:

"On September 21, the whole world will observe the annual International Day of Peace. This year's theme for the global observance is "Recovering Better for an Equitable and Sustainable World." The theme underscores the need for the global community to heal from the COVID-19 pandemic, "to think creatively and collectively about how to help everyone recover better, how to build resilience, and how to transform our world into one that is more equal, more just, equitable, inclusive, sustainable, and healthier." The UN also wants us to direct our attention to people caught in conflict-affected areas because they are especially vulnerable as they lack access to healthcare.

The Philippines is one of the countries that are hardest hit by the pandemic. The country is also in the midst of a heightened armed conflict. Unfortunately, September 21 is also the anniversary of the imposition of Martial Law by the late dictator, Ferdinand Marcos. During this time, Marcos grossly trampled on human rights and the armed conflict between the government and the New People's Army (NPA) intensified.

Today, the quest for peace to end the decades-old armed conflict between the Government of the Republic of the Philippines (GRP) and the National Democratic Front of the Philippines (NDFP) has become elusive again. Since last year, the government of President Rodrigo Duterte has closed its door to the principled peace negotiations with the NDFP. It rejected the results of the backchannel talks that Sec. Silvestre Bello had commenced with his NDFP counterparts in December 2019 to restart the peace negotiations after Duterte unilaterally terminated the peace talks in 2017. Then, it promulgated the Anti-Terrorism Act of 2020, which became a law that enables the Anti-Terrorism Council (ATC) to designate the NDFP as a terrorist group. This effectively buried years of laborious and painstaking agreements and gradual steps toward peace. Such actions of the government go against the calls of the International Day of Peace.

With the breakdown of the peace negotiations, record shows there had been significant increases in armed encounters between the AFP and the NPA. There were many recorded violations of human rights and international humanitarian law, even in the midst of a debilitating health crisis.

Various sectors, even lawmakers are calling on the government to focus its attention and resources on the fight against COVID-19, rather than further intensifying its counter-insurgency campaign. These calls came on the heels of the proposed 2022 budget where a big chunk goes to the National Task Force to End Local Communist Armed Conflict (NTF-ELCAC) while slashing the education and health budget, including the budget of the University of the Philippines and consequently that of the Philippine General Hospital. This act definitely goes against our people's right to peace.

In this light, the Philippine Ecumenical Peace Platform (PEPP) enjoins the Filipino people to commemorate the International Day of Peace. Let us call on the government to prioritize the country's need for transformative healing. Let us also call on the GRP and the NDFP to join the whole world in this important remembrance day by returning to the negotiating table, and together putting an end to further rights violations and the loss of life that result from the conflict.

Let the "…tender mercy of our God, by which the rising sun will come to us from heaven to shine on those living in darkness and in the shadow of death, to guide our feet into the path of peace." (Luke 1:78-79 NIV)"

Job Listings
Justice and Peace Fellowship position

for the United Church of Christ, Washington, DC office -
This position is a fellowship to advocate for justice in domestic and international policy at the federal level through the coalition work of faith-based advocacy offices, assist with major UCC advocacy campaigns and serve as part of the editorial board for the Justice and Peace Action Network (JPANet), which sets long-term and short-term strategy for communicating with and mobilizing the UCC electronic network of activists.
Closing date 9/24.
Full job description
.
President and CEO

for Center for International Policy (CIP) is seeking a visionary and hands-on President and CEO to take the helm of Washington DC's premier progressive foreign policy think tank and execute a vision for its leadership role at this critical time in U.S. foreign policy. The President and CEO will also provide hands-on management for development, finance, and program management at CIP. Full job description.
If you find our newsletter informative, please forward it to friends and colleagues!
Your gifts helps us build a more just and equitable community that chooses grace over greed, love over hate, and faith over fear.