Subject: NCC Newsletter: Chaos or Community
View this email online if it doesn't display correctly
Queen Elizabeth II said of the year 1992 that it was "not a year on which I shall look back with undiluted pleasure." In fact, she referred to it as Annus Horribilis, a disastrous or unfortunate year. Various troubles beset the English royal family that year, but 2020 has brought misfortune to many millions of people throughout the Earth and it will not be one on which I will look back with undiluted pleasure.

However, one small saving grace for me has been a respite from frequent travel and I have utilized the time saved from hours in planes, trains, and automobiles to read. Although none of the novels listed below are in the category of Christian fiction, most of them are tales of redemption in their own way.

Here I share with you some of the novels I have especially enjoyed:



Dogstar Rising: A Makana Mystery

by Parker Bilal. I enjoy mysteries and crime fiction and look for those that have an interesting plot or a setting which interests me. Parker Bilal's mysteries are set in Egypt, a country I have visited several times.

Dogstar Rising

is set in 2001. The Coptic Christian community is suspected of involvement in the killings of young boys. Religious hatred builds up, but Makana, a private investigator who was forced to flee from Sudan some 10 years earlier suspects there is more to the story and he uncovers a web of intrigue that points to the Egyptian political establishment.



Your House Will Pay

by Steph Cha. Following the police shooting of a Black teen, tensions rise in Los Angeles. The lives of a Korean family and a Black family become intertwined in a city that finds itself on the brink of more violence.



American Dirt

by Jeanine Cummins. This novel was the source of considerable controversy following its publication. However, it is a good read. Lydia Quixano Perez has a nice life in Acapulco, but everything is shattered when her journalist husband is assassinated because of his reporting on drug cartels. She is forced to flee the country. Her journey north is extremely difficult.



The 2020 Commission Report on the North Korean Nuclear Attacks against the United States: A Speculative Novel

by Jeffrey G. Lewis. Lewis posits that a nuclear war breaks out between North Korea and the U.S. due to a series of calamitous mistakes and errors. The novel is written as a U.S. government investigation into a tragedy that results in the deaths of millions.



Deep River

by Karl Marlantes. I very much enjoyed Marlantes's first novel,

Matterhorn

about the Vietnam War.

Deep River

is very different. It is set a century ago, primarily in the Pacific Northwest, and is about a rapidly changing America, the logging of big timber, radical labor movements, and love.



Yellow Earth

by John Sayles. I have admired John Sayles's movies and was thus interested in a novel by him. Shale oil is discovered under the town of Yellow Earth. Oil companies and workers, politicians, police, opportunists, and everyone else show up to claim a share of the riches. The chairman of the local tribal council becomes involved with a fast-talking businessman and various tragedies result.



Winter Counts

by David Heska Wanbli Weiden. This novel is set on the Rosebud Indian Reservation in South Dakota. Heroin has found its way onto the reservation and Virgil Wounded Horse tries to figure out who is bringing it in. He finds plenty of corruption during his search.



American Spy

by Lauren Wilkinson. An FBI counter-intelligence officer is assigned the task of undermining a charismatic African leader. Interestingly, the leader is based on the real life of Thomas Sankara who was president of Burkina Faso in the 1980s. Sankara tried to liberate his country from Western control and for that he was assassinated.

Grace and Peace,
Jim
NCC's New Faith & Fire Conversations
Last Wednesday,

NCC started a series to have contextual and spiritual/theological conversations among prominent clergy, academics and activists/organizers relevant to the "twin pandemics" of racism and Covid, and our country's tumultuous political landscape. The conversation topics for the series have been derived from MLK's "Where do we go from here: Chaos or Community?" book chapters and are entitled,

"Chaos or Community: Courageous Conversations During Chaos'.
The first courageous panel

"Where are We? Spiritually Diagnosing America's Illnesses"

included panelists: Rev. E. Michelle Ledder, Director of Equity and Anti-Racism for the General Commission on Religion and Race of The United Methodist Church; Rev. Angela Ravin-Anderson, Social Justice Ministry Co-Lead of Wheeler Ave. Baptist Church in Houston, Texas; Rev. Reuben Eckels, Interfaith Advocacy Minister for Immigrants and Refugees, Church World Service; Rev. Dr. Leslie Copeland Tune, NCC Chief Operating Officer; and Minister Christian S. Watkins, NCC Justice Advocacy and Outreach Manager.
Register for Next Wednesday's Faith
& Fire Conversation
"Racism and the White Backlash: Role of the Church Against White Supremacy"


DATE: Wednesday, November 25, 2020 at 1 p.m. ET.

Free webinar. A Zoom link will be sent after registration.
Faith-based Organizing - Training for Justice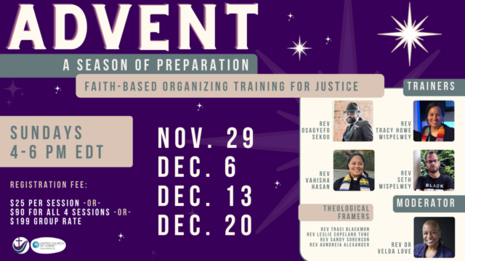 The United Church of Christ and the National Council of Churches have joined forces to offer faith-based organizing training to the wider church and beyond.

During this Advent season of viral pandemics, racial injustice, economic uncertainty, physical isolation, and socio-political strife, how does one prepare for what is to come? Advent is the season Christians are called to prepare for the coming of Jesus in the world and, with Jesus, the in-breaking of justice.

These trainings are built on a foundation of discipleship and will explore such questions as: "What will the world look like when justice comes?" and "And how do we prepare for its arrival?"

Four nationally recognized organizers and trainers, each paired with a theological reflector, will help interrogate both these questions and the sacred text that undergirds our discipleship in this area.

Over the course of four sessions participants will gain tools for: basic organizing & embodiment; direct action & risk assessment; communication & accompaniment; trauma care and healing space. Each session also includes space for interaction, questions, and downloadable resources.
Peaceful Presidential Transition Statement from Interfaith Religious Leaders
A Peaceful Transition of Power Statement from PCUSA
The Presbyterian Church (U.S.A.)'s Office of Public Witness has joined the chorus of Americans calling on President Donald Trump to accept the results of this month's election and begin the peaceful transfer of power to President-elect Joe Biden.
Dr. Antonios Kireopoulos, NCC's Associate General Secretary, Faith and Order and Interfaith Relations, has written about the number of American heroes expanding exponentially throughout this challenging year - "in faithfulness, whether through self-sacrifice for the sake of others, facing down fear to bear one another's burdens, standing on moral principle to defend the marginalized, maintaining order in the face of chaos, or being a neighbor to all."
Shoulder to Shoulder Ten-Year Report
Ten years ago, over 40 faith leaders gathered for an emergency Interfaith Summit at the National Press Club in Washington, D.C. to affirm a statement of solidarity with our Muslim neighbors facing unprecedented anti-Muslim bigotry in the United States. This report outlines some of the campaign's major milestones, lessons, and experience as a national coalition-based campaign of religious denominations and faith-based organizations and communities committed to ending discrimination and violence against Muslims in the United States.
Quakers Lobby for Justice in Policing Act
More than 800 advocates from 45 states joined the Quaker lobby, Friends Committee on National Legislation (FCNL), to lobby Congress on passing the Justice in Policing Act (H.R.7120/S.3912) as part of their 76th Annual Meeting and Quaker Public Policy Institute. "This year's demonstrations and protests, along with the demand to change laws allowing police killings of Black people, have been a long time coming. Acknowledging and eradicating the racism embedded in policing, detention, and throughout the criminal justice system requires substantial change to the status quo."
Service of Prayer, Reflection and Action on Climate Justice

In November, world leaders should have been gathering in Glasgow for COP26, the crucial UN climate conference, now being postponed until next year. To mark the original date, and to reflect on our role in pushing for more ambitious climate action in the coming year, join the European Christian Environmental Network and its partners on Sunday, November 22, 2020, for an online service of prayer, reflection and action on climate justice. Find out more.
World AIDS Day Service

The United Methodist Global AIDS Committee has announced a special service to commemorate World AIDS Day on Tuesday, December 1, 2020 at 1:00 PM CT. The worship service – held virtually – will be free and available to all online. The theme of the service will revolve around the theme of t his year's World AIDS Day – Global Solidarity, Shared Responsibility – and will feature a message from Bishop Julius Trimble of the Indiana Episcopal Area, chair of the Global AIDS Committee, music by Jorge Lockward of the United Methodist Church of the Village (New York, NY) and a testimony by William Brawner, founder / executive director of the Haven Youth Center, who is living with HIV. Event information.
Executive for Administration

- The Evangelical Lutheran Church in America (ELCA) seeks its next Executive for Administration (EA), who will serve as the chief operating officer for the ELCA's churchwide headquarters located in Chicago. The EA will work closely with the presiding bishop and all ELCA staff leaders. Importantly, the EA position presents the unique opportunity to be deeply involved in the redesign of the churchwide leadership structure and to serve as a primary driver of the strategic planning process, including addressing challenges facing congregations such as an aging membership and diversity in membership. The ELCA is one of the largest Christian denominations in the United States, with approximately 4 million members in nearly 10,000 congregations across the U. S., Puerto Rico and the U.S. Virgin Islands. The ELCA has a well-positioned ecosystem of associated ministries, including 26 colleges and universities, seven seminaries, and 121 outdoor ministry sites and separately incorporated ministries. To apply, send a current resume and letter of introduction to Kittleman & Associates, LLC at https://bit.ly/3jHyQuu. For best consideration, applications should be received by Friday, November 20, 2020.
Thanks to a special anonymous donor and friend of the NCC, whatever you contribute will go twice as far. The first $2,000 in contributions will be matched. Contribute today and your generous donation doubles its impact toward peace, progress, and positive change
!
If this newsletter was forwarded to you, sign up to receive it.