Subject: NCC Newsletter
View this email online if it doesn't display correctly
From Darkness to Light – 2022 Advent
Daily Advent devotionals are available on all NCC Social Media Networks. Come, let us reason together! Members of the National Council of Churches and all communion partners are invited to join in praying for hope, unity, and healing during this Advent/Christmas season (November 28 – January 1).

We give thanks to our NCC staff for offering daily prayers and to the Committee on the Uniform Lessons Series (CUS) for their work in developing the Scripture readings published in the Home Daily Bible Readings (Monday-Friday) and the Guide to Lesson Development (Sundays). You can find NCC devotionals and other updates on Facebook, Twitter, and Instagram.
NCC Officers, Leaders Attend Conference of National Black Churches Convening
Pictured above (l to r): Rev. Dr. Angelique Walker-Smith, Rev. Lamont Wells, Bishop Teresa Jefferson-Snorton, Bishop W. Darin Moore, Bishop Elizabeth Eaton, Rev. Dr. Betsy Miller, Rev. Margaret Rose, Jennifer DeLeon, Bishop Vashti Murphy McKenzie, Judith Roberts, Kathryn Lohre, Rev. Dr. Leslie Copeland-Tune
Bishop Teresa Jefferson-Snorton, Chair of the Governing Board of the National Council of Churches and ELCA Presiding Bishop Elizabeth A. Eaton, NCC's Vice Chair, participated on a panel at the annual National Consultation of the Conference of National Black Churches (CNBC) this week in Orlando, Fla. Former NCC Chair, Bishop W. Darin Moore, African Methodist Episcopal Zion Church, was the moderator of the panel, "A Conversation - Race And Reconciliation Reversing Inequities." Judith Roberts and Jennifer DeLeon, also from the ELCA, were panelists as well. Dr. W. Franklin Richardson, an NCC Governing Board member, is the chairman of CNBC and Ms. Jacqui L. Burton is president.

The annual gathering of CNBC is considered by many to be the most influential ecumenical event for Black clergy. The Rosen Convention Center ballroom was filled with policymakers, thought-leaders, community activists, faith leaders and social justice advocated discussion a myriad of issues from mental health, clergy burnout, COVID 19 and CNBC's response to the pandemic, conversation with HBCU presidents and with younger generations on ministry insights.

Rev. Dr. Leslie Copeland-Tune, NCC's Chief Operating Officer, was one of the featured authors signing her new book,

24/7 Embodying Christ-like Leadership

. Other NCC and ecumenical leaders who attended the conference included Bishop Vashti McKenzie (Interim President/General Secretary), Rev. Margaret Rose (NCC Executive Committee member from The Episcopal Church), Rev. Dr. Betsy Miller (President of the Provincial Elders' Conference of the Moravian Church Northern Province), Rev. Dr. Angelique Walker-Smith, (North American President, World Council of Churches), Kathryn Lohre (ELCA), and Judith Roberts (ELCA).

The 2022 CNBC Leadership Awards Dinner featured the founder of the National Action Network Rev. Al Sharpton and gospel artist Smokey Norful. Several leaders were honored including AME Senior Bishop Adam J. Richardson, attorney Gregorio Antonio Francis, ONYX Magazine publisher and editor-in-chief Richard Black, and CNBC president Jacqui L. Burton.
Picture above(L to R): Rev. Teresa Hord Owens, Rev. Dr. Canon Charles Robertson, Bishop Michael Curry, Rev. Dr. Jim Wallis, Rev. Dr. Barbara Williams Skinner, Bishop Vashti Murphy McKenzie, Rev. Hyepin Im, Dr. Richard Franklin
Exploring Churches' Response to White Christian Nationalism
The National Council of Churches participated this week in a year-end, two-day retreat with The Faith Table under the leadership of Rev. Dr. Jim Wallis. Wallis is the inaugural holder of the Endowed Chair in Faith and Justice and the founding director of the Georgetown University's Center on Faith and Justice. The retreat focused on the issue of White Christian Nationalism.

Interim President and General Secretary, Bishop Vashti Murphy McKenzie was a participant in panel discussions and was a part of workgroups focused on developing a strategy to counter White Christian Nationalism. Other NCC members participating was Executive Committee member, Dr. Teresa Hord Owens, Disciples of Christ; Governing Board member, Presiding Bishop Michael Curry, and the Reverend Canon Chuck Robertson, the Episcopal Church. The retreat included other leaders of organizations such as Christian Churches Together in the USA, Catholic Campaign for Human Development, Brookings Institute, Christian Community Development Association, Sojourners, The Skinner Institute, Spelman College, University Colorado and Candler School of Religion.

"We engaged in healthy dialogues on the deep pitfalls of White Christian Nationalism as a political ideology, religious identity and white privilege," said Bishop McKenzie

Dr. Sam Perry, who is among the nation's leading experts on conservative Christianity and American politics, race, sexuality and families, shared with the group. He most recently co-authored a new book with Philip Gorski titled,

The Flag and The Cross: White Christian Nationalism and the Threat to American Democracy.

Perry

also co-authored

Taking America Back for God: Christian Nationalism in the United States,

with

Andrew Whitehead in 2020

. Amanda Tyler, the lead organizer of the Baptist Joint Committee's campaign Christians Against Christian Nationalism; Rev. Rob Schenck, ordained evangelical minister, author and President of the Dietrich Bonhoeffer Institute; Ana Garcia-Ashley, Executive Director of Gamaliel; and AME preacher Dr. Cassandra Gould, Executive Director of Missouri Faith Voices, were among the other presenters.
Faith Leaders Call on Congress to Reinstate Expanded Child Tax Credit to Reduce Child Poverty
The National Council of Churches of Christ in the USA (NCC) was proud to join numerous faith partners to co-sponsor a national press conference this week in support of the return and expansion of the Child Tax Credit (CTC) and its inclusion in Congressional legislation before the end of the year. If it is included, millions of families and their children will benefit. The event was organized by Network, a faith focused advocacy organization.

The links below provide some of the press coverage and Network's Action Alert information. It has additional resources that have been shared if you are interested in expressing support for the CTC. A United States Senate call-in number and a tool to tweet at your Senators and Representatives will remain active for the foreseeable future.

Religion News Service story: "Faith leaders urge lawmakers to pass expanded child tax credit"



TAKE ACTION!

Child Tax Credit Action Alert webpage: https://actionnetwork.org/letters/help-children-living-in-poverty-extend-the-child-tax-credit-ctc

Sample content:

Tell Congress: Expand the Child Tax Credit and Lift Kids Out of Poverty

Last year, we saw the Child Tax Credit's positive impact on our families and our communities. If we care about families and our future, bringing back the expanded Child Tax Credit before the end of the year is a moral and an economic imperative!

Make your voice heard. Call your Senators Now: 888-738-3058 *Dial twice to reach both of your Senators*

Tell them to bring back the expanded, fully refundable Child Tax Credit!

Learn more and tweet at your Members of Congress: www.networklobby.org/PasstheCTC

Sample phone script: "I ask the Senator to include an expansion of the Child Tax Credit in any end of year tax package. This is urgent. Millions of children who were lifted out of poverty by the expanded CTC are now living in poverty again. Will the Senator support bringing back the expanded Child Tax Credit before the end of the year?"
World Council of Churches (WCC) Christmas Message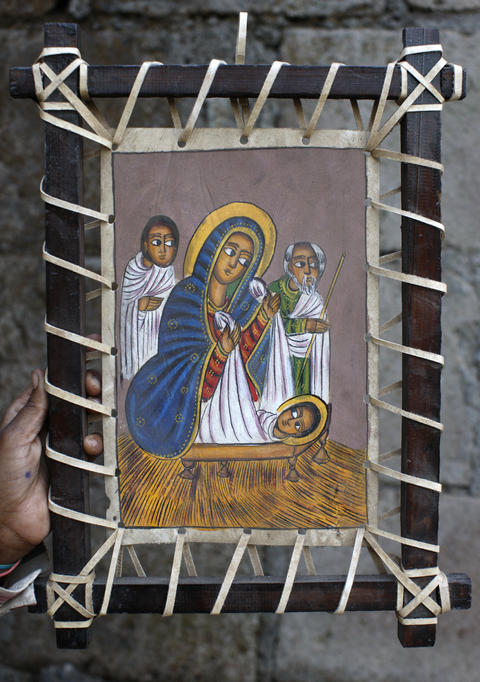 From the WCC, Illustration: Traditional Ethiopian Orthodox icon from Lalibela. Photo: Philippe Lissac/Godong



At the recent WCC Assembly in Karlsruhe, which reflected on the love of Christ that moves the world to reconciliation and unity, the moving and challenging question of a Muslim guest who addressed the delegates remained deep in my heart: "Is the love of Christ for Christians alone or it is also for me?"

The joyful message of the first Christmas states that the love of God in Christ is meant indeed for all people, for the whole of creation. During the night when Jesus was born, an angel appears to shepherds who live in the fields and watch over their flock. The shepherds are frightened. The angel tells them, "do not be afraid!" and adds, "I bring you good news of great joy for all the people: to you is born . . . a Saviour." Then many angels proclaim to the humble shepherds glory to God in the highest and on earth peace and goodwill toward people.

Our time is a time of fear. Some fear for the survival of future generations or the submersion of their home islands because of the climate emergency we are experiencing. Many are afraid today that they will no longer be able to feed their children tomorrow. Others are afraid that military conflicts may cause nuclear disasters. In our age of social networks, fear is leading to increasing hate speech, to a proliferation of conspiracy theories, violations of human rights, and threats to democracy.

The encouraging words of the angel – "do not be afraid!" – reflect the ancient Christian teaching that faith and love drive out fear. The angel of the first Christmas called the shepherds to have faith in the divine promise of peace on earth and God's goodwill towards humanity.

The words of the angel are addressed to you and to me today: "Do not be afraid!" The promise of the angels is addressed to you and to me today: "Peace on earth and good will toward people!" As we welcome this promise, God's Spirit makes us people of good will.
Creation Justice Ministries Hiring Theological Education & Training Coordinator
This role will be responsible for managing the church-oriented and theological education programs at Creation Justice Ministries. This role will be responsible for building and managing Creation Justice Ministries public-facing theological education materials, trainings, and relationships with churches and seminaries. The Theological Education and Training Coordinator will report to the Co-Executive Directors.

The ideal candidate will be a person who is passionate about the church, theology, and the environment. The Theological Education and Training Coordinator should have some formal theological education or training and a strong understanding of creation justice theology. Candidates must be comfortable working in an ecumenical, multi-ethnic, and multiracial Christian environment. The ideal candidate will have a vision for the Creation Justice Ministries church engagement and theological education program and the ability to turn that vision into reality.

If you find our newsletter informative, please forward it to friends and colleagues!
Your gifts help us build a more just and equitable community that chooses
grace over greed, love over hate, and faith over fear.