Subject: Parts for the B64 Buggies - March 10, 2017

Insider's Newsletter
March 10, 2017
NEW! Parts for the B64 and B64D Buggies
March 7, 2017 - #92013 B64 Rear Shock Tower, long - This optional, tall rear shock tower allows your RC10B64 and RC10B64D to accommodate longer, higher-capacity 31mm shocks for better compliance on very bumpy or loose tracks. #92097 B64 Factory Team Battery Strap - Lightweight and stylish; made from routed carbon fiber for more rigidity.
NEW! RC10B6D Essentials mobile app
March 7, 2017 - All the Team Associated "essential" paper content included in the box for the RC10B6D has been sized to fit mobile and tablet screens. You'll have plenty of resources at hand if you need to fix the buggy, tune it, or understand how things work. You'll be able to show it to friends who want to know more about the B6D. To view RC10B6D Essentials, you won't need a network or wi-fi connection -- the content is all onboard. With a network or wi-fi connection, links to see extra information will take you out of the app to view pages on the Team Associated website. Click to watch the video!
Team Associated sweeps 7 South Australian Titles
March 9, 2017 - Team Associated in Australia has completed a clean sweep of the 1:10 electric offroad 2017 South Australian titles, winning 7 out of 7 classes at the debut outdoor race for the new B64D 4WD!
Kyle McBride's double win at ACT Nitro State Championships
March 7, 2017 - This past weekend my father and I attended the ACT State championships in Canberra, Australia. This is the same track where the final third round of the Australian Nationals is going to be held, so we decided it was a good idea to get some track time there. The Canberra track is always very good. The dirt they have always grooves up and never seems to break up, which makes for smooth and fast driving.
New Factory Team Spotlight! Sarah Ann Ernst's Reedy-powered B6D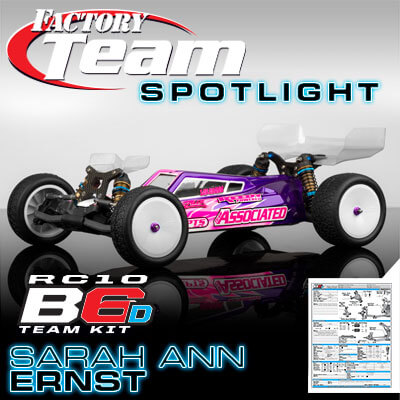 March 10, 2017 - This spotlight is on Sarah Ann Ernst's Reedy-powered B6D she drove at the Team Associated Championships held at Trackside Hobbies and Raceway in Brookfield, WI.
Back in Stock! Reedy 1216-C2 Dual AC/DC Competition Balance Charger
March 10, 2017 - Reedy's 1216-C2 Dual AC/DC Competition Battery Charger is now back in stock and shipping! Thanks to a high-performance microprocessor and specialized operating software, the 1216-C2 is versatile, easy to use, and incorporates many advanced features to make it the perfect charging solution for new hobbyists, casual enthusiasts, or hardcore racers.