Subject: New driver signings, new FT Spotlights - Jan. 5, 2017

Insider's Newsletter
January 6, 2017
Rivkin Leads Team Associated To Six JC INS Titles
Dec. 22, 2016 - Team Associated/Reedy's most recent World Champion, Spencer Rivkin, was able to secure the most highly contested titles of 2WD and 4WD Open driving his Reedy-powered B6 and B44.3. Joining him, also driving a B6, was Brent Thielke in the 40+ 2WD Modified Buggy class and Shane Borden in 2WD 17.5 Buggy. Shane also took home the title in 2WD Modified Short Course with his SC5M, while privateer Douglas Hobbs claimed the inaugural 13.5 4WD Buggy title with his B44.3.
Newest Racer Spotlight Additions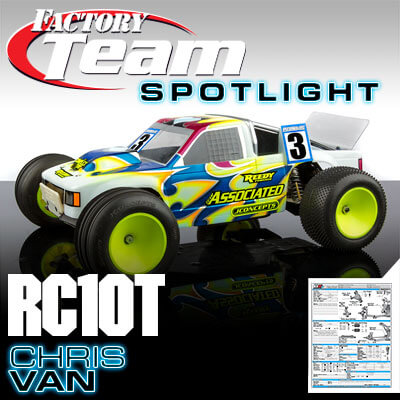 Jan. 1, 2017 - Chris Van's RC10T and Ryan Cavalieri's SC105M. The Factory Spotlight is a window into the setup and chassis layout of some of Team Associated's Factory Drivers. Here, we give you a view into the driver's car, details about the setup, and an insight to why they make the choices they do.
Driver Signing: AE/Reedy welcomes Ryan and Mark Pavidis to the team
Jan. 5, 2017 - Our history books are full of the name Pavidis, but now it's time for Ryan to follow in his father's footsteps and write his own chapter. Join us in welcoming Ryan and Mark Pavidis to the AE/Reedy team.
Driver Signing: Davide Ongaro Joins Team Associated
Jan. 1, 2017 - Team Associated is excited to announce that Italy's Davide Ongaro will be joining the team for 2017 and beyond. As one of the most recent up-and-coming drivers, Davide continues to impress throughout Europe and on a world-wide stage.
Driver Signing: Dustin Evans now representing Reedy driving Team Associated vehicles
Jan. 1, 2017 - Reedy is pleased to announce the signing of former Reedy International Off-Road Race of Champions Invitational Winner and R.O.A.R. 2WD Modified Buggy National Champion, Dustin Evans. Dustin brings on board 10+ years of RC experience and countless victories around the world.