Subject: New Factory Team Parts, new Factory Spotlight - Feb. 17, 2017

Insider's Newsletter
February 17, 2017
NEW! RC8B3 Arm Mounts with HRC
Feb. 15, 2017 - Team Associated's new RC8B3 Arm Mounts with High Roll Center offer increased ground clearance for greater durability, since the pivots now sit 1mm higher off the ground. Additionally, they allow the racer to run a higher roll center for increased stability on faster, high-grip tracks. Both #81291 Arm Mount A and #81292 Arm Mount B are narrower for added side clearance and durability. All of these mounts are made of high quality 7075-T6 aluminum.
NEW! TC7.1 Factory Team Parts
Feb. 14, 2017 - Now you can add progressive damping to your TC7.1 small shocks with the PSD (Position Sensitive Damping) Shock System. The PSD's progressive damping is determined by the piston's position in the shock body -- the more the shock is compressed, the more damping, giving the shocks a plusher feel. The secret lies in the tapered slots in the sleeves. As the piston passes through the narrower slot openings, more pack is achieved.
Salmela takes the Finnish Indoor Nationals with his B6 and Reedy power
Feb. 15, 2017 - The Finnish Indoor Nationals, also known as the Winter Jumps, was held at Äänekoski in Finland. This medium-sized track was lots of fun to drive, with its wooden jumps, concrete surface, and medium-low grip.
Zappers Dominate FinTrack Tour Round 3
Feb. 14, 2017 - Round 3 of the Finnish TC Nationals took place just outside of the southwestern city of Kouvola. Nearly 100 entries were on hand for the two-day event that featured Touring Car and Formula classes.
New Factory Spotlight -- Myron Kinnard's TC7.1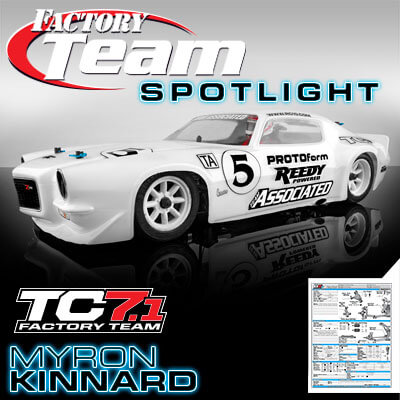 Feb. 16, 2017 - This Spotlight is for the TC7/TC7.1 driven by Team Associated and Reedy Power team driver Myron "BATTMAN" Kinnard. The car is set up under full USVTA rules and guidelines. Over a three-month period, Myron TQ'd and won the USVTA Invitational title, the Thunder Jam IX title, and finished second place at the 37th Annual US Indoor Champs. With so many specs to the class, like tires, rims, bodies, ESCs, batteries, and the IR of motors (only class that does this), you can see why equipment, driver, and setup is extremely crucial.