Subject: KINGDOM UPDATE: TWO OR MORE | MESSAGE: "Meet the Blazsiks & Bishop Thomas Invite: 54 Day Rosary" by Greg Schlueter | RADIO: "Got Missioned Community?" with Joe Campo (Grassroots Films) | PREACH IT with John Michael Talbot
View this email online if it doesn't display correctly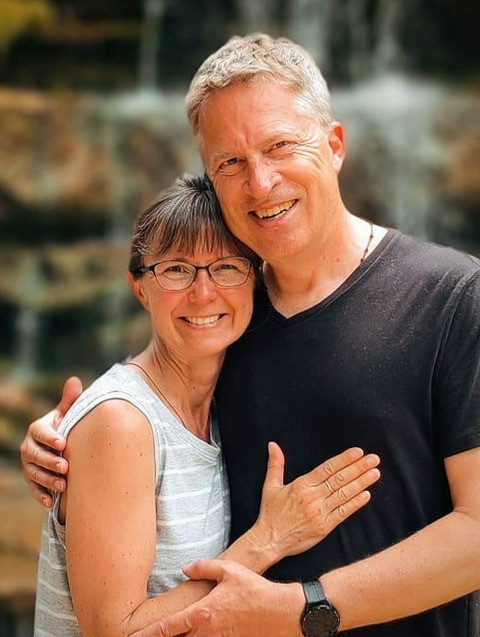 MEET THE BLAZSIKS +
BISHOP THOMAS INVITES

Meet the Blazsiks, a family with six, younger children who have as many or more demands than any of us. And a family whose daily routine transcends it all. Each evening, as the sun dips lower on the horizon and shadows stretch their embrace across the earth, they gather in their cozy living room. There, the ordinary becomes extraordinary, for in the folding of hands and the quieting of minds, they embark on an ultimate drama witnessed by God and all of heaven. In the soft glow of candlelight, they pray the Rosary. It is not a mere ritual; it is their source of strength, a sacred thread connecting them to the heart of God.




As their voices whisper the Mysteries,

something profound unfolds within them. The distractions of the world, the clamor of social media, the incessant buzz of notifications—all faded into insignificance. In setting aside these temptations, they defy the allure of the everyday. In these precious moments, they participate in God's hand triumphing over evil, not as mere spectators, but as warriors in the spiritual battle.




This is no movie script.

It is real life. It is now. And it features you. Our

Bishop Daniel Thomas

, a successor of the Apostles, is inviting us all, beginning on September 15th, to commit to receiving grace outpoured by praying the daily Rosary for 54 days, leading up to the coming election where the solemn dignity of marriages and families, the very cornerstone of civilization, is very much on the ballot. Bishop Thomas is inviting us to make a solemn pledge, knowing that in our prayers we will find courage, strength, refreshment, unity, and a purpose that transcends the frail bonds of this age.




Together our journey will lead us

to an event of unparalleled significance—

Sanctus: Eucharistic Family Revival

on November 3rd and 4th. Guided by the extraordinary

Franciscan Friars of the Renewal

, we will converge with other families. It will be an opportunity to encounter the living presence of God in the Eucharist, to be rejuvenated, and to become beacons of His love in a world thirsting for hope.




Along with the Blazsiks and dozens of others

who've said "yes," we now extend a heartfelt invitation to all families, all seekers of truth and grace, to partner with us at CatholicRevival.us. We are building a community where the Rosary is regarded as a powerful weapon, unity, a cherished treasure, and the triumph of God's grace, a reality.


In Christ's love,

Greg & Stephanie Schlueter
Mass Impact | Image Trinity
(814) 449-8808 | Greg@MassImpact.us


CATHOLIC REVIVAL STATUS:
$13,850 of $125,000



For over ten years we've been helping thousands of families make their homes places of ever-deepening encounter with Jesus Christ. We're motivated because, beyond great programs, homes are "the cornerstone of civilization." (Pope St. John Paul II). We need your help.




Family Live IT (LIT) Gatherings are strengthening marriages and families throughout the country.
The road awaits. Join us.
IGNITE RADIO LIVE:
TUESDAYS 8P and SATURDAYS 2P or on demand now!
GO:
IGNITE RADIO LIVE
EPISODE 389: CATHOLIC WAY OF LIFE (Got Missioned Community?) | Guest: Joe Campo (Grassroots Films)



Joe Campo is an award-winning filmmaker and head of St. Francis House and shares a long "missioned friendship" with IGNITE Radio Live host Greg Schlueter, rooted in connection to the Franciscan Friars of Renewal and its founder, Fr. Benedict Groeschel. For those pining for more than a succession of Catholic retreats, programs, and events, eager to be personally plugged into a missioned way of life meant to make us saints and make us saint-makers, listen to this candid, invigorating episode filled with great stories, wisdom, and opportunity. Mark your calendar for November 3-4, Sanctus: Eucharistic Family Revival, which will be led by the Franciscan Friars of the Renewal. Registration will be up soon. Check out CatholicRevival.us.
LISTEN NOW! SHARE!
PREACH IT


On Sunday's Gospel

(video)


What do you do when you have a conflict with someone, especially within your family, church, or religious community? The temptation often lures us into gossiping about the issue, talking to others about it, and boosting our ego and pride in the process.



However, Jesus advises against this approach.

He encourages us to address the person directly, not just if we have a problem with them, but even if we think they have a problem with us, as stated in another scripture.
When approaching the individual

, it's crucial to do so with humility. Instead of accusing or criticizing, express how their actions make you feel, acknowledging the potential for misunderstanding on your part. Offer to understand their perspective and find a solution together. If this initial step doesn't resolve the issue, consider involving someone else who is affected, using the same approach of open communication.
Only as a last resort,

if all else fails, should you seek guidance from your parent, teacher, principal, religious superior, pastor, or supervisor if it's in a workplace context. This process, as taught by Jesus, allows us to address conflicts effectively, binding up evil and promoting righteousness, ultimately fostering healthy relationships. Avoiding this process may lead to a binding of righteousness and a fall into sin.
By following Jesus' guidance

on conflict resolution, we can work towards fixing troubled relationships. For those that cannot be fixed, they will, at the very least, be properly addressed. Remember, with God, all things are possible. I appreciate you all and encourage you to share the love of God. I'll talk to you tomorrow, knowing that all things are possible with God.
THE PARENT BLESSING PROJECT

We want to send you 100 awesome parent prayer blessing cards for your parish or organization.

GO:

PRAYER CARD
FOR CATHOLIC MEN...
who want more than a fleeting moment, but a way of life.


GO:

PENTECOST 365
LIVE IT APP
Amazing resources, events, media and connection in one place.


GO:

LIVE IT APP
SANCTUS: EUCHARISTIC FAMILY REVIVAL
Help us make this amazing. Get on board with us early!


GO:

CatholicRevival.us
IGNITE 7:14
A historic call to prayer. Help us out!


GO:

IGNITE714.COM
"The future of humanity passes by way of the family."
~ Pope St. John Paul II

WE ARE FAMILIES UNITED IN BUILDING THE KINGDOM.