Subject: CORRECTED COPY Artists Newsletter, June 15, 2019
View this email online if it doesn't display correctly
News and Opportunities for Artists of Fairfield County
The Cultural Alliance of Fairfield County is a nonprofit service organization that supports its members through unified marketing, capacity building, professional development, and advocacy services. This newsletter is sent to all who request it - but we ask that, if you are not a member, you explore membership benefits and consider joining this community of more than 600 individuals and organizations. See
member benefits here
.
Join here
.
2019 ACE AWARDS
CELEBRATE THE PERSISTENT ARTISTIC SPIRIT
All photographs © Barbara Loss
Some 150 guests celebrated this year's ACE award winners at our fourth
Arts & Culture Empowerment Awards Breakfast
, at Norwalk's
Shore & Country Club, June 5.
TV producer and writer,
Chris Ambrose

(at left),
shared the lessons he has learned as an artist in keeping the creative juices flowing, despite all setbacks, such as major re-writes, or having to go right back to the drawing board. For more than 20 years, Chris has been a writer of network television dramas. He is currently working on a new show for NBC, and shares his lifelong passion for writing as a mentor in Los Angeles and New York, helping young writers hone their skills and encouraging them to believe that anything is possible.
The 2019 ACE Award recipients are:
Artist

-

Jane Dávila

, printmaker, fiber and mixed media artist, textile designer, editor, author, and teacher, who also manages the NEST Arts Factory in Bridgeport.
Citizen

-

Nick Visconti

,

a Westport-based philanthropist, serving on the Drew Friedman

 

Community Arts Center Foundation board of directors.
Corporate
-
Cohen & Wolf, P.C.,
a regional law firm serving
leadership roles in more than 100 organizations, associations, commissions, and boards in the area.
Educator
-
Gina Scarpa
,
Director of Education at Center Stage, Shelton, and founder of the Center Stage Education Center, serving more than 115 students.
Nonprofit

-

INTEMPO,

whose founder and executive director Angelica Durrell, is an Ecuadorian-born violinist, educator and social entrepreneur.
MAKE MUSIC DAY

PREVIEW ON OUR
JUNE

SPOTLIGHT ON ARTS & CULTURE

ON WPKN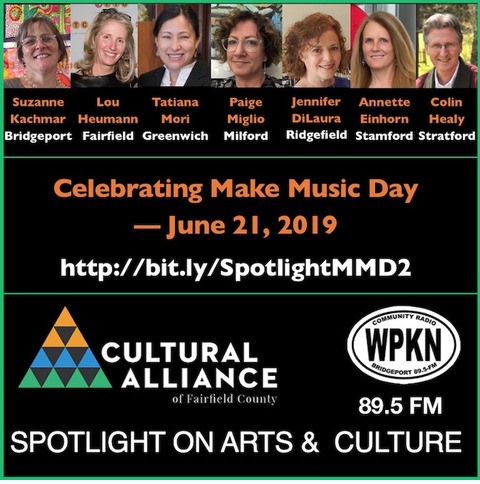 As every reader of this newsletter should know by now, June 21, the summer solstice, is Make Music Day - a day celebrated the world over with musicians, amateur and professional, pouring into the streets, parks, amphitheaters, stoops, porches and more to celebrate the power of music to communicate - and have fun. In our region alone, eight towns are celebrating Make Music Day. On our June edition of

Spotlight on Arts & Culture,

our monthly interview show on WPKN 89.5 FM, we interviewed 7 of the 8 organizers (it was to be 8 but Norwalk's

Marc Alan

had an emergency situation to deal with and was unable to participate). But we did have

Suzanne Kachmar

from Bridgeport,

Lou Heumann

from Fairfield;

Tatiana Mori

from Greenwich,

Paige Miglio

from Milford,

Jennifer DiLaura

from Ridgefield,

Annette Einhorn

from Stamford, and

Colin Healey

from Stratford talking about why they were doing this and what some of the highlights of their programs will be. Listen to the conversation (count how many pianos you hear about) and enjoy the music clips that each guest brought with them. Catch the conversation
on Soundcloud at
http://bit.ly/SpotlightMMD2
.



Kathy Lea Fitzgerald

is an art therapist who has recently discovered her own talents as a

practicing

ar

tist.

Graduating from

New York University

with a Master's in Art Therapy, she witnessed for the next 25 years, using the creative arts in the mental health field, many memorable transformations as patients discovered their own talents and passions through the healing process.

A strong advocate for

mental health and its awareness in

th

e community,

Kathy

was herself diagnosed with bipolar disorder

23 years ago and j

ust three years ago discovered the power of art

to heal herself

. By transferring often disruptive energy onto the canvas she was stunned to discover its power to bring equilibrium, self-awareness and emotional strength.

Mostly self-taught, Kathy paints with acrylic on canvas in an abstract and eclectic style - reflecting her own emotional life. Kathy has shown her work at Rockwell Art & Framing in Wilton and the Rene Soto Gallery, Norwalk. She has also shown at Wilton's

Local Soul

boutique and in July her work can be seen at

The Haute Healing Oasis Spa

in Stamford. Kathy is a member of the Ridgefield Guild of Artists, the Stamford Art Association, and The Westport Arts Center.




Diane Meyer Lowman

has been writing all her life. She has a vibrant creative energy that takes whichever form suits it best. In addition to recently publishing a memoir

Nothing But Blue

, she has read and reviewed all of Shakespeare's plays, composed daily haiku, and published theater reviews.

Diane's memoir focused on her 10-week working trip aboard a German container ship

when she was a sophomore at Middlebury College: it was a trip that changed her life. It also won her Next Generation Indie Book Awards Finalist status this year.

Diane's essays have appeared in

O, The Oprah Magazine, Brain, Child, Brevity Blog,

and

When Women Waken.

She currently writes a weekly column called "

My Life on the Post Road

," for

Books, Ink

.

In addition to writing,

Diane teaches yoga, provides nutritional counseling, and tutors Spanish. She holds a PhD in Wholistic Nutrition and a black belt in Tae Kwon Do. In 2017 she embarked on an MA in Shakespeare Studies at the University of Birmingham's Shakespeare Institute, in Stratford-upon-Avon. See Diane's website and her Facebook, Instagram and Twitter feeds



Kerry Heftman

was born and raised in Bucks County, Pennsylvania. She attended

Gettysburg College

and received a Bachelor of Arts degree in Studio Art. Kerry has also studied and exhibited photography at

Goldsmiths College, University of London

. Kerry lives in Weston, with her husband and three children (two boys and one girl). She writes that as far back as she can remember, creativity and storytelling has been a part of her life, whether painting, mixed media design, or taking pictures. She loves the process of creating and telling stories through her work and has found that through the process of making art, she has learned to embrace the chaos, mess, and noise and is able to focus on the perfectly, imperfect details of everyday life. Kerry is a member of the

Artists Collective of Westport

and has been in several PopUp shows there, as well as in the Annual Woman's Club Art Show, Westport. She had work selected for the 2016 exhibition

The Westport Artist Collective Explores the Revolutionary Sixties

,

curated by Nancy McTague-Stock

at the

Lockwood-Mathews Mansion Museum

.

She is looking forward to being a contributing artist to the

Mix It Up Tour: Art, Music & Fashion Re-Imagined

, a one night only FUNdraiser at the Westport Library in October 2019. See Kerry's website, her blog on Essential Oils, and her Facebook, and Instagram pages.





Katherine Ross has been teaching art to adults and children for 25 years, privately and publicly, including the Katonah Museum of Art and Westport Art Center, the Side By Side School in Norwalk and the Bridge Academy in Bridgeport. She specializes in portfolio development for college-bound high school students and also with hands-on large-scale projects at the public schools, many of which have become permanent works hanging in the halls of Long Lots Elementary, Bedford Middle, and Staples High School. Her Kids Wall at Longshore Pool, was conceived by Katherine to honor and celebrate the creative spirit of West-port's children and, with the help of Miggs Burroughs, was designed and created by 1400 of Westport's 5th-8th grade students, dedicated in 2000 and is currently the largest piece of public art in Westport's history. She has also completed a mural depicting historical places of Westport, a Westport quilt square in the Town Hall and co-designed and facilitated a mural for the United Nations, featuring artwork by Staples High School students in response to 9/11, which has traveled internationally and will be permanently housed at the Smithsonian Institute. Katherine has shown extensively at most local arts institutions, including in several

Art of the Northeast

exhibitions at the Silvermine Arts Center (at one of which she won the Amity Art Foundation Award) and the Center for Contemporary Printmaking among many others. Katherine is a member of the Westport Arts Advisory Committee, The Westport Art Center, The Rowayton Art Center, and the Center for Contemporary Printmaking. See her website, Facebook & Instagram pages.

Those artists who have posted their profiles onto our new website, that launched Nov. 2, have their names in
green
(to see their page, go to culturalalliancefc.org and type their name into the search box at the top of any page)
.
Please join them.
Elizabeth Agresta

,

Painter

Valerie Ahneman

,

Musician

Peter Alexander,

Landscape

Architect

Leslee Asch

,

Curator, Writer

Frances Ashforth, Painter/


Printmaker

Judith Bacal

,

Designer

Anna Badini,

Painter

Louise Baranger,

Musician

Patrice Barrett

,

Painter

Jan Bassin

,

Writer

Media/Sculptor

Sue Benton

,

Photographer

Susanne Benton

,

Mixed

Media.

Lisa Berger

,

Visual Artist

Paul R. Berger

,

Photographer

Karla Bernstein

,

Thomas Berntsen

,

Photographer/Sculptor

Elise Black, Painter

Tara Blackwell

,

Painter

Christina Blais

,

Quilter

Ziggy Bober

,

Sculptor

Amy Bock

,

Painter

Andrea Bonfils,

Mixed

Media Artist

Dennis Bradbury,

Carolyn Brady,

Nancy Breakstone

,

Michael Brennecke,

Multidisciplinary

Lucienne Buckner

,

Sculptor

Bevi Bullwinkel

,

Painter

Miggs Burroughs

,

Graphic

Artist

Trace Burroughs

,

New

Media

Louise Cadoux

,

Painter/

Bob Callahan, Painter

Donna Callighan

,

Patricia Campbell

,

Dance

Caller

Lynn Carlson

,

Painter

Linn Cassetta

,

Printmaker

Alan Chapell,

Musician

Ann Chernow

,

Painter/

Printmaker

Eric Chiang

,

Painter

Frederic Chiu

,

Pianist

Yvonne Claveloux

,

Painter

Lauren Clayton, Painter

Gabi Coatsworth

,

Writer

Alicia Cobb

,

Painter

Heidi Lewis Coleman

,

Linda Colletta

,

Painter

Rosa Colòn

,

Painter, Mixed


Media




Tom Comerford,

Photographer

Penrhyn Cook

,

Photographer

Rod Cook

,

Photographer

Margaret Stapor Costa,

Filmmaker

Adger Cowans

,

Photographer

& Painter

Naomi Cruz,

Painter

Dolly Curtis,

Curator

Lisa Cuscuna,

Painter

Dawn Dahl

,

Painter

Cris Dam

,

Painter/Muralist

Holly Danger

,

Video Artist

Betsy Davidson,

Painter

Carlos Davila

,

Painter,
Sculptor

Jane Davila

,

Fiber Artist/
Mixed Media

Cortney Davis,

Writer

John Deakins,

Sculpto

r

Ken Delmar,

Painter

Joseph Dermody,

Painter/
Sculptor/Furniture

Designer

Joyce DiCamillo,

Musician

Barbara Kunin Dierolf,

Painter

Eugenie Diserio

,

Painter

Carol Nipomnich Dixon

,

Mixed Media

Afsaneh Djabbari-Aslani

,

Painter

Erin Dolan

,

Painter

Amy Dolego,

Photography

Jennifer Drolet,

Painter

Ganga Duleep,

Painter

David Dunlop,

Painter

Philip Eliasoph,

Writer

Jeanine Esposito

,

Mixed

Media

Louise Flax,

Mixed Media

Sally Frank,

Painter

David Laurence Flynn,

Lighting Designer

Heide Follin

,

Painter

Christa Forrest,

Painter

Rose-Marie Fox,

Painter

Cecilia Moy Fradet,

Painter/Printmaker

Herm Freeman,

Painter

Rebeca Fuchs

,

Painter

Rebecca Fretty

(Pink

Imperfection) Fiber

Artist

Liz Gabriel,

Musician

Megan Garbe,

Painter

Rhonda Gentry

,

Painter

Robin Jopp Gilmore,

Mixed

Media and Upcycled

Jewelry

Joe Gitterman,

Sculptor

Scott Glaser

,

Painter

Lori Glavin

,

Visual Artist

Gayle Gleckler,

Painter

Danielle Goldstein

,

Photographer

Ellen Gordon

,

Painter;

Mixed-media

Sue Brown Gordon

,

Ellen Gould

,

Photographer

Michele Gramesty

, Jeweler

Joyce Grasso,

Painter/

Photographer

Kristen Graves

, Musician

Jen Greely

,

Painter/

Printmaker

Carolina Guimarey,

Multi-

Media Artist

Barry Guthertz

,

Photographer

Dorothy Hafner,

Sculptor

Don Hamerman,

Photographer

Mary Harold

,

Photographer

Mike Harris

, Photographer

Kerry Gale Heftman

,

Painter

Adair W. Heitmann

,

Printmaker

Kate Henderson

,

Mixed

MaryEllen Hendricks

,

Photographer

Gwen Hendrix

,

Fiber/

Mixed Media

Lenore Eggleston Herbst

Tracy Hoffman,

Photographer &

Printmaker

Veronica Hofstetter

,

Painter

Sonya Huber

, Writer

Yuko Ike

,

Painter

Jana Ireijo

,

Painter

Jahmane,

MultiMedia




Sholeh Janati,

Painter

Vasken Kalayjian

,

Painter

Karen Kalkstein

,

Graphic

Artist

Amy Kaplan

,

Painter

Producer


Emily Kelting

,

Photographer

Karen Kent

,

Painter

Susan Keown,

Painter/

Mixed Media/Ceramicist

Photographer

Niki Ketchman

,

Sculptor/

Multimedia

Jin Hi Kim, Musician


Lesley Koenig

,

Painter


Moki Kokoris,

Visual Artist


Richard Koleszar,

Painter


Michael Kozlowski,

Painter




Dawn Kubie

,

Photographer




Joanie Landau,

Jewelry
designer/Printmaker
Lydia Larson,

Painter


Emily Hamilton Laux,


Photographer




Katya Lebrija

,

Painter


Eric Jiaju Lee, Visual
Artist/Musician


Julie Leff,

Painter




Liz Leggett

,

Painter

Susan Leggitt

,

Painter

Henry Lepetit,

Painter

Rachel Linnett,

Painter

Jane Lubin, Mixed Media
Laurie MacLean,
Choreographer, Dancer
Mark Macrides, Painter,
Collagist

Steve Magee,

Painter

Jessica Makin

,

Painter/
Photographer

Jim Malloy

, Painter

Connie Manna,

Painter

Mary Manning,

Painter/
Printmaker

Elizabeth Marks,

Painter

Joel Martin, "Jazzical"

Nadia Martinez

,

MultiMedia

Sooo-z Mastropietro

,

Multimedia

Fruma Markowitz

,

Photographer

Barbara Mathis,

Painter

Megan Bonneau McCool,

Grace S. McEnaney,

Ann McRae

, Painter




Nancy McTague-Stock

,

MixedMedia

Peter Mendelson,

Photographer

Kristin Merrill

,

Jeweler/

Sculptor

Toby Michaels,

Painter

Annamari Mikkola

,

Photographer, Designer,


Curator

Jay Misencik

,

Photographer

Day Moore

,

Painter

Nancy Moore

,

Painter

Brechin Morgan

,

Painter

Lina Morielli

,

Multi-Media

Meighan Morrison

,

Painter

Carol Mueller,


Painter/Printmaker

Cynthia Mullins

,

Painter

Susan Murray

,

Painter

Tava Naiyin, Dancer

Dale Najarian

, Painter

Erin Nazzaro

, Painter

Karen Neems

,

Media

Susan Newbold

,

Painter

Mary Newcomb,

Painter

Jill Nichols

,

Painter

Tim Nighswander

,

Eddie Niño, Painter
Julie O'Connor,

Photographer

Amy Oestreicher,

Performing/Visual Artist

Melissa Orme, Painter

Rose Palmiero, Painter

Eileen Panepinto

,

Mixed
Media

Harvey Paris,

Carver

Steve Parton

,

Painter

Judy Peknik

,

Painter

Justin Perlman

,

Sculptor

Chris Perry

,

Book Artist

Jay Petrow

, Painter

Laura Pflug, Painter

Igor Pikayzen, Violinist

Jennifer Prat,

Elizabeth Quesada,

Painter

Ben Quesnel

,

Sculptor,


Videographer




Tim Reimer, Painter

Gwen North Reiss

, Poet

Barbara Ringer

,

Photographer

Mariya Rivera

,

Painter

Dorothy Robertshaw

,

Mixed Media

Lizzy Rockwell,

Painter,
Illustrator, Author

Alyse Rosner,

Painter/
Mixed Media

Katherine Ross, Painter

Richard Sadlon,

Musicians

Renee Santhouse,

Graphic

Artist

Anthony Santomauro

,

Painter

Jill Sarver

,

Painter

Ellen Schiffman

,

Fiber
Artist

Norma Schlager,

Fiber
Artist

Marianne R. Schmidt,

Painter

Guy Sealey,

Multimedia

Katie Settel

,

Photographer

Rick Shaefer

,

Visual Artist

Rosalind Shaffer,

Ceramist

Barbara Shea,

Writer

Alissa Siegal

,

Painter

Norm Siegel

,

Painter

Lisa P. Silberman,

Photographer

Nomi Silverman

,

Printmaker

Phyllis Sinrich,

Photographer

Vicki French Smith

,

Painter

Megan Smith-Harris,

Writer/Filmmaker

Cleo Sonneborn,

Painter

Rene Soto,

Painter

Carole Southall

,

Painter

Liz Squillace,

Painter/

Printmaker

Connie Stancell,

Painter

Barbara Stewart,

Painter

Pam Stoddart

,

Painter

Florence Suerig,

Visual
Artist

Denise Susalka,

Painter

Janice Sweetwater,

Painter

Susan Tabachnick,

Sculptor

Julliette Tehrani

,

Painter

Alicia Thompson

,

Actress/
Playwright

Dara Tomeo,

Painter

Kris D. Toohey

,

Painter

Andrea Towey,

Musician

Ruth Kalla Ungerer

,


Printmaker

Vincent Verrillo,

Painter

Karen Vogel,

Painter

Lee Walther,

Mixed Media

Liz Ward

,

Multi-Media

Ann Weiner,

Multi-Media,
Painter

Peggy Weis,

MultiMedia

Gregg Welz,

Paper Artist

Cynthia Whalen,

Painter

Joan B. Wheeler

,

Painter

Elizabeth White,

MultiMedia

Jarvis Wilcox,

Painter

Bruce Williams,

Painter

Jen Williams

,

Painter

Jonah Wilner

,

Painter

Tammy Winser,

Mixed
Media

Sherri Wolfgang

,

Painter

Nancy Woodward

,


Photographer/Mixed


Media




Dmitri Wright,

Painter

Jeffrey Wyant,

Visual
Artist

Gregg Ziebell

,

Painter
❦
–
Latest List by Town of Organization and Creative Business Members: here
❦
–
Latest List by Town of Artist Members: here
Anna Badini, Heidi Lewis Coleman, Rosa E. Colon, Carol Nipomnich Dixon, Kathryn Fitzgerald, Steve Magee,
and
Jim Malloy
are among the 40 artists selected by

Anne von Stuelpnagel

, Director of Exhibitions at the Bruce Museum, to be included in the Stamford Art Association's
20th Annual Vivian and Stanley Reed Marine Show: Water,
running June 14-July 11, with an artists' reception,
Fri June 21, 6-8pm.

T
his exhibit was founded to honor two original members of the Stamford Art Association who were also avid sailors.
Paul Berger, Tracy Hoffman, Emily Hamilton Laux, Cynthia Mullins, Steven Parton,
and
Norm Siegel
all succeeded in placing their work in
Nor'Easter: The 49th Annual Juried Exhibition
at the
New Britain Museum of American Art
. The opening reception is

Sun. June 23, 12:30-2pm

.

Min Jung Kim, Director and CEO, will address the audience and present the awards at 1pm.

This show is the NBMAA's annual
opportunity to showcase contemporary visual ar

ts from the region, highlights exceptional work of emerging artists in all media.
Lisa Berger had two pieces accepted
into the Connecticut Women Artists' 90th Annual National Open Juried Exhibition at the Slater Memorial Museum, in Norwich, CT, June 15-Sept. 13, with an opening reception on

Sat. June 22, 1-3pm.
Lisa's Found in Translation (mixed
media
, 23x18) is a
collage using acrylics, ink transfer, mono-type printing and other mark making tools on archival printmaking paper. Her
Transcending Boundaries
(mixed
media
, 23x19, at right)
is a mixed media painting using acrylics, pastel, pencil, mono-type printing and other mark making tools on archival printmaking paper.
Miggs Burroughs is having his Signs of Compassion exhibition installed at the
Montefiore Medical Center, Hutchinson Metro Center,
1250 Waters Place, Tower One, Bronx, NY, from June 26 through October, 2019. The show is
a
photographic tribute to a poem by Emily Dickinson,
expressed by thirty individuals, one phrase at a time, in
American Sign Language, through the lenticular medium. See an example here. The show opens with a reception

Wed. June 26, 12:30-2pm

. Click on image for larger picture.
Carol Nipomnich Dixon
received an

Honorable Mention

for
her embroidery on felt, Ocean Waves at Sunset

(2019, 13x13, at right)
juried into the Stamford Art Association's
20th Annual Vivian and Stanley Reed Marine Show: Water
(June 14-July 11), with an artists' reception
Fri June 21, 6-8pm.
She also had

Sea of Cortez

(
oil and spray painting on canvas,
36x36) accepted.
Carol also had
two works juried into the exhibit
Insid
e Small Art

at the Greenwich Botanical Center:

Autumn Leaves and Grasses, Greenwich Point

, (2017, e

mbroidery and Caran d'Ache on felt) and

Fallen Petals

(2017, mixed media embroidered collage, 10x10, framed).
Carol Nipomnich Dixon
a
lso has a solo exhibition,

"All That Jazz"

, at the

Byram Shubert Library

, 21 Mead Avenue, Greenwich, from June 10 through August 17, 2019. A reception sponsored by the Friends of the Byram Shubert Library will be held

Sat. July 27, 3-5pm

. Among the thirteen oil paintings and six embroidered collages is her painting All That Jazz (oil on canvas, 36x36, at right).
"Rhythm, movement, and color reverberate through oil paintings of Carol Nipomnich Dixon. One can almost hear the strains of Count Basie, Chuck Berry, or Miles Davis when viewing such works as her "Stepping Out," "Swing Tim," or "The Blues." Along with these paintings are smaller-scaled vibrant embroidered collages whose stitches dance across the surface as the paint dances along her canvases."
Kathy Fitzgerald
had four works
juried into the Stamford Art Association's
20th Annual Vivian and Stanley Reed Marine Show: Water
(June 14-July 11), with an artists' reception,
Fri June 21, 6-8pm.
At right, her Breakthrough (2019, acrylic on canvas, 60x48; click for larger image). Kathy comments that
after completing this painting, her eyes were drawn to the grid-like images. Initially seeing the base colors trapped behind the grid-like bars, she then saw glorious images which appeared to be breaking through.
In addition, she believes this piece represents her own "Breakthrough." After working 25 years in the mental health field as a counselor, she had difficulty identifying herself as an artist and this challenging piece allowed her to truly do that. Her other works in the show are: The Wave, White Caps and Bird's Eye View.
E

mily Hamilton Laux
has one of her photographs
included in
Nor'Easter: The 49th Annual Juried Exhibition
at the
New Britain Museum of American Art
, opening with a reception

Sun. June 23, 12:30-2pm

.
Her Beauty Versus Beauty: Dahlia and Red Clover (2017; detail at right) is part of her Beauty Versus Beauty series that
addresses the complex relationship of native and invasive ecosyst-ems, biodiversity, and individual notions of beauty in nature.
Presented as still lifes, and using bell jars and water to isolate species, this series considers the co-mingled relationships of plants that grow in our backyards, along the edges of fields and parking lots, as well flora that are cultivated for their beauty. Compared to other threats to biodiversity, invasive species rank second only to habitat destruction, such as forest clearing. Introduced invasive species are a greater threat to native biodiversity than pollution, harvest, and disease combined.
Like the kudzu that weaves its way across the landscape of the Deep South, invasive species are often considered beautiful and not acknowledged until they are out of control.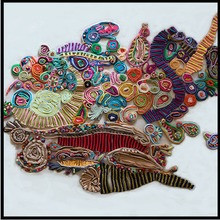 Congratulations to
Sooo-z Mastropiece
for being first "Artist is in" at the re-opened
Westport Library
, June 23. Sooo-z will not only be exhibiting her

MicroFiberOrganism

installation, which she has been developing for over a year, but she will
be in residence and working in her Library "studio" for nearly three weeks and invites you to come say hello (in Room 213) and take a look.
Sooo-z says:
"These orphans of a textile splurge came to me in need of purpose so I not only reincarnated them once, I gave them a second life. To discard a useful tube is tragic and in turn it is representative of our impulsive-ness. We are rampant consumers on a constant quest for stuff and things, often disregarding the consequences of over buying, over using, throwing away, and doing it all again. The goal of this installation is to demonstrate the parallel between the dynamic propagation of nature and the vigorous materialism of humans and question the continuance of this path. A story of symbiotic relationships."
Julie O'Connor
has had
two of her photographs,
Looking Into Bruegel,

Vienna

(2019,
20x16, detail at right)
a

nd
Secrets of the Doge's Palace,
selected by

Ann H. Sievers

for the
Connecticut Women Artists' 90th Annual National Open Juried Exhibition
at the
Slater Memorial Museum
, in Norwich, CT, June 15-Sept. 13, with an opening reception on
Sat. June 22, 1-3pm.
Alissa Siegal's painting Sparrow, (charcoal, acrylic, and oil paint on linen, 20x20, at right) part of her ongoing series of paintings of Birds, is in the New York Academy of Art's
Summer Exhibition 2019
(111 Franklin Street, NYC), running June 18 through July 21, with an opening reception

T
ues. June 18, 6-8pm.
Alissa is particularly attracted to painting these creatures whi
ch,

"
are amazingly engineered, complex and social creatures with cultural and mythic significance. But t
heir habitats are threatened by development and pollution, endangering them even as they fly above us. The images reflect our current times."
CALENDAR

Tues June 18

: Summer Exhibition 2019, New York Academy of Art (111 Franklin Street, NYC). Opening Reception 6-8pm (Alissa Siegal)


Fri. June 21:

20th Annual Vivian and Stanley Reed Marine Show: Water

. Stamford Art Association. Opening reception, 6-8pm (Anna Badini, Heidi Lewis Coleman, Rosa E. Colon, Carol Nipomnich Dixon, Kathryn Fitzgerald, Steve Magee, and Jim Malloy)


Sat. June 22:

Connecticut Women Artists' 90th Annual National Open Juried Exhibition, Slater Memorial Museum. Opening Reception, 1-3pm (Lisa Berger, Nancy Breakstone, Julie O'Connor)


Sat. June 22:

Summer Show 2019, GR Art Gallery, Stamford.Opening Reception 5:30 - 8pm.(Elizabeth Agresta, Heidi lewis Coleman)


Sun. June 23:

Nor'Easter: The 49th Annual Juried Exhibition, New Britain Museum of American Art. Opening Reception, 12:30-2pm (Paul Berger, Tracy Hoffman, Emily Hamilton Laux, Cynthia Mullins, Steven Parton, and Norm Siegel)


Wed. June 26:

Miggs Burroughs, Signs of Compassion. Montefiore Medical Center, Hutchinson Metro Center, 1250 Waters Place, Tower One, Bronx, NY. Opening Reception, 12:30-2pm
ARTIST MOVING OUT SALE AND POP-UP
Artist moving out of Bridgeport studio is selling original art and one-of-a-kind tables. Items that are also for sale include furnishings, storage items, art/work table, framed and unframed artwork, collage mirrors, artist materials and crafting supplies, jewelry, sculpture, art books, picture frames and many surprise items from the "

Where'd You Get That?"

business.
Sale takes place in the 305K Gallery, 305 Knowlton Street, Bridgeport:
3 Days Only:
Thurs. June 20, 12-7;
Fri. June 21, 10am-5pm;
Sat. June 22, 10am-4pm.
For questions or more info: email
waltherl@optonline.net
CALLS FOR ENTRY- Deadlines

COMMUNITY SPONSORED AWARDS:




The Rowayton Arts Center has a call for its Exhibiting Members only for work that addresses the ritual of the meal for a show: At The Table. The gathering of many or few (or even just one!) to consume food can be for many reasons: there are meals for romance or reconnection, of excess or paucity, out of habit and necessity. Food is a key ingredient when we celebrate, mourn, or simply meet. The setting could be elegant or simple—a healthy farm-to-table spread or takeout on the run.

These days, in our fast-paced, tech-driven lives, perhaps the role of the meal as respite and the human connection it may provide is more important than ever. We feed others and are fed. Food not only nourishes our bodies, but can nourish our souls.

One work per artist ($20 fee). Juror: Westport artist

Heidi Palmer.

Exhibiting Members Only. For information on how to become an RAC Exhibiting Member, click here.

Receiving Dates: Monday, June 17 (4pm-7pm) and Tuesday, June 18 (11am-2pm).




The Somerville Toy Camera Festival

seeks entries for its seventh annual celebration of toy and lo-fi photography. Images of any subject matter, made with a "toy" camera – any low-tech camera with no or very limited exposure control, such as pinhole, Holga, Diana/Diana clones, Brownie, Ansco, disposable cameras – are eligible. The key criteria are plastic lenses and a lack of reliable exposure control. Straight Polaroid-type images, or images made with cell phones, digital cameras, or film cameras with full exposure control (such as the Lomo LC series), will not be considered.

Gordon Stettinius,

photographer, educator, editor and publisher, living and working in Richmond, Virginia, will select

images for three concurrent exhibitions at Somerville's Brickbottom, Nave, and Washington St. Galleries.

Opening receptions will take place Sept 7 and 8. F

inal placement of work will be decided by the organizing committee.

Fee:

There is a $25 submission fee

per artist

and a

maximum of five pieces may be entered. For more information and to submit your images, click here.

Deadline June 24.



The Rowayton Arts Center

(RAC)

has announced that applications are now being accepted for its Focus Under Forty exhibition. This is a juried show, open to members and non-members of RAC

between the ages of 16 and 39

. All media will be accepted and each applicant can submit up to 5 works. Entry fee: $30 first piece, $10 each successive piece up to 5 (members $20/$10). Submissions are digital only through Entry Thingy on the RAC website, here.

The

deadline for submission is June 27.

The juror for the show is

Paul DeRuvo

, Associate Printer and Studio Manager at the Center for Contemporary Printmaking (CCP), who has exhibited in New York City, Boston and Connecticut, and recently had a solo exhibition in Berlin. There will be a cash award of $250 for Best in Show. Artists will be notified of accepted work by email on July 5. A list will also be put up on the RAC website. Accepted work must be HAND DELIVERED on Sunday, July 21 11am-2pm, or Monday, July 22, 4-7pm.




The Greenwich Historical Society, inspired by the National Trust for Historic Preservation's #ThisPlaceMatters initiative to encourage

people to celebrate the places that are meaningful to them and to their communities, has announced its own

This Place Matters!

photography competition.

People of all ages are invited to take photographs of the Greenwich places that matter to them and submit them by July 1 with a few words about why they make Greenwich special. Participants are encouraged to use their imagination in choosing a place they love, such as a special street, school, store, restaurant, walking trail or garden. Photos need to be high resolution (300 dpi) to be winners and should be submitted via the Historical Society's website

here.

Each person can submit up to 3 photographs.

By submitting a photo you agree that you will retain all rights to it except that the Greenwich Historical Society,

Greenwich Magazine

and other media outlets may reproduce it.

Three winning photos will be published in Greenwich Magazine and displayed on the campus of the Greenwich Historical Society.

Deadline is July 1



The Rowayton Arts Center announces Food for Thought,

a

writing contest to complement its upcoming

At The Table

exhibition.

Winners will be awarded prizes, and their work will be shared during the exhibition.

The meals we consume – alone or with others, at home or far afield – do much more than just satisfy our appetites. They also provide a portal to some of our most deeply-felt personal experiences: memory, family, sense of place, culture. Like Proust's

madeleine

, the flavors, aromas, and preparations of certain foods have a unique power to bring these associations to immediate and vivid life.

Is there a particular dish or ingredient, cooking tradition or dining ritual, that unlocks these doors for you?

The RAC would love to read about it. To that end, it is running this food-themed writing contest as part of a celebration of all things culinary. Winners will be awarded prizes, and their work will be shared during the show.

This writing contest is open to all ages. The judge,

Sarah Gold

, is an award-winning food and culture journalist, and former Connecticut dining critic for

The New York Times

. Submission requirements: stories, essays, and poems of

up to 1,000 words

must be received by

July 1

for consideration. Email here, or drop off at the gallery at

145 Rowayton Ave, Norwalk, CT 06853.

RIDGEFIELD GUILD OF ARTISTS

ARTWALK RIDGEFIELD

JULY 12

The Ridgefield Guild of Artists is accepting applications for ArtWalk 2019 (Aug. 23-Sept. 8, 2019). More than 50 restaurants, businesses and cultural venues will showcase the work of member artists in windows and on shop walls during this free, two-week festival, transforming the downtown area into a strolling art gallery. All RGA member artists are welcome to apply. To become a member, click here. Art Walk Ridgefield kicks off

Fri. Aug. 23, 5-8pm

with artist opening receptions in the stores, and continues Sat. Aug. 24 12-4pm with live music and demonstrations outside store-fronts in town. Accepted artists will be notified by email by July 26 and

will be matched with participating merchants

; all others will be placed on a waiting list. Art-Walk Ridgefield is a fundraising to benefit the RGOA. Submit a maximum of five jpegs via Entry Thingy on the RGOA website. These will be used to match you with a store; they will not necessarily be the pieces shown in the store. Entry fee: $35

per person

. A minimum of 2 pieces will be placed in the store. All artwork must be for sale and must remain in the stores until the event closes Sept 8. If a work is sold it should be replaced by another work. A commission of 30% on all sales will be charged. For more information and to apply, click here.
RECEIVING: JULY 20/21




The Greenwich Art Society

(G.A.S.) has a call to its member artists for work to be submitted for its summer show, "

Unity in Diversity

" which will be held at the

Greenwich Arts Council's

Bendheim Gallery

(July 25-Sept 6), with an opening reception Fri. Aug. 2, 2019 6-8 PM. The exhibition is sponsored by First National Bank. G.A.S. encourages entrants to consider how diverse points of aesthetic, intellectual, and social views can come together in a unified setting. This summer's juror is

Hillary Reder

, an assistant curator in the Department of Drawings and Prints at the Museum of Modern Art, where she has worked on several exhibitions. Before joining MoMA, she held curatorial positions at the Williams College Museum of Art and the Tang Teaching Museum at Skidmore College. Cash and other awards totaling over $2000 will be presented at the opening reception. For information on how to

become

a GAS member, click here. Artwork receiving is

July 20th & 21st,

2-4pm at the Bendheim Gallery. Detailed prospectus available at

greenwichartsociety.org

(from Mon. July 17).

CROSING THE LINE: REFUGEES IN SEARCH OF SANCTUARY




Somerville's

Nave Gallery

, in partnership with the

Clarendon Hill Presbyterian Church

, invites artists to participate in the curated ex

hibition Crossing the Line: Refugees in Search of Sanctuary. The juror is

artist, linguist, curator, and educator,

Gabriel Sosa. This call asks artists to share work created in response to today's global refugee and immigrant crises, the greatest since the end of World War II.

Crossing the Line: In Search of Sanctuary

seeks art that explores stories behind the millions of displaced persons on either a macro or micro level. Work may be built upon represen

tations of the past, images of the present, or the journeys in between.

All mediums will be considered, including installation and performance art, and the exhibition is o

pen to local, national, and international artis

ts.

There is a $15 entry fee, per person, for

up to three artwork submissions, sent as .jpg files to crazemilanesi@gmail.com. For more information and to submit, click here.



Do you have bold ideas for a photo-based project that redefines how we understand and respond to urgent issues in the United States today? We, Women is not just a grant: it's an opportunity to shape a national conversation about problems, solutions, and how to find common ground. Join our developing project as a founding artist!

We are seeking to support women, transgender, and non-binary artists whose processes are rooted incommunity engagement and collaboration. Projects will re-frame issues and highlight under-represented narratives that resist and interrogate social and political landscapes while promoting empathy and unity. We, Women prioritizes artists of color and supports individuals from all spectrums of identity, including religion, sexual orientation, age, ability, and socio-economic status.

The first phase of this developing project will feature up to 20 projects in key states and a mobile national exhibition starting in late 2020. Selected artists receive: a

cash grant of $5,000-$10,000 for the continuation of existing work or the creation of a new project in a community they have a demonstrated commitment to;

mentorship and production support from

We, Women

leaders, project partners, and advisors; p

romotion and marketing; inclusion in a

We, Women

exhibition

at Photoville Fall 2020, and

in a traveling nationwide exhibition with concurrent programming beginning Fall 2020. Read full guidelines

here

.

Light Work was founded as an artist-run non-profit organization in 1973 with the mission to provide direct support to artists working in photography and related media, through residencies, publications, and a community-access lab facility. Light Work Lab offers the highest quality printing and scanning equipment, black-and-white darkroom, a lighting studio, and a lounge and library where artists from all over the world converge. Each year Light Work invites 12-15 ar

tists to participate in its

Artist Residency Program

(including one artist co-sponsored by Autograph ABP and one artist commission for Urban Video Project, UVP). The program is open to all artists working in photography or image-based media. The deadline for submissions is July 1 with notifications by October. Artists selected for the residency program are invited to live in Syracuse for one month. They receive a $5,000 stipend, an apartment to stay in, a private digital studio, a private darkroom, and 24-hour access to the facility. Participants in the residency program are expected to use their month to pursue their own projects: photographing in the area, scanning or printing for a specific project or book, and so on. Artists are not obligated to lecture at our facility, though expectations are that the artists are friendly and accessible to local artists and students. Work by each Artist-in-Residence becomes a part of the Light Work Collection and is published in a special edition of

Contact Sheet: The Light Work Annual along with an essay commissioned by Light Work. For more information and to apply, click here.



Art Omi (Ghent, NY) believes that exposure to internationally diverse creative voices fosters tolerance and respect, raises awareness, inspires innovation, and ignites change. Art Omi is a not-for-profit arts center with a 120-acre sculpture and architecture park and gallery, residency programs for international artists, writers, translators, musicians, architects and dancers. Omi has hosted more than 2,000 artists from over 100 countries. Art Omi is now seeking applications for its Translation Lab 2019, a 12-day special, intensive residency for

four collaborating writer-translator teams November 5-16, 2019.

Writers will host four English language translators in New York's Hudson Valley for 12 days. These translators will be invited along with the writers whose work is being translated into English. All text-based projects—fiction, nonfiction, theater, film, poetry, etc.—are eligible. This focused residency will provide an integral stage of refinement, allowing translators to dialogue with the writers about text-specific questions. It will also serve as an essential community-builder for English-language translators who are working to increase the amount of international literature available to English-language readers.

All residencies are fully funded

including: airfare, train transportation from New York City to the Art Omi campus, and local car transportation. Please note: accepted applicants must be available for the duration of the Translation Lab (November 5-16, 2019). Late arrivals and early departures are not possible. Please do not submit a proposal unless both parties involved (translator and writer) are available for all dates. Translators, writers, editors, or agents can submit proposals. Each proposal should be no more than three pages and provide the following information: names and contact info; brief biographical sketches; description of the proposed project; the publishing status for the proposed project (projects that do not yet have a publisher

are

eligible) All proposals and inquiries should be sent directly to DW Gibson, director of Art Omi:Writers at: dwgibson@artomi.org. For full application details, click here.




The Connecticut Office of the Arts is now accepting applications for its Artist Fellowships. The Artist Fellowship Program (AFP) provides competitive grants to encourage the contin

uing development of Connecticut artists. These grants provide support for artists to pursue new work and achieve specific creative and career goals.

There are three levels of grant designations awarded, based on reviewer assessment (i.e. you cannot select the level it is determined by the reviewers):

Artistic Excellence

grants: $5,000


Artist Fellowship

grants: $3,000


Emerging Recognition

grants: $1,000

Fellowship awards are particularly competitive, and artists are encouraged to apply

only when they have created a substantial body of

recent

work that can be presented professionally.

Applicants, who must be the primary creator of original works of art, will be asked to identify their work in one

broad category

(

Community/Teaching Artist, Design, Digital Media, Dramatic Writing, Film, Literature, Multi-Disciplinary, Performing Arts, Traditional Arts, and Visual Arts)

and

up to

four

general categories. To apply, submit

a one-page narrative

that includes: a description of your artistic practice; discussion of the work samples you provide; an indication of how the fellowship award will impact your artistic development and advance your career as a practicing artist; and an outline of how you anticipate using the funds if awarded an Artist Fellowship grant. In addition a

work sample

(see details in Guidelines) and a

bio/resumé

(no more than 2 pages). The Fellowship is NOT a project grant, and is designed to support the creation/development of new work. The primary review criteria is "artistic excellence" (see note in Guidelines about how this is determined). All applications must be submitted digitally via the online portal: coa.fluidreview.com. Application Guidelines are available here. See a list of 2018 Artist Fellowship awardees here. Applications must be received on or before 11:59 pm,

Tues. Aug 20, 201

9.



NY FOUNDATION FOR THE ARTS

THE CREATIVE ENTREPRENEUR

FULL DAY WORKSHOP

JULY 24




The New York Foundation for the Arts (NYFA) is pleased to offer "The Creative Entrepreneur" Program, a one-day workshop designed to provide artists and creative individuals access to entrepreneurial tools for their practices and arts businesses. Geared towards nurturing a network and community amongst participants, the program offers interactive sessions covering a broad range of topics that artists and creative entrepreneurs need to consider when developing their business models. Touching upon key principles of sustainability in topics such as strategic planning, fundraising, and marketing, participants will be guided through the

Business Model Canvas,

a flexible and dynamic planning document that will provide a blueprint for their future goals. The structure is a blend of formal lectures and breakout groups. In addition to support from NYFA, guest experts will provide insights into key elements of sustainability through marketing and fundraising sessions to further support participants' goals.

If you are considering starting or refining an arts enterprise—of any size or form—this one-day program will provide an interactive way for you to work on your business model. This approach is also helpful for visually-minded thinkers, as the strategy for your arts business or practice can be laid out on one page. The program will take at NYFA (

20 Jay Street, Suite 740, Brooklyn, NY 11201), July 24, from 10am to 4pm. Fee: $125.

Register here

.

Questions:

email

learning@nyfa.org




Creative Capital presents another in its series of live webinars. Led by artist

Dread Scott,

Creating a Marketing Strategy, a 90-minute

online workshop,

covers all aspects of marketing your work, including defining your goals; developing effective tools, tactics, and messaging; and identifying, engaging, and building your audience and support community. The workshop also provides an overview of several effective case studies of artists who have used both traditional and non-traditional marketing strategies in support of their work.

Dread Scott

makes revolutionary art to propel history forward. He first received national attention in 1989 when his art became the center of controversy over its use of the American flag while he was a student at the School of the Art Institute of Chicago. President G.H.W. Bush called his art "disgraceful" and the entire US Senate denounced this work and outlawed it when they passed legislation to "protect the flag."

He is a recipient of a Creative Capital Foundation grant, a Pollock Krasner Foundation grant, Fellowships from the New York Foundation for the Arts, and was a resident at Art Omi International Artists Residency. He works in a range of media including performance, photography, installation, screen-printing and video.

This online workshop series will be recorded. Recordings will be shared with all previously registered participants after each workshop concludes, regardless of whether participants attend the live workshop or not. $25. Register here.
ONE RIVER SCHOOL OF ART + DESIGN

DIRECTOR OF ART EDUCATION




One River School of Art + Design is on an ambitious plan to "transform art education" across America and we are seeking compelling art educators to join our company and grow with us. Our company is growing rapidly, we now operate 12 locations across the country and we are expanding across the tri state area. We now seek a Director of Art Education for Westport.

One River has developed a new method for teaching art that makes it fun to learn while also producing compelling outcomes. Our studios are state of the art and teaching at One River is a completely different experience than any other art program in the country

.

We are

an a

spirational company that delivers innovative art experiences to students of all ages, s

eeking people who want to learn and grow with us, f

un and fast paced place to work where we work hard, collaborate and strive for excellence.

The Director of Art

Education

in Westport

is the lead teacher and is responsible for ensuring the highest quality of student experiences at One River School. The Director of Education leads the effort by building a staff of world-class instructors to make sure the culture of the school is on brand and the quality of the outcomes are truly dynamic.

Responsibilities:

Teach up to 20 hours of classes weekly in art/digital education; r

ecruit, onboard and train new teachers; p

rovide ongoing coaching and guidance to instructors to ensure that our execution is consistent and achieves our goals; i

mplement curriculum for the school across all classes; t

rack project results and document student success/student artwork; c

reate new methods for generating quality experiences that are aligned with the company's educational philosophy; e

nsure student and member satisfaction; d

evelop new strategies to prolong retention of students; d

evelop one to one relationships with the student body and the parents of our K-12 students; c

reate strategies to enhance the experience for all students and to resolve issues with students who are not having a satisfactory experience; i

dentify and partner with local organizations to exhibit student artwork and promote our brand.

Qualifications:

3+ years prior teaching experience in a public/private school or alternative art education program required;

Bachelor's Degree from an accredited, four-year college or university required;

MFA or MA in Art Education preferred; s

trong leadership skills; a

bility to set clear expectations and give/receive feedback; a

passion for the One River School brand and concept; a

ble to work a non-traditional schedule, Saturdays required. For details, and to apply now, click here.

BRUCEMOBILE INSTRUCTOR


The Bruce Museum seeks a Brucemobile Instructor - a part-time, per diem position with on average 1-2 days of work each week.

The Instructor's primary responsibility is teaching the Bruce Museum's outreach programs. This includes: r

esearching background information to build an understanding of program content and materials; p

reparing for each class, including the assembly and return of materials in a careful and timely fashion; and l

oading, unloading and driving Brucemobile vehicles with collection objects and program materials.

Instructors may also periodically teach museum-based programs and assist staff with special programs, such as large-scale family events.

The Audience Engagement Department of the Museum has a responsibility to present quality programs by qualified museum professionals. Therefore, the Audience Engagement Department trains all Brucemobile Instructors. To accomplish this, the Audience Engagement Department will: p

rovide program objectives and outlines for established classes; m

odel program presentation and instruction; a

ssist in development of instructor's classroom management skills; l

ead training sessions on program procedures for all Instructors; o

bserve and evaluate instructors on a regular basis; and provide feedback in a timely manner.

Qualifications:

Bachelor's Degree in art, science, history, education, museum studies, or related field required; p

revious teaching experience required; u

nattended mobility required in object handling, ability to drive the museum vehicles and visit facilities unequipped to accommodate the physically challenged; a

bility to lift at least 50 lbs., unassisted; c

urrent driver's license with clean driving record. A background check will be required after hire.

Reimbursement:

Brucemobile Instructors are per diem employees and are reimbursed for outreach programs on a per-class basis. Instructors are paid an hourly wage for teaching museum-based programs, assisting with special events, and attending training sessions and planning meetings. The Museum owns two vehicles, called Brucemobiles, to be used for travel to and from programs.

To apply: Please send cover letter and resume to

kholko@brucemuseum.org

. No phone calls, please.
FOR JOBS, FOR SALE, FOR RENT, VOLUNTEERS, AND CALLS FOR ARTISTS - CONSULT AND POST IN OUR
CLASSIFIEDS
SPREAD THE WORD!
Please help us expand the reach of our weekly E-Buzz newsletter with its selection of events taking place that week in our region
.
See the

most recent issue

. Share with a friend. Subscribe here.
Like anything here? Please Share it!
The Cultural Alliance of Fairfield County is a 501(c)(3) cultural nonprofit membership organization. We are grateful to our members and our donors whose support enables us to do our work. Donations are always very welcome and may be made
here
. In particular, we are grateful for support from:
Lorem ipsum dolor sit amet
Scelerisque facilisis a rhoncus sed! Non in duis dictumst natoque a nec in pellentesque, auctor augue et platea elementum eros, integer urna, scelerisque, hac lundium! Dignissim purus urna tortor? Rhoncus, cras massa. Porttitor cras auctor turpis lorem adipiscing, odio nec mus diam