Subject: Artists Newsletter May 5, 2018
View this email online if it doesn't display correctly
News and Opportunities for Artists of Fairfield County, CT
The Cultural Alliance of Fairfield County is a nonprofit service organization that supports its members through unified marketing, capacity building, professional development, and advocacy services. This newsletter is sent to all who request it - but we ask that, if you are not a member, you explore membership benefits and consider joining this community of more than 575 individuals and organizations. You can sign up here.
ACE AWARDS BREAKFAST TICKETS NOW ON SALE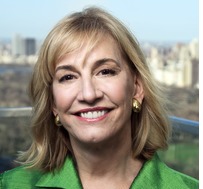 Tickets are now available
for our 3rd annual Arts & Cultural Empowerment (ACE)
Awards Breakfast, Wed. June 6, 7:30-9am
at the
Shore and Country Club,
Norwalk. James Naughton is our master of ceremonies and
Robin Tauck
, business leader and philanthropist (at right), is our keynote speaker. Our honorees this year are:
Dennis Bradbury
(Citizen Award);
Valerie Cooper
(Corporate Award);
Megan Bonneau McCool

(Artist Award);

New England Dance Theater

(Nonprofit Award); and

Jim Royle

(Educator Award). A special President's award is being made to the Family of

Burt Chernow

,
in recognition of the powerful impact he made on Fairfield County's arts and culture community.
The Cultural Alliance of Fairfield County is grateful to the generous ACE Award event platinum sponsors:

United Capital Financial Life Managem

ent,

Cohen & Wolf,

and

Hobbs, Inc.,

gold sponsor,

Studio

2pt0, LLC

, and media sponsor

Moffly Media

, and applauds their dedication to the vibrant arts and culture community in Fairfield County. Individual breakfast tickets cost $75 and are available now at
https://aceawards2018.eventbrite.com
NEXT SPOTLIGHT: ACE Awardees: What Drives Them?
SAVORCITY SUCCESS: NEXT STOP BEREKET, BLACK ROCK
SAVORCITY,
a monthly tour of Bridgeport restaurants, food, art, and music, showcasing the culinary and cultural delights of Connecticut's most diverse city, launched at
Ruuthai's Kitchen
in the West End to great applause (see Facebook images and video). The next stop on the tour is
May 23, 6-9pm
at
Bereket Turkish Cuisine, s
erving

"The most delicious Turkish I've ever had! Homemade, so flavorful and plentiful."

Paintings by Susan Taylor Murray will be displayed. Musicians to be announced. BYOB! Reserve your seat here!
CULTURAL ALLIANCE SUPPORTING JANE'S WALK BPT
The Cultural Alliance is partnering with the Bridgeport Downtown Special Services District, along with bikeport co-op, Bridgeport Generation Now, Urban Bike Tours of Bridgeport, Hatch 130 and others to support the Jane's Walk Bridgeport, this

Saturday May 5

. Part of an international festival of free walks on this day to honor urban activist Jane Jacobs, the Bridgeport Jane's Walk will meet at Bridgeport Public Library at 3pm for a 101 on Jane Jacobs. Then participants will go on one of 4 tours - 2 by foot, 2 by bike for an hour, convening afterwards at Harlan Haus. For more information, and to register for this free event, click here.
CATCH US ON WPKN
Catch our

2-minute Drive Time selections

from the week's E-Buzz on WPKN 89.5 FM and wpkn.org. Selected events from FCBuzz.org postings, can be heard as PSAs: 7-9am and 4-7pm, weekdays.
Lauren Clayton is
a graphic artist by day, running Studio 162, a boutique design studio in Stamford, and a fine artist by night, where she enjoys exploring artistic expressions without deadlines. Lauren, also working as "Sugacane Danger",
studied graphic
design, photography and printmaking at the

Cooper Union School of Art

in New York. After writing a business plan for starting her company, she was delighted to receive a grant for $20k in start-up capital from the Miller Brewing Company's Urban Entrepreneur Business Grant Series, and launched Studio 162 in 2003. She specialized in designing handmade family heirloom books at the start of her business, but has grown to offer a variety of design solutions. She is an alumna of the Jackie Robinson Foundation, that awards scholarships to minority high school students who have excelled academically and in their community. Lauren has served on the Board of Directors of Stamford's Yerwood Center, and remains active in the community by mentoring students entering college and donating design services to small non-profits. Lauren has appeared in numerous magazines, including Jewel, Black Enterprise, and New Canaan Magazine as well as on Connecticut News Channel 12's

Our Lives

, hosted by Gwen Edwards. In her art, Lauren says she is "
enamored with bold colors, fine details, crazy patterns, funky music and generally anything that makes me stop and take notice." See her Studio 162 website, Facebook Page, Twitter feed and Instagram page.



Penrhyn Cook has been a photographer for the past fifteen years. Her early work was shot with film and processed as toned, silver gelatin prints. She now works digitally but uses little manipulation other than that which could be achieved in the darkroom. Her photography documents things that other people tend to overlook; the serendipitous moments that make life interesting: the presentation of contradictions, innocence and humor. Her family, personal history and ideology are an important part of her story telling. She loves children; dislikes confrontation: is continuously puzzled by acts of inhumanity. She believes in the contagiousness of laughter and the joy of music and art. Penny frequently uses Celebrations and public spaces as her backdrop. She is looking for interactions that express the breadth of human emotions; wonder, loneliness, envy. Whatever the emotion, she wants the viewer to participate in the experience and create his or her own interpretation. Like human emotions, Eidelons can also be fleeting. She doesn't set out to capture them, she just found them; here and there, wedged between the here and now; a rift between the dimensions. Her work has been exhibited in solo and group exhibits including the Summer McKnight Crosby Jr. Gallery, New Haven, CT, City Lights Gallery, Bridgeport, Shoreline Arts Alliance, Guilford, 22 Haviland Street Gallery, Norwalk, Art Place at the Shoreline, New Haven, and Café George, New Haven. Cook has self-published two books titled Eidolon and Serendipity. Her work is in many private collections. She is a member of the Kehler Liddell Gallery in New Haven. She collaborates with photographer husband Rod Cook under the name of

PenRod

and they have their studio in Bridgeport. See their website.




Rod Cook was born and grew up in Savannah, Georgia. He first picked up a camera while a helicopter pilot in Vietnam, fell in love with the medium, and subsequently worked as a fashion and illustration photographer in New York for the first twenty-five years of his career. In 1997, he essentially gave up commercial photography to pursue a personal vision, seen in Cypress Knees and Tupelos, nudes taken in cypress swamps in and around Savannah, Ga. Since then he has created his own interpretations of botanicals,

FP

and Fungi, landscapes, Moving Landscapes, masks, mannequins, and statues, Animate Objects. He has works in platinum/ palladium, digital black-and-white and color, and invented color prints married with encaustic. Rod generally works on projects inspired by spontaneous experimentation, so will occasionally venture into other mediums. When he was younger, he was in love with the idea of being a photographer. Today, he says, he just wants to create images. A subtle differentiation but one he thinks is significant. His most recent works are prints of nudes wearing Venetian style masks that he designed and made with papier-mâché - in the case of Mask they are created from molds taken from the model's face). Rod's work has been exhibited in solo and group exhibits including Jack Leigh Gallery, Savannah, GA; Photosensualis Gallery, Woodstock, NY; 22 Haviland Street Gallery, Norwalk; Hunter Fox Gallery, New York; Bassetti Fine Photographs, New Orleans, LA; Joel Soroka Gallery, Aspen, CO; Gail Severn Gallery, Ketchum, ID; Houston Center for Photography, Houston, TX; and Stephen Daiter Gallery, Chicago, IL. His work is in numerous private and public collections notably Graham Nash Collection, University of Chicago and the Cherye R. and James F. Pierce Collection. He collaborates with his photographer wife Penrhyn, under the name of

PenRod

and they have their studio in Bridgeport.

See PenRod's

website

.



Iranian born artist Afsaneh Djabbari-Aslani attended USC's Roski School of Art and Design, at the onset of the Iranian revolution. The upheaval in her native country culminating with the US embassy hostage crisis dramatically transformed her world, with significant influence on her artistic work. After earning her BFA, she moved to New York in 1983, and then began working at the United Nations Development Program (UNDP), in the Public Affairs Division, where she learned more about the plight of third world countries and their socio-economic issues. She also earned her Master's Degree from NYU's Robert Wagner School of Public Service. Her painting Working towards a Brighter World was published as a Holiday Card and sent out worldwide in 1989. With the birth of her second child, Afsaneh moved to New Canaan and became an active volunteer in the community, and an art history teacher in the public school system. This reconnected her with her passion for the arts and she started painting full time again in 2009. Afsaneh says she never finds art relaxing: "It is a very active emotion for me." She is very responsive to issues in the world: choosing a self-portrait from 1982 for her website, she writes:

"I had hoped that 35 years later I would look at this and put it as part of my history, where politics, religion and sexism would be resolved and I would not feel this trapped. Unfortunately, it continues — with all of its trappings."

She says that,

as an older artist and mother of three, she has learned to channel her feelings in more positive ways.

Afsaneh enjoys painting still lifes and playing with texture and color:

"I don't think of these simple objects as just a bowl or a vase but containers which hold life. We have always created containers to carry our grains and water. Bright colors, light, water, texture and reflections are an integral part of my work, tracing back to my Persian roots where color and decorative art are part of its rich history."

Afsaneh sits on the board of the New Canaan Art Society and is a member of the Loft Artists Association. She currently has work in the Loft Artists Association's show, Bring a Friend to the LAA, alongside Eugenie Diserio. See Afsaneh's website.





Born in Brussels in 1956, Henri Lepetit has always been a great traveler.

Around the age of twelve, Henri began to accompany his father, a dedicated naturalist, on scientific assignments. It was during these early travels, which took them for many years throughout the African continent, the Middle East, and later the entire length of South America, that his father one day asked him to help with illustrations for a project. The natural artistic talent that his father possessed provided the guiding hand during these first steps.

From the age of 16 he traveled widely by himself, funding his trips by painting and selling his work on the spot, enabling him to get from one location to the next. Apart from a brief spell at a Paris art school in 1975, he has not received any formal training, preferring to rely on his natural ability and feedback from the public.

It was while he was in Provence that Henri's passion for visual art transformed from a paying hobby into full professional status, when he met his wife, who is an accomplished equestrian. Since that time, he has steadily and successfully built a wide and eager collector base throughout the world.

The New England coastline fuels Henri's unabated passion for painting. As one commentator has put it: "His bold and gutsy brushstrokes tackle with thick creamy paint the delightful sparkling colors and brightness of light without hesitation. He knows where he is going and how to achieve the end result." His scenes, apart from those set in New England, are mostly from France, Italy and England. Today, Henri's home is in Westport, for the summer, and travel is still an integral part of his life. He currently has a solo show of urban paintings, Urban Adventures at Gallerie Meisterstücke, in Nuremberg, Germany, and is scheduled to take part in the

Westport Fine Arts Festival

this July See Henri's website

here

.




Elizabeth Agresta, Painter


Valerie Ahneman,

Musician

Peter Alexander,

Landscape

Architect

Tracey Anderson-Kollar,

Francesca Andre,

grapher

Curator, Writer

Frances Ashforth,

Painter/

Judith Bacal,

Designer

Anna Badini,

Painter

Mary Bailey,

Sculptor &

Writer

Louise Baranger,

Musician

Patrice Barrett,

Painter

Nina Bentley,

Mixed

Sue Benton,

Photographer

Paul Berger,

Photographer

Karla Bernstein,

Photographer

Thomas Berntsen,

Binnie Birstein,

Painter/

Printmaker

Elise Black,

Painter

Tara Blackwell,

Painter

Ziggy Bober,

Sculptor

Amy Bock,

Painter

Andrea Bonfils,

Mixed

Dennis Bradbury,

Photographer

Carolyn Brady,

Photographer

Nancy Breakstone,

Wendy Brest,

Mixed Media

Lucienne Buckner,

Sculptor

Bevi Bullwinkel,

Painter

Miggs Burroughs,

Graphic

Artist

Trace Burroughs,

New

Media

Joy Bush,

Photographer

Louise Cadoux,

Bob Callahan,

Painter

Donna Callighan,

Photographer

Patricia Campbell,

Dancer

Linn Cassetta,

Printmaker

Polly Castor,

Painter

Carolyn Cavolo,

Dancer

Ann Chernow,

Painter/Printmaker

Alan Chapell,

Musician

Eric Chiang,

Painter

Frederic Chiu,

Pianist

Yvonne Claveloux,

Painter

Alicia Cobb,

Painter

Joyce Colburn,

Painter

Heidi Lewis Coleman,

Rosa Colón,

Painter, Mixed

Penrhyn Cook, Photographer

Margaret Stapor Costa,

Painter

Naomi Cruz,

Painter

Dolly Curtis,

Curator

Lisa Cuscuna,

Painter

Dawn Dahl,

Painter


Cris Dam,

Painter/Muralist


Holly Danger,

Video Artist

Carlos Davila, Painter,

Sculptor

Jane Davila, Fiber

Artist/

Cortney Davis, Writer


Ken Delmar,

Painter

Joseph Dermody,

Painter/

Illustrator/Designer

Joyce DiCamillo,

Musician

Barbara Kunin Dierolf,

Painter

Jan Dilenschneider,

Painter

Eugenie Diserio,

Painter

Carol Nipomnich Dixon,

Painter

Erin Dolan,

Painter

Amy Dolego,

Photography

Jennifer Drolet,

Painter

David Dunlop,

Painter

Philip Eliasoph,

Writer

Jeanine Esposito,

Mixed Media

Katherine Evans,

Painter

Susan Fehlinger,

Painter

Louise Flax,

Mixed Media

Rosaida Flores,

Dancer

David Laurence Flynn,

Lighting

Designer

Heide Follin,

Painter

Christa Forrest,

Painter

Rose-Marie Fox,

Painter

Cecilia Moy Fradet,

Painter/

Printmaker

Herm Freeman,

Painter

Rebeca Fuchs,

Painter

Scott Glaser,

Painter

William Glaser,

Photographer

Lori Glavin,

Visual Artist

Danielle Goldstein,

Photographer

Ellen Gordon,

Painter

Sue Brown Gordon,

Ellen Gould,

Photographer

Joyce Grasso,

Painter/

Kristen Graves,

Musician

Len Grayeck,

Painter

Jen Greely,

MultiMedia/

Installation

Mindy Green,

Mixed Media

Carolina Guimarey,

Multi-

Barry Guthertz,

Photographer

Dorothy Hafner,

Sculptor

Don Hamerman,

Photographer

Julie Headland,

Painter/

Printmaker

Adair Heitmann,

Printmaker

Kate Henderson,

Mixed

MaryEllen Hendricks,

Photographer

Gwen Hendrix,

Fiber/

Veronica Hofstetter,

Painter/Printmaker

Elizabeth Howard,

Writer

Sonya Huber,

Writer

Jana Ireijo,

Painter

Sholeh Janati,

Painter

Renée Kahn,

Painter/

Sculptor

Vasken Kalayjian,

Painter

Karen Kalkstein,

Graphic

Artist

Amy Kaplan,

Painter

Painter

Ed Katz,

Theatre Critic




Elisa Keogh,

Photographer

Susan Keown,

Painter/

Multimedia

Jin Hi Kim,

Musician

Lesley Koenig,

Painter

Richard Koleszar,

Painter

Xiao Mai Kong,

Painter

Moki Kokoris,

Visual Artist

Michael Kozlowski,

Painter

Joanie Landau,

Jewelry

Emily Hamilton Laux,

Photographer

Eric Jiaju Lee,

Visual

Phyllis Lee,

Visual A

r

tist

Julie Leff,

Painter

Susan Leggitt,

Painter

Julia-Rose Liptack,

Painter

Barbara Loss,

Photographer

Shelley Lowell,

Painter/

Jane Lubin,

Mixed Media

Laurie MacLean,

Choreographer, Dancer

Photographer

Connie Manna,

Painter

Printmaker

Elizabeth Marks,

Painter

Ruben Marroquin,

Fiber Artist

Nadia Martinez,

MultiMedia

Sooo-z Mastropietro,

Multimedia

Barbara Mathis,

Painter

Megan Bonneau McCool,

Choreographer

Carole McClintock,

Painter

Grace S. McEnaney,

Painter

Nancy McTague-Stock,

Shanna Melton,

Poet

Kristin Merrill,

Jeweler/Sculptor

Toby Michaels,

Painter

Jay Misencik,

Photographer

Meighan Morrison,

Painter

Julie O'Connor,

Amy Oestreicher,

Jay Petrow, Painter

ASSOCIATE

Lynn Carlson Popat,







Jennifer Prat,

Elizabeth Quesada,

Barbara Ringer,

Dorothy Robertshaw,

Richard Sadlon,

Musicians

Marianne R. Schmidt,

Lisa Seidenberg,

Rick Shaefer,

Visual Artist

Lisa P. Silberman,

Phyllis Sinrich,

Megan Smith-Harris,

Liz Squillace,

Connie Stancell, Painter

Sergei Stepanenko,

Painter

Barbara Stewart, Painter

Pam Stoddart, Painter

Florence Suerig, Visual

Artist

Janice Sweetwater,

Painter

Susan Tabachnick, Sculptor

Juliette Tehrani, Painter

Mick Theebs, Writer/Painter

Alicia Thompson, Actress/ Playwright

Dara Tomeo, Painter

Kris D. Toohey, Painter

Andrea Towey, Musician

Ruth Kalla Ungerer, Printmaker

Vincent Verrillo, Painter

Karen Vogel, Painter

Lee Walther, Mixed Media

Ann Weiner, Multi-Media,

Painter

Peggy Weis, MultiMedia

Cynthia Whalen, Painter

Joan Wheeler, Painter

Al Coyote Weiner, Painter

Jahmane West,

Elizabeth White,

Nancy Woodward,