Subject: Artists Newsletter, February 4, 2021
View this email online if it doesn't display correctly
The Cultural Alliance of Fairfield County is a nonprofit membership service organization that supports its members through unified marketing, capacity building, professional development, and advocacy services. This newsletter is sent to all who request it, but we ask that,
if you are not a member
, you explore membership benefits and consider joining.
See
member benefits here
.
Join here
.
.
All links in
green
connect to information on our website
See previous issues of

Artists Newsletter

here.
SPOTLIGHT ON ARTS & CULTURE
GOING BEYOND BLACK HISTORY MONTH
Tune in to WPKN, 89.5FM on

Monday, Feb. 8 at noon

to hear the February Spotlight on Arts & Culture.

This program welcomes members from a number of our local cultural institutions to find out how they celebrate Black History Month, what it means to them, how, especially after the year Black Lives Matter moved center stage here and abroad, we can use it to examine more deeply the hidden racism of our society and institutions, and how, in celebrating this month of Black history and culture, we also need to move beyond it to recognize and celebrate the diversity of American culture as deeply as we can across all 12 months of the year.

Past SPOTLIGHTS...
CULTURAL ALLIANCE ONGOING INITIATIVE AGAINST RACISM AND INEQUITY IN THE ARTS
Collective Action Against Racism and Inequity
(CAARI) is an ongoing series of community conversations and workshops designed to enable individuals, and the organizations many of them represent, work towards
implementing practical solutions that respond positively to
the embedded racism in our society, our organizations and ourselves. The series started with three "Conversations" that explored how racism has shaped our understanding of human culture, and how we can practically begin to dismantle racism in the arts, society and our personal interactions. The workshops are now continuing with 20+ individuals,
progressing from personal reflection, through group exercises, to meaningful actions whose effectiveness can be measured. A report on the Conversations is available here.
PLEASE TAKE OUR COVID SURVEY
Please take our COVID-19 Impact Survey - an effort we are conducting along with our statewide peer organizations to take a unified measure of the impact of the pandemic on our entire cultural community. Thank you to those who have responded to date. Please, everyone else, click here and take this short survey. It will help update and assess the total 2020 economic, job and audience/ participant impact of COVID-19. Results of the survey will be shared with legislators, municipal leaders, community members, funders and more.

Your input is vital!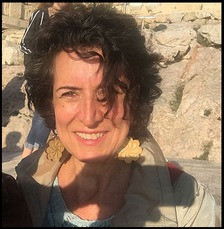 Diana Gubbay
grew up in Montreal, absorbing the bilingual culture of a city rich in art and architecture, and vowing to pursue a career as an artist. She moved to New York City in the late 1970's at a time when the city's streets, lofts and galleries were burgeoning with experimentation and innovation. From her loft in Dumbo she created installations, drawings and sculptures that were shown across North America. A long hiatus ensued as she raised two children and established a practice in holistic family health. Looking deeply into concepts of health and disease she found it to be an inspiring privilege to accompany people of all ages and stages in a quest to manifest their gifts and talents. Reestablishing creative pursuits in the last several years, she has found a changed art world and has learned entirely new techniques that include digital media.
In 2021, Diana has exhibited in the "2021 International Juried Exhibition" at The Center for Contemporary Art, Bedminster, NJ (where she won 2nd prize), in "Ecstasy & The Bounty of Nature" at the Sebastopol Center for the Arts (where she also won 2nd prize), at the Fine Line Creative Arts Center, St. Charles, IL, and the San Fernando Arts & Cultural Center, San Fernando. CA. See her website.
The Carriage Barn Arts Center's 41st Member Photography Show
is

on view Jan. 30 - Feb. 27. The show was juried by
Kathryn McCarver Root, a dealer specializing in fine art photography and owner of KMR Arts in Washington Depot, CT.
CAFC members exhibiting include:

Nancy Breakstone, Barry Guthertz, Emily Kelting, Tom Kretsch, Joanie Landau, Barbara Loss, Tim Nighswander, Julie O'Connor,

and

Barbara Ringer.
The Ridgefield Guild of Artists'
Camera Works

Exhibition (Feb. 27 - March 28) asked artists to
let their creativity explode and be inspired to try new paths of artistic endeavors. Juried by
Andrew 'Dizz' Delaney
Director, Head of Creative and Production, Custom Solutions, Getty Images.
CAFC members exhibiting include:

Lisa Berger,
Nancy Breakstone, Miggs Burroughs, Lynn Carlson, Ellen Gould, Mary Harold, Barbara Loss, Fruma Markowitz, Tim Nighswander, Julie O'Connor,
and
Lee Walther.
The
Invitational Exhibition for Art Essex Gallery

, juried by Lisa Cooper, is on view through Feb. 5-28 at the Art Essex Gallery, 166 Main Street, Westport.
CAFC members exhibiting include:
Nina Bentley, Lisa Berger, Nancy Breakstone, Lynn Carlson, Susan Fehlinger, Rebeca Fuchs, Joanie Laudau, Chris Perry, K
elly Rossetti,
Rosalind Shaffer,
and
Jarvis Wilcox.
Nina Bentley's
work
is included in the new Elisa Contemporary Art Gallery show,
Not Just Black & White

, through April 7 in Riverdale, N.Y. "
We so often think of things in terms of being Black and White, simply one way or another, but as we all know the world exists with everything in between. We balance a look back in time, alongside a vision into the future," says Lisa Cooper, gallery owner. The featured artwork is all black, all white and black & white with a touch of color. Nina's work includes a
series of Vintage Typewriter sculptures and limited edition prints.
Nancy Breakstone's
photograph
"In Depth, at TWA"

(digital, 29 x 21") was juried into the Art Essex Gallery LIVE Invitational Exhibition, Feb. 5-28, with an opening reception on

Feb. 5, 3-7pm.

She also had photographs juried into the Carriage Barn Art Center 41st Annual Photography Show, Jan. 30-Feb. 27 and the Ridgefield Guild of Artists' Camera Works 2021 exhibit, Feb. 27-Mar. 28. Nancy will also be showing her photographs in the Easton Arts Council 2021 Winter Celebration Of The Arts Show, through Feb. 28, Rowayton Arts Center In The Garden

All Media Members Show

Feb. 7-Mar. 6 and in the

Connecticut Academy of Fine Arts CAFA + Members Show,

Feb. 6-Mar. 20.
Lynn Carlson's
photograph,

"Heaven's Fray"

(acrylic print on metallic paper, 36 x 24")
has been accepted into the
Art Essex Gallery's 6th Annual Invitational Exhibition at the
George Billis Gallery in Westport.
Juror, Lisa Cooper (Gallerist/Art Consultant/Owner of Elisa Contemporary Art Gallery & Art Salon) will be hosting a Walk Through the Exhibit via
ZOOM
Feb. 5 at 3:30pm.
The cover of the Jan. 15 Weekend Arts section of the

New York Times

, features an image by gallery artist Adger Cowans, which has been reproduced to illustrate Holland Cotter's review of the exhibition Working Together:The Photography of the Kamoinge Workshop, currently on display at the Whitney Museum. The exhibition will next travel to the Getty in Los Angeles.
Eugenie Diserio's
painting

"
Babel"

(mixed media on canvas, 40 x 40") and

"Shrine"

(acrylic, glitter on canvas, 40 x 60") are on view in

Shake It Up!
Ridgefield Guild of Artists

2021's member exhibition, online through Feb. 14.
Barbara Loss
has two images accepted into the
Ridgefield Guild of Artists' Camera Works 2021
Exhibit
, juried by Andrew Delaney, Head of Creative and Production, Custom Solutions, Getty Images.
"We Didn't Start the Fire,"
(right) and
"The Mysterious Sound."
The online and in gallery exhibit can be seen from Feb. 27 through March 28

.

"
Captain Cove's Coastal Friends"

is in the

Shake It Up!

Ridgefield Guild of Artists

online member show until Feb. 7. It is a 16x20 photograph on archival print paper, mounted on foam core and ready to hang. Plus,

"
The Gate Before Hurricane Sandy"

is in the juried
Carriage Barn Art Center 41st Annual Photography Show
Jill Nichols
is
offering a series of online painting lessons, aimed at exploration to take your work to the next level.
Stay on track and discover the secrets of color, composition, value, edges, and more. Jill interacts directly with students in real time. Accustomed to teaching painting at all levels, Jill has a way of instilling confidence and encouraging students to take risks with remarkable outcomes. Upcoming classes include: Water workshop: Feb. 11; Abstract workshop: Feb. 13; Cloud workshow: March 13. Learn more...
To celebrate love for the month of February and Valentines's Day, Tim Nighswander has selected a few roses from his Momento Mori Series at precious sizes for your special ones framed, unframed, signed and unsigned. Prices range from $50-$250; shipping not included. To view the images with all of their minutiae details visit Tim's website using your desktop screen.

In other news, Tim's work has been accepted into
Carriage Barn Art Center 41st Annual Photography Show
,
Jan. 29 - Feb. 27, with

"
Covid Tulip #1 2020"

(40" x 34" Limited edition archival Pigment Print).

"
Hosta Leaf #3" (

48"x66" Limited edition. Archival Pigment Print) is on view through March 20 at the

Connecticut Academy of Arts Annual Members Show

. Tim also has two works juried into the

Ridgefield Guild of Artists Camera Works Photo Exhibit,

"
Echinacea #8"

and

"Magnolia #27"

(48"x48" each - Digital Pigment Prints)
.
Julie O'Connor's
work will appear in several places in Fairfield County this month.

"Elephants, Alligators & Ostriches"

is on view at the Ridgefield Guild of Artists show Shake it Up! through Feb. 14.

"Heart and Home, I Believe in Magic—Do You?"

and

"Fragrant Pink Couch, Beijing"

are on display in the Artist Collective of Westport's 24/7 @ 47 Main Valentine Window at 47 Main Street in Westport.

"Holy Geometry, Holy Grail, Paris"

is on display at the
Carriage Barn Art Center 41st Annual Photography Show
, juried by Kathryn McCarver Root, from Jan. 30 - Feb. 27.
Amy Oestreicher's
award-winning memoir
My Beautiful Detour
is now available as an audiobook on more reatiler sites.
She recently
did a video podcast with Richard Skipper's positive full moon book club about the book,
watch it here
. Amy also
recently premiered an original performance as part of the Goddard Masters MFAIA program and is selling her artwork on COVID masks and more. Shop here. Amy is also looking for some feedback on an upcoming project combining music story, puppetry, dance and visual art on a one-woman performance. The focus group will be asked to watch a five minute video and observe what they see. Contact Amy to learn more. See questionnaire here...
Barbara Ringer
is
represented with a full page in the Limner Gallery's print publication of DIRECT ART PANDEMIC SPECIAL EDITION out this month

. In addition, Barbara's

piece,

"1pm,"

(16 x 20" photograph), is included in the
Carriage Barn Art Center 41st Annual Photography Show
, Jan. 30 - Feb. 27, juried by Kathy McCarver Root, KMR Arts.
Margaret Esme Simon
has three works accepted into current shows. Her
pastel portrait

"Where Do We Go From Here"

was accepted into

The Resilience of Greif Show

.

"AfternoonTea Cup"

is in T

he Winter Small Works Show.

Both shows are organized by the National Association of Women Artists. The first was open only to members and the second was an open show. They both will be online only from Feb. 1 - April 30. Margaret was also invited to participate in the catalog from the Copelouzos Family Art Museum of its 35 x 35 USA project with her oil painting

"Morning Coffee,"

now part of the Museum's collection.
Hollis Taggart
has aquired George Condo'

s
"
Standing Figure,"

circa 1999. (
Oil on canvas,
60 x 50"). A friend of Andy Warhol and Jean-Michel Basquiat, George Condo is renowned for his psychologically imbued portraits, which fuse Cubism, Surrealism, and Old Master traditions into a single image. After working for Warhol as a screen printer and exhibiting his painting in Los Angeles and the East Village, Condo traveled to Europe in 1983. He visited Cologne, Paris, and Spain and went to the Louvre and the Prado. Inspired by the Old Masters, Condo began creating his own versions, which were not direct copies but contained multiple references.
Emily Teall will be teaching a free virtual mixed-media workshop for students ages 7-14 on Feb. 20 through the Loft Artists Association. Students will consider a location, real or imagined, that has comforted them through COVID and quarantine. They will recreate it with materials of their choice. Emily will begin class with a quick demonstration and discussion of materials ranging from collage papers to chalk pastels. Please visit Loft Artists Association or email Emily for more information. In addition, Emily is selling full-sized 12"x16" giclee prints of her

"Porcelain (Berry)"

series, $50/each.
Lee Walther
is
pleased to have one of her latest works in her Goddess/Torso series,

"Victorian Mourning,"

(p
hotography on aluminum, mixed media/antique jewelry,
16 x 20")
exhibited in

Ridgefield Guild of Artists online
Shake it Up
!
gallery show.
SHELTON-BASED ARTISTS EARNS PROMINENT PLACEMENT IN ROME, WASHINGTON, D.C.
Jill Harrington Nichols does not remember a time when she did not love creating art. One of her first artistic forays was creating a tiger's head with colored gravel — which her parents hung above the stove when she was five. How far Jill has come! The Shelton artist now has two paintings — titled

"Phi"

and

"Juno"

— both created to celebrate the Cosmos and the sacred feminine hanging in the Vatican Observatory, an astronomical research and educational institution at the opposite end of the papal gardens from the former Pope's summer residence in Vatican City. Other paintings sit in the collection of former FBI Director James Comey: "Washington D.C.," most notably seen as the backdrop during his interview on "Face the Nation," and "The Grand Canyon," installed in Comey's office and shown in scenes in Showtime's

"The Comey Rule."
Read full article...
BE INSPIRED BY 2021 PANTONE COLORS




In 2021, we've been gifted not one, but two Pantone Colors of the Year: stunning 13-0647 Illuminating Yellow and relaxing 17-5104 Ultimate Gray. Yellow and grey; truly, a marriage made in color-heaven, or as Pantone says "conveying a message of strength and hopefulness that is both enduring and uplifting." And after the past year, we couldn't be happier to work with a sparkling, sunny yellow in combination with a calming grey. Illuminate your day with a selection of the best and brightest Pantone-filled artworks so that you too can find inspiration, hope and fortitude for the new year. Read the Blog

MAYORS CALL FOR FEDERAL RESPONSE TO U.S. ARTS CRISIS
The mayors of 10 major U.S. cities, including Stamford, CT, have penned a letter to the Biden-Harris administration asking it to take an integrated federal approach to supporting the arts. In their missive, the mayors noted that the September unemployment rate for those in the arts ranged from roughly three to six times that of the overall national unemployment rate of 8.5 percent, according to the National Endowment of the Arts. According to 2020 reports by both the NEA and the U.S. Department of Commerce, the arts sector, whose GDP blossomed by 69.5 percent between 1998 and 2016, by 2017 was valued at $877.8 billion and thus responsible for 4.5 percent of the U.S. GDP, contributing more to the national economy than the construction, transportation and warehousing, travel and tourism, mining, utilities, and agriculture industries. Read ARTFORUM ARTICLE here...
SPREAD THE LOVE POP UP VALENTINE SHOW
The

Ridgfield Guild of Artists is hosting a pop-up online exhibition asking artists to s
how what they love by submitting unlimited pieces to this love-fest of a show...No limit on size. No limit on the number of submissions. Not a new work? No problem. Already shown in the gallery? Also, no problem. We loved it before and we'll love it now. L
ove will be returned to you in the following ways:
For members: $10 for unlimited number of pieces.
For non-members: $20 for unlimited number of pieces.
Commission: 70% - artist; 30% - guild (10% more love)
More information and to submit work. click here.
ROWAYTON ARTS CENTER SPRING JURIED SHOW CALL FOR ARTISTS
Online submissions are now being accepted in an Open Call to Artists for the "Spring Juried Show" at Rowayton Arts Center (RAC) from March 14, 2021 to April 10, 2021. The show is open to all artists interested in exhibiting their artwork. Categories include: oil painting, acrylic painting, watercolor, mixed media, color photography, black and white photography, sculpture, printmaking, pastels or drawing. The show will be judged by
Cybele Maylone, Executive Director of The Aldrich Contemporary Art Museum in Ridgefield since 2018.
Deadline is February 12, 2021
and accepted artists will be notified by February 19, 2021. To
submit work, click here.
DARIEN ARTS CENTER CALL FOR SMARTPHONE PHOTOS
The Darien Arts Center

is announcing the return of its annual smartphone photo contest with a special 2021 initiative and is encouraging all age groups and skill levels to participate. In honor of hometown heroes everywhere, the DAC is donating 10% of profits from the contest to Health and Human Services of Darien. Pic Darien 2021: "Images of Hope, Heroes and Home" will be accepting entries through February 10.

More information and to submit work.
LOCKWOOD-MATHEWS MANSION MUSEUM
SOCIALLY DISTANT ART: CREATIVITY IN LOCKDOWN
The Lockwood Mathews Mansion Museum calls for artists for a juried exhibition titled,

Socially Distant Art: Creativity in Lockdown

. The submission deadline is February 15, 12pm. The exhibition will open on April 8 and run through Aug. 29, 2021. Artist and Trustee Gail Ingis together with Trustee Julyen Norman will select approximately 30 works from digital submissions. Works should be no more than five feet on all sides.
This exhibition will be an interpretation of the pandemic experience filtered through the eye, mind, and creativity of the artist, who will be asked to submit works that relate to social distancing, isolation, the erosion and transformation of social interactions, and the multi-faceted challenges to themselves and/or the people around them caused by or in reaction to the pandemic. A
ll fine arts media accepted: watercolor, oil, acrylic, drawing, pastel, small sculpture, mixed media, photography, monotype, monoprint, and fiber art.

A fee of $35

for four images inclusive of a one-year membership will be required to enter. Apply here.
Each year Stamford Downtown hosts a distinguished outdoor sculpture exhibit designed to attract both local and regional audiences.

Art in Public Places Outdoor Sculpture Exhibit

features artwork lining the sidewalks and parks of the Downtown. The 2021 exhibit, The Piano Project, will bring both art & music to the streets of Stamford Downtown! The fun and interactive exhibit will feature 20+ upright pianos designed and painted by local artists. The pianos will be on display all summer for the public to interact with and play.
Learn more...
SPRING 2021 STAMFORD ART ASSOCIATION
The Stamford Art Association is hosting an online exhibition, Spring 2021.
Each artist can submit up to five pieces. This is an online juried exhibit with cash prizes and the theme is your interpretation of Spring 2021. The juror is Lina Morielli, Stamford Mayor's Gallery curator and multimedia artist.
Criteria: Artists should submit original work that has not been shown before at the SAA gallery or SAA sponsored exhibitions (except for the Faber Birren show.) Except for photographs, prints of any kind (lithographs, etchings, computer generated art etc) should be signed and numbered as a limited edition. Giclees will not be accepted.
Entry Deadline: Saturday, February 27, 2021

.
Entry is through Entrythingy
RIDGEFIELD GUILD OF ARTISTS CALL FOR PORTRAITURE
The Ridgefield Guild of Artists is mounting the second in the series of Focus On: Portraiture. This exhibition concerns portraiture in all its forms and function. Portraits are rendered in many ways, often realistically or abstractly and can explore the relationship between the subject and artist in a myriad of ways. All media is welcome. Artists may submit up to three pieces for the exhibition, which will be in-gallery and online.

Deadline is Saturday, March 27 at 11:59pm

.
Entry is through Entrythingy
NORWALK HISTORICAL SOCIETY CALL FOR HISTORIC OBJECTS
CRIME, PUNISHMENT & THE POLICE
The Norwalk Historical Society and Norwalk Historical Commission calls on the community for historic objects and artifact donations to be featured in the forthcoming permanent exhibit in the Smith Street Jail entitled

"Miserable vagrants, petty thieves and scamps: a history of crime in Norwalk."

The organizations are actively seeking Norwalk-related photographs, mugshots, documents, memorabilia and ephemera pertaining to crime, punishment and the police. While particular emphasis is on the pre-1940 era and Norwalk specifically, there is an interest in viewing or hearing about all items that fall within the above categories regardless of location or time period
.
Learn more...
SHARPE-WALENTAS STUDIO PROGRAM APPLICATION DUE
The Sharpe-Walentas studios are located in DUMBO, Brooklyn, a thriving waterfront community full of art galleries, creative professionals, and independent retailers. The Studio Program residents are selected annually based on merit from a competitive pool of applicants by a professional jury. The artist residency program 2021 is open to professional visual artists, 21 years or older who live in the U.S., as well as U.S. citizens or permanent residents living abroad. Applicants may not be enrolled in any degree program, participate in any other residency program, or maintain a separate studio during their residency. Applications are available at Slideroom from January 1, 2021 to February 15, 2021 at 11:59pm. Artists must submit five clear images of their most recent work and a statement describing their need for a studio space. Artists working in video may submit a combination of up to five videos and stills. Learn more and apply here...
GOOD HART ARTIST RESIDENCY
The Good Hart Artist Residency in Good Heart, Michigan, welcomes applications for 2021-22 residencies.
The Good Heart Artist residency program provides a dedicated writer or composer/songwriter with up to three weeks in residence to give him/her time and space to create, as well as full room and board to allow him/her time to focus on their work. Each residency includes a 1,150-square-foot residence, a 24×14 detached studio, food (including homemade baked goods and jams, locally sourced ingredients, and seasonal vegetables from the host's garden when available),a $500 stipend, and a quiet setting to concentrate on his/her work. Resident artists are housed in a rural area within walking distance of Lake Michigan and the village of Good Hart, along the "Tunnel of Trees," a Scenic Heritage Route. The residency program offers a solitary experience by primarily hosting one resident at a time.
CREATIVE CAPITAL $50k AWARD Q&A SESSION
Learn how artists can apply for the Creative Capital Award. Staff will be available to ask general questions about the award, and the application process. The award provides $50,000 in project funding, plus additional career development services—all dedicated to supporting artists complete their innovative project ideas. The application, open Feb. 1—March 1, 2021, is free and open to artists working in all disciplines across the country. Register here...
INDIVIDUAL ARTIST SUPPORT
The Gottlieb Foundation welcomes applications for its 2021 Individual Support Grants. Through the program, grants of $25,000 will be awarded in support of painters, sculptors, and printmakers who have been creating mature art for at least twenty years and who are in financial need.
The Gottlieb Foundation does not fund organizations, educational institutions, students, graphic artists, or those working in the crafts. The disciplines of photography, film, video, or related forms are not eligible unless the work directly involves, or can be interpreted as, painting or sculpture. The foundation does not fund exhibitions, installations, or projects of any kind.
To be eligible, applicants must be able to demonstrate they have been working in a mature phase of their art for at least twenty years.
Recommended Sources for Calls and for Opportunities



Join

New York Foundation for the Arts (NYFA) at its next online workshop, "Job Hunting Strategies During the Pandemic." Designed to support individual artists and arts professionals from anywhere they have internet access, the webinar will provide insights into a job market that is influenced by the outbreak of the coronavirus.

Maria Villafranca, NYFA Coach and Director of Marketing at Design Museum Everywhere

, will present on the topic on Thursday, Feb.18, from 6:00 – 7:30pm. The webinar will

cover arts-specific resources from a range of disciplines, virtual interviews, and how to strategically network in the field. You'll walk away with a clearer sense of how to navigate the current job market and frame your career for new opportunities in the arts

. Register here...

ANNUAL RESEARCH ON SUPPORT FOR ARTS & CULTURE
In the upcoming Winter 2021 edition of the GIA Reader, the latest edition of Grantmakers In the Arts' funder snapshot will include "Foundation Grants to Arts and Culture, 2018," based on the most recent completed year of Candid. data, and "Public Funding for the Arts, 2019," prepared by the National Assembly of State Art Agencies (NASAA). How have things changed since the last GIA funder snapshot in February 2020, and what can we look forward to for 2021? Join GIA on February 23 to hear from Reina Mukai, data services manager of Candid., Ryan Stubbs, research director for NASAA, and Patricia Mullaney-Loss, research associate for NASAA. They will share a summary of key findings and insights into what these findings reveal about the current arts grantmaking environment, as well as an introduction to what we can expect for the new year. Sign up here

...
FINANCIAL WELL-BEING FOR ARTISTS
Led by Creative Capital Awardee Amy Smith, a working artist with expertise in bookkeeping, budgeting, tax preparation, and financial management, this workshop is designed to help you get ready to do your 2020 taxes and to make prudent financial decisions in 2021. Smith will provide an overview of our current pandemic economic conditions, expense tracking and taxes, credit, debt, emergency funds, and long-term savings. She will also discuss alternative forms of financial management, including systems for resource sharing, collective thinking, and financial self-determination. The workshop is appropriate for individual artists working in any genre and at any point in their careers. Sign up here

...
CURATOR OF PRINTS & DRAWINGS YALE UNIVERSITY
The Yale Center for British Art seeks a Curator of Prints and Drawings with an exceptional record of exhibitions and publications to oversee the museum's renowned collection of works on paper. The Department of Prints and Drawings encompasses more than 20,000 drawings and watercolors, over 35,000 prints, as well as a growing collection of photographs. The Curator of Prints and Drawings joins the Center's curatorial staff at a pivotal moment for the museum. Reporting to the Deputy Director and Chief Curator, the curator will play a key role in bringing renewed attention to the collections in line with the Center's mission
.
Full informati

on here...
The Director of Creative for Herman Miller Retail will help develop and execute creative vision and execution that deliver brand and business objectives for the Herman Miller Retail brands: Herman Miller, Design Within Reach and Hay. In this highly visible and strategic role, the Director of Creative will drive and lead the translation of marketing objectives into creative strategies, generating creative ideas, branded initiatives, and consumer programs for execution across all channels and customer touchpoints

.
A Bachelor's degree in Art, Graphic Design, Marketing, Communications or a related field is required, as well as 10 years of experience in a creative role
.
Learn more here...
DIRECTOR OF DEVELOPMENT & COMMUNICATIONS RIDGEFIELD PLAYHOUSE
The Director of Development and Communications will be responsible for creating and implementing strategies to meet revenue goals, developing new prospective donors and for overseeing capital and endowment campaigns (among others); and for the marketing, special events and public relations activities of the organization. The Director will report directly to the Executive Director. The Director will primarily focus on Development; however, he/she will also spend approximately 20% of his/her time on Marketing and Communications activities and will oversee the Marketing Department for The Ridgefield Playhouse

.
Learn more here...
MARITIME AQUARIUM PAYROLL ADMINISTRATOR
The

Payroll Administrator for the Maritime Aquarium in Norwalk works with the Payroll and Accounting team to ensure that all employees receive their paychecks accurately and on time. He/she will report to the V.P. of Finance. Job responsibilities include
Job Responsibilities e
xperience with ADP;
Knowledge and experience with payroll taxes and deductions, including federal, state or other taxes that affect payroll amounts, medical and dental, voluntary life insurance, FSA, TIAA and Fidelity (403B plans. To apply, please submit your resume, cover letter and TMA application HERE or email rlombardi@maritimeaquarium.org with Payroll in the subject line.
Learn more here...
JOBS, FOR SALE, FOR RENT, VOLUNTEERS, AND CALLS FOR ARTISTS - CONSULT AND POST IN OUR
CLASSIFIEDS
SPREAD THE WORD!
Please help us expand the reach of our weekly E-Buzz newsletter with its selection of events taking place that week in our region
.
See the

most recent issue

. Share with a friend. Subscribe here.
The Cultural Alliance of Fairfield County is a 501(c)(3) cultural nonprofit membership organization. We are grateful to our members and our donors whose support enables us to do our work.

Donations

are always very welcome and may be made
here
. In particular, we are grateful for support from: