Subject: Artists Newsletter, August 2, 2019
View this email online if it doesn't display correctly
News and Opportunities for Artists of Fairfield County
The Cultural Alliance of Fairfield County is a nonprofit membership service organization that supports its members through unified marketing, capacity building, professional development, and advocacy services. This newsletter is sent to all who request it - but we ask that, if you are not a member, you explore membership benefits and consider joining this community of more than 600 individuals and organizations. See
member benefits here
.
Join here
.



As she puts it herself

"With a name seemingly drawn from a woodland forest, it's not surprising to find

Holly Hawthorn's

work full of natural elements."

A sculptor, printmaker and cera

micist, Holly works in many mediums. Her work is playful and thought provoking, cheerful and memorable. She remembers well

the moment when she found the ceramic studio in the basement of a now long obliterated old converted house on the campus of the University of Bridgeport in the 1970's. She spent the next four years there, and says that still has the dust of that encounter under her finger nails and in her soul. The discovery of the magic and mystery of creating art sent her to

The New School

in New York, The Athens Center, in Greece, The University of Urbino, Italy, to Cambridge and MECA, Maine.

Holly then kept a studio in Westport for many years, before moving her studio to the

American Fabrics Arts Building

in Bridgeport.

She just recently retired after 25 years of teaching art at

Weston High School

, and has been recognized for her art journaling, a practice she has maintained for over 40 years. Each small painting in her journal evokes a particular memory or place; taken as a whole, the journals represent a beautiful retrospective of her extensive travels.

The inspiration for her current work is derived from the vast collection of shells, stones and beach rake items she has gleaned from the shores of Maine to Ireland.

She says that anyone who makes their home in the Fairfield County area is more than familiar with seashells: this is the bounty we live with.

The seashell is a timeless symbol that for her evokes the playfulness of time spent at the beach and the wonder of nature.

Her current porcelain sculptures reflect her love of oceans and beaches, while her prints evoke serenity, reflective of mist, fog and water themes.

Holly carefully crafts and conceals individual unique porcelain portraits within shells found from Maine to Ireland. These works are meant to conjure a smile as well as memories of walks on the beach. One's experience of beach walks can be forever changed by works like this:

"Walks on the beach and forest on soft grey days provide me with inspiration to create monoprint images showing the subtle colors and fleeting moments that only become visible in the misty atmosphere--like the images created by the waves on the water edge, similar but infinitely different. The seashell is a timeless symbol that for me evokes playfulness of time spent on the beach. The illustrative works I create are titled to amuse the viewer."

Holly says she especially enjoys using 'plays on words' to title them. They are 'little celebrations' of art."

See Holly's

website, Instagram and Facebook pages.


Duvian Montoya grew up in Norwalk and currently lives and works with his family in Easton. He has always been inspired by his hard working Colombian parents, who exposed him to all aspects of Latin Culture, and who nourished his passion for art at an early age. Attending Manhattan's

School of Visual Arts

, he then worked restoring 19th-century lithographs, before traveling to Europe. There, it was Van Gogh who became Duvian's main inspiration, as he developed his own language of color and brush stroke. Back from Europe, Duvian moved to Albuquerque, where, influenced by the New Mexican landscapes, skies and culture, he continued to develop his own distinct style. Drawn back to the Northeast, his focus now combined an interest in the area's cultural history and its social issues with his personal observations on everyday life. In 2012 he was commissioned to create two large public art projects: Silhouetted Faces and Period Pieces for a subway tunnel at the South Norwalk Train Station (a 60-foot mural showing the changing fashions of the many generations who have passed through the tunnel); and Harvesting Community, a 16x37-foot mural for New Haven's new Hill Central School, celebrating the fruits of labor as a community in gardening, food, music, dance, art and family. In 2013, he was commissioned by Norwalk 2.0, as part of its FACES of Norwalk project, to paint a 6x11-foot WPA-style mural, Norwalk Migration, for the Norwalk Public Library, telling the story of his parents' migration in the 1960s from Colombia to the US. In 2017, he was commissioned by the Mary & Eliza Freeman Center in Bridgeport to create a work of art to describe Bridgeport's Little Liberia, one of the first freed black communities in America. In Pillars of Freedom, he depicted Mary and Eliza Freeman - the teachers, bankers, and organizers of the community in the 1820s. Today, his work has moved beyond the

"magical realism" of his early work and its

themes of immigration, Latin American identity in the U.S., and displacement, to focus more

on technical skill and detailed imagery. With scenes culled from the more banal moments of our everyday life, this new quietness allows him to make surprising choices and subtle statements about the way we live our lives today. Duvian has been active in inspiring and organizing fellow artists. In 2006, he created The Peanut Gallery in Santa Fe, NM, showing the work of contemporary New Mexican artists; in 2009, he spearheaded the creation of the St. Philip's Artist Guild in Norwalk; and in 2014, he was a co-founder of the Artists Collective of Westport. Duvian's work has been displayed across the country and around the world. He is a member of the Artists Collective of Westport, and the Greenwich Art Society. See his website, Instagram, Facebook and Twitter pages. See his Artist Talk at 22 Haviland Street Gallery.
Those artists who have posted their profiles onto our new website, that launched Nov. 2, 2018 have their names in
green
(to see their page, go to culturalalliancefc.org and type their name into the search box at the top of any page)
.
Please join them.
Elizabeth Agresta

,

Painter

Valerie Ahneman

,

Musician

Peter Alexander

,

Landscape

Leslee Asch

,

Curator,

Writer

Frances Ashforth

,

Painter/


Printmaker

Judith Bacal

,

Designer

Anna Badini

,

Painter

Louise Baranger,

Musician

Daniel Wade Barrett

,

Painter

Patrice Barrett

,

Painter

Jan Bassin

,

Writer

Nina Bentley

,

Mixed

Media/

Sue Benton

,

Photographer

Susanne Benton

,

Mixed

Media.

Lisa Berger

,

Visual Artist

Paul R. Berger

,

Photographer

Karla Bernstein

,

Photographer




Thomas Berntsen

,

Photographer/

Tara Blackwell

,

Painter

Christina Blais

,

Quilter

Ziggy Bober

,

Sculptor

Amy Bock

,

Painter

Andrea Bonfils

,

Mixed

Media Artist

Dennis Bradbury,

Photographer




Carolyn Brady,

Photographer




Nancy Breakstone

,

Photographer




Michael Brennecke

,

Painter

Janine Brown

,

Multidisciplinary

Lucienne Buckner

,

Sculptor

Bevi Bullwinkel

,

Painter

Miggs Burroughs

,

Graphic

Artist

Trace Burroughs

,

New

Media

Louise Cadoux

,

Painter/

Sculptor

Bob Callahan

, Painter

Vincent Calenzo,

Painter

Donna Callighan

,

Photographer




Patricia Campbell

,

Dance

Caller

Lynn Carlson

,

Painter

Linn Cassetta

,

Printmaker

Alan Chapell,

Musician

Ann Chernow

,

Painter/

Printmaker

Eric Chiang

,

Painter

Frederic Chiu

,

Pianist

Yvonne Claveloux

,

Painter

Lauren Clayton, Painter

Gabi Coatsworth

,

Writer

Alicia Cobb

,

Painter

Heidi Lewis Coleman

,

Mixed

Linda Colletta

,

Painter

Rosa Colòn

,

Painter, Mixed

Media




Tom Comerford,

Photographer

Penrhyn Cook

,

Photographer

Rod Cook

,

Photographer

Margaret Stapor Costa,

Filmmaker

Adger Cowans

,

Photographer

&

Painter

Naomi Cruz,

Painter

Dolly Curtis,

Curator

Lisa Cuscuna

,

Painter

Dawn Dahl

,

Painter

Cris Dam

,

Painter/Muralist

Holly Danger

,

Video Artist

Betsy Davidson,

Painter

Carlos Davila

,

Painter, Sculptor

Jane Davila

,

Fiber Artist/

Cortney Davis

,

Writer

John Deakins,

Sculpto

r

Ken Delmar,

Painter

Sculptor/

Furniture

Maker/

Violist

Designer

Joyce DiCamillo,

Musician


Barbara Kunin Dierolf,

Painter

Eugenie Diserio

,

Painter

Media

Carol Nipomnich Dixon,

Painter,

Afsaneh Djabbari-Aslani

,

Painter

Erin Dolan

,

Painter

Ganga Duleep,

Painter

David Dunlop,

Painter

Philip Eliasoph

, Writer

Jeanine Esposito

,

Mixed

Media

Katherine Evans

,

Painter

Susan Fehlinger

,

Painter

Kathy Fitzgerald

,

Painter

David Laurence Flynn,

Lighting

Designer

Heide Follin

,

Painter

Christa Forrest,

Painter

Rose-Marie Fox

,

Painter

Cecilia Moy Fradet

,

Painter/

I

mperfection) Fiber

Artist

Rhonda Gentry

,

Painter

Robin Jopp Gilmore,

Mixed

Media and Upcycled

Jewelry

Joe Gitterman

,

Sculptor

Scott Glaser

,

Painter

Lori Glavin

,

Visual Artist

Joanna Gleason,

Actor

Ellen Gordon

,

Painter;

Mixed

Ellen Gould

,

Photographer

Michele Gramesty

, Jeweler

Joyce Grasso,

Painter/

Photographer

Jen Greely

,

Painter/

Printmaker

Carolina Guimarey,

Multi-

Media

Artist

B

arry Guthertz

,

Photographer

Dorothy Hafner,

Sculptor

Mary Harold

,

Photographer

Mike Harris

, Photographer

Holly Hawthorn,

Sculptor,

CeramacistKerry Gale Heftman

,

Painter

Adair W. Heitmann

,

Printmaker

Kate Henderson

,

Mixed

Media

MaryEllen Hendricks

,

Photographer

Gwen Hendrix

,

Fiber/

Mixed Media

Lenore Eggleston Herbst,

Dancer

Tracy Hoffman

,

Photographer &

Printmaker

Veronica Hofstetter

,

Painter

Sonya Huber

, Writer

Yuko Ike

,

Painter

Jana Ireijo

,

Painter

Jahmane

,

MultiMedia

Sholeh Janati

,

Painter

Vasken Kalayjian

,

Painter

Karen Kalkstein

,

Graphic

Artist

Amy Kaplan

,

Painter

Wayne Keeley,

Writer,

Producer

Emily Kelting

,

Photographer

Susan Keown,

Painter/Mixed

Media

Multimedia

Jin Hi Kim,

Musician

Lesley Koenig

,

Painter

Moki Kokoris,

Visual Artist

Richard Koleszar,

Painter

Dawn Kubie

,

Photographer

Joanie Landau

,

Jewelry

Photographer

Eric Jiaju Lee,

Visual

Artist/

Julie Leff,

Painter

Liz Legget

t

,

Painter

Susan Leggit

t

,

Painter

Henry Lepetit

,

Painter

Rachel Linnett

,

Painter

Julia-Rose Liptack

,

Painter

Barbara Loss

,

Photographer

Shelley Lowell

,

Painter/Sculptor/

Jane Lubin,

Mixed Media

Lauri MacLean

,

Choreographer,

Dancer

Mark Macrides,

Painter,

Collagist

Steve Magee,

Painter

Dan Makara,

Painter

Connie Manna,

Painter

Mary Manning,

Painter/Printmaker

Elizabeth Marks,

Painter

Joel Martin, "Jazzical"

Musician

Nadia Martinez

,

MultiMedia

Sooo-z Mastropietro

,

Fruma Markowitz

,

Photographer

Grace S. McEnaney,

Painter

Ann McRae

, Painter




Nancy McTague-Stock

,

MixedMedia

Peter Mendelson,

Photographer

Kristin Merrill

,

Jeweler/

Sculptor

Toby Michaels,

Painter

Annamari Mikkola

,

Photographer,

Designer,

Curator

Jay Misencik

,

Photographer

Duvian Montoya

, Painter

Brechin Morgan

,

Painter

Lina Morielli

,

Multi-Media

Meighan Morrison

,

Painter

Carol Mueller,

Painter/Printmaker

Cynthia Mullins

,

Painter

Susan Murray

,

Painter

Erin Nazzaro

, Painter

Karen Neems

,

Photographer/

Susan Newbold

,

Painter

Mary Newcomb

,

Painter

Jill Nichols

,

Painter

Tim Nighswander

,

Photographer

Julie O'Connor,

Photographer

Amy Oestreicher

,

Performing/

Melissa Orme, Painter

Rose Palmiero, Painter

Eileen Panepinto

,

Mixed Media

Harvey Paris

,

Carver

Steve Parton

,

Painter

Rich Patton IV,

Painter

Judy Peknik

,

Painter

Justin Perlman

,

Sculptor

Chris Perry

,

Book Artist

Jay Petrow

,

Painter

Laura Pflug

,

Painter

Igor Pikayzen,

Violinist

Diane Pollack

,

Mixed Media

Karen Ponelli

,

Painter

Jennifer Prat

,

Photographer

Elizabeth Quesada,

Painter

Ben Quesnel

,

Sculptor,

Tim Reimer, Painter

Gwen North Reiss

, Poet

Barbara Ringer

,

Photographer

Mariya Rivera

,

Painter

Dorothy Robertshaw

,

Mixed

Media

Lizzy Rockwell,

Painter,
Illustrator, Author

Alyse Rosner,

Painter/Mixed Media

Katherine Ross

,

Painter

Richard Sadlon,

Musicians

Renee Santhouse,

Graphic

Artist

Anthony Santomauro

,

Painter

Jill Sarver

,

Painter

Ellen Schiffman

,

Fiber Artist

Marianne R. Schmidt,

Painter

Guy Sealey,

Multimedia

Eric Seplowitz,

Photographer

Katie Settel

,

Photographer

Rick Shaefer

,

Visual Artist

Rosalind Shaffer,

Ceramist

Barbara Shea,

Writer

Alissa Siegal

,

Painter

Norm Siegel

,

Painter

Lisa P. Silberman,

Photographer

Nomi Silverman

,

Printmaker

Vicki French Smith

,

Painter

Megan Smith-Harris,

Writer/

Rene Soto,

Painter

Carole Southall

,

Painter

Liz Squillace,

Painter/

Printmaker

Connie Stancell,

Painter

Barbara Stewart,

Painter

Pam Stoddart

,

Painter

Florence Suerig

,

Visual Artist

Denise Susalka,

Painter

Janice Sweetwater,

Painter

Susan Tabachnick

,

Sculptor

Julliette Tehrani

,

Painter

Alicia Thompson

,

Actress/

Playwright

Kris D. Toohey

,

Painter

Andrea Towey,

Musician

Ruth Kalla Ungerer

,

Printmaker

Vincent Verrillo,

Painter

Karen Vogel

,

Painter

Lee Walther,

Mixed Media

Liz Ward

,

Multi-Media

Ann Weiner

,

Multi-Media, Painter

Peggy Weis,

MultiMedia

Gregg Welz

,

Paper Artist

Cynthia Whalen,

Painter

Joan B. Wheeler

,

Painter

Bruce Williams,

Painter

Jen Williams

,

Painter

Jonah Wilner

,

Painter

Tammy Winser,

Mixed Media

Sherri Wolfgang

,

Painter

Nancy Woodward

,

Photographer/

Dmitri Wright,

Painter

Jeffrey Wyant,

Visual Artist

Gregg Ziebell

,

Painter
❦
–
Latest List by Town of Organization and Creative Business Members: here
❦
–
Latest List by Town of Artist Members: here
Carol Dixon, Heide Follin,
Scott Glaser, E
llen Gordon, Joyce Grasso, Mike Harris, Duvian Montoya, Mary Newcomb, and Melissa Orme
had work selected for Unity in Diversity, the Greenwich Art Society's

102nd Annual Summer Juried Exhibition

showing at the Greenwich Arts Council's Bendheim Gallery. The show has a reception

Fri. Aug 2, 6-8pm

, and runs through Sept. 6. The juror was Hillary Reder, Curatorial Assistant at New York's Museum of Modern Art.
Andrea Bonfils
is one of two artists representing Connecticut (the other is Victoria Sevigny) in
50 States/200 Artists,
an exhibition of encaustic art at the Museum of Encaustic Art, Santa Fe, NM (see catalog) through Sept. 15, 2019. She also has work in the

Summer Group Show

at Isabella Garrucho Fine Art (including Choose Love

, oil and encaustic, 48x48). Andrea recently installed
a 20-foot, ceiling mounted, floating semi-transparent wall of underwater floral photography, from her Submerged Garden Series, at
Push Fitness
, in Melville, NY
(at right; click for complete image).
Miggs Burroughs and

Ann Chernow are now writing a monthly column, the last Friday of each month, with news about the visual arts in Westport, for the Westport News. Called

Art Town

, it will cover a wide range of topics and will be available in the print edition and online. Miggs and Ann will be picking up from a column that used to run in the paper decades ago, but was discontinued. In their first column they list
Westport's
current, non-commercial venues and town-sanctioned works of art. In subsequent months they will focus on each of these and then explore
commercial art organizations, current art events, and the work of individual artists. See their first column here.
Carol Nipomnich Dixon
's two entries were selected for inclusion in
Unity in Diversity,
the
Greenwich Art Society
's
102nd Annual Summer Juried Exhibition
showing at the
Greenwich Arts Council'
s Bendheim Gallery. The show has a reception
Fri. Aug 2, 6-8pm
, and runs through Sept. 6.
There is a VIP tour with the juror Hillary Reder, a Curatorial Assistant at MoMA, scheduled for

Thurs. Aug. 8, 5:30-7pm

. Carol's embroidered collage on felt Rainbow Confetti Celebrates All, 15" square framed, created last year, received the

$100 Jerry's Artarama Award

. Her oil painting Diverse Colors Create the World, 24" diameter, also created last year, is her second work in the show.
Dan Makara
is a filmmaker as well as a visual artist. Two of his short films are going to be the next featured program in the Connecticut Film Festival's

FilmFest52

series of free films at Housatonic Community College (HCC). The Art in Film program, starting at HCC,

Fri. Aug. 9, 6pm,

will include:
Irwin: a New York Story, a docu-mentary by Dan on cartoonist Irwin Hasen, who drew Wonder Woman in the 1940s and created "Dondi" that ran in the

Chicago Tribune

for 30 years; and
A Story in Stone, Dan's film on Bridgeport lithographer

James Reed,

which includes a short history of the lithography process with Eric Mourlot, whose family business printed Matisse & Picasso. A panel discussion at 7pm will include Dan, co-director and producer
Frank Borres, and James Reed.
Duvian Montoya's
They Are Watching (2019, graphite and gouache on watercolor paper, 60x48; detail at right; click for complete image)
won
the
Irene Buynoski Award for Free-hand Drawing
in
Unity in Diversity,
the
Greenwich Art Society
's
102nd Annual Summer Juried Exhibition
showing at the
Greenwich Arts Council'
s Bendheim Gallery. The show has a reception
Fri. Aug 2, 6-8pm
, and runs through Sept. 6. Duvian comments that
"this piece was created in response to the hateful and divisive rhetoric in our politics and media today. My hope is to unite and show empathy towards others to guide our future generations to a more peaceful planet. The never ending knot, which is the background has been a symbol of unity and connectivity in numerous cultures for centuries."
Amy Oestreicher
received great news coverage for the launch of her book

My Beautiful Detour

at Barnes & Noble (see
Westport News

article
). She reports that she enjoyed
an artist residency at Dragon's Egg Studio July 18-20, with director Kristy Chambebrelli, in Ledyard, CT, ending with
a book signing. And Amy will
be premiering an original reimagined multimedia musical,

Passageways

, at HERE Arts Center, New York, August 6-8 at 8:30pm. The performances will be followed with a talkback and book signing, with the talkback facilitated by
Marianne Gunther, president of New York Art Therapy Association.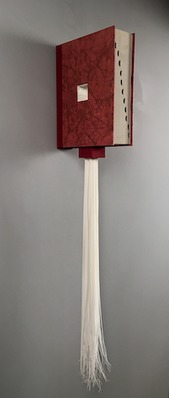 Chris Perry
had his
181 Ripples: spigot
selected for
Unbound

, a juried s
how at
Artistree Gallery,
South Pomfret, VT,
of artists from the northeast looking to explore "the book" as concept, object and format. The show is
part of the annual BookStock in Woodstock, VT, and continues through Aug. 24. Chris has said about this series:
The Ripples series started with a love of the flip-book with the difference that instead of flipping the pages to view the movie, the blank spaces were cut away so the entire "movie" could be seen when the cover of the book was open. They now tell of water, water structures and the effect of both on other things.
I try to convey these ideas by selecting the number and size of the volumes, by how the filaments are employed and where and what if anything happens inside the assembled mass. Frequently there are voids created within the stack of books and these may be viewed with varying degrees of clarity with the use of a mirror reflecting the light back to the viewer. Other times the interior is so filled or the opening is too small to view what is occuring so that only by lifting blocks of pages can the interior be seen; just as not all sources or ends of water systems are always readily visible.
Barbara Ringer
is one of the 20 artists singled out from a pool of nearly 400 applicants from across the U.S. (the largest number to have entered) for

b.j.spoke gallery

's annual
Paperworks
exhibition, in Huntington, NY.
Paperworks 2019
was juried by Hillary Reder, curatorial assistant at the
Museum of Modern Art's
Department of Drawings and Prints, and
will be on view through Aug. 28. The show opens with a reception

Sat. Aug. 3, 6-9pm.

Barbara's work is
Family Album (
9x24, v
intage album with found and created photographs; at right).
Pages from this album, as well as others, can be seen here on Barbara's website.
CALENDAR

Fri. Aug. 2:
Unity in Diversity, Greenwich Art Society Annual Summer Juried Exhibition, Bendheim Gallery. Opening Reception, 6-8pm (Carol Dixon, Heide Follin, Scott Glaser, Ellen Gordon, Joyce Grasso, Mike Harris, Duvian Montoya, Mary Newcomb, and Melissa Orme)
Sat. Aug. 3

:
Paperworks 2019, b.j.spokes gallery, Huntington, NY. Opening Reception, 6-9pm (Barbara Ringer)
Fri. Aug. 9:
Dan Makara, Art in Film Program, Housatonic
Community
College, 6-10pm
HAVE SPACE TO RENT - OR LOOKING FOR SPACE? CHECK:
CALLS FOR ENTRY- Deadlines

CARRIAGE BARN ARTS CENTER




The Carriage Barn Arts Center has a call to all current members to exhibit one piece of in its 42nd Annual Member Show, an exhibit that celebrates the range, interests, and talents of artist members working across all subjects, styles, and media. Membership

is open to anyone interested in supporting the artistic activities of the New Canaan Society for the Arts, Inc.

One piece in the show will be awarded the Betty Barker Award and a $250 prize. This year's member show will run in conjunction with the Carriage Barn's "Living With Art" event series. The series will include an artist talk, workshop, a panel discussion and more. Three exhibiting members will be selected to participate in a special event on Sept. 18 focusing on using fine art in interior design with award-winning designer Chris Roughan of Roughan Interiors.

Entry fee:

$20 for up to three submissions (one will be selected).




The American Mural Project announces that its

2019 Art of Work Gala

will feature Recycled Runway—a recycled wearable art show. Participants (individuals or teams) are invited to create outfit(s) made of trash and/or recyclable materials, and present them at the Art of Work Gala, a benefit event for the American Mural Project (AMP) on Saturday, September 28, 2019 at 6pm in Winsted, CT. Wearable art creations should be made from at least 75% recyclable and/or trash materials that would otherwise be previously used, considered junk, or would have ended up in the landfill if you hadn't rescued them for art. Exceptions: shoes and sewing notions, including zippers, thread, snaps, hooks, glue, and tape. Designs must be safely worn on the human body. Please, no glitter. Click here for full instructions. Click here to download the entry form. Click here to apply online.



The Valley Arts Council (VAC) &

The City of Ansonia

announce Art in the Park at the Rock the Valley 2019 event in the Nolan Field Sports Complex in Ansonia, CT, on

Sat. Aug 24, 2-10pm

. The VAC seeks

artists and photographers to set up tents and displays to show & sell

their work in an "art exclusive" part of the venue.

The VAC is the primary resource for artists & photographers in

the region and is encouraging artists to take advantage of a special offer to join VAC for $30

and save an additional $10 off the fee for the event ($35, non-member; $25, VAC member).

Spaces are approx. 15ft x 15ft and VAC can accommodate additional size setups within reason. The field is highly illuminated, but you may bring your own generator or power source.

Artists must provide own chairs, set up, tents. For more information and to download an application form, click here. Deadline to apply:

Aug. 19

RIDGEFIELD GUILD OF ARTISTS

42ND ANNUAL JURIED EXHIBITION


Members: $20 for first entry and $10 for each additional piece up to 5, payable by credit card via EntryThingy. Non-members: $30 for first entry and $10 for each additional piece up to 5. Non-members wishing to join prior to submitting their entries may do so by going here (member-ship: $55 ($30 for seniors/students). The juror for the exhibition is Fred Giampietro, owner of New Haven's Fred Giampietro Gallery (opened in 1979). For further information, and to apply via EntryThingy, click here.



The Rene Soto Gallery

, Norwalk, has announced a call for entries for the exhibition

Dreams

,

to run

Oct. 12-Nov. 10, 2019.

Dreams: everyone has them, whether stories while sleeping, goals and aspirations, or fantasies. Show us your interpretation. Open to artist 18 years and over living in Connecticut, New York and New Jersey. Original art in any two-dimensional or three-dimensional media, created in the last 3 years and not exhibited previously at Rene Soto Gallery, including: painting, fiber art, mixed-media, photography, drawing, printmaking, pastels, and 3D bas-relief artwork created to be hung on a wall is eligible. The juror is

Juan Ramiro Torres

, born in Lima, Peru, a graduate of Parsons School of Design, he currently works as fine artist, art teacher, graphic designer and journalist. For further details, and to apply, click here.

Deadline: Sept. 5, 2019.




Spectrum Gallery, Centerbrook, CT, is calling for artists working in all mediums to submit art for its outdoor Autumn Arts Festival, on the Historic Madison Town Green. The two-day event takes place on Saturday and Sunday, October 12-13, 2019 and is limited to 100 participants.

Four

large group tents are available for those who want to participate but do not own their own tents. In total there are 32 spots available under the large tents (some are already taken) so submit as soon as possible. Artists, however, who do have their own tents can choose to use them. See prospectus for more details. Festival artists have the additional option to exhibit work at Spectrum Gallery, 61 Main Street in Centerbrook, during the concurrent Group Gallery Show, September 27-November 10, 2019

.



ACADEMY OF NEW ENGLAND BALLET
The Academy of New England Ballet Company is holding auditions for its 2019/ 2020 Season on

August 18th and 25th

at Connecticut Dance Conservatory at 279 Ferry Boulevard, Stratford, from 11:00 am registration until 2:00pm when class ends. Master teachers will instruct the class. AcademyofNEBCO@gmail.com



The Connecticut Office of the Arts' Artist Fellowship Program (AFP) provides competitive grants to encourage the contin

uing development of Connecticut artists. Fellowships provide support for artists to pursue new work and achieve specific creative and career goals.

Reviewers designate applications after you submit for

Artistic Excellence

grants: $5,000


Artist Fellowship

grants: $3,000


Emerging Recognition

grants: $1,000

Fellowship awards are particularly competitive, and artists are encouraged to apply

only when they have created a substantial body of

recent

work that can be presented professionally.

Applicants, who must be the primary creator of original works of art, will be asked to identify their work in one

broad category

and

up to

four

general categories. To apply, submit

a one-page narrative,

a work sample and a bio/resumé. The Fellowship is NOT a project grant, and is designed to support the creation/development of new work. The primary review criteria is

artistic excellence

. All applications must be submitted digitally via the online portal: coa.fluidreview.com. Application Guidelines are available here. See a list of 2018 Artist Fellowship awardees here. Applications must be received on or before 11:59 pm,

Tues. Aug 20, 201

9.

ARTS COUNCIL OF GREATER NEW HAVEN

ARTS WORKFORCE INITIATIVE SPONSORSHIP

The Arts Workforce Initiative (AWI) Sponsorship

seeks to support art projects organized by young urban creatives in Connecticut with up to $1,000. Organized by the CT Office of the Arts with the Arts Council of Greater New Haven, this project offers funds to creatives organizing

community events and cultural experience

s happening in New Haven, Hartford, New London, Waterbury,

Bridgeport,

and

Stamford.

Projects must be aligned with the CT Office of the Arts'

R.E.A.D.I. framework

. Interested creatives must meet the following criteria in order to be eligible to receive a sponsorship:

Be between ages 18 - 40




Have a leadership role in organizing the project




Have a project that must occur during the next 90 days




Have a project that must take place within the designated cites: Bridgeport, Hartford, New London, New Haven, Stamford, Waterbury




Have a project that must align with the R.E.A.D.I. Framework.



FOR JOBS, FOR SALE, FOR RENT, VOLUNTEERS, AND CALLS FOR ARTISTS - CONSULT AND POST IN OUR
CLASSIFIEDS
SPREAD THE WORD!
Please help us expand the reach of our weekly E-Buzz newsletter with its selection of events taking place that week in our region
.
See the

most recent issue

. Share with a friend. Subscribe here.
Like anything here? Please Share it!
The Cultural Alliance of Fairfield County is a 501(c)(3) cultural nonprofit membership organization. We are grateful to our members and our donors whose support enables us to do our work. Donations are always very welcome and may be made
here
. In particular, we are grateful for support from: