Subject: Artists Newsletter, April 30, 2021
View this email online if it doesn't display correctly
The Cultural Alliance of Fairfield County is a nonprofit membership service organization that supports its members through unified marketing, capacity building, professional development, and advocacy services. This newsletter is sent to all who request it, but we ask that,
if you are not a member
, you explore membership benefits and consider joining.
See
member benefits here
.
Join here
.
.
All links in
green
connect to information on our website
See previous issues of

Artists Newsletter

here.
PLEASE HELP PUBLICIZE OUR
Parents this time of year are beginning to plan for summer activities for their children. As the state is opening up with more people vaccinated, most organizations that traditionally have offered summer camps are doing so this year. The State has also announced $11 million in grants to help camp operators to expand and innovate their camps. Subscribers to our E-Buzz will have received this Special Issue Guide to Summer Camps - it is also available at: http://bit.ly/FCcamps2021. Please share with parents you know who may not have seen this. 120+ camps included offered by 25 of our member organizations across 13 towns.
NEW "GALLERY" FEATURE
ON CAFC WEBSITE
Artist members have a new feature for their Artist Profiles on the CAFC website. Artists can now upload images of up to 4 recent works to show in a new "Gallery" space. When clicked, the works expand to full screen size. This feature is intended to enable artists to freshen their artist profiles with their latest work for visitors to the CAFC to see. Viewers will then be able to link to the artist's own website, or store site (like Artsy), to see and purchase work they are interested in. See Joseph Dermody's profile at right as an example.

Members:

log-in, and see the new "Gallery" area at the bottom of your "My Membership" page. Click the "Add to Gallery" green button and upload images as usual.
Meredith Mulhearn
was born in Sayre, PA, grew up in a small town in New Jersey, and is now based in Ridgefield. She earned a BA in studio art from Wake Forest University, and a MA from NYU in art therapy. She says her time in New York significantly influenced her focus on the natural world, as she struggled with its absence in the urban environment. In response, she engaged in intensive study of botanical illustration at the New York Botanical Garden. Today, her multi-media art merges conceptual and conservation art, her analytical bent emerging in response to a desperate and innate need to reconnect with the natural world. Exploring imminent environmental threats, she employs the most effective media to manifest her message.
"As an artist, I believe in art for art's sake. But as a member of humanity, I believe in art with purpose. As such, I use my work as a conduit for change and to foster awareness, particularly within the area of conservation. My art is my voice."
Meredith is a resident artist at
RPAC Art Center & Academy
in Ridgefield. She is an associate member of Artists for Conservation, is an exhibiting artist at Rowayton Arts Center and an active member of the
New Canaan Society for the Arts
and the
Ridgefield Guild of Artists
. Her work has been selected for numerous juried shows. She currently has a solo exhibition,
Nature. Emotion. Connection. Community.
at
The Geary Gallery
, Darien. See Meredith's
website
,
Facebook
page and
Instagram
.
Mick Theebs
is a writer and artist now based in Greenwich. He served as the inaugural Poet Laureate of Milford, 2016-2020. In addition to poetry, Mick writes both long and short-form fiction, satire, and the occasional scholarly article. His fiction spans a wide swath of genres, including urban fantasy, neo-noir, and romance, but he is most at home writing thrillers with a speculative twist.
In addition to writing, Mick also runs the art website
ALSO THAT
, which he updates whenever he feels like it. See Mick's website, and Twitter feed.
The Rowayton Art Center's
Abstraction 2021 (
April 18 - May 15) is an in-person exhibition as well as available
online
. The juror for the show was

Paul Efstathiou

, Director of Hollis Taggart Southport. CAFC members in the show include:
Janine Brown, Nancy Breakstone, Bevi Bullwinkel, Heidi Lewis Coleman, Joseph Dermody, Erin Dolan, Ronnie Gold, Joyce Grasso, Holly Hawthorn, Julie O'Connor, Judy Peknik, Juliette Tehrani,

and

Nancy C. Woodward
The Lockwood-Mathews Mansion Museum
is showing
Socially Distant Art: Creativity in Lockdown
,

a selection of work curat

ed by a
rtist and trustee Gail Ingis, who commented:

"The artists selected have a very interesting interpretation of social distancing, isolation, and the multi-faceted challenges they have experienced during the pandemic."
The exhibition runs through Aug. 29, 2021. Members in the show are:
Rebeca Fuchs, Barry Guthertz, Joanie Landau, Fruma Markowitz, Julie O'Connor,
and
Gregg Ziebell.

Image at right:
Alan Richards, On the Edge, (photographic image composite, 42x42).
Ursa Gallery,
situated on the second level of Bridgeport's historic Arcade, opened its new exhibit Sat. April 24 and will run through July 31, Saturdays only, 12-6pm. The show,
Here Comes the Sun
is
"an illuminating exhibition that celebrates a new chapter within our community, marking a time of revival and hope.
Drawing parallels between the uplifting transition from winter to warmth and the pandemic to a new normal,

Here Comes the Sun

serves not only as an opportunity to reflect but also to look forward, in anticipation of brighter times."

Of the 14 artists in the show 3 were CAFC members:

Miggs Burroughs, Sooo-z Mastropietro,

and

Marlene Siff.
The Greenwich Arts Council
has again organized
Art to the Avenue,
the annual celebration of artists with stores along and around Greenwich Avenue. This year there's no opening receptions at the store but there will be an exhibit at GAC's Bendheim Gallery and an outdoor concert
May 6
to celebrate the event. CAFC member artists in the exhibition include
Elizabeth Hasegawa Agresta, Heidi Lewis Coleman, Joseph Dermody, Carol Nipomnich Dixon, Joyce Grasso, Mike Harris, Sally Harris, Margaret Esme Simon, Lisa Small,
and
Kris Toohey
Suzanne Benton

,
a 1998 Artist-In-Residence Alumni
of the Weir Farm Art Alliance, is interviewed by Michelle Stewart in conversation reflecting on her experience while in residence, how the residency influenced her work and how she has responded to the current pandemic. View the interview here...
Nancy Breakstone
's
photograph
"Calm on The Sound" (digital, 17x 14") was chosen to be shown at the

Art League of Hilton Head Biennale National Juried Exhibition

2021, May 4 - 26. She also is showing her photographs in the

Small Works Exhibit

at the Jag Gallery in Key West, FL, April 23 - May 2, the

Art Essex Gallery Virtual Invitational Exhibition

, April 12 - May 15 and the Katonah Museum Artist's Association o

nline exhibit

Ricochet,

May 15-June 13.
Bevi Bullwinkel
has two paintings juried into the Rowayton Art Center's Abstraction 2021 Show. Shown here,

Remembering George Floyd,"

(Water-mixable oil, 20x16") and

"Epigram 6,"

(Water-mixable oil, 24x18")
Lauren Clayton
was o
ne of three artists featured on a panel held at Ferguson Library April 29, discussing their artistic journeys and the role artists of color play in today's culture. The discussion was
held
in the context of the film
Black is the Color that highlights key moments in the history of African-American visual art. See it here. Lauren is also participating in Parking Lot Pop-Ups, the first in a series of sales in Norwalk's Firing Circuits Parking Lot, starting this

Sun. May 2.

, featuring
unique fashions, bold jewelry, and local art. The Pop-Ups are

organized by

Jahmane

of Kultjah and, in addition to work by Kultjah and Lauren, features work by

local artists and artisans: Gardenmind Decor, Durty Jerk, Black Goat Milk Clothiers, and Dooley-O/GTV
Heidi Lewis Coleman
will be exhibiting her
mixed media piece, JUST AHEAD (
acrylic & pastel on watercolor paper,
22x22)
in the New Haven Paint & Clay Club's upcoming
1
20th Annual Juried Exhibition
at the Ely Center of Contemporary Art. This exciting exhibit was juried by Hollis Dunlop, award winning Connecticut artist. Show dates:

May 3 - 30

. The ECOCA is located at 52 Trumbull Street, New Haven.
Holly Danger
will have her multi-sensory
video projection installation, Let in, Let go featured at the Bruce Museum's reopening through May 30. Holly has brought experiential events and immersive installations to audiences around the world. She mixes natural and digital elements together, creating vibrantly colored, abstract, audiovisual art that is projected onto natural and architectural surroundings. The imagery for this installation was inspired by elements found in nature, and discovering a digital reinvention of their form, color, and symmetry. View preview here...
Eugenie Diserio
's
painting,
"
Mercy,"

(acrylic, glitter on canvas, 36 x 48") is in Ode To Color, Carriage Barn Arts Center's annual Spectrum exhibition on view in the gallery and online until May 15.
Juried by Lori Weitzner, renowned textile designer and author, the art brings to life her 10 distinct color worlds for living and design.
Carol Nipomnich Dixon
will be showing her painting "Floral Color Burst," (oil on canvas, 30x30), at the Greenwich Art Council's Art to the Avenue Exhibit in the Bendheim Gallery, 299 Greenwich Avenue, 2nd Floor,

May 6-31.

That work and three others will also be in the Art Council's virtual exhibit.
Herm Freeman,
a local veteran "post cubist" landscape artist, will be showing seven of his paintings at Framemakers in Fairfield, on view through mid-May.
Rebecca Fuchs
had two paintings accepted into the Socially Distanced Art exhibition at Lockwood-Mathews Mansion Museum:
Reflections V: Jennings
(2020, oil on canvas, 24x30, detail at right) and
Reflections VI: Penfield
(
2020, oil on wood panel, 24x24). Rebeca comments:

"
The disappearance of people in our cities and in Nature during Covid19 lockdowns prompted the creation of this series of "Reflections." It portrays the absence of people, and our longing to return to the outdoors; by painting outdoor scenes in which the people are not really there, being instead a reflection of the sky, or a transparency, I try to convey our need for Nature, blending into it, rather than taming it."
Jana Ireijo
is painting a vanishing mural at the Maui Ocean Center in Maalaea this month in honor of Earth Day and to spread awareness of the impacts climate change has on local coral reefs.
In partnership with the Maui Ocean Center Marine Institute, The Nature Conservancy commissioned Jana Ireijo to create artwork that highlights the slow decline and "perils faced by coral reefs."
Some of its colors will fade over the few weeks thereafter, similar to coral bleaching events and how reefs die when exposed to prolonged rising sea temperatures caused by climate change.
Fruma Markowitz
has two pieces in the Lockwood-Mathews'
Socially Distant Art: Creativity in Lockdown
exhibition. Both pieces are from her cyanotype series made during 2020 while under lockdown.
If You Walk Through A Storm (formerly "Forsythias at Sea") and
Parachuting to Safety (detail at right). Fruma comments that
making this series was a complete departure from her usual documentary photography practice and helped her cope with the pandemic by providing a new, completely experimental, and process-based way to work in photography.
Sooo-z Mastropietro
has two pieces in

UNRAVELED: Confronting The Fabric of Fiber Art

, curated by Indira Cesarine at The Untitled Space, 45 Lispenard St., New York through May 28. Sooo'z's works are

Boob Tube: Teetering on the Edge of Acceptance (2016, fabric tubes, acrylic tubing, television, quilter's thread,
18x18x46)
and
Lucky Chops
(2018, fabric tubes on painted board, wire, 44x48x6). Sooo-z also has three pieces in URSA Gallery's Here Comes The Sun, including

Flare

(detail at right).
Poet and painter
Shanna Melton
was selected to take part in the
CT Creative Futures Campaign
(see article below)
by giving a short lesson in creating a rhyming couplet ekphrastic poem, based on an elephant painting of hers. Young poets were then encouraged to enter their poem into the contest for April to win a master class with Shanna and a $100 gift card to Michael's Arts & Crafts. Click here to see Shanna's video.
Jennifer Moné-Hill
will be exhibiting at the Community Cooperative Nursery School's 58th Annual Art Show 2021, June 3-5. In this year's hybrid event, five of Jennifer's works will be for sale in the school's in-person fundraiser exhibit, and ten of Jennifer's piece's will be available for sale online.

"
Arrival No. 1,"

(Acrylic on Canvas, 24x36")
Congratulations to
N

ancy McTague-Stock
for being both
nominated and then later selected to be one of 10 artists chosen for Art New England's annual

"Emerging Artists of 2021

" (Mar/Apr issue).

"
It was interesting to me at my age, having been an artist for a number of decades to be assigned the title of 'emerging.' The publisher and editor were very clear that
emerging did not mean simply someone new to the game...more so, (and I guess in my case), someone who had been deserving of this assignation for some time and for one reason or another had been overlooked,"

notes Nancy.
Dale Najarian

's
has several works included in
the new Elisa Contemporary Art exhibit, A Glimpse Ahead, which will open

May 14

as a Pop-Up exhibit in the George Billis Gallery at 166 Main Street, Westport, running through June 13. At right, Hidden Bijou Sun (oil on canvas, 20x20). Other featured artists are from Hawaii, San Francisco and Texas. Meet Dale at the Opening Reception on

May 14

from 4pm to 7pm.
Chris Perry
is pleased t

o be participating in two upcoming shows.
Two pieces:
"99 Ripples: cloudy,"
(pictured here) and
"

203 Ripples: hot(cold)
"

are featured in the
Bound and Unbound VI: Altered Book Exhibition

,
University Libraries
University of South Dakota,
August 23, 2021 to January 3, 2022. Two other works, "
204 Ripples: hot(spring)," and "
206 Ripples: hydro(meter)," are being shown at
Art of the Book 2021 Show,
Rochester Public Library,
July 9 to Oct. 31.
Barbara Ringer
is pleased to have her work,
"Avenue C,"
included in Fun House: Art of the Surreal, Fantastic and Bizarre National Juried Art Exhibition, May 8 – June 19, at the Barrett Art Center in Poughkeepsie, NY.
The juror, Silvia Cubiñá, Executive Director and Chief Curator, Bass Museum of Art, Miami, selected only 63 works from over 1600 submissions. Barrett Art Center will be hosting an opening reception on

Saturday, May 8

from 3-6pm, and free timed tickets are available through the website.
Kelly Rossetti
has been signed to the Sorelle Gallery in Westport. Kelly is a contemporary abstract and figurative painter. While primarily self-taught, she studied classical oil painting at a small Atelier in New York City. Kelly works in both acrylic and oil paint, and often utilizes an array of mixed media to achieve her broad strokes, depth, texture.

"My abstract work nearly always begins with play - loose mark making that injects a sense of energy into the painting. A career in the fashion industry also influenced my aesthetic approach,"

notes Kelly.
Alissa Siegal
is one of 73 Artist in Residence Alumni featured in the online exhibition,
Reflecting on the Pandemic,
hosted by the Weir Farm Art Alliance. A video series of artist interviews can be viewed
here.
The exhibit highlights the wide variety of work produced by the talented artists who have participated in the program since it began in 1998, focusing on works created in response to the Coronavirus pandemic.
Marlene Siff
i
s pleased to announce that Robbin Zella, Director of the Housatonic Museum of Art, has placed five of her paintings,

"Follow your Dream," "Consensus," "Tempus Fugit," "Aspera ad Astra"

and

"Survival"

in the Bedford Event Center on permanent exhibition at the Museum. Cynthia Roznoy, Curator of the Mattatuck Museum, has placed

"History and Geography,"

in the permanent collection in the new wing. Also, a New York collector purchased four more paintings, which have just been installed in his New York office and home in New Jersey.

Marlene is also in
URSA Gallery
's
Here Comes The Sun
, showing work from her latest series

"7 Finely Tuned."
Liz Squillace
is one of the artists featured in the
CT Creative Futures Campaign
, and was interviewed by the program about how her career as an artist took place. Her full interview will be one of those broadcast Friday mornings on Fox61 (schedule not available). However you can see a trailer for her interview
here.
Also see the trailer for the whole series, that includes a snippet of Liz's interview,
here.
Emily Teall
is honored and excited to have been selected as a resident artist at the Norwalk Art Space.
The Norwalk Art Space
was founded by Alexandra Davern Korry, a lawyer and human rights advocate, who designed it to become a hub for music, art, and education. Emily's sculpture, "Tulip Bulb," is also included in the Norwalk Art Space's sculpture garden, curated by Yvonne Shortt. The Norwalk Art Space will open to the public in June. In addition to art shows and musical performances, keep an eye out for art classes and public programming at the Norwalk Art Space!
Trish Wend
's
"Ode to Joy"

(16x20" oil on linen) pictured here was accepted into the NOAPS Best of America Small Works National Juried Exhibition. The show is hosted by the Principle Gallery in Charleston, SC from May 7 to June 1. Also Trish's
"Mostly Metal"

(12x16" oil on panel) won the Outstanding Still Life Award in American Women Artists' 2021 Spring Online Juried Show.
NEW STATEWIDE PROJECT TO ENCOURAGE ARTS CAREERS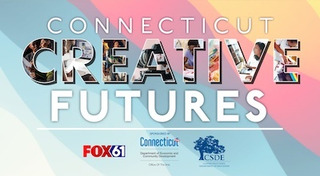 Connecticut Creative Futures is a new collaborative program between FOX61, Connecticut Office of The Arts and the Connecticut Department of Education, designed to highlight Connecticut artists, and the prospects for careers in the arts. It also offers some hands-on arts projects for students and their families. The goal is to show how to develop creative thinking skills and promote careers in all facets of the arts industry, which continues to have a major impact on the Connecticut economy. Said

Elizabeth Shapiro

, Director of Arts, Preservation and Museums, for the State of Connecticut,

"Connecticut is chock full of incredible artistic talent across a variety of disciplines. We want to spread the word that there are myriad opportunities for creative careers in Connecticut."

Connecticut Creative Futures will also include profiles of local artists and a live arts-themed interview series that will air every

Friday at 10:00am

on the FOX61 Morning News. Watch for CAFC members Liz Squillace and Shanna Melton (see above).
STUDY: ROLE OF ARTS & CULTURE IN FOSTERING SOCIAL COHESION AND COMMUNITY WELLBEING
Social cohesion is a basic requirement of healthy communities, especially now since the COVID-19 pandemic has inflicted trauma and exposed social, racial, and health inequities across the country. A new report published this month, WE-Making: How Arts & Culture Unite People to Work Toward Community Well-Being, shows that place-based arts and cultural practices, or creative placemaking, can help grow social cohesion to encourage community well-being. Developed with support from the National Endowment for the Arts, The Kresge Foundation, and other funders, WE-Making breaks new ground by synthesizing research from different areas of study along with on-the-ground experiences of artists and researchers, practitioners in community development, and advocates for health equity.
Read FULL Article here...
NEW ARTS DIVERSITY INITIATIVE LINKS LAUNCHED THIS MONTH
The Posse Foundation has announced the launch of a new program to connect students who are focused on arts and culture from cities across the country to top arts-oriented colleges and universities. Conceived in partnership with the

Miranda Family Fund

, the Posse Arts program seeks to create a diverse pipeline of leaders in the creative arts.

Former
First Lady Michelle Obama

announced the initiative on April 15 at a panel discussion about the experience of first-generation college students hosted by Lin-Manuel Miranda. In a pre-recorded message she said, "I'm proud to announce that Posse is teaming up with Lin-Manuel and the Miranda Family [Fund] to help provide that support system to even more students— and in an inspiring new way. It's called the Arts Posse initiative, and it means that starting next year at CalArts, talented dancers and graphic artists and actors, musicians and more, will head off on their college journeys together, supporting each other every step of the way."
Over the next five years, Posse plans to expand the program to include five top-tier arts colleges. At capacity, the program will support 250 Arts Posse Scholars annually, providing more than $10 million in full-tuition scholarships each year.
Read FULL Article here...
THIS WOMAN HAS BEEN ANONYMOUSLY FUNDING FEMALE ARTISTS FOR 22 YEARS
For the last 22 years, an unknown contributor has been donating $25,000 grants to hundreds of female artists as part of a program called Anonymous Was a Woman. The project was developed to give artists over the age of 40 financial aid in order help them realize their creative careers. A total of 220 deserving artists have benefited so far, with grants totaling a staggering $5.5 million. Motivated to set an example for other women to have a voice, photographer

Susan Unterberg has recently revealed herself as the mysterious donor

. The name Anonymous Was a Woman comes from a line in Virginia Woolf's novel A Room of One's Own and refers to historical female artists who had to keep their identities secret in order to work and be respected. And although women's rights have come a long way, there's still some gender equality issues in the art world. For example, female artists make up just 3-5% of major permanent museum collections in the U.S. & Europe. Explaining her decision to come forward, Unterberg says, "It's a great time for women to speak up. I feel I can be a better advocate having my own voice." She adds, "Women have been anonymous for far too long."
Read full Article here...
What inspires you to take off and become airborne? When, where, why? Artwork inspired by each artist's unique interpretation of flight. #TakeFlightArt. lnside Small Exhibits invites artists of all mediums to submit artwork no larger than 10" inches in any direction for consideration. Small Works Only. The Take Flight Virtual Art Exhibit will be online from May 24 - July 27, 2021. Artists may submit a maximum of one (1) entry for consideration. All mediums welcome. Artwork must not exceed 10" inches x 10" inches (including frame, mat or base). Submission Deadline: Monday, May 10, 2021.
Submission Details...
ART ALLIANCE OF STRATFORD
The Art Alliance of Stratford invites community artists from the region to share their interpretation of the theme "Inspired by…" Have you ever felt emotion when seeing a picture, hearing a song, watching dancers' movements, watching a film, reading a poem, book or even the news? Has it called you to action? Maybe you were called to activism. Maybe to create a piece of art or to write a story. For this show, community visual and performing artists are asked to submit entries evoked by something that elicited an emotion. Along with the entry, please share who, what, where or why you were driven to create this piece; in other words, what you were inspired by. Visual art, music, written/spoken word, dance art forms encouraged.

Artists may submit 1-2 pieces. The dates of the show are May 23 - June 12.
Submissions Due: May 13, 2021
.
For more information.
ANNUAL VIVIAN & STANLEY REED MARINE SHOW
A
s part of the

Stamford Art Association's 50th year, 50 artists will be selected to participate in this virtual exhibit, the 21st annual Vivian & Stanley Reed Marine Show. This is a multimedia juried exhibit with cash prizes. Artists are asked to submit 1-5 pieces of artwork on the theme of any subject depicting the sea, the seashore, boats and activity on or near the water. The exhibit is named after two founding members of SAA and avid sailors. Winning artists will be asked to be part of a video. The juror is Mike Bagley, Director of Marine Operations for SoundWaters, and an artist. Categories include Painting, Mixed Media, Sculpture, Photography, Drawing, and Printmaking. Giclees will not be accepted.

Submission

Deadline: May 16, 2021.

Entry is through Entrythingy.
JUNETEENTH: THE ART OF INDEPENDENCE
Featuring art that honors independence, resiliency and Black lives and celebrates our nation's second Independence Day, Galleries at Work-Space, Manchester, CT, invites arts and cultural organizations to contribute to a dynamic exhibit and statewide event.

J
u
neteenth: The Art of
Independence

, June 7 – July 30, 2021.
Submissions due May 17, 2021
.
Learn more...
The NBMAA is pleased to announce its 51st Annual Juried Exhibition, Nor'Easter, on view from August 12 - 29. As a part of a long-established Museum tradition, NBMAA members are invited to submit their recent artwork for a chance to see it on view in the galleries. The Annual Juried Members Exhibition offers an opportunity to expose contemporary visual arts to a wide audience. This prominent showcase in the Northeast region highlights the exceptional work of emerging and established artists in all media. First prize: $1,000; Second prize: $500; Third prize: $250.
For more information.
LOCKWOOD-MATHEWS MANSION MUSEUM
ENVISIONING SPACE: ARCHITECTURE THROUGH THE AGES
The Lockwood-Mathews Mansion Museum and The Stamford Art Association are issuing a Call for Artists
for
a juried exhibition titled,

Envisioning Space: Architecture Through the Ages.

The deadline to submit is June 26, 2021 by midnight.

T

his juried exhibition will be on view at the Lockwood-Mathews Mansion Museumin Norwalk, Oct. 20 through Dec. 19, 2021 with an artist reception on Oct. 28, 5:30-7:30 p.m.
Submit work here...
ART BUSINESS ACCELERATOR GRANT APPLICATIONS NOW OPEN
Artwork Archive's Art Business Accelerator Grant provides visual artists with unrestricted funds, resources, and a curriculum to help establish, grow and manage their art careers.

The grant is designed to arm artists with the necessary business skills to succeed as artists and entrepreneurs—and to make a living through their artwork.
Open to both emerging and established artists, the Art Business Accelerator grants resources to invest in your art business as well as six weeks of career-building modules that increase business skills, economic proficiency, marketing knowledge and more. There are ten unrestricted cash grants of $2,500 each.

Applications are now being accepted through May 14.
Learn more here..
77ART OPEN CALL FOR SUMMER 2021 RESIDENCY
77ART sees a bright future for Rutland, VT and believes that art will take us there. 77ART hosts an artist residency program which will welcome 25 Day Residencies providing Studio workspaces; Fully furnished bedroom with shared kitchen, living room, and bath; Some meals, Groceries and sunderies; Membership and access at THE MINT, a local maker-space equipped with full wood shop, metal shop, and and digital fabrication lab. Limited financial aid in the form of partial tuition waivers are available to artists in need of assistance.

Prospective 2021 dates are July 1-25; August 1-25; and September 1-25.

.Apply here...
ANDY WARHOL FOUNDATION ARTS WRITERS GRANT
The Andy Warhol Foundation Arts Writers Grant supports emerging and established writers who write about contemporary visual art. Ranging from $15,000 to $50,000 in three categories—articles, books, and short-form writing—the grants support projects addressing both general and specialized art audiences, from short reviews for magazines and newspapers to in-depth scholarly studies. The Foundation also supports art writing that engages criticism through interdisciplinary methods and experiments with literary styles.
A

pplication Grant Guidelines
JAZZ ROAD CREATIVE RESIDENCIES GRANTS AVAILABLE
Jazz Road Creative Residencies is one component of the larger program, Jazz Road, a 4-year national jazz initiative directed by South Arts, funded by the Doris Duke Charitable Foundation with additional support from The Andrew W. Mellon Foundation. Jazz Road features a coordinated partnership with the other five Regional Arts Organizations. Grants of up to $15,000 supporting multi-town tours by emerging and established jazz artists are available, as well as grants of up to $40,000 to support residencies for jazz artists to explore their work through artistic creation or connecting with audiences.
Learn more...
ROME ART PROGRAM NOW ACCEPTING APPLICATIONS
Established in 2009, Rome Art Program is a U.S.-based not-for-profit educational program, offering compelling and unique series of exciting, challenging, and intensive courses which encourage our students to paint directly from perception and observation in Rome, Italy, where the street is our studio. Guided by an internationally acclaimed faculty of artists and art historians, our students become part of the fabric of the city, as they live, work, and study in the historic streets and gardens of the Eternal City. A rich and varied activity schedule complements the main program, including a field trip to Pompeii. The Rome Art Program welcomes students pursuing their B.F.A. and M.F.A. degrees in Studio Art, Sculpture, Photography, Filmmaking, Architecture, and Art History as well as artists looking to renew their studio practice. A limited number of $500 work study scholarships are available.

Enrollment begins April 7. Program dates: July 3-29.
Learn more here...
Recommended Sources for Calls and for Opportunities
You know that you need to understand more about your legal rights. You want to protect your work and avoid problems. Where to start? Would you like to learn how to protect your work? Seeking guidance as to how to use work that is out there, or how to protect your work from distortion or mutilation? If so, this is the course for you. This NYFA webinar will give visual artists an introduction to these basic ARTISTS' RIGHTS in plain English -- no legalese.
S

ign up here...
AN ARTIST'S CRASH COURSE IN GOVERNMENT
"How do you define government?" "Why aren't things more accessible?" "Where does the government go from here?" These questions form the premise of an ambitious new project by Paul Pescador, titled PSA, now on view at the Institute of Contemporary Art, Los Angeles (ICA LA). In a series of 12 Public Service Announcement-style videos, Pescador layers their own personal experience together with interview clips gathered from various government workers and experts, screen recordings, and footage of public spaces and institutions around Los Angeles to present a complex view of the US government.
Read more...
MAKE YOUR INTERDISCIPLINARY PRACTICE WORK FOR YOU




Are you an artist who also goes by different titles like educator, curator, librarian, community organizer, or programmer, depending on which professional circles you interact with? As definitions for artistic practices become more fluid, and the need to hire artists outside of their studio practice becomes more common, many artists find their interdisciplinary practices are a unique asset for building sustainable careers.

This Creative Capital workshop will include participatory components including reflection writing and group discussion.

Sheetal Prajapati is an artist who has many years of experience balancing her artistic practice and skills with her professional career, and even strategically positioning

her interdisciplinary range to propel her into new roles

. Register here...

The Bruce Museum in Greenwich, seeks a Curator of Art to collaborate in creating a bold vision for The New Bruce. A world-class community-based art and science institution, the Bruce has embarked on a transformative expansion and renovation, adding leading-edge galleries and inventive public spaces to educate, entertain, challenge, and delight. Currently under construction, the expanded Museum will have, for the first time in its nearly 110-year history, five new galleries dedicated to the display of its growing permanent art collection.
The Curator of Art will participate in creating a bold new vision and brand for The New Bruce. The Curator has the chance to create noted exhibitions of major artists and privately-held regional treasures, and to form a new permanent collection for The New Bruce. More than that—this is a unique opportunity to collaborate with curators, designers, and program staff, as well as leadership and the Board, in creating new paradigms for how art and science can be put together in thoughtful, imaginative, and surprising ways.
Full Job description

here...
VISITOR ENGAGEMENT PROGRAM MANAGER
New Canaan-based Grace Farms Foundation's interdisciplinary humanitarian mission is to pursue peace through five initiatives — nature, arts, justice, community, and faith The Visitor Engagement Program Manager (VEPM) will be responsible for designing, building, implementing, managing, evaluating, and expanding Grace Farm Foundation's portfolio of daily visitor engagement programs that will take place on site throughout each day as the means to interpret, share, and invite the visiting public into the Work of Grace Farms Foundation. Responsibilities also include generating new and innovative site-specific family-friendly programming that effectively communicates in 10-20 minutes the essence of Grace Farms Foundation and the wide spectrum of Work that it does to Advance Good in the World.
Learn more here...
DEPUTY DIRECTOR FOR EXHIBITIONS AND PROGRAMS ARTSPACE
Founded in 1987 by artists, Artspace New Haven centers on community-building and education while providing a platform to present the work of visual artists in the city of New Haven. Artspace's exhibition and commissioning programs encourage experimentation and civic discourse while fostering an appreciation for the vital role artists play in improving our community. The Deputy Director for Exhibitions and Programs will work closely with the Executive Director and other members of the staff to advance Artspace's mission, to execute and develop support for its exhibitions and programs, and to meet the goals of its strategic plan. Full Job Description.
The Westport Country Playhouse is looking to hire a full-time Content Manager & Marketing Assistant to create and manage multi-channel content that consistently engages theater audiences and provides new ways to connect with our community.

The global pandemic has expanded theater online and we are seeking an individual

who can help us manage content, communication, and messaging. The Playhouse

seeks to form deeper relationships with the current audiences and broaden the reach

into surrounding and underserved communities. In addition, the marketing department

at the Playhouse provides support for

renewed education department as well as fundraising goals and donor acquisition
.
FULL Job description here...
The

Stamford Jewish Community Center (JCC) is a cultural, educational and recreational center, offering exceptional programs, classes and special events designed to enrich the mind, body and spirit. JCC is looking for a charismatic and energetic Art Instructor to spend the summer making a positive impact on campers and the community, while working in a fun, dynamic environment. This person will help lead the JCC summer art program and will have responsibilities for planning and implementing art curriculum during the summer.
FULL Job description here...
JOBS, FOR SALE, FOR RENT, VOLUNTEERS, AND CALLS FOR ARTISTS - CONSULT AND POST IN OUR
CLASSIFIEDS
SPREAD THE WORD!
Please help us expand the reach of our weekly E-Buzz newsletter with its selection of events taking place that week in our region
.
See the

most recent issue

. Share with a friend. Subscribe here.
The Cultural Alliance of Fairfield County is a 501(c)(3) cultural nonprofit membership organization. We are grateful to our members and our donors whose support enables us to do our work.

Donations

are always very welcome and may be made
here
. In particular, we are grateful for support from: