Subject: This Month in Mongolian Studies - November 2019
| | |
| --- | --- |
| Having trouble viewing this email? Click here to open in your browser. | |
This Month in Mongolian Studies

is a monthly listing of selected academic activities, resources and other material related to Mongolia. This list is based on information the ACMS has received and is presented as a service to its members. If you would like to submit information to be included in next month's issue please contact the ACMS at

info@mongoliacenter.org

This publication is supported in part by memberships. Please consider becoming a member of the ACMS, or renewing your membership by visiting our website at

mongoliacenter.org/join

. Thank you!
REFLECTIONS BY OUTGOING ACMS EXECUTIVE DIRECTOR JONATHAN ADDLETON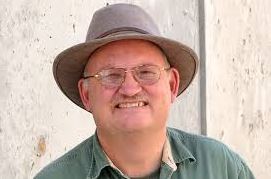 As mentioned in the ACMS Executive Board highlights below, I am relinquishing my role as the US-based Executive Director for the American Institute of Mongolian Studies.
I will certainly remain very much engaged with the work of ACMS during the upcoming transiton process. However, other responsibilities make it difficult for me to continue in the part-time Executive Director role for the coming fiscal year.
Since formally joining ACMS in late summer 2017, I have appreciated the opportunity to stay engaged in Mongolia while also experiencing the challenges inherent in small NGOs with important responsibilities.
I have been able to visit Mongolia twice during the past two years. Both trips left me more impressed than ever with the skill, dedication and contributions of our ACMS office in Ulaanbaatar.
They play an essential role in the activities highlighted below including the ACMS Library, Summer Field School, Field Research Fellowships, Cultural Heritage Preservation and Lecture Series; they also provide a warm welcome to visitors interested in Mongolia while also maintaining positive relationships with the individuals and institutions key to undertaking effective research in Mongolia and maintaining, strengthening and expanding strong academic ties between the United States and Mongolia.
Looking back, I am proud of what ACMS has accomplished during the past two years; I am also confident that the next two years will be even better, both for ACMS and for the people-to-people ties and academic relationships that ACMS promotes between the two countries.
Jonathan Addleton
Ambassador, Retired
Adjunct Professor
Department of Int'l and Global Affairs
Mercer University
Macon, GA

**********************************************


HIGHLIGHTS OF FALL 2019 ACMS EXECUTIVE BOARD MEETING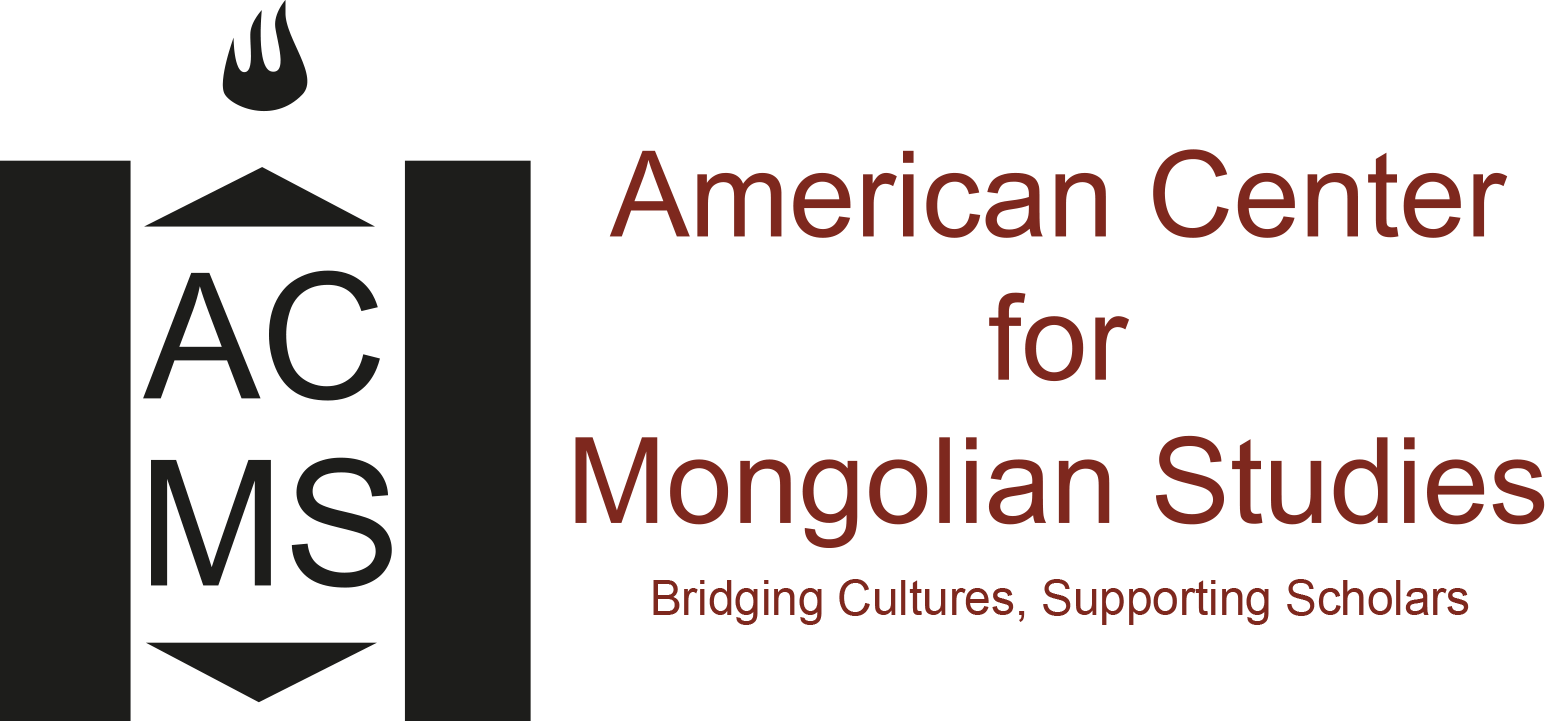 Marissa Smith and Bryant Harden were welcomed "on board" as new At-Large ACMS Board Members for a three-year term, confirming the results of the ballot sent to all ACMS members earlier this year. Both Marissa and Bryant have extensive experience in Mongolia, Marissa through her academic research (including as a former ACMS Field Research Fellow) and Bryant as a former Peace Corps Volunteer in Hovd. Both also share a strong commitment to ACMS and its role in strengthening ties, especially academic ties, between the United States and Mongolia.
Funding is in hand for several ACMS programs planned for 2020 including the pioneering Luce/ACMS Field School; the ECA/ACMS Field Research Fellowships; and two new Ambassador's Fund for Cultural Preservation grants provided by the US Embassy in Ulaanbaatar. Information on these and other programs will be available as they are developed -- but please note that all these activities will figure prominently on the ACMS calendar for 2020.
The inaugural Luce/ACMS Summer Field School program was a notable success, involving more than 60 participants and hopefully paving the way for an even more successful season in summer 2020. Please spread the word about this pioneering initiative to interested students and faculty alike, providing as it does both a great introduction to Mongolia and an innovative approach for research on a particular topic. No less than twelve proposals were received for potential Field Schools in summer 2020, suggesting strong continued interest in Mongolia across a wide range of disciplines.
As noted, continued ECA funding means that ACMS expects to provide at least eight ACMS Field Research Fellowships in 2020, offering important research opportunities for faculty and PhD/MA (and on occasion BA/BS) students to study in Mongolia.
One item of particular interest was a discussion on potentially "shifting" the ACMS Annual General Meeting (AGM) from its traditional venue on the margins of the annual Association of Asian Studies (AAS) conference to the annual Mongolian Studies Conference in Washington, DC which continues to gain momentum. The next annual AAS meeting will take place in Boston in late March 2020; the 14th Annual Mongolian Studies Conference will likely take place in Washington, DC in February 2020, with support from the Embassy of Mongolia as well as the Smithsonian and Library of Congress.
ACMS members -- both individuals and institutions -- are urged to renew their memberships for 2020. Such renewals are vital for the corporate governance of ACMS; they also send a strongly positive signal to current and prospective donors. For more information on renewals, see the link here.
One of the distinctive aspects of ACMS (and the broader Centers for American Overseas Research Centers network of which ACMS is a part) is the maintenance of a physical presence in the country concerned. ACMS Country Director Tricia Turbold and the rest of the ACMS staff play a vital role in maintaining the ACMS office and library in Ulaanbaatar and in regularly scheduling lectures, language training and other special programs.
As many ACMS members will have seen, most lectures and other events are now posted on the ACMS YouTube channel, attracting dozens and in some cases hundreds of views. The quality of such videos is now also vastly improved, the result of both new equipment and new ACMS staff in UB that is dedicated to excellence. For ACMS members visiting Mongolia, the ACMS office should be viewed as a warm and welcoming place, providing advice, guidance and support for those interested in Mongolia and conducting research there.
As always, input from the ACMS membership on both this newsletter and various ACMS programs is very much welcome!
**********************************************
ACMS ANNOUNCES LUCE/ACMS RUBIN MUSEUM INTERN FOR 2019/2020
ACMS is pleased to introduce Ms. Myagmartseren Purev, the intern selected for the 2019/2020 Rubin Internship Program at the Rubin Museum of Art in New York City. Ms. Myagmartseren is Assistant Curator at the Vinjil Institute. Her four-month internship at the Rubin will begin in late October/early November 2019.
Ms. Myagmartseren will serve in the Rubin Museum's Curatorial Department, reporting to the Curator of Himalayan Art. She will assist the Curator in undertaking routine responsibilities while also participating in planning and research focused on implementing Rubin Museum exhibits and maintaining the Rubin art collection. Her internship will coincide with planning for a cross-cultural exhibit that explores Ideas of the Afterlife in both the Christian and Buddhist traditions, scheduled to open in Fall 2020.
Among other things, Ms. Myagmartseren will learn how religious images from these two traditions remain relevant. She will also gain first-hand experience in studying and selecting objects for such exhibits, analyzing them from both a historical and thematic perspective. In addition, she will have opportunities to blog and post on social media different aspects of her internship experience.
**********************************************
ACMS HOSTS SURVIVAL MONGOLIAN CLASSES IN ULAANBAATAR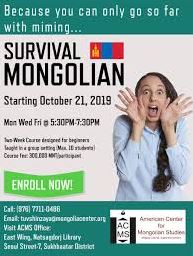 Once again the ACMS Office in Ulaanbaatar hosted a two-week "Survival Mongolian" class for expatriates living in Mongolia, with classes scheduled on Mondays, Wednesdays and Fridays during the weeks of October 21 and October 28. These classes are becoming a regular part of the ACMS program in Mongolia throughout the year.
Please send a query to this e-mail address if you are interested in in this program: tuvshinzaya@mongoliacenter.org; feel free to also visit the ACMS Office at the Natsagdorj Library on Seoul Street in Ulaanbaatar or call the following number: (976) 7711-0486.

**********************************************

ACMS YOUTUBE CHANNEL FEATURES SERIES OF INTERVIEWS WITH ACMS FIELD RESEARCH FELLOWS
Several more video interviews involving Summer 2019 ACMS Field Research Fellows have been posted on the ACMS YouTube Channel, providing useful insights into both the research topic and the research experience in Mongolia. The list now includes:

*********************************************
MEDIA REFERENCES
Check out this entertaining and informative video posted by ACMS institutional member Royal Roads University on the ACMS Summer Field School on Renewable Energy, available here.
Also check out the new Council on American Overseas Research Centers (CAORC) video here; ACMS is a proud member of this network which includes 27 other centers in Asia, Africa, Europe and Latin America.

ACMS SPEAKER SERIES

DR. JULIA CLARK: "SALVAGING MONGOLIA'S STOLEN HISTORY: LOOTING, CONSERVATION, AND 800-YEAR-OLD BUTTER"
5:30 PM ON TUESDAY, OCTOBER 1 AT THE AMERICAN CORNER, ULAANBAATAR PUBLIC LIBRARY


During 2019 summer field season, a team of international researchers led by archaeologists Dr. Julia Clark and Dr. Bayarsaikhan Jamsranjav worked tirelessly in challenging conditions to salvage what they could from a looted cemetery in northern Mongolia.
A series of ridges containing over 70 Mongol era (roughly 600-800 years ago) burials had been targeted by looters in recent years, and the archaeologists worked hard to save what they could from the destruction these criminals left behind. While the most impressive finds are likely long gone into the expansive illegal Asian art market, the team found some amazing finds, including golden objects, intricate delicate silks, and perhaps most interestingly, some ceramic vessels filled with several hundred year old butter and urum (clotted cream). This new assemblage is composed of an incredible array of never before seen artifacts that preserved in the permafrost, and represents a rare glimpse into ancient Mongolian life unrivaled by previous discoveries..
During this presentation, Dr. Clark discussed the significance of these finds, while also discussing the steps being taken to mitigate the impacts of cultural heritage threats in Mongolia.
Dr. Julia Clark is the founder and director of NOMAD Science Mongolia where she organizes field based education experiences in northern Mongolia, and Adjunct Instructor at Flinders University. Dr. Clark is an anthropological archaeologist and cultural heritage expert specializing in the investigation of human-environment and human-animal relationships, risk management strategies in marginal environments, and socio-political organization.
PROFESSOR BATSAIKHAN OOKHNOI: "RETHINKING MONGOLIAN HISTORY: NATIONAL REVOLUTION OF 1911 AND THE LAST EMPEROR OF MONGOLIA, 8TH BOGDO JEBTSUNDAMBA KHUTUKHTU"
5:30 PM ON TUESDAY, OCTOBER 15 AT THE AMERICAN CORNER, ULAANBAATAR PUBLIC LIBRARY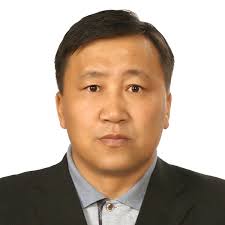 In this lecture, Professor Batsaikhan Ookhnoi reconsidered the role of the 8th Jebtsundamba -- in general terms the Mongolian equivalent of Tibet's Dalai Lama at the time -- in engineering the independence of Mongolia from the Qing Empire in 1911.
The facts and interpretation of this event is particularly important because, as noted in the speaker's description of his lecture, it is "the most special event that has occurred in the lives of Mongols during the past three hundred years".
Given the heavily propagandized view of Mongolian history that was developed during the Stalinist period and the longer socialist era in Mongolia -- including the demeaning and disparaging characterization of the 8th Jebtsundamba and Buddhism more generally -- such reconsiderations of Mongolian history are vital, even as Mongolia asserts its values and history as it moves to shape its own future.
In his remarks, Professor Batsaikhan made the case for the insightful, strategically intelligent and politically effective role of the 8th Jebtsundamba in precipitating and shaping Mongolian independence, including successful management of Mongolia's relations with Russia and China as well as the powerful Mongolian nobles and clans
Professor Batsaikhan Ookhnoi is a Historian, Professor, Research Associate and Author associated with the Institute of International Studies and the Mongolian Academy of Sciences.
NO INFORMATION ON POSITION OPENINGS RECEIVED THIS MONTH

2020-2021 FULBRIGHT VISITING SCHOLAR PROGRAM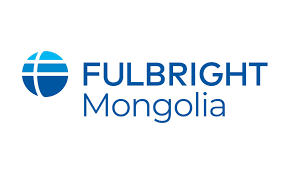 The Public Affairs Section of the US Embassy in Ulaanbaatar is now accepting applications for the 2020-2021 Fulbright Visiting Scholar Program for Mongolia. The application deadline is 8:30 AM on Friday, November 4.
The Fulbright Visiting Scholar Program offer one six to nine month research grant and is intended for highly motivated scholars with an advanced degree (PhD) or professional equivalency from higher education institutions, think tanks, and relevant government and non-governmental organizations proposing to conduct post-doctoral research at US institutions. Proposals can cover a wide range of fields, with a priority in STEM education and university administration.
Applicants must be (1) a Mongolian citizen, currently living in Mongolia; (2) hold a doctoral degree or equivalent professional training; (3) have a minimum of 10 years full time work experience; and (4) hold excellent English language skills.
Preference will be given to candidates who have not had intensive recent experience in the US including (1) more than six months in the US within the last five years; (2) attended a US graduate school for one academic year or more during the last seven years. Individuals with permanent US residency status are not eligible to apply.
Grant benefits for a Fulbright Visiting Scholar include all related expenses, a stipend, and the cost of the grantee's two-way international travel. The program allows dependents to accompany the grantee on a J-2 Visa.
For more information on the grant application, see the link here. No phone queries, please. Interested applicants may want to look at the Embassy Facebook page or send a note to the following e-mail address: exchange@usembassy.mn
FRIENDS OF MONGOLIA SEEKING SUPPORT FOR SCHOLARSHIP FUND
Looking to engage even more with the Mongolian community? Become a Friend of Mongolia!
Friends of Mongolia is a 503(c) non-profit that raises funds for university scholarships and micro community grants! In operation since 1999, FOM has helped 60 students to gain a university degree with full tuition support for their entire four years of school. Friends of Mongolia has also given microgrants since 2006 to nearly 20 different organizations across 12 aimags in Mongolia, supporting projects for global health, education, Special Olympics activities and more!
We are always looking for new members. Can't be a member? Donate today for our scholarship fund to help support 14 students this 2019-2020 school year! Even 5 dollars brings us that much closer to our goal, and a life-changing experience for our students.
TRAILER POSTED FOR NEW FEATURE-LENGTH DOCUMENTARY TITLED ECHOES OF THE EMPIRE: BEYOND GENGHIS KHAN
The trailer for the forthcoming feature-length documentary on Mongolia titled Echoes of the Empire: Beyond Genghis Khan has just been released, with a premiere for the film anticipated in Spring 2020.
The film is directed by Cornell University physics professor, novelist and filmmaker Robert Lieberman whose previous productions include award-winning films on Myanmar and Cambodia. A number of "friends of ACMS" are featured in the film including Simon Wickham-Smith.
The trailer for "Echoes of Empire: Beyond Genghis Khan" is available here.
A link to one of Robert Lieberman's previous award-winning documentaries -- Angkor Awakens: A Portrait of Cambodia -- is available here.
*********************************************
FEATURE LENGTH DOCUMENTARIES ON MONGOLIA FROM 1975 AVAILABLE ON LINE
In 1975 British Film Director Brian Moser worked with Owen Lattimore and the Mongolian Government to produce two 50-minute documentaries, one covering rural Mongolia and the other focused on urban Mongolia.
Not all ACMS members may be aware of these two films, issued and marketed by Granada under the broad title Disappearing World, with the first subtitled "Mongolia: On the Edge of the Gobi" and the second subtitled "Mongolia: The City on the Steppe".
Both can be seen for free on the internet and are available here and here.
*********************************************
"MONGOLIA FOCUS" BLOG SITE RECEIVES CENTRAL EURASIAN STUDIES SOCIETY (CESS) PUBLIC OUTREACH AWARD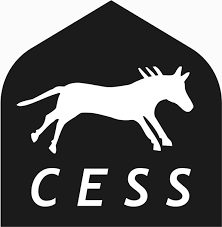 Congratulations to Julian Dierkes and ACMS Institutional Member University of British Columbia for receiving the Central Eurasian Studies Society (CESS) Public Outreach Award for their blog "Mongolia Focus", a useful and informative way to follow what is happening in Mongolia.
Further details on the award as well as a link to the blog are available here.
*********************************************
OTHER MONGOLIA-RELATED AWARDS
Professor Bettine Birge of the University of Southern California's Department of East Asian Languages and Cultures has been awarded the J. Franklin James Award for outstanding achievement in editing of historical primary sources for her book Marriage and the Law in the Age of Kubilai Khan: Cases from the Yuan Dianhang (Harvard University Press, 2017).
Hedwig Waters (Hedy Dohm) has been awarded the Hilgers Memorial Prize for her article "The Financialization of Help: Moneylenders as Economic Translators in the Debt-Based Economy," published in the special issue of Central Asian Survey focused on "Capitalism in Mongolia" (Volume 37, 2018).
*********************************************
UNIVERSITY OF GRONINGEN (NETHERLANDS) HOSTS NOVEMBER CONFERENCE ON CONTEMPORARY MONGOLIA: INTERNATIONAL RELATIONS, MINING AND THE ENVIRONMENT (NOVEMBER 29, 2019)
The Center for East Asian Studies Groningen (CEASG) along with the National Council for Mongolian Studies is sponsoring a conference on Mongolia, scheduled for November 29, 2019. The event will be held at the University of Groningen in the Netherlands.

Titled Contemporary Mongolia: International Relations, Mining and the Environment, the schedule includes three panels:

(1) International Relations/International Cooperation, covering topics such as the Belt and Road Initiative, Third Neighbor Policy, foreign policy and foreign assistance;

(2) Mining and Natural Resources, covering foreign direct investment, energy security, taxation agreements and the political economy of natural resource development;

(3) Environment and Climate, covering desertification, climate change and the impact of mining on the environment, among other topics.

Additional details on this upcoming conference are available here.

For further information, contact Professor Tjalling Halbertsma (CEASG) at the following e-mail address: t.h.f.halbertsma@rug.nl; those interested can also contact CEASG directly at ceasg@rug.nl
*********************************************
WINTER COLLOQUIUM AT HUMBOLDT UNIVERSITY IN BERLIN INCLUDES LECTURES FOCUSED ON MONGOLIA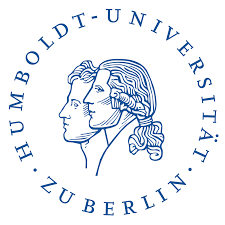 The Winter Colloquium at Humboldt University in Berlin includes at least two lectures on Mongolia during November that will be of special interest to ACMS members:
Ts. Judgernyam on Mongolian Entrepreneurship in the Global World (November 6, 2019)
C.V. Koch, W. Beuhausen, M. Gill, S. Schoning, I. Schreiner, Z. Sotschew on Adaptation of Rural Livelihoods to Structural and Climatic Changes in Western Mongolia: Analysis of Potential of Horticulture Production and Tourism as Complementary Income Sources in Hovd and Uvs Province (November 20, 2019)

*********************************************
CALL FOR PAPERS FOR CONFERENCE ON CENTRAL ASIAN LANGUAGES AND LINGUISTICS AT INDIANA UNIVERSITY (APRIL 17-19, 2020)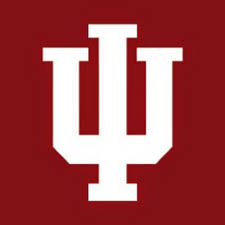 The Center for Languages of the Central Asian Region will be hosting the Fourth Conference of Central Asian Languages at Indiana University on April 17-19, 2020.
Submissions are currently being solicited for 20 minute presentations (with 10 minutes for questions and discussions) on topics related to Central Asian languages and linguistics including both the Altaic and Indo-European languages spoken in the region. A diverse range of languages is included including Azerbaijani, Dari, Kazakh, Kurdish, Kyrgyz, Mongolian, Pashto, Persian, Tajik, Tibetan, Turkish, Turkmen, Tuvan, Uzbek and more. Submissions on endangered Central Asian languages are especially welcome.
Submissions can include but are not limited to: formal linguistics; language acquisition; language education/pedagogy.
Each abstract will be anonymously reviewed by external reviewers in the same field and/or similar languages and evaluated on the basis of overall quality as well as interest, originality, and relevance to the field as well as reviewing the methodology and data collection methods and overall clarity. Presentations may be included in the conference proceedings.

The planned schedule includes:
Proposed Submission Deadline: Sunday, December 1, 2019
Acceptance Notification Deadline: Friday, January 10, 2020
Early Registration Deadline: March 20, 2020
Conference Date: Friday, Saturday, Sunday, April 17-19, 2020
For more information, visit the conference website here. Please also direct questions to Dr. Oner Ozcelik at oozcelik@indiana.edu
*********************************************
CALL FOR PROPOSALS FOR 5TH INTERDISCIPLINARY DESERT CONFERENCE AT UNIVERSITY OF OXFORD (APRIL 22-24, 2020)
The School of Geography and Environment at the Oxford University will be hosting the 5th Oxford Interdisciplinary Desert Conference, April 22-24, 2020.
The Oxford Desert Conference brings together academics and non-academics who research, work and live across the world's desert and semi-desert regions for two days of vibrant talks, presentations, panels and networking opportunities.
For the 2020 Desert Conference, we encourage presentations, panel and roundtable proposals on issues related to social and physical sciences. Topics may include mobile pastoralism (including veterinary sciences), health, heritage, interdisciplinary methodologies, migration (mobility), conflict and development broadly conceived. Environment, remote sensing, archaeology, climate, water and related topics are most welcome.
We encourage participants from the Humanities to join us. Also, we will accept poster presentations as well as proposals for exhibitions and films.
Registration


1. Please enter your information into this EventBrite form. The form will ask you to submit a 200 word abstract, a bio (up to 150 words) and a summary of research interest (up to 150 words). If you wish to organise an exhibit, show a film, or present a poster, please also include an abstract in this section of the form.


2. Please pay your conference fees via the Oxford Desert Conference page on the Oxford University Stores website.


Deadline for abstracts: Monday February 10, 2020


For further queries please contact Dr Troy Sternberg and Dr Ariell Ahearn via deserts@ouce.ox.ac.uk.

RECENT ARTICLES ON MONGOLIA AVAILABLE ONLINE:

Once again there were a number of interesting articles and other posts related to Mongolia during the last month:

Guardian, posted on October 22, 2019: "Steppe Change": How Mongolian Rock Band the Hu Conquered the World
Smart Energy International, posted on October 22, 2019: Mongolia Secures ADB/World Bank Support to Build 10,000 New Sustainable Homes
International Organization for Migration, posted on October 22, 2019: Mongolia Tackles Development Challenges Posed by Internal Migration
San Diego Press Union, posted on October 21, 2019: San Diego International Film Festival Draws Celebrities -- and Fans from Mongolia

Business Wire, posted on October 21, 2019: Tetra Tech Awarded $30 Million Mongolian Water Supply Management Contract
Bloomberg, posted on October 18, 2019: Mongolia Added to Watch List biy Agency Policing Money Laundering
South China Morning Post, posted on October 17, 2019: Fight is On to Save Historic Buildings in Mongolia's Capital
ReliefWeb, posted on October 16, 2019: Disaster Rick Reduction in Mongolia, Status Report
European Bank for Reconstruction and Development, posted on October 15, 2019: EBRD Supports Gold Mining in Mongolia
Conversation, posted on October 10, 2019: Conservation Policies Threaten Indigenous Reindeer Herders in Mongolia
CESS Blog, posted on October 10, 2019: Author-Interview: Slavery in Central Asia by Jeff Eden (St. Mary's College of Maryland)
Al-Jazeera, posted on October 9, 2019: Charges in Mongolia LGBT Attack Hint at Changing Attitudes
Live Mint, posted on October 8, 2019: India Helps Mongolia for its First PetroChemical Refinery
Channel News Asia, posted on October 7, 2019: New Silk Road (Episode Two): Mongolia: Dragon at the Doorstep
Xinhua Net, posted on October 6, 2019: Four Dead After Allegedly Using Processed Coal in Mongolia
South China Morning Post, posted on October 4, 2019: Mongolia's Khaltmaa Battulga: The Other Populist President
Nikkei Asian Review, posted on October 3, 2019: Russia Renews Interest in Mongolia to Counter Chinese Influence
Coin Telegraph, posted on October 2, 2019: Customs Agents Sieze Crypto Mining Units Smuggled Out of Mongolia
Devex News, posted on October 2, 2019: Mongolian Nomads Create Shared Funds and Financial Security
Poynter, posted on October 2, 2019: Mongolia's Journalists Won't Get Left Behind on the Worldwide Trend of Fact-Checking
Western Washington University, posted on October 1, 2019: Mongolia Collection: Introduction
*********************************************

Although submitted several years ago (2014), Sally Watterson's dissertation submitted to Deakin University in Australia and titled Jinkhin Mongol/True Mongolian: Mongolian Museums and the Construction of National Identity will be of interest to some ACMS membesr and is now available on-line here.
*********************************************

Urban Hunters: Dealing and Dreaming in Times of Transition by Lars Hoger and Morton Axel Pederson; 288 pages; $85 (Yale University Press, 2019)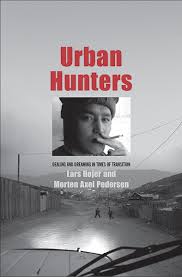 Urban Hunters is an Ethnography of the Mongolian capital, Ulaanbaatar, during the nation's transition from socialism to a market-based economic system. Following the Soviet collapse in 1991, Mongolia entered into a period of economic chaos characterized by wild inflation, disappearing banks and closing farms, factories and schools. During this time of widespread poverty, a generation of young adults came of age. In exploring the social, cultural and existential ramifications of a transition that has become permanent and acquired a life of its own, the authors present a new theorization of social agency in post- socialist as well as post-colonial contexts.
Lars Hoger is Associate Professor and Deputy Head at the Department of Cross-Cultural and Regional Studies, University of Copenhagen. Morten Axel Pederson is Professor of Social Anthropology at the University of Copenhagen and Vice Director of the Copenhagen Center for Social Data Science.
*********************************************
Mongolia: A Political History of the Land and its People by Michael Dillon; 232 pages; $29.95 (IB Tauris, 2019)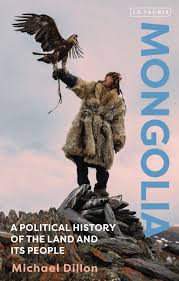 In the words of pre-publication material from the publisher, "Mongolia remains a beautiful barren land of spectacularly clothed horse riders, nomadic romance and windswept landscape. But modern Mongolia is now caught between two giants: China and Russia; and known to be home to enormous mineral resources they are keen to exploit. China is expanding economically into the region, buying up mining interests and strengthening its control over Inner Mongolia.
"Michael Dillon, one of the foremost experts on the region, seeks to tell the modern history of this fascinating country. He investigates its history of repression, the slaughter of the country's Buddhists, its painful experiences under Soviet rule and dictatorship, and its history of corruption. But there is hope for its future and it now has a functioning parliamentary democracy which is broadly representative of Mongolia's ethnic mix. How long it can last is another question. Short, sharp and authoritative, Mongolia will become the standard text on the region as it begins to shape world affairs.
Michael Dillon was founding director of the Center for Contemporary Chinese Studies at the University of Durham where he taught modern Chinese history. He is a Fellow at the Royal Historical Society and the Royal Asiatic Society and was Visiting Fellow at Tsingha University in Beijing. He has travelled throughout China and Central Asia for over 40 years and speaks and reads both Chinese and Mongolian. He is the author of China: A Modern History.
*********************************************
Le Droit Mongol Dans l'Etat Sino-Mandchou, 1644-1911: Entre autonomie et assimilation (Mongolian Law in the Sino-Manchu State, 1644-1911: Between Autonomie and Assimiliation) by Frederic Constant; (35 Euros); (Editions de Boccard, 2019)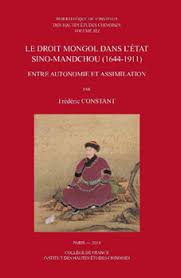 According to the release information related to this just-published book in French, this volume "provides a comprehensive description of legislation enacted by the Qing government for the Mongols and subsequent problems of enforcement. Relying on a wealth of legal resources -- including pre-conquest Mongol codes, Qing legislation, and administrative regulations and judgements rendered both at the central and local levels of administration -- Le droit mongol examines the interplay between the legal realm and crucial questions such local autonomy, legal pluralism, poitical assimilation and center-periphery relation
"The author argues that in crafting and enforcing legislation that was specific to the Mongols, the Qing emphasized the traditional legal approaches inherited from the Ming and earlier dynasties, leading to the gradual displacement of much of the indigenous Mongol legal concepts and procedures. Despite forceful efforts by the Manchu state to control and normalize the administration of the Mongol region, such that it became an extension of China proper rather than the protectorate entrusted to the local Mongol aristocracy, and despite the impact of Han Chinese immigration; nonetheless, Mongolian laws, principles, and judicial practices did not disappear altogether. The result was a multi-layered and hybrid legal system that integrated indigenous Mongol, traditional, Chinese and Qing dynastic legal traditions and practices"
*********************************************
Several non-traditional books on Mongolia have been published this year or are anticipated in 2020. Though entirely non-academic in nature, some of these titles may nonetheless be of interest to ACMS members.
Examples of the types of unusual, offbeat, interesting and at times intriguing English language books related in some way to Mongolia that find their way into print include Easy Mongolian Cookbook: Enjoy Authentic Mongolian Cooking with 50 Delicious Mongolian Recipies (Independently Published, 2019); The Mongolian Conspiracy by Rafael Bernal (Kindle Edition, 2019); Girl Forward: A Tale of One Woman's Unlikely Adventure in Mongolia by Heather Wallace (Water Horse Press, 2019); Tend My Sheep: A Veterinarian in Mongolia by Gerald Mitchum (Independently Published, 2019); and a new Lonely Planet Mongolian Phrase Book and Dictionary (Lonely Planet, 2020).