Subject: This Month in Mongolian Studies - December 2019
| | |
| --- | --- |
| Having trouble viewing this email? Click here to open in your browser. | |
This Month in Mongolian Studies

is a monthly listing of selected academic activities, resources and other material related to Mongolia. This list is based on information the ACMS has received and is presented as a service to its members. If you would like to submit information to be included in next month's issue please contact the ACMS at

info@mongoliacenter.org

This publication is supported in part by memberships. Please consider becoming a member of the ACMS, or renewing your membership by visiting our website at

mongoliacenter.org/join

. Thank you!
Mary Ellen Lane and her husband Colin with the horse that was gifted to them
during their visit to Mongolia for the CAORC Directors meeting in 2011

MARY ELLEN LANE: A REMEMBRANCE BY CHARLES KRUSEKOPF
The American Center for Mongolian Studies (ACMS) lost one of its founders and greatest supporters on November 3, 2019, when Mary Ellen Lane, the Executive Director Emeriti of the Council of American Overseas Research Centers (CAORC) died after an extended illness. While many in the ACMS community may not be aware of Mary Ellen's role, it is safe to say that without Mary Ellen Lane, the ACMS would not exist. Anyone who has received a fellowship from the ACMS, utilized ACMS services, attended a speaker series event or otherwise benefited from the existence of the ACMS owes a debt of gratitude to Mary Ellen for her role in helping launch and sustain both the ACMS and the larger set of American Overseas Research Centers, now in over 27 countries around the world. (See the CAORC dedication to Mary Ellen here)
When I first heard of about the concept of American Overseas Research Centers (AORC) in summer 2000 from John Woods of the University of Chicago and Professor Bira at IAMS, I decided that Mongolia needed to have a Center of its own - an organization that could serve as a support center for visiting academics and help build the capacity of local scholars and institutions. To investigate whether this might be possible, I travelled to Washington DC in spring 2001 to meet with Mary Ellen Lane - the long serving Executive Director of CAORC.
Mary Ellen met my wife Frances and I in her office, and listened intently as I explained my vision for the organization that became the ACMS. She later explained that she thought I was absolutely crazy to launch a Center in a small country such as Mongolia, and she thought I was far too young and inexperienced to make it work. But she thought the idea sounded like good fun and an adventure, so she offered to help out and come along for the ride. At the Association of Asian Studies (AAS) meetings in Washington DC in March 2002 we co-hosted an organizational meeting that brought together interested scholars and we worked out the ACMS name and the foundational charter. I then led the creation of the 501c3 non-profit corporation in April 2002 and recruited our first institutional and individual members and launched our website, newsletter and first set of programs.

As I was developing the ACMS, Mary Ellen invited me to attend the CAORC Directors meeting in Tangier, Morocco in 2002, which allowed me to meet the Directors of other 15 or so American Overseas Research Centers and begin to develop a network of colleagues at other AORCs who served as mentors and friends as we developed a vision and operational plan for the ACMS. Based on their help and advice I prepared the first ACMS proposal for the Department of Education's Title VI American Overseas Research Center grant competition. In 2003 we were the first new AORC in many years to be granted Department of Education Title VI funding, and in May 2004 we used this funding to set up our permanent office in Ulaanbaatar, which has now been operating for more than 15 years.



Charles Krusekopf and Mary Ellen Lane at the CAORC Directors Workshop in Delhi, India
Over the years I travelled with Mary Ellen and her husband, Colin Davies, to several CAORC centers, including those in India, Cambodia, and Senegal. I learned a great deal about the operations of these AORCs during our travels, but most of all I made many lifelong friends who continue to play a role in the development of the ACMS. Mary Ellen had a crucial role in helping the ACMS secure fellowship funding through the US State Department (which continues), and she made sure ACMS was involved in several joint projects with CAORC, such as a grant that helped us develop our ACMS Research Library. Former ACMS Overseas and US Director Brian White played a key role working for both the ACMS and CAORC on a variety of projects, a partnership that allowed us to establish our first US Director's office at the University of Wisconsin.

At the ACMS we knew we had come of age when we were accepted as a full member of CAORC in 2008, and in 2011 ACMS was selected as the host institution for the CAORC Directors meeting. The CAORC meeting in Mongolia brought over 50 visitors from around the world, many representing AORCs in countries conquered by the Mongols! We treated them nicely and travelled on a historical tour across the steppes to Kharkhorin and other locations. Mary Ellen and Colin were given a horse as a gift by a local herder in honor of their leadership role in helping to found the ACMS, a gift that led to a great many stories and jokes over the years as other leaders such as Donald Rumsfeld, George Bush and Hilary Clinton were also given horses as gifts. I am sure all these gift horses are now enjoying a life of leisure and retirement amidst the green grass and blue skies of the Mongolian countryside.



Directors from the 27 CAORC Centers in Ulaanbaatar in 2011
**********************************************
MONGOLIA FIELD SCHOOL IS ACCEPTING APPLICATIONS!


We are pleased to announce that we are accepting applications for our second annual interdisciplinary Mongolia Field School, with a choice of 7 courses in Mongolia to be held over three sessions in summer 2020. The Field School provides a unique educational travel opportunity that is open to all participants, including undergraduate and graduate students, teachers, and life-long learners. A significant number of scholarships are available for participants of all nationalities through the generous support of the Henry Luce Foundation and other donors. Previous experience with field studies or in Mongolia is not required for participation.
For Summer 2020, seven courses will be held across three sessions outlined below. A full description of course topics and program leaders is available at: https://www.mongoliacenter.org/fellowships/mongolia-field-school-2020/
If you're interested, we highly recommend you to join our MFS 2020 Info Session webinar, where you'll have a chance to hear about the courses by the instructors and ask questions!

When: December 18, 2019 at 8pm EST (5pm PST; 9am December 19 in UB)
Where: https://bluejeans.com/143787305?src=calendarLink
Phone Dial-in:
+1.778.807.4955 (Canada (Vancouver)) +1.416.900.2956 (Canada (Toronto)) +1.438.788.3021 (Canada (Montreal, French)) +1.866.599.3622 (Canada (Toll Free)) Global Numbers: https://www.bluejeans.com/premium-numbers Meeting ID: 143 787 305 | Room System 199.48.152.152 or bjn.vc

**********************************************
INTRODUCING ACMS TEXTILE CONSERVATION DIRECTED FELLOWSHIP!
We are also pleased to announce our directed fellowship for a US-Mongolia joint textile conservation project. The chosen fellow will be provided $4,000 to participate in the U.S. Embassy's U.S. Ambassador's Fund for Cultural Preservation grant project, which will primarily take place at the National Museum of Mongolia in Ulaanbaatar. The fellow will have the opportunity for in-depth examination and treatment of fabrics and textiles, costumes, and accessories representing Eurasian steppe cultures roughly spanning 2,000 years.
Applicants must be U.S. citizens with a graduate degree in conservation from a recognized program, or have equivalent work experience, at least one year of practical experience beyond graduation, and experience with a variety of analytical instruments and information technology.
Application materials (CV, Personal Statement, 2 Letters of Recommendation) must be received by February 15, 2020. For more information please visit mongoliacenter.org/fellowships/field-research-fellowship-program-details/
**********************************************
ACMS FIELD RESEARCH FELLOWSHIP 2020 IS ACCEPTING APPLICATIONS!
This program provides awards of up to $4,000 to students and/or faculty from US universities to conduct academic field research in Mongolia between May and October 2020. Student applicants can be at an advanced undergraduate, masters, or doctoral level, and all fields of study are eligible. Students graduating in the spring of 2020 are eligible to apply. Faculty applicants can be faculty members from US colleges and universities with plans to conduct short-term field research in Mongolia between May and October 2020.
All applicants must be US citizens currently enrolled in or teaching at a college or university in the United States. The program priority is to support faculty from non-research intensive universities and colleges, especially faculty who are helping guide student research projects or who can show how the experience will enhance their teaching. The fellowship is supported with funding from the US Department of State's Bureau of Educational and Cultural Affairs through a grant by the Council of American Overseas Research Centers.
Deadlines for receipt of complete applications: February 15, 2020. For more information visit mongoliacenter.org/fellowships/field-research-fellowship-program-details/
**********************************************
ACMS INTENSIVE MONGOLIAN LANGUAGE PROGRAM 2020 IS OPEN!
The American Center for Mongolian Studies invites students and scholars to enroll in an eight week Intensive Mongolian Language Program from mid-June to early August (June 8 to August 7), 2020 in Ulaanbaatar, Mongolia. The purpose of this summer language program is to provide Intermediate-level students of the Mongolian language with an opportunity to enhance their communicative competence through systematic improvement of reading, writing, listening and speaking skills, in an authentic environment.

The Language Program Fellowship covers the cost of tuition. Deadlines for receipt of complete applications: March 1, 2020. For more information visit mongoliacenter.org/fellowships/intensive-summer-language-program-details/
**********************************************
ACMS LIBRARY FELLOWSHIP 2020 IS OPEN!


This fellowship supports US advanced graduate students or faculty members in library science or related fields from US colleges and universities to conduct short-term projects and/or research in Mongolia between May and October 2020. Applicants must be US citizens. The ACMS Library Fellowship program is to help support the development of the ACMS research library through specific defined projects designed to enhance the collection content and resource availability. The Fellow will also offer training and support for local scholars and the public. Fellows will spend up to 12 weeks onsite in Mongolia at the ACMS library; prior experience working in Mongolia is not a requirement. Fellowships will be awarded to fund travel and living expenses of up to $4,000. The fellowship is supported with funding from the US Department of State's Bureau of Educational and Cultural Affairs through a grant by the Council of American Overseas Research Centers.
Deadlines for receipt of complete applications: February 15, 2020. For more information visit mongoliacenter.org/fellowships/library-fellowship-program-details/
ACMS Sponsored Programs and Events

ACMS SPEAKER SERIES:

DR. RYAN ALLEN: "AIR POLLUTION, FETAL GROWTH, AND EARLY CHILDHOOD DEVELOPMENT: AN UPDATE FROM THE UGAAR STUDY"

5:30 PM ON TUESDAY, NOVEMBER 5 AT THE AMERICAN CORNER, UB PUBLIC LIBRARY

In this presentation, Dr. Allen briefly summarized the latest evidence linking air pollution with human health, and described the UGAAR study and its results to date. Evidence gathered over the past several decades leaves little doubt that air pollution is major threat to the health of children and adults around the world. More recently, studies have suggested that the negative impacts of air pollution may begin even before birth and that air pollution can affect nearly every system in the body.

In 2014, Dr. Allen and his collaborators at the Mongolian National University of Medical Sciences launched the Ulaanbaatar Gestation and Air Pollution Research (UGAAR) study. This ongoing study is evaluating relationships between air pollution exposure during pregnancy, fetal growth, and early childhood development.

Ryan Allen is an associate professor in the Faculty of Health Sciences at Simon Fraser University in Canada. He holds a Master's degree in environmental engineering and a PhD in environmental health, both from the University of Washington.

DR. TSENDPUREV TSEGMID: "EARLY CONTEMPORARY ART IN POST-SOVIET MONGOLIA: WHERE IS GREEN HORSE GALLOPING NOW?"

5:30 PM ON TUESDAY, NOVEMBER 19 AT THE AMERICAN CORNER, UB PUBLIC LIBRARY



Dr Tsegmid presented the collective work of the Green Horse Society (1990-2002), pioneers of contemporary art in post-Soviet Mongolia. The academic lecture is the first public introduction of the society based on the article published in the peer reviewed journal produced by the Afterall Research Centre of the University of the Arts London, located at Central Saint Martins, UK.

"In Mongolia, contemporary art begins to shape itself with the post-communist art movement Nogoon Mori (Green Horse Society, GHS), which emerged in the early 1990s out of perestroika and the Mongolian Democratic Revolution. In her essay, Tsendpurev Tsegmid details how its members broke from the tradition of Socialist Realism and its attendant aesthetic and intellectual suppression by looking afresh at pre-communist Mongolian culture (the time when Genghis Khan emerged from history to replace Vladimir Lenin as a figurehead). The GHS found their theoretical basis not in the urban centre, but in the spirituality, aesthetics and cultural practices of the remote provinces where people lived off the land in much the same way as had been done for thousands of years. Not without incident, their experimental approach to learning led them to develop the Green Horse Modern Art College; students who trained at that experimental school continue to influence contemporary practices in the country today." (Candice Hopkins, Co-editor, Afterall, Issue 44, 2017)

Dr Tsendpurev Tsegmid is a conceptual artist, freelance curator and academic, who is specialized in contemporary art practice, conceptual art theory and modern art history of Mongolia. She holds a PhD from the Leeds Beckett University, UK School of Contemporary Art and Graphic Design, Faculty of Art, Environment and Technology. She is also the founder and the chief curator of Vanjil Arts Institute (est.2013), which is an independent research organization based in Ulaanbaatar and one of the leading specialist institutions in Mongolia


Applications are being sought by the Department of Gender, Sexuality, and Women's Studies (GSWS) at Simon Fraser University for a full-time tenure track position at the rank of Associate Professor, to be housed in GSWS with dedicated workload in the Global Asia Program, starting July 1, 2020. Discipline and methodological approach is open. The preferred candidate will be engaged in interdisciplinary research that crosses geographic borders within Asia and/or across the global Asian diasporas.
All materials should be addressed to the GSWS/GA search committee and sent to: gswspost@sfu.ca

LIBRARY OF CONGRESS SEEKS APPLICANTS FOR THE 2020 JUNIOR FELLOWS SUMMER INTERN PROGRAM
The Library of Congress is seeking applicants for its 2020 Junior Fellows Summer Intern Program.

This is a 10-week paid fellowship for undergraduate and graduate students interested in learning more about the work done at the largest library in the world.
For more information or to apply for the program, visit https://www.loc.gov/item/internships/junior-fellows-program/.

The deadline to apply is Friday, Dec. 20.

MONGOLIA LECTURE SERIES EVENT AT UBC, CANADA ON NOVEMBER 22
As part of the Mongolia Lecture Series at the University of British Columbia's Institute of Asian Research, a lecture event titled "Politics of Scope: Regionalization, Structural Adjustment and Elections in Mongolia" was hosted by Dr. Julian Dierkes and featured two presenters, Dr. Marissa Smith and Mari Valdur, on November 22, 2019 .
Dr. Marissa Smith presented "Provincial Governors vs. People's Parties: Regionalizing "Local" Party Politics in Mongolia", which was focused on observations around Mongolia's "second city" of Erdenet changing its administrative status from municipality to province.
Mari Valdur's paper was titled "State for Children: The Politics of Structural Adjustment and Motherhood in Mongolia", and explored the scope of Mongolian politics by discussing linkages between structural adjustment and motherhood through the country's most valuable persons: children.
You can read more about this event here.


*********************************************

8TH INTERNATIONAL CONFERENCE ON MEDIEVAL HISTORY OF THE EURASIAN STEPPE HELD IN SOFIA, BULGARIA
Sofia University hosted the 8th International Conference on Medieval History of the Eurasian Steppe on November 20-23, 2019.

Over 12 scholars presented various fascinating papers related to Mongolian Studies in the Panels 5, 6, 7, and 11, ranging from Tatiana Skrynnikova's "Chinese Sources about Yeke Mongol Ulus Emergence" on Panel 5, and ending with Ishayahu Landa's "The 'Global North' of the Eurasian Steppe in the Aftermath of the 'Mongol Moment'".

You can read more about the conference here.


*********************************************


LYCÉE MICHELET IN FRANCE PRESENTS CENTURY-OLD MONGOLIAN STUDENT RECORD BOOKS

Eric Biset, Director of the prestigious lycée in France received Baatarbileg Yo., the Education Minister of Mongolia, on November 18, and presented historical records and photos of the Mongolian students 93 years ago. During the mid-1920s, Mongolia sent its 40 best secondary school students to Germany and France, who later became leading intellectuals of scientific, cultural and industrial areas of Mongolia. More details here.

*********************************************

BURYAT REPUBLIC OF RUSSIA SCHOOLS TO START TEACHING THE BURYAT LANGUAGE

All schools in Buryatia will teach the Buryat language starting from 2020, as announced by the Deputy Minister of Education of the Republic, Dorji Angarkhaev. As some of you know, the Buryat is a Mongolic language that has been on UNESCO's Endangered Language list for some time. More details here -- in Russian.
*********************************************


CALL FOR ABSTRACTS FOR 4TH BIANNUAL CONFERENCE ON CENTRAL ASIAN LANGUAGES AND LINGUISTICS (APRIL 17-19, 2020)
The Indiana University Center for Languages of the Central Asian Region is accepting submissions for 20-minute paper presentations (with 10 minute post-presentation questions and discussion) on topics related to Central Asian languages and linguistics, including both the Altaic and Eastern Indo-European languages spoken in the region (among others).
Submissions can include, but are not limited to:
Formal linguistics (phonology, morphology, syntax and semantics, as well as their interfaces)
Acquisition (first and second language acquisition of a Central Asian language or of other languages by speakers of Central Asian languages)
Language education/pedagogy, as related to Central Asian languages
Submissions should consist of an anonymous, titled abstract of no more than 500 words (not including examples and references, which can be placed on a second page) submitted via EasyAbstracts by Sunday, December 1, 2019.

For further queries please email concall@indiana.edu.

*********************************************
CALL FOR PROPOSALS FOR 5TH INTERDISCIPLINARY DESERT CONFERENCE AT UNIVERSITY OF OXFORD (APRIL 22-24, 2020)
The School of Geography and Environment at the Oxford University will be hosting the 5th Oxford Interdisciplinary Desert Conference, April 22-24, 2020.
The Oxford Desert Conference brings together academics and non-academics who research, work and live across the world's desert and semi-desert regions for two days of vibrant talks, presentations, panels and networking opportunities.
For the 2020 Desert Conference, we encourage presentations, panel and roundtable proposals on issues related to social and physical sciences. Topics may include mobile pastoralism (including veterinary sciences), health, heritage, interdisciplinary methodologies, migration (mobility), conflict and development broadly conceived. Environment, remote sensing, archaeology, climate, water and related topics are most welcome.
We encourage participants from the Humanities to join us. Also, we will accept poster presentations as well as proposals for exhibitions and films.
Registration


1. Please enter your information into this EventBrite form. The form will ask you to submit a 200 word abstract, a bio (up to 150 words) and a summary of research interest (up to 150 words). If you wish to organise an exhibit, show a film, or present a poster, please also include an abstract in this section of the form.

2. Please pay your conference fees via the Oxford Desert Conference page on the Oxford University Stores website.
Deadline for abstracts: Monday February 10, 2020


For further queries please contact Dr Troy Sternberg and Dr Ariell Ahearn via deserts@ouce.ox.ac.uk.
*********************************************


Interesting Links -- A variety articles related to Mongolia were posted during November 2019; here are some of the more notable ones:
Wall Street Journal

, posted on November 1, 2019: "

A Road Trip in Mongolia, Surreal and Spectacular

"

Deutsche Welle, posted on November 2, 2019: "Mongolia Arrests 800 Chinese Citizens in Cybercrime probe"
Mining Technology, posted on November 5, 2019: "Rio Tinto completes Shaft 2 development at Oyu Tolgoi mine in Mongolia"
Washington Post, posted on November 7, 2019: "In Mongolia, proposed legislation endangers civil society

"

Nikkei Asian Review, posted on November 11, 2019: "Mongolia's emerging IT sector leads economy in new direction"
The Diplomat, posted on November 13, 2019: "Drones and Beavers: A Watershed Moment for Mongolia's Park Rangers"
GameRadar, posted on November 15, 2019: "Star Wars Video Game Features The Hu Song "Black Thunder"
Smithsonian, posted on November 20, 2019: "Archaeologists Race to Preserve Artifacts as the Ice Melts in Mongolia
Xinhua, posted on November 20, 2019: "Large prehistoric city site unearthed in Inner Mongolia"
Metro UK, posted on November 21, 2019: "Remote Mongolian community are paying the 'first price' for climate change"
BBC News, posted on November 23, 2019: "Dinosaurs: Restoring Mongolia's fossil heritage"
Scholarly papers published in November, 2019:
Digital collections related to Mongolia we discovered in November, 2019:
The Anti-Social Contract: Injurious Talk and Dangerous Exchanges in Northern Mongolia by Lars Hojer: (Berghahn, 2019)
Set in a remote district of villagers and nomadic pastoralists in the northernmost part of Mongolia, this book introduces a local world where social relationships are cast in witchcraft-like idioms of mistrust and suspicion.

While the apparent social breakdown that followed the collapse of state socialism in Mongolia often implied a chaotic lack of social cohesion, this ethnography reveals an everyday universe where uncertain relations are as much internally cultivated in indigenous Mongolian perceptions of social relatedness, as they are externally confronted in post-socialist surroundings of unemployment and diminished social security.
"This book is a very important and vibrant ethnographic work… By emphasizing the dynamics of distancing, suspicion and avoidance in anti-social relations, the author introduces a new, and much fuller, conceptual purchase onto the anthropological term 'other', which has underpinned a great deal of classical and contemporary analysis in the discipline." • Katherine Swancutt, King's College London
Lars Højer is an associate professor at the Centre for Comparative Culture Studies, Department of Cross-Cultural and Regional Studies at the University of Copenhagen. He has carried out extensive fieldwork in Mongolia and Inner Asia. His previous anthropological research has mainly focused on social, economic, religious, and political aspects of transition processes in urban and rural post-socialist Mongolia.

*********************************************
The Mongols and the Armenians (1220-1335) by Bayarsaikhan Dashdondog: 270 pages; Open Access (Brill, 2011)
This book is an invitation to a journey to the medieval world, which, in author's opinion, is the most picturesque period of human history to embark back to, and it is definitely one of the fascinating moments of the Great Mongol Empire. It is an interesting journey in many way: historically, geographically and culturally. It will take the reader from the Inner Asian plateau to the Caucasus, Anatolia, Middle and Near East; from a nomadic culture to sedentary civilizations; from a warrior's mindset to the subjects' survival policy.
The present work tries to understand the connection between the various aspects of East and West in Medieval times by exploring relations between two nations, the Armenians and the Mongols, who began interacting with each other during the thirteenth century. During that time the Mongols became widely known to the world for building the most extensive land empire in human history that stretched from the Pacific Ocean to the Adriatic Sea, covering mosts of Asia all the way to Korea, excluding India and Eastern Europe, but including Hungary.
Bayarsaikhan Dashdondog currently works at the History Department at the National University of Mongolia. Bayarsaikhan does research in History of Mongol Empire; Mongol-Armenian Relationship; History of Religion and Historiography of the Mongols. Her current project is 'Chancellery Practice of the Mongols.'
*********************************************
Urban Hunters: Dealing and Dreaming in Times of Transition by Lars Hoger and Morton Axel Pederson; 288 pages; $85 (Yale University Press, 2019)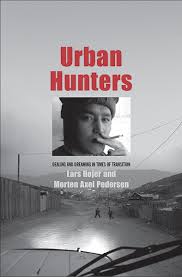 Urban Hunters is an Ethnography of the Mongolian capital, Ulaanbaatar, during the nation's transition from socialism to a market-based economic system. Following the Soviet collapse in 1991, Mongolia entered into a period of economic chaos characterized by wild inflation, disappearing banks and closing farms, factories and schools. During this time of widespread poverty, a generation of young adults came of age. In exploring the social, cultural and existential ramifications of a transition that has become permanent and acquired a life of its own, the authors present a new theorization of social agency in post- socialist as well as post-colonial contexts.
Lars Hoger is Associate Professor and Deputy Head at the Department of Cross-Cultural and Regional Studies, University of Copenhagen. Morten Axel Pederson is Professor of Social Anthropology at the University of Copenhagen and Vice Director of the Copenhagen Center for Social Data Science.
*********************************************
Mongolia: A Political History of the Land and its People by Michael Dillon; 232 pages; $29.95 (IB Tauris, 2019)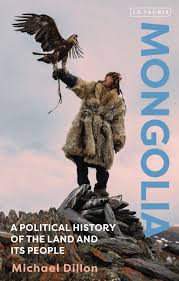 In the words of pre-publication material from the publisher, "Mongolia remains a beautiful barren land of spectacularly clothed horse riders, nomadic romance and windswept landscape. But modern Mongolia is now caught between two giants: China and Russia; and known to be home to enormous mineral resources they are keen to exploit. China is expanding economically into the region, buying up mining interests and strengthening its control over Inner Mongolia.
"Michael Dillon, one of the foremost experts on the region, seeks to tell the modern history of this fascinating country. He investigates its history of repression, the slaughter of the country's Buddhists, its painful experiences under Soviet rule and dictatorship, and its history of corruption. But there is hope for its future and it now has a functioning parliamentary democracy which is broadly representative of Mongolia's ethnic mix. How long it can last is another question. Short, sharp and authoritative, Mongolia will become the standard text on the region as it begins to shape world affairs.
Michael Dillon was founding director of the Center for Contemporary Chinese Studies at the University of Durham where he taught modern Chinese history. He is a Fellow at the Royal Historical Society and the Royal Asiatic Society and was Visiting Fellow at Tsingha University in Beijing. He has travelled throughout China and Central Asia for over 40 years and speaks and reads both Chinese and Mongolian. He is the author of China: A Modern History.
*********************************************
Le Droit Mongol Dans l'Etat Sino-Mandchou, 1644-1911: Entre autonomie et assimilation (Mongolian Law in the Sino-Manchu State, 1644-1911: Between Autonomie and Assimiliation) by Frederic Constant; (35 Euros); (Editions de Boccard, 2019)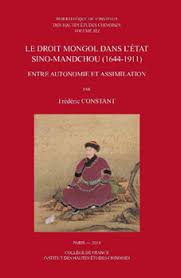 According to the release information related to this just-published book in French, this volume "provides a comprehensive description of legislation enacted by the Qing government for the Mongols and subsequent problems of enforcement. Relying on a wealth of legal resources -- including pre-conquest Mongol codes, Qing legislation, and administrative regulations and judgements rendered both at the central and local levels of administration -- Le droit mongol examines the interplay between the legal realm and crucial questions such local autonomy, legal pluralism, poitical assimilation and center-periphery relation
"The author argues that in crafting and enforcing legislation that was specific to the Mongols, the Qing emphasized the traditional legal approaches inherited from the Ming and earlier dynasties, leading to the gradual displacement of much of the indigenous Mongol legal concepts and procedures. Despite forceful efforts by the Manchu state to control and normalize the administration of the Mongol region, such that it became an extension of China proper rather than the protectorate entrusted to the local Mongol aristocracy, and despite the impact of Han Chinese immigration; nonetheless, Mongolian laws, principles, and judicial practices did not disappear altogether. The result was a multi-layered and hybrid legal system that integrated indigenous Mongol, traditional, Chinese and Qing dynastic legal traditions and practices"
*********************************************
Several non-traditional books on Mongolia have been published this year or are anticipated in 2020. Though entirely non-academic in nature, some of these titles may nonetheless be of interest to ACMS members.
Examples of the types of unusual, offbeat, interesting and at times intriguing English language books related in some way to Mongolia that find their way into print include Easy Mongolian Cookbook: Enjoy Authentic Mongolian Cooking with 50 Delicious Mongolian Recipies (Independently Published, 2019); The Mongolian Conspiracy by Rafael Bernal (Kindle Edition, 2019); Girl Forward: A Tale of One Woman's Unlikely Adventure in Mongolia by Heather Wallace (Water Horse Press, 2019); Tend My Sheep: A Veterinarian in Mongolia by Gerald Mitchum (Independently Published, 2019); and a new Lonely Planet Mongolian Phrase Book and Dictionary (Lonely Planet, 2020).