Subject: Journey On! • The G-R-E-A-T Fire
Journey On! is a newsletter from Journey to the Heart, a ministry of the Institute in Basic Life Principles.
December 2009 • Volume 1, Number 2

Journey On!
As Christmas is nearly here, the challenge is to keep our focus on Christ Himself, and to ask God to give us an attitude of loving sacrifice, the attitude that Christ showed in coming to this earth as a helpless baby. It's the opposite of the world's focus—getting, getting, and more getting—but at this time of year we have an incredible opportunity to reach out to those who don't know the truth during a season when they'll be more open to hearing it.
Trials to Triumphs: The G-R-E-A-T Fire

Half of their livelihood was going up in flames! Faced with a disheartening situation, this family chose to rejoice.
"As we were there in the church service, we saw a fire engine race past the church with its siren on. After church, we could see smoke coming from the hills behind the hospital. By the end of lunch, the fire had gotten bigger . . . There were approximately 1.5 million bees in that apiary. As soon as the fire would approach the hives, the bees would fly out. The only clear airpath for them was right into the line of residential homes where the occupants and firemen were already working to put out the fire. One neighbor in particular is deathly allergic to bee stings. This could possibly create a bigger disaster than the fire . . . ."
This is the testimony of a families purpose to see everything that happens as an opportunity for God to do GREAT things. For the rest of the story, read more »
Life to Life: Slow to Judge Others, Firm in Obeying the Lord

"One thing I find quite easy to do is to have a murmuring and ungrateful attitude toward those that have been placed in authority over me. Somehow they just never seem to do their job the way I think they should. But as I judge them, there is one thing that I always forget to do, or not to do . . ."
Insights from Brandon Kielen. For the rest of his thoughts, read more »
Lights for the Way
Ministering Melodies: Simply Christmas


It's Christmas time!! So we all know what that means: CHRISTMAS MUSIC! Praise the Lord the world doesn't have all the good Christmas music.
Simply Christmas is a CD of Christmas piano music that would be a beautiful addition to your Christmas collection. Perfect for the background sound of Christmas, this CD is full of a variety of Christmas favorites such as "What Child is This," "Sing We Now of Christmas," "O Come All Ye Faithful," "The Holly and the Ivy," and more!
To view the whole list, and to order this CD you can go to our IBLP Web Store.
Rejoice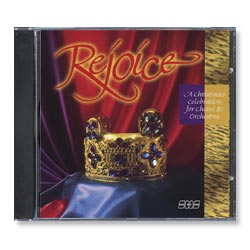 Another Great Christmas CD is Rejoice by the WILDS.
With both vocal and instrumental songs, this CD is a beautiful, triumphant, and uplifting collection of Christmas songs. Many of the songs featured on this CD are not the common every day Christmas carols, so you can enjoy listening and learning new Christmas favorites!
"See Amid the Winter Snow," "All My Heart This Night Rejoices," "And The Glory of the Lord," and "Rejoice Greatly" are just a few of the wonderful songs on this album!
For more information about this CD, go to our IBLP Web Store.
The Right Kind Of Reading: Victory In Christ

I picked this book up because I liked the cover, and because I was at a point where victory didn't seem to be anywhere close to where I was. I had no idea that God would use this book so powerfully to show me that not only is the Victory close, it is already won.
Stressing the power of God's unfathomable grace, this short and to the point book will give you an idea of what it is to live in God. "The resources of the Christian life, my friends, are just -- Jesus Christ."
A perfect gift for a parent, friend, or other family member.
View this item on our IBLP Web Store.
Humility
Another incredible and life-changing book is Humility by the famous author Andrew Murray. Though not an easy trait to acquire, humility is one of the most vital characteristics that we as Christians lack.
Not for the casual Christian, "Humility" will challenge you to the very core of your being. For those of you who desire to go deeper in your walk with Jesus, and to continue on the Journey of Christ-likeness, this book will be a blessing, and a wake up call!
View this item on our IBLP Web Store.
As a part of the Journey team, we wanted to do something special for you this Christmas, so on each of the items featured here we're offering a 20% discount until December 21st. Enter this code JTH912 on the shipping and handling page when you order. Merry Christmas from the Journey Office!
Stories to Enjoy: Mr. Sankey Celebrates Christmas
The famous gospel singer and song writer who traveled with the renowned D.L. Moody, would not have been so famous had it not been for God's supernatural intervention through a simple hymn.
A story of God's amazing power both in protection, and timing! God truly never makes mistakes. To enjoy this story in it's entirety, go to livingthejourney.com »
Updates and Exciting Happenings!
Still on the radar screen is our upcoming January Scripture Challenge!
There are so many things that we plan to do when a year begins, but unless God is the center of it, nothing will prosper. I think that committing to start our year off with a focus on God's Word will set a powerful tone for the whole year! It's along the lines of giving God the first fruits of 2010.
The challenge will be to memorize 25 verses in 25 days. At this point, you get to try and figure out what the chapter is. (Hint: It's in the New Testament. Big help I know.)
Check out livingthejourney.com for the official announcement, and some more details.
Life-Changing Opportunities: EXCEL: A Chance to Go Deeper
Seeking the Lord is not a one time act, it is a continual action, moment by moment, and it is something that must become second nature. But that takes faith, and discipline, and time. A powerful opportunity to learn in those areas is the EXCEL program. Designed for young ladies ages 16 and older, this time away will give you new insights into seeking God, along with a chance to learn practical skills.
From one of the most recent attendees:
"There are many adjectives I could use to describe my time at EXCEL, a few of them would be: enjoyable, unforgettable, challenging, and very rewarding . . . . Each week we learned many new things about who our God is, and just how much he cares for and loves us as individuals . . ."
Olivia has more to say about her experience, see the rest of her testimony, and more details about the program on livingthejourney.com