Subject: Journey On! • Renegade in the Northwoods
Journey On! is a newsletter from Journey to the Heart, a ministry of the Institute in Basic Life Principles.
March 2010 • Volume 2, Number 3

Journey On! Do You Believe?
And when Jesus was entered into Capernaum, there came unto him a centurion, beseeching him, And saying, Lord, my servant lieth at home sick of the palsy, grievously tormented. And Jesus saith unto him, I will come and heal him. The centurion answered and said, Lord, I am not worthy that thou shouldest come under my roof: but speak the word only, and my servant shall be healed.... When Jesus heard it, he marvelled, and said to them that followed, Verily I say unto you, I have not found so great faith, no, not in Israel.... And Jesus said unto the centurion, Go thy way; and as thou hast believed, so be it done unto thee. And his servant was healed in the selfsame hour" (Matthew 8:5-13).
"Go thy way; and as thou hast believed,
so be it done unto thee."
This statement is full of power!! How much do you believe? Christ did not say to the Centurion, "Go thy way, I have healed thy servant" or "Because of your faith, your servant is healed." No, he said, " As thou has believed." This implies that if the Centurion had simply "said" he believed, but in reality did not, his servant would not have been healed. Jesus acted according to the Centurion's belief. How much do you believe? Would your servant still be sick? Believe God! He can work beyond what you can imagine, and He greatly desires to do so!

Trials to Triumphs: God is Good

Almost a year ago Hannah went on a Journey. You can read her testimony about what God did in her life. But what is most meaningful to me is that the Journey truly did not end. After living with Hannah for almost a whole year, I have personally seen her grow in the Lord, and strive to know Jesus better. So this is not a one time testimony, it is an example of God beginning a good work, and continuing to perform it!
"Before my Journey there was a lot going on in my life. I was in a friendship that my parents did not agree with and that was hurting me. I also went through a time right up to my Journey where I doubted my salvation. I struggled with doing what my parents wanted . . . . I tried to solve all of these problems and struggles by just ignoring what was going on . . . ."

Continue reading Hannah's story »

Life to Life: Whatever it Takes!

So many marriages with so many struggles. Sometimes it seems so hopeless, but God has not been sitting idly by. He has raised up men and women who are willing to do "Whatever It Takes" to have a marriage that honors the Lord.
"What can a pastor, doctor, construction worker, rocket scientist, and heroin addict all have in common? These are just a few of the men who attended the marriage conference along with their wives. No matter what their social status, they all had one thing in common; a deep need for freedom. Most found it, and yet some left still wrestling with the question… is there an easier way? Openness, brokenness, and humility were words that a few were not ready to grab hold of, but those who did had life changing experiences."
This incredible weekend was filled with heartache, pain, struggle, and glorious freedom! It is a conference that any couple should consider going to, and guess what young people... There will be a Singles WIT Conference in August of this year! Many of us from Headquarters went last year, and it is LIFE CHANGING! Why wait till after you're married to be freed from devastating lies and chains? So be in prayer about that!

To hear more of what went on during the WIT conference, read on »
Lights for the Way
Ministering Melodies: Master Works Vol. II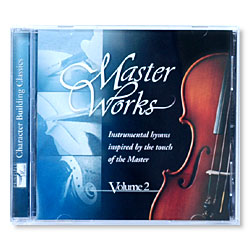 One of our family favorites, the "Master Works" CD combines classical masterpieces with some of the most beloved hymns!

If you enjoy exciting and rousing music, or even the soft and thoughtful kind, this cd will be one that you'll love! It's classical thrust gives a new feel to familiar hymns, and you may catch yourself smiling at some of the renditions. A truly enjoyable collection of creatively combined songs!

To view the songs and listen to samples, visit our web store »
Messages for Life: God Enjoys the Impossible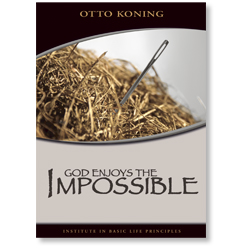 From the author of the beloved and life-changing "Pineapple Story" we have this DVD message. Filled with Otto Koning's sardonic storytelling, this message is one that will help you realize that God is not limited in any way, except by our unbelief.
With new perspectives and insights on Bible stories, and many examples of how prayer is truly effective and vital, this should encourage you to take a little more time to talk to God.

It is yet another powerful lesson from the life of this man which will change your view of God's power if you allow it to.
View this item on our web store »
Stories to Enjoy: Renegade in the Northwoods

After a long day, Andy was ready to head home, but his day wasn't over yet! Here's the story of God's timing, God's protection, and God's love given from one man to another sorely in need of it.
"As I got into my truck to leave, I looked at my watch and saw that it was well after 5:00. My wife was not going to be happy with me. I put the truck into gear and zipped down Wolf Lake Road. Rounding the corner, my headlights began to illuminate a large dark shape in the middle of the road. I slowed down and saw that it was a man walking with two sleeping bags draped over his shoulders. Immediately this struck me as odd . . ."
To find out how Andy dealt with this strange intruder, and to discover how God turned it all out for good, read the rest of the story »
Updates and Exciting Happenings!
God is a God of miracles! And this picture is one of them! For all of those who kept this first Journey in prayer, THANK YOU! God did what He loves to do, show His power! First off, we had 36 girls, which is a large number for the first Journey of the year! So many lives were changed and some were transformed completely! But I want to make one thing crystal clear, it has nothing to do with the "Journey." It was all Jesus!!
Another Miracle!

In another week and a half, we'll be having our first young men's Journey, and that right there is another miracle. At this point we have 44 young men signed up, which is a record for the first guys Journey of the year! We've been praying that God would raise up as many, or MORE young men this year than ever before, and barring cancellations, this group will even beat the girls, which has NEVER happened!!! Again, this isn't about the attendees, it isn't about the numbers, it's about how BIG God is, and how He LOVES to answer prayers!!! So we on the Journey staff are already overwhelmed by what God has done, and we can't wait to see what else He has in store for this year!
"Call unto me, and I will answer thee, and shew thee great
and mighty things which thou knowest not" (Jeremiah 33:3).

Life-Changing Opportunities: The Uttermost Parts of the World!

There just aren't many, if there are ANY, opportunities like the one you're about to read into right now!
Teaching English as a Second Language, in the Country of Taiwan!

Have you ever wanted to travel? Do you feel like you can't do any missions work because you're not grown up? Do you wish you could go on overseas trips, but don't have the money? Do you like working with kids, but don't know of a good opportunity? This chance to be a shining light in the country of Taiwan is one of the most incredible opportunities you could imagine!
If you love the Lord, and are looking for some way to serve Him, then I would strongly suggest that you and your parents look into this and prayerfully consider the Teaching English In Taiwan ministry. It'll be like nothing you've ever done before! All expenses beside the initial trianing are paid, and the number of lives that can be touched is incredible! More amazing still, is the way in which your walk with God can be transformed through relying on Him in a different country and culture!
Here you'll be able to read Kyle's testimony of his Journey, and then it's continuation over in a foreign land! "I grew up in a Christian home, but for me Christianity was just a front that I put up every day so that I
would be accepted by my Christian peers. I knew all the "right" words and actions, but inside I wanted nothing to do with God. I was a man filled with bitterness, malice, rage, anger, hatred, and immorality. I was headed for destruction, and was blinded to a lot of things. I was headed for destruction, and was blinded to a lot of things. On March 31, 2009 at a Journey to the Heart, God miraculously changed my life! I repented of my sins, accepted Christ as my personal Lord and Savior, and my faith became real for the first time!"
Through a course of events that only God could orchestrate, Kyle ended up on the other side of the world! To find out how, read Kyle's story »