Subject: Journey On! • A Calamity in the Northwoods
Journey On! is a newsletter from Journey to the Heart, a ministry of the Institute in Basic Life Principles.
January 2010 • Volume 2, Number 1

Journey On! A Question for the New Year
Guess what, it's a New Year! Not to mention a new decade. Here's a question for you to think about as you're wondering what this new year is going to hold: If you died at the end of 2010, what would people remember about the life you lived that year? Rather morbid thought, I know. But seriously, what jewels or crowns would you be able to lay at the feet of Jesus after living this year through?
I think it gives a different perspective to thoughts of a new year. Life is a joy, but it is not a game. It's a battle, and we must be serious about our part in it. This year, think, and think hard, on how you live. I'd challenge you with this: Make this years prayer to God along these lines: "Lord, let everything I do be driven by love for Jesus, and a view of eternity."
Trials to Triumphs: Quick and Powerful

Whether read, or spoken, God's Word will change lives. This is a testimony of how simply sharing God's Word had an unexpected effect!
"I guess the biggest thing coming away from the Journey was to disciple my younger siblings. Consequently, I have started to get to know them better (to be honest I didn't really know them at all before). A couple of nights ago I just sat down and started to talk to my 14 yr. old and 12 yr. old sisters.
"I just kinda rambled about different things that God had been teaching me lately. One of the big things was hearing God's voice, and I was saying how if Christians have secret sins in their lives they cannot hear God's voice. Unbeknownst (you're thinking, "is that a word?" so am I!) to me they went to my parents the next day and confessed some stuff. My mom told me about it the day after (I think) and it was awesome to hear. God is so good! I have also been receiving more rhemas lately, which is really exciting!"
"Be ye therefore followers of God as dear children, and walk in love as Christ also hath loved us and hath given Himself for us" (Eph. 5:1-2).
Life to Life: Walking

Walking down a path, life is good, things are good.
I just live, do what I like, try to do what my parents want me to do because… well that's what I'm supposed to do. I have a few odd jobs that keep me supplied with a little spending money which is nice! I go to church, enjoy it, I have great friends, I like my pastors, yup, it's all good.…… Wait a second, what's this?
For some challenging thoughts for the day, read Laura's devotional »

Lights for the Way
Ministering Melodies: Hymns of Grateful Praise

Three voices, old hymns, new sound. This CD is filled with some of the most beloved hymns of all time. But there are a few surprises. Many of these will be just the same as you've always heard them, but here and there, you'll here words you know, but you may catch yourself saying, "What song is this?" only to realize it's one of the old classics.
With beautiful and exciting orchestration, this CD will be a blessing to you and your whole family!
To view the list of songs and listen to samples, visit our web store »
The Right Kind Of Reading: Finney on Revival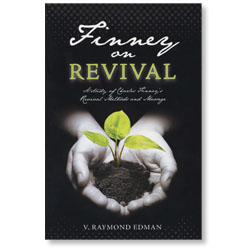 We've all heard of Charles Finney, but how many of us have heard what he has written on the subject of revival? In this book you will not only get an overview of Finney's life, but also his insights into revival and the great need for it in our personal lives, our churches, and our fallen culture.
View this item on our web store »
Stories to Enjoy: A Calamity in the Northwoods

"In winter every year, ice forms up on the eves of a house due to the heat loss and melting snow. If one does not continually clear the snow off the roof, the ice will form thicker and heavier and water will begin to leak into the house. The way to solve the problem is to remove the snow from the roof and pound the ice off the eaves."
Sounds like a good idea to me. Well here's the story of a couple young men who thought that it was just too much work, so they came up with a better way . . . or so they thought!
To find out what happened, read the story »
Updates and Exciting Happenings!
Wow! Only a few days left to our Journey Challenge! For those of you who have been working on Colossians 3, we're hoping that God has blessed you greatly during this time of engrafting His Word.
Don't forget to have your parents call us to let us know you've completed the Challenge! They can call us on January 26 or 27 at 630-323-9800 ext. 522
Check out livingthejourney.com to catch up on all the amazing insights that have been posted on the verses of this chapter.
Life-Changing Opportunities: VERITY Institute: College? Try this!

"On the morning of August 23rd, 2009, I sat with my dad in the airport parking lot soon to board my flight headed for Indianapolis. A hundred thoughts were swirling through my head as I prepared for this four week trip, and I was glad when we paused to read a few Psalms.
"As we were reading through Psalm 111, I suddenly stopped dead in my tracks at verse seven. It said, 'The works of his hands are verity….' I had read that verse before, but it was just as if I hadn't. It was as if the words had leapt off the page, straight into my heart, for I was headed to a place called Verity Institute."
Verity Institute where education takes it's proper place under the authority of God and his Word.
Get a better look at Verity Institute as you read the rest of Kayla's story »